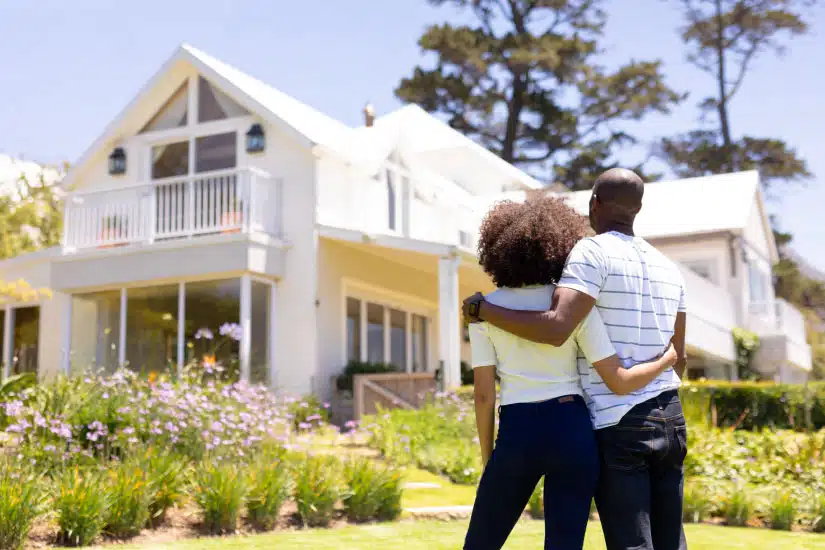 Pressure Washing, Organizing, New Windows, Oh My! Summer Home Improvement Projects You Need to Try
If you've been itching to take on some home remodeling projects, there's no better time to carpe that diem than the summer months. The days are long, the weather is sunny, and your schedule is probably a little less hectic than in the fall months. Sure, it's a little warm outside, but that's what it takes to get a little sweat equity.
Wondering where to begin? We've compiled a list of six projects that are great to tackle during the dog days.
What home renovations can I do myself?
The list below has some projects that are great for DIYers of all skill levels, like gardening, garage organizing, and closet purging. There are some things, though, like window replacements, that should be left to the professionals.
If you're wondering when to turn to the experts, a good rule of thumb is to ask yourself if you have the time, talent, and tools to do the job. If you're unsure of the answer, it's probably best to outsource the job. If you're looking for a longer list of easy DIY home projects, check out some additional DIY home improvement projects for beginners on the PODS blog.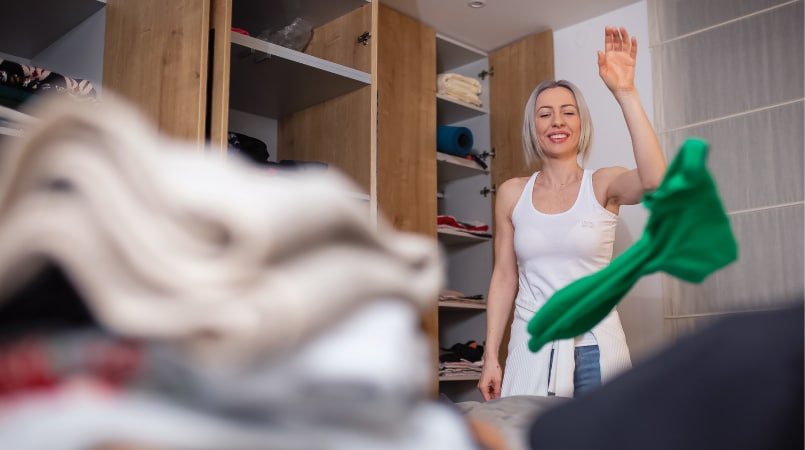 1. Organize your closets and pantry
As the days of play clothes, swimsuits, popsicles, and flip flops come to a close, it's a great time to prepare for sports uniforms, brown bag lunches, and school attire. This means getting your closets and pantry in order.
We're big fans of cleaning out before you start cleaning up. For the pantry, that means throwing out expired foods and donating canned goods that are no longer wanted or needed. Similar rules apply to the closet. Donate clothes you're no longer wearing. If you're on the fence about an item, ask yourself if you've worn or used it in the last year. If the answer is no, chances are this year isn't going to be any different. Remember, the often-quoted statistic is we only wear about 20 percent of our wardrobes.
Once your pantry and closets are cleaned out, start organizing. Use organizational items in your pantry to categorize foods by type. This can be collecting cans in a slidable dispenser, grouping small spices on a lazy Susan, or putting your dry baking goods in labeled glass canisters.
For closet organization, find ways to make the most of the space. This could mean adding dividers to create zones, putting in an additional clothing rack, or even perfecting your folding and hanging methods. Don't forget to put the things you use less often toward the back of your closet so they're not taking up valuable room in the front.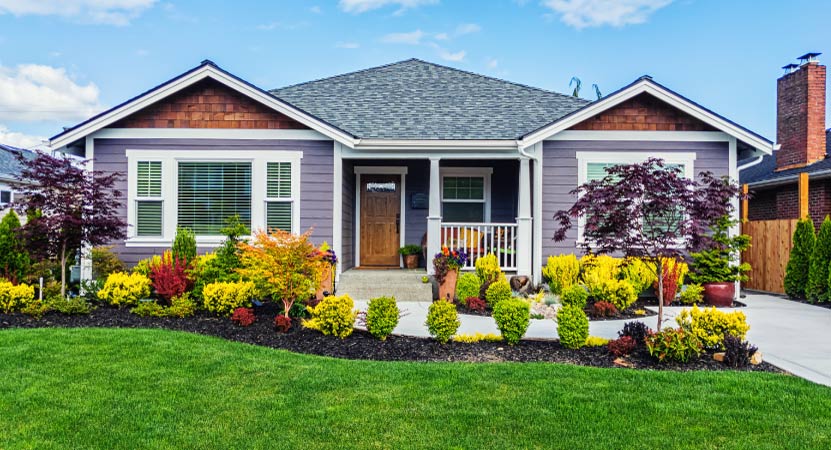 2. Update your outdoor area
New landscaping is one of the best ways to add value to your home. It gives visitors (and potential buyers) a great first impression. And, fortunately, this doesn't have to be a total overhaul of your current yard, either. Adding a flower bed, pulling some obtrusive shrubs, or planting a small tree or two can make a big difference without having a big impact on your wallet.
Here are some simple ideas that can add a lot of character to your property:
Make a pathway in your garden area by putting down stepping stones.
Plant perennials like catmint, coreopsis, and alstroemeria that will bloom every year with new flowers and leaves. This may cost more upfront, but you won't have to replace these plants as often as annuals.
Make a front yard focal point that draws the eye's attention. This can be a series of shrubs, a standout tree, or even a sculpture.
Create small flower beds around one or two trees for a pop of color. Add stones around the beds for some textural variety.
Once you make updates to your yard, you'll probably be tempted to add or refresh your outdoor living space, as well, so you can enjoy the new view. Spruce things up with some new, vibrant outdoor cushions. Create a seating area with a small fire pit. Or, if you really want to take things up a notch, build that outdoor kitchen you've been dreaming about. You may never want to go back inside your house again — well, maybe when those temps drop again.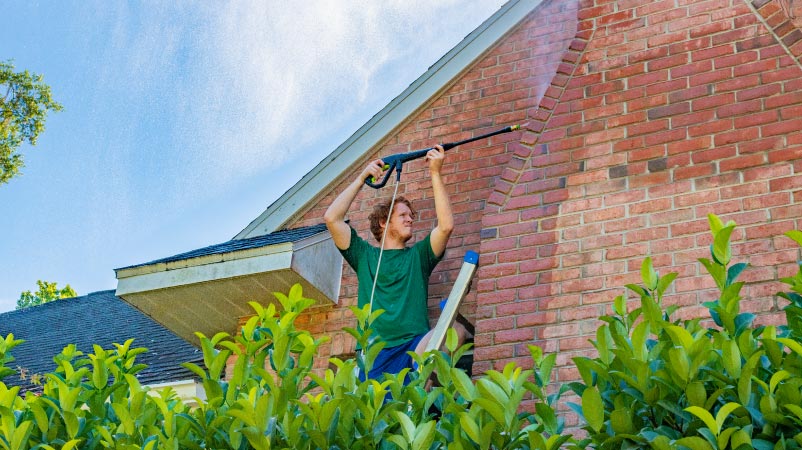 3. Pressure wash your home
Speaking of refreshing your outdoor space, if you're looking for an affordable way to get lots of bang for your buck, there's nothing like a good pressure washing. You may not realize how much dirt has settled onto your home, driveway, sidewalks, and more. If this debris isn't washed off, it creates not just wear and tear but possibly even mold and mildew. This is one of those easy home maintenance tasks you can do today that helps prevent an expensive future repair.
And while this seems like an easy DIY task, there is some skill and knowledge involved. Spraying too aggressively can damage siding and paint, and you need to know what materials to avoid, like stucco and stained wood. Also, don't let your pressure washer touch your windows unless you love the sound of glass breaking.
If you're not sure about your technique or what should and shouldn't be sprayed, consult a professional. Costs vary, depending on where you live, but you can expect to pay around $0.15 to $0.75 per square foot. If you want to do it yourself, pressure washing rentals cost around $35 to $175 per day.
4. Re-stain decking and/or fencing
To make your deck and fence look like new, you'll first need to clean the wood with a pressure washer. Be careful, though; you can damage the boards if the water pressure is too high. Use a low pressure under 1500 psi or even hose the wood with a garden hose. Once the area is clean, put on a new coat of stain. This isn't just aesthetically appealing; it helps protect your wood from weather conditions.
For bonus points, if the boards in your deck or fence are worn down, damaged, or weathered, consider sanding before staining. You can do this with sandpaper if you only need to touch up a few spots, or you can use an orbital sander for bigger jobs. Use a shop vac to clean all surfaces when you're done, and start the staining process when the area is dry.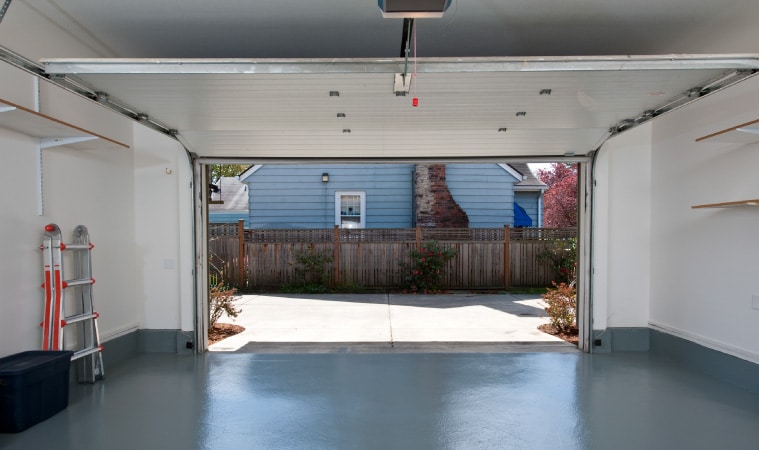 5. Transform your garage
If your garage has become a disorganized stockpile of gardening tools, outdoor toys, sporting equipment, and holiday decorations, it's time for a makeover. And — good news (maybe) — this is a perfect DIY project.
Start by cleaning out the garage and getting rid of things you no longer want or need. During this decluttering state, if you need a place to store your bigger items, like large tools, unused furniture, and the like, consider renting a PODS storage container. This is a great way to help protect your belongings from the elements but also keep them within reach.
Once you have your garage clean and organized, the possibilities are endless. Consider creating that home gym (with dream garage floors!) you've always wanted, making a workshop, putting up shelves and hooks so you can store items vertically on the walls, or, you know, using it for parking your cars (yawn!).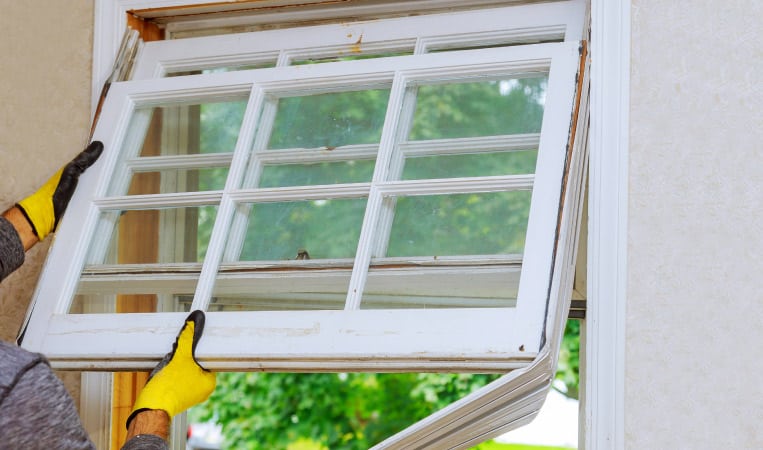 6. Replace your windows
If your home stays warm no matter how low your thermostat goes, the culprit may be your windows. Old windows do a poor job protecting your home from the elements, often resulting in a home that's too hot or too cold and a utility bill that's too high. Not a winning combination.
If you've tried adding extra caulk around the sides and still don't see much of a change, call a professional window installation company. They'll replace your drafty windows with a double- or triple-paned solution that will keep your home comfortable year-round. We admit putting in new windows isn't the most exciting of the summer home improvement projects you could choose from (nor is it the cheapest), but it will reduce your utility bill and add curb appeal — now that's a win-win, right?
Now that you've successfully handled a few seasonal projects, it's time to take a break and enjoy the end of summer. Grab a cold drink, head to the swimming pool, or host a backyard barbecue. You earned it!
---
LB Gabriel is a freelance writer who lives with her husband, daughter, and Golden Retriever in Memphis, TN. A frequent PODS blog contributor, she's a sucker for any tip she can find on downsizing, cutting clutter, or minimalist living. When she's not on a deadline, you can find her on a tennis court or golf course.
Get a Quote
Choose the service you need
Comments
Leave a Comment
Your email address will not be published. Required fields are marked *