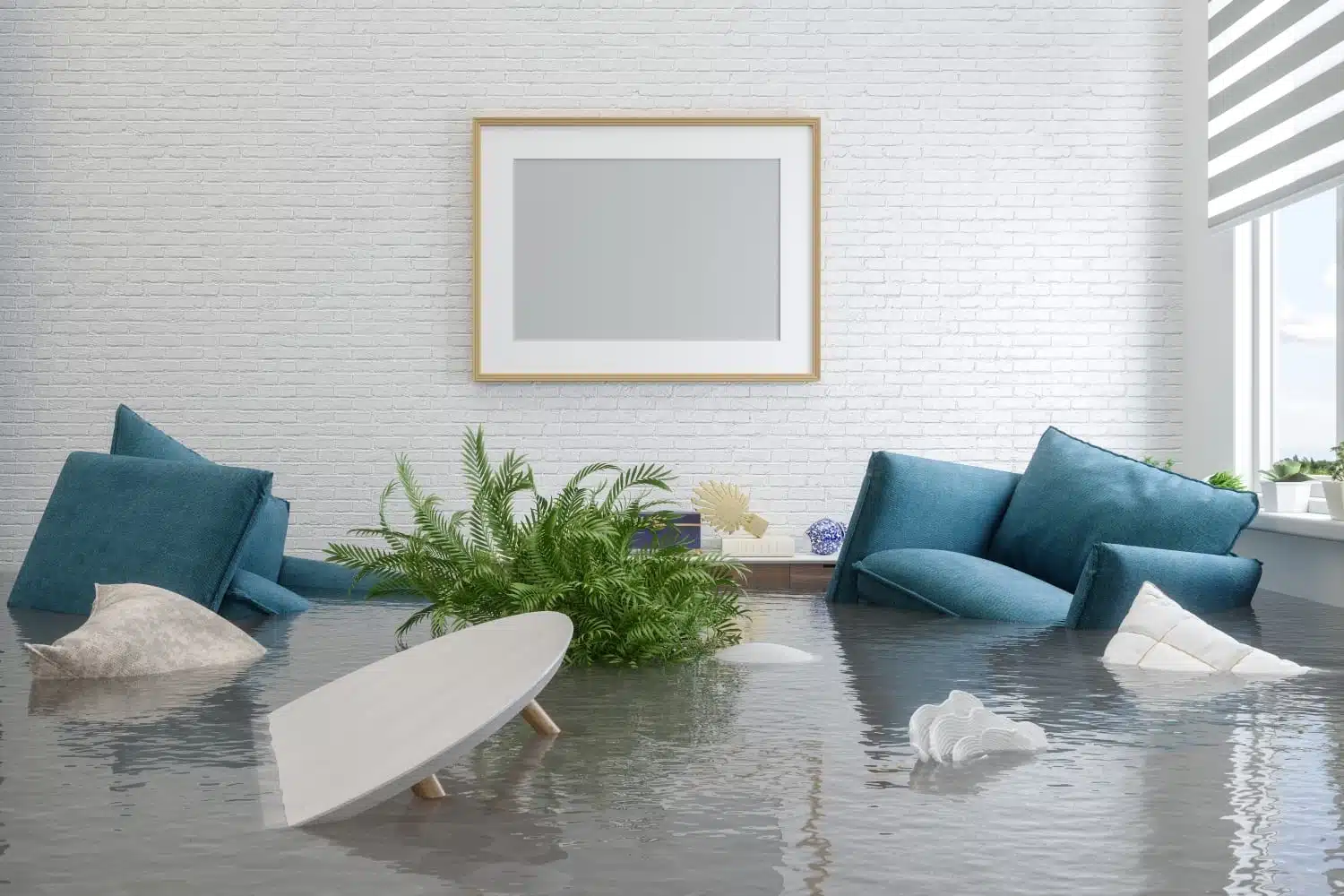 Water Damage Restoration: 8 Tips for Cleaning and Rebuilding After a Flood
Water is great when it's in your bathtub or your sink. When it's dripping down your wall or covering the floor, not so much. Seriously, water damage in your home feels overwhelming and scary, especially if it was caused by flooding from a storm or hurricane.
When it happens, it's hard to imagine how your home will be made safe and whole again. But we've got eight tips to help you take control and deal with water damage with more confidence, whether it was caused by a natural disaster or a structural failure like a roof or plumbing issue.
While water damage restoration takes work, it's critical to get it right, so you avoid making a bad situation worse. On the flip side, it's possible you could end up with a cleaner, safer, and even better home than before.
How to repair water damage in eight steps.
1. Protect yourself and your family
Protecting your beautiful home is one of your top priorities — as it should be. But there's one thing that should always come first, no matter what's happening: the health and safety of you and your family. So, before you jump into cleaning up, be sure that you take some basic safety steps.
Tips for staying safe when dealing with water damage:
Evacuate flooded areas immediately, until they are deemed safe by a professional.
Wear waterproof equipment, like boots and gloves.
Turn off your home electricity by switching circuit breakers.
Be aware of gas leaks, especially if you experienced a disruptive natural disaster. If you smell gas, leave your home and call a professional.
Check your water supply. Your water could be contaminated with sewage if there was widespread flooding.
The easiest solution for staying safe after major flooding may be temporary relocation. Staying with family, friends, or at a short-term rental can give you the space you really need to clean and renovate your home safely. 
2. Take action to stop further damage
Don't spend a moment worrying about water clean-up, insurance claims, and restoration until you've taken steps to make sure the damage doesn't get worse than it already is. Here's what you can do:
Find the source. Most leaks come from burst pipes, leaky water heaters, or a faulty drain. If you think the water is coming from a leaking roof, get a professional to come look at it ASAP.
Shut off your water. If you suspect the water is coming from a pipe, water heater, or other part of your home, find your water valve and shut it off immediately.
Take preventative measures. If your water damage is from flooding due to rain or another natural disaster event, and you suspect more rain may come, then take preventive measures. Pile sand bags around your home or build diversion ditches to prevent further damage.
3. Save your stuff
Once you've taken some measures to protect people and stop further damage, it's time to make like David Hasselhoff in Baywatch and save your stuff from the water.
Start with the delicate, irreplaceable stuff first: birth certificates, titles, financial documents, and family heirlooms. Then move on to electronics, like your flat screen TV.
Once you've gotten the smaller stuff out of the flooded area, it's time to go after the harder items: furniture, rugs, art, etc. Once these items are out of the water damaged area, place it somewhere safe where it can dry (you can hang up rugs and use towels to soak up water on other furniture).
One of the safest and most convenient ways to protect your stuff after your home has been damaged is with a portable storage container. They can be delivered right to your home and kept in your driveway or street while you load. With a service like PODS, you can keep your container and belongings on your property during repairs and remodeling, or have it kept out of the way at a secure storage facility. 
4. Contact your insurance company
As soon as you've taken care of the most pressing issues at hand, take a few minutes to contact your insurance company to report the damage. These tips will help you with making a water damage claim and getting the most out of your coverage.
How to deal with your insurance company after flooding damage:
Report your claim as quickly as you can.
Keep all of your receipts and photos. It's always better to have too much documentation than too little. (See # 5.)
Ask if your insurance adjuster is certified to make claim decisions. Some adjusters work for outside companies and may not actually be authorized.
Keep track of everything the adjuster says (or doesn't say). Write down the specifics so you can be sure they match your final settlement.
Use licensed and certified contractors for repairs. Working with qualified contractors will help you avoid or resolve any cost disputes your insurance company may raise. (See #8 below for tips.)
If you're not satisfied with your settlement, file an appeal. If you're still having issues with your appeal, you can hire a lawyer or contact your state insurance oversight agency.
Once you've dealt with your insurance company, give yourself a pat on the back (and maybe a cold beverage). You deserve it!
5. Document everything
The water damage in your home isn't a crime (though it might feel like one), but you should still treat it like a crime scene. That means you'll want to document everything -- before you even start your water clean-up efforts.
That corner of soggy drywall in your kitchen: take a photo of it. Also snap photos of your damaged furniture, floor tiles, carpet, and everything else you can think of. Be sure to record the serial numbers of any big-ticket items (like TVs, washer/dryer units, and other appliances) damaged or destroyed by flooding damage.
If you head to the hardware store to rent an industrial shop vac for cleanup, save the receipt. Same goes for any professionals you hire, portable storage, or other services you use during your clean-up and restoration.
This might seem like overkill, but you'll thank yourself later when you're dealing with the insurance company.
6. Dry off
You've gotten yourself to safety. You've taken care of your valuable possessions. You've documented everything and called your insurance. Now it's time to begin drying everything out. It's best if you can start within 24 hours.
If you're dealing with smaller floods, you may be able to use towels, rags, and other household equipment to sop up most of the water. Once you've done that, you can use fans, dehumidifiers, and air conditioning to remove moisture and humidity.
If, on the other hand, your basement looks like a swimming pool, you might need to bring in the big guns, like wet-dry shop vacs and sump pumps.
But just how long does it take to dry out walls after water damage? The short answer is: Usually two to three days. But the longer answer is that if walls are really soaked, they should probably be torn out and replaced with new drywall. We'll talk about this more in the next section.
If none of your DIY water removal attempts are working (or you're dealing with water damage in a ceiling or another hard-to-reach area) it might be time to call in the professionals.
Just make sure you're hiring a qualified contractor or water damage restoration company. There are plenty of qualified disaster clean-up and renovation companies around, but after a major event hits your town, you need to be wary of "storm chasers" who are just trying to make a quick buck. 
7. Take care of mold removal and prevention
Mold is kind of like a parking ticket. If you deal with it early, no big deal. But if you put mold removal off, it grows and grows. Here are some ways you can prevent mold from growing after water damage.
Dry the affected areas immediately. 
Remove damaged materials. If you've got a soggy spot of drywall, it's best to take it out (admit it, you've always wanted to tear down a wall). Same goes for cabinets, wooden floors, and other materials that soak up water. Consider dumpster rental services like Bin There Dump That, which offer fast delivery in a range of sizes and will haul it away when you're ready
Clean with detergent and water. Cleaning the affected area with detergent (or diluted bleach) can help prevent mold growth. 
Be on the lookout for mold warning signs. If you notice discoloration on surfaces that were flooded or your home begins to smell "musky" or "damp" then you should contact a professional mold removal company immediately. 
Mold cleanup is one of the most important parts of restoring your home after water damage. Having unchecked mold growth in your home is dangerous. Mold exposure can lead to a number of serious health problems, including chronic fatigue, depression, and serious allergic reactions. 
8. Restore, remodel, and rebuild stronger
There's no way to spin it: water and flooding damage is a huge bummer. But that doesn't mean there's no silver lining. Now that you've mucked out your damaged home, this may be the best time for those remodeling projects you've always wanted. 
Ideally, water damage restoration leaves your home looking better than it did before the disaster. But it's not just about looks. You can add important features to help protect yourself from future flooding, like basement waterproofing, outside grading, and new roofing.
But before you start calling contractors, you'll want to make sure you're working with a reliable company. Follow a few simple steps to protect yourself. 
We hope that these steps help guide you to making your home safer, stronger, and even better than before the water damage. When it's all done, the experience may have you thinking about prevention. These disaster preparedness tips will help you make a solid plan for protecting you, your home, and your family.  
---
Easton Smith works as a freelance writer and researcher, reviewing technology trends and the moving industry. He moved all around the continent, from New York to California, before landing back in his hometown of Salt Lake City.
Get a Quote
Choose the service you need
Comments
Leave a Comment
Your email address will not be published. Required fields are marked *