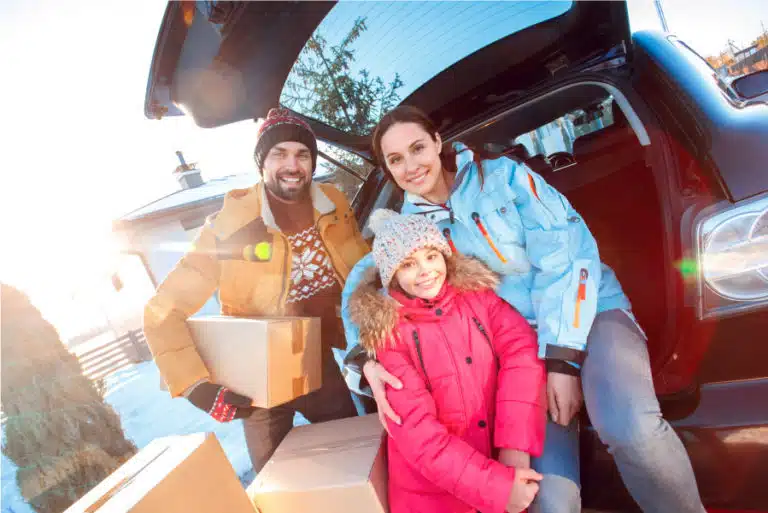 Winter Moving? Here's How To Keep Everyone (and Everything) Warm and Safe
You finally did it, even if you practically had to sign the final offer wearing mittens: You bought a new house! What's next? You need to move into that new house and get settled — during some of the coldest months of the year. Pretty unfortunate, huh? Or is it?
Believe it or not, winter moving has distinct advantages in terms of potential cost savings and availability of moving services and shipping containers. In fact, you may have actually made the process a little easier on yourself by doing it now instead of during the peak moving season. Of course, there are still serious considerations for your family and possessions before, during, and after this process, so having some tips in mind will be key to making this winter moving and storage adventure a good one. But before we get into those, let's address the elephant in the room…
Is it bad to move during the winter?
Not at all! In fact, it may be a smart move to make. Winter moving tends to come with a variety of upsides. Consider these perks (and give yourself a pat on the back while you're at it):
There are probably fewer people looking to buy a home during the cooler months, so you may have found it easier to snag one — especially after two years of a hot sellers' market!
Mortgage companies may have had more time available to work with you and may have even sweetened the deal with some wintertime savings.
Moving and storage companies may not be as busy, so you likely won't have an issue scheduling appointments when you're ready to pull up your stakes.
There may be fewer people on the road when you're moving, since wintertime isn't necessarily a prime time for vacationing.
You may be able to get more help from family and friends who are not as busy during the winter months.
Basically, winter moving has the potential to not only save you money but to also get you inside your dream home more efficiently than moving during another season. Who wouldn't want that?
So how do you move when it's cold?
Here's where having a strategy, executing it, and making sure everyone is on board with wintertime safety comes into play. Start by turning on your utilities at the new home — you'll want the heat to be ready and the water running at your house right away. If you're going to use portable storage and moving containers, check with your storage location for any specific tips and tricks on loading and unloading in the wintertime in your neck of the woods. And once that's established, pick up wintertime essentials, such as salt, deicer, and windshield wiper fluid, so you have a full stock. When everything is packed in sturdy boxes, wrapped in bubble wrap, and prepared as much as possible, get your moving crew prepared. That means making sure everyone is wearing winter-appropriate attire — gloves, a coat or similar warm clothing, and shoes that will keep them upright on slick sidewalks or driveways.
Insider Tip: Moves don't always go according to plan, but when you factor winter weather into it, you can almost count on a few scheduling delays. Worry not! Moving with PODS gives you the flexibility to pack and load on your own schedule, without the stressful time crunch that comes with a traditional moving truck rental or full-service movers. PODS will deliver your weather-resistant moving and storage container to your driveway, pick it up when you're done loading, and deliver it to your next home or to a secure PODS Storage Center. Now that's easy!
What should I prepare for a winter move?
Winter moving and storage comes with certain conditions that impact this activity from start to finish, so preparation is essential. The majority of the United States experiences some type of wintertime conditions — be it snow, ice, sleet, freezing temperatures, or a mixture of any or all of these. And there's no doubt weather extremes affect the people who work with you, your moving services, and your possessions. Having the right equipment on hand — and on your hands — will ensure not only that moving day goes well but that everything and everyone arrives at your new home safely and securely. Also, as mentioned before, preparing your new home on the other side of the moving process to be ready with utilities and other necessities will make the winter-moving process relatively painless.
Here are some specific steps to take to ensure a smooth transition:
Watch the Weather
If it is scheduled to snow, get that shovel out, prep the snowblower, and put some salt on the ground as soon as you've removed the snow, so ice doesn't form. You may also want to find alternative locations for your children or pets on moving day, so they can stay safe and warm during the constant movement around your possessions.
Prep Your House
Put down mats, plastic sheeting, or towels where people will be coming in and out of your home with boxes and furniture. You may also want to turn off your home's furnace, so the heat isn't turning on and off constantly while the doors are opening and closing. And don't forget about the end destination. Have the same preparations ready to go for your new home, as well, if the weather conditions will be similar.
Pack According to the Temperature
Another smart move is to put weather-sensitive items, such as electronics, in a space or special packing situation where they'll have temperature control, so they can be appropriately protected if the temperature falls to a certain degree.
Have a Beverage Station
To make moving day a little more pleasant, have some warm beverages on hand, such as coffee or hot chocolate, so everyone can warm up and take breaks, as needed. You could also put out a box of high-energy snacks like granola or cereal bars to help people fuel up as the day progresses. The team will certainly appreciate the gesture — and it's an easy way to show your appreciation for their efforts.
Insider Tip: Try to be as flexible as you can with your time — colder temps can really slow you down, so it's important to pace yourself.
Say "Thank You" in a Variety of Ways
And speaking of appreciation, if you are working with a professional moving company, treat your movers well. If your circumstances allow, prepare a "thank you" tip or other gratuity (like those aforementioned hot beverages) to show your appreciation for the job and the treatment of your belongings. Winter moving and storage is an art, so having moving services that take care of your goods in the way that you would is something worth noting and even rewarding, if the circumstances call for it.
Moving, in general, requires taking a lot of things into account. Moving in the winter? That adds a whole other element. So give yourself the time, read all about moving and strategies on the PODS blog, and have patience to make this wintertime move a positive experience. Getting there is an adventure, but settling into that new home and chilling out — or, rather, warming up — with this purchase you can be proud of for years to come will be worth the extra time and effort in the long run.
---
Karen Dybis is a freelance journalist and a frequent contributor to the PODS blog. Her work has appeared in Time magazine, U.S. News & World Report, The Detroit News, and more.
Get a Quote
Choose the service you need
Comments
Leave a Comment
Your email address will not be published. Required fields are marked *