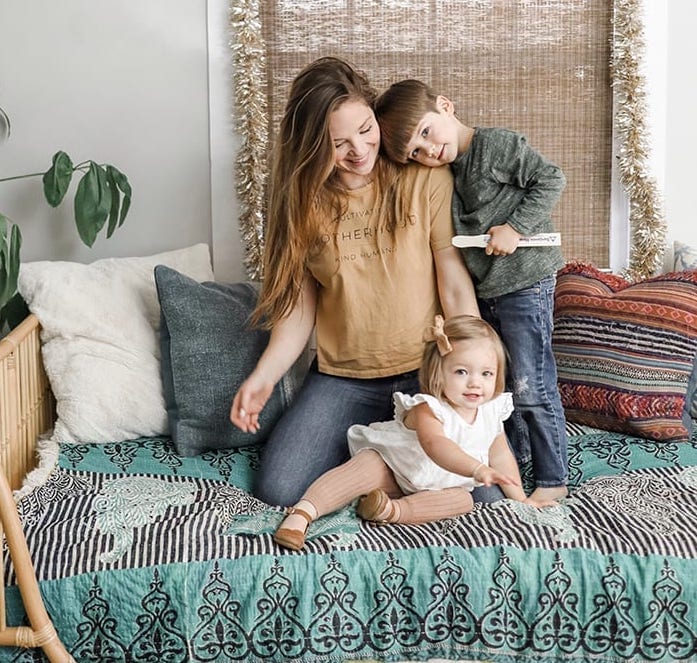 8 Moves In 6 Years! Busy Atlanta Mom Shares Moving Survival Secrets
by
PODS
Posted on October 15, 2019
If you've got a move coming up, you should meet Katherine Tuttle of Atlanta. At just 29, the mother of two has seen it all after making eight moves in six years.
Their last move presented the biggest challenge when their house went from listing to closing in just 24 days. Yep. 24 days. Add a 2-year-old and 5-year-old and a software engineer husband whose job left little time to help, and you start to get the picture.
"Needless to say, we researched every packing and moving hack we could to make this crazy move happen," says Katherine, a yoga instructor and self-described #mompreneur with a growing online community.
Their research and choices turned this last-minute move into the least stressful move she'd experienced. How did she pull it off? Katherine shares key lessons gleaned from her experience as a moving warrior.
1. Know that more expensive doesn't always mean better
After moving eight times, Katherine and her husband have tried "every possible way," from a total DIY move to hiring traditional movers for a full-service move, which included packing, loading and unloading all their belongings. Unfortunately, the full-service move that cost the most -- $2,000 to move within the Atlanta metro area – turned out to be the worst experience of all.
Katherine explains: "The movers didn't allot enough time. They said that they would send a big enough team to get it done and they didn't. We ended up having to pay the people who bought our house extra money because they had a moving truck just waiting to move their stuff in because our movers were still moving our stuff out. In addition to that, they rushed and they hurried, so they broke things. They lost things and left stuff at our old house that we'll never get back."
"What we thought was going to be the easiest move of our lives ended up being the hardest," she says.
Part of what she learned is the importance of keeping control of both your moving schedule and your own stuff. Which leads us to her next lesson…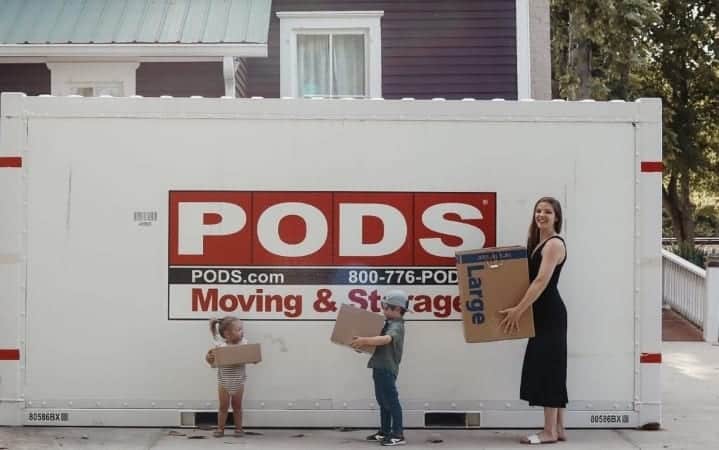 2. Take your time with a portable moving and storage container
When their home's closing was fast-tracked, Katherine knew she needed to try a different approach to moving. "I mean, dang, what were we going to do?" she says in her Atlanta-born-and-raised accent.
When a friend recommended PODS, Katherine was surprised at first. "I'd seen PODS containers around, but I never really thought about them for moving…I guess I always thought they were for storage, when you have a bunch of junk and you want to get it out of your house," she recalls. But when her friend explained that "you just get the container early, pack it up at your leisure, and then they come pick it up and take it to your new place, I was like, 'That is genius,' I never thought of that."
Looking back, Katherine says that using a portable container was "by far the best decision we made for this move."
"Instead of cramming all the moving into one 8-hour window with a moving truck, PODS delivered a portable container two weeks before the move," she says. "They delivered a 16-foot container and I was shocked with how much fit inside it. We were able to load it up at our convenience before the actual moving day."
Then when their move-in date was delayed due to a setback with closing, that wasn't a problem with PODS.
"They picked up our container and held it for us for a few days. They were extremely accommodating and flexible about the delivery date to our new home, which was a lifesaver during those crazy few days," she says. "I can't imagine if we had already booked a moving company and had to reschedule twice due to the issues with closing."
When it was finally time to move in, they were able to take their time by keeping their container on site for a couple of weeks. And when they needed a few more days to unload, they just rescheduled the pick-up date with PODS. "It was so nice to unpack at our own pace and not have the house crammed full of boxes while we were also trying to organize and figure out where everything would fit in the new space."
3. Hire pro help for the heavy lifting
While Katherine appreciates doing her own packing and gradually loading stuff at her own pace, she advises hiring professionals to help move heavy furniture, especially through tight spaces like their narrow staircase. Katherine says she knew she didn't want to end up reenacting the famous Friends episode when Ross, Rachel, and Chandler get stuck trying to move a couch up the stairs and Ross keeps yelling "PIVOT!" So she and her husband hired local professional movers to move their oversized sofa, as well as a few other large and heavy items.
"It's so easy and doesn't cost much to get local guys for just an hour or two to load the big stuff. No need to hurt our backs or get into a shouting match like on Friends, even though that was really funny to watch," she says.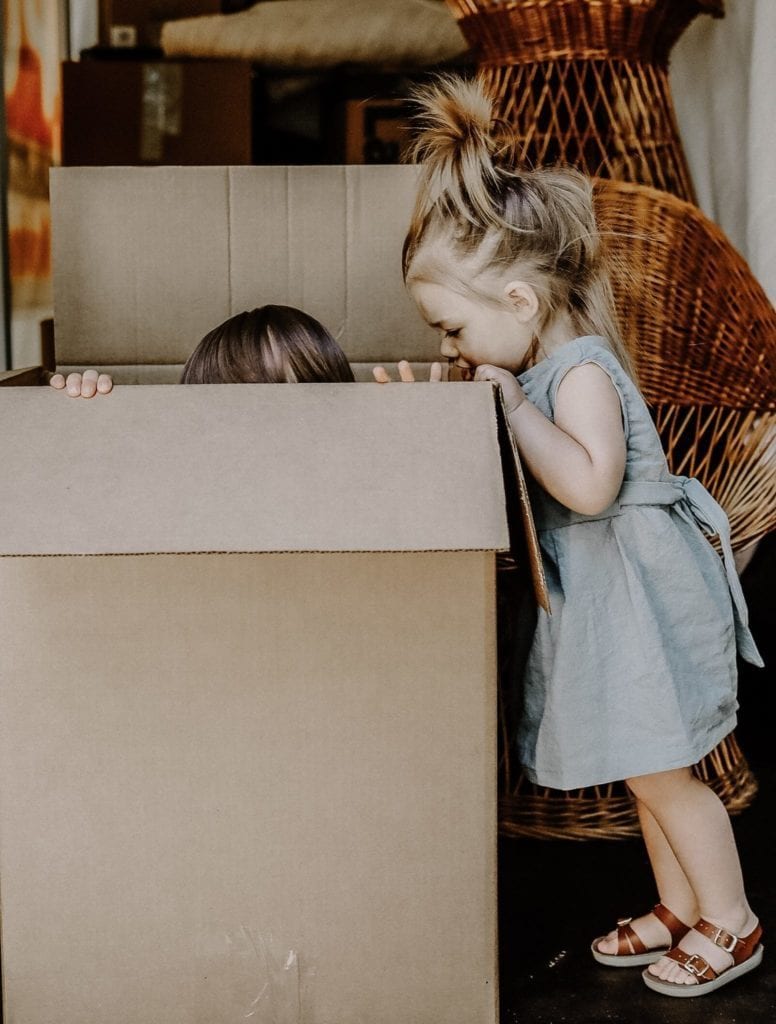 4. Start packing the second you know you're moving
When she's moving, and in her day-to-day, Katherine believes in "freeing myself from the trap of perfectionism." This is part of Katherine's "minimalist in progress" style. Instead of taking an "all or nothing" attitude toward a move, she advises adopting an "all or something" mindset. "#ProgressNotPerfection is my life's mantra," she writes on her blog page.
With that in mind, she stresses that it's important to "start packing the second you know that you're moving and just do a little bit at a time. Start with the stuff that you don't need every day from whatever's packed up in the attic or hidden in the guest bedroom closet or the junk drawer. Then just work your way out from there." Even if your schedule is packed or you don't have much energy, "it's step-by-step that you'll get it done."
5. Stay calm with the 4-7-8 breathing technique
Minimizing stress is especially critical for Katherine, who has Type 1 diabetes. Stress and overdoing it can zap anyone's energy, but those with diabetes and other health issues need to be extra careful when taking on a difficult task like moving.
"A tool I use often is called 4-7-8 breathing, a technique that's clinically proven to drastically reduce your stress response and cortisol levels or stress hormones. It gets your body out of that fight or flight response that happens even with just little things like finding out that your moving date has changed. To counteract that, 4-7-8 breathing is super useful," says Katherine.
Also known as "relaxing breath," here's how to practice 4-7-8 breathing:
Inhale for a count of four.
Hold your breath in for a count of seven.
Exhale for a count of eight.
Repeat the cycle up to four times.
"That pattern signifies to your brain that you're not in danger, that it can go ahead and lower your body's stress response, because you're safe," says Katherine. "The fact that you can hold your breath tells your body that you're not fighting for oxygen like you would be in a high-stress situation. That tells your brain that it's okay to calm down and switch back over into the rest and digest mode."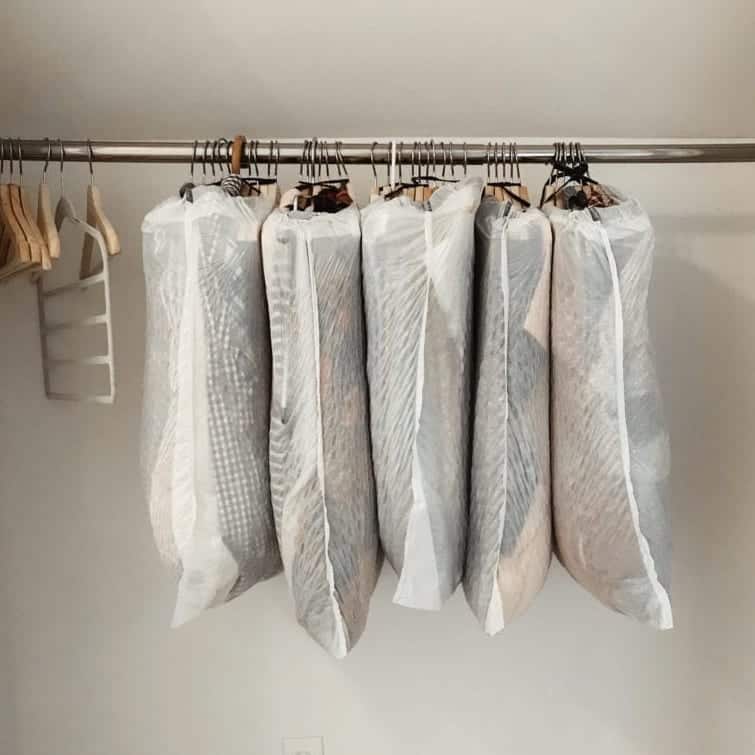 6. Embrace the packing power of garbage bags
"Yes it's true. Garbage bags were the single most useful packing tool I've used," says Katherine. "Not only do they have so many uses for actual packing, but when you're done, you can save and use them for garbage bags. This way you're not wasting money on packing supplies that you'll just throw out after your move."
Katherine's favorite use for garbage bags is packing all hanging clothes. "It's so simple to bag up your entire hanging closet contents into these tidy little groupings, which can then be laid flat in a trunk, car seat, or on top of boxes or tables. Then they're ready to hang as soon as you get to your new place!"
Her pro tip: Use the force flex bags so that you don't rip holes with the hanger's ends and it allows for more stretch so you can pull the sides up and over even the widest hangers.
She also uses contractor-sized black bags for pillows and bedding. They keep the pillows and sheets protected and clean without wasting precious box space.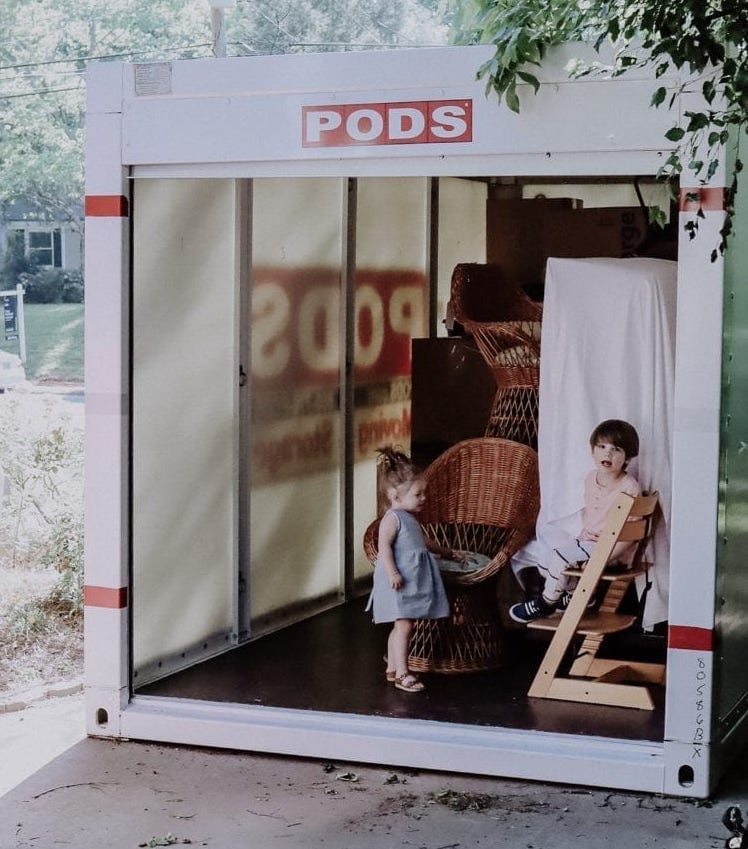 7. Make a move-in survival box
Those first few days in a new home can be frustrating when you can't find what you need, especially when you have toddlers. One of Katherine's favorite moving hacks is to pack up a giant clear plastic tub or two with everything you'll need for the first few days of settling in and unpacking. Things like toothbrushes and other toiletries, laundry and dish soap, paper towels and toilet paper, pet food, disposable plates, plastic cups and cutlery, and bath towels, and a few changes of clothes for everyone in the family.
She also suggests packing snacks and the food items you know you'll need, along with your favorite cooking pan, so you can have a healthy meal. "Make sure you've got quick access to all that so you can immediately transition to maintaining your healthy lifestyle in your new home," says Katherine. "Put these bins in the trunk of your car when you move so you have what you'll need right away over the next few days of the craziness of unpacking and you're not stressing about where to find them."
Now that her family's all settled in, does Katherine think they've finally found their forever home? As much as she and her husband love their restored 1900 farmhouse south of Atlanta, she's not so sure.
"We both have adventurous spirits, so it's hard to say how long we'll stay," she admits.
Though at least if they do make another move, she knows exactly what to do.
In the meantime, you can follow along Katherine's journey on her blog and Instagram @kotuttle.
Disclosure: An influencer, Katherine Tuttle's move was sponsored by PODS to provide an insider's view on the moving experience.
Get a Quote
Choose the service you need
Comments
Leave a Comment
Your email address will not be published. Required fields are marked *