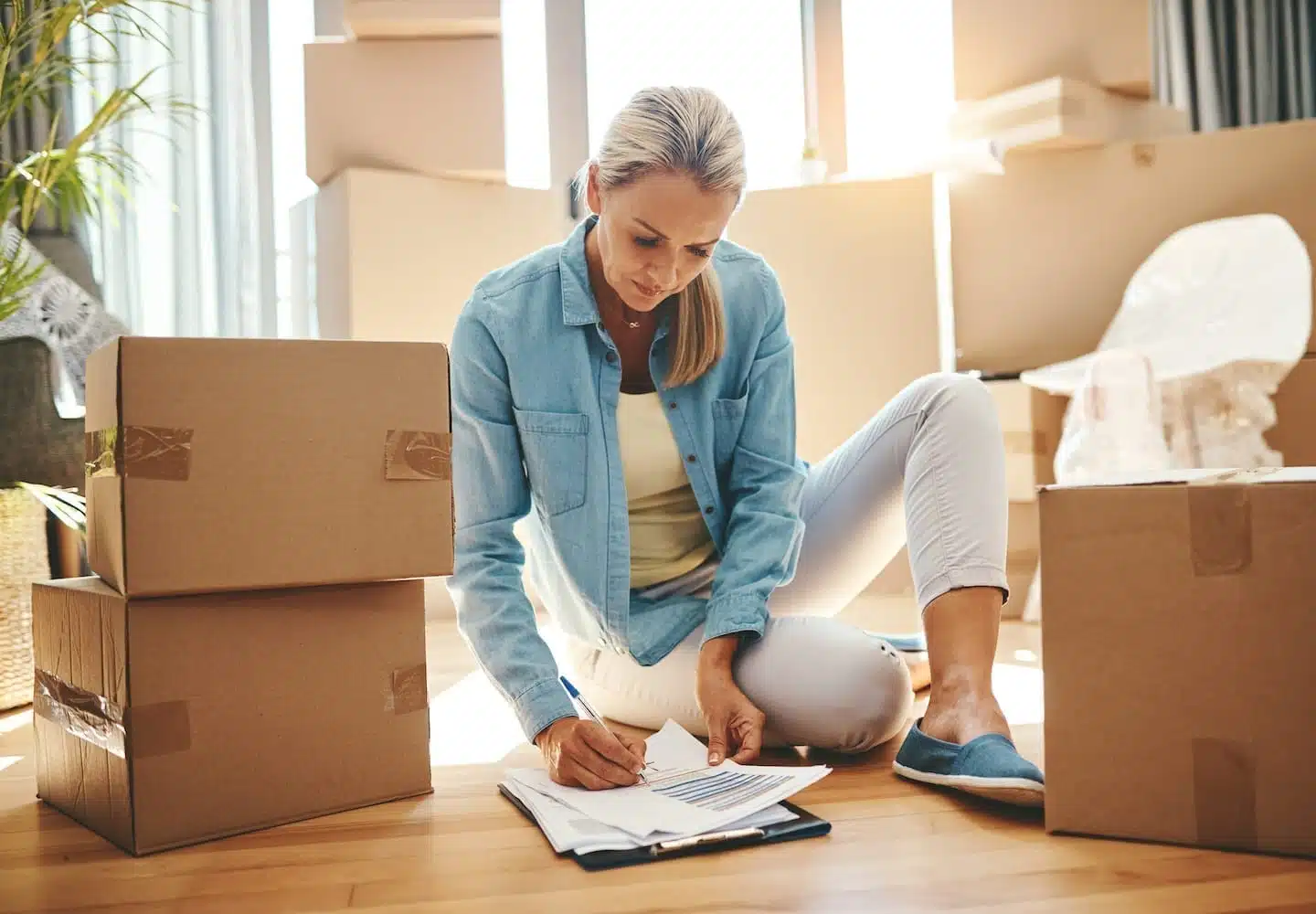 The Only Apartment Moving Checklist You'll Ever Need
No matter how many times you've moved in or out of an apartment, it can still feel like a lot of steps to manage — on a usually tight schedule, no less. Ever wish you had a handy apartment moving checklist that just spelled everything out? You know, all the who, what, where, and when of what to do when moving apartments. Well, we sure did. That's why we created this eight-week apartment moving checklist full of tips and timelines to make sure you stay on track.

Q: Wondering how to do an apartment checklist that's personalized for you?
A: Create a personalized apartment checklist by prioritizing and mapping out what you specifically need to get done in the weeks up to your move. Organizing it by week creates a good timeline, but be sure to give yourself enough wiggle room in case there are any setbacks. Looking for a general moving checklist? PODS.com has you covered.

If you think it seems a bit early to get started eight weeks out, think again. Not only are more and more apartment managers requiring two months' notice, but you'd be surprised at how fast the time flies. Any moving pro knows it's better to be left twiddling your thumbs than scrambling at the last minute.
Don't know where or when to start? No problem! This apartment moving checklist is perfect to use as your go-to resource during your next move. We'll cover every step, from giving notice at your current apartment to the first things to unpack in your new place.
The clock is ticking ... let's get started!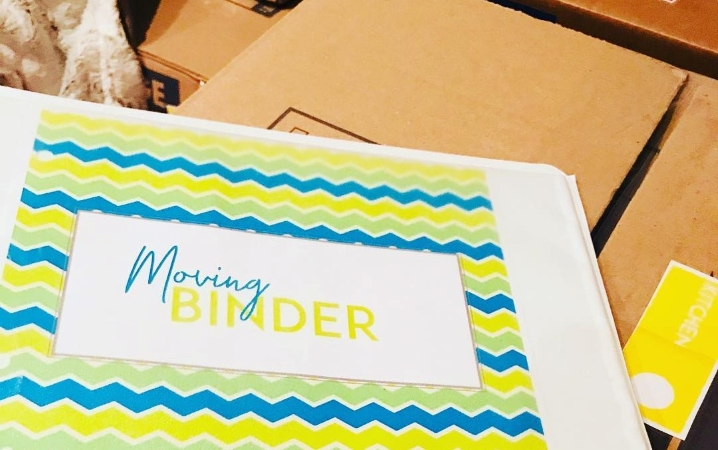 (Source: @missclewis via Instagram)
8 Weeks Out: Give Notice and Get Organized
Okay, first things first: You're going to want to give notice and do a little behind-the-scenes research to make sure you know everything you're going to need to take care of for your move.
Give Notice
Even if you're not required to give a full eight weeks' notice, if you can, do it. Giving as much notice as possible only helps get you in the good graces of your landlord, which is never a bad thing — especially when it comes to references. Oh, and make it official. Give your notice in writing.
Create Your Moving Folder
Take a copy of your notice letter and slip it into a newly created folder, notebook, or file that will be dedicated to your move from now on. This is where you'll put all important paperwork, notes, reminders, invoices, etc. — anything to do with your move — in a safe, easily accessible place.
Find Out Basic Details for Your Move
When you give your notice, it's also a great time to ask about what the latest rules and requirements are for moving out of your apartment. Moving to or from a high-rise apartment? Then this step is especially important. Required to schedule your move with your building? Need any special permits from the management or city for parking a moving truck or container? Even if you're using full-service movers, you need to double-check on this. This paperwork can take time, so find out what you'll need now so you can start planning ahead. If you're moving in a busy urban area, see our big-city moving tips to cut down on stress.
Create Your Moving Budget
This is a great time to dive into how much you can spend on your move. Include a range, from your ideal amount up to the ceiling of what you can afford. This range will guide your choices and options throughout the rest of your move. Knowing what you can and can't afford helps you not only to prioritize but also keeps you from wasting time contemplating options that, alas, are not an option.

Stop Buying New Things
Harder for some, easy for others, but make a pledge to not buy anything new until you're finished moving. Need help? Just remember: The more you have to move, the more you have to pack, and the more it will cost.
Stop Buying New Things
You don't want to move everything if you don't have to. No need to start a full-on declutter now, but if there are some loose odds-and-ends (
like that junk drawer
) that are quick and easy to get out of the way, take care of those.
7 Weeks Out: Start Vetting Moving Companies
Moving companies book up pretty fast, especially during summer months, so that's why we like to start doing research right out of the gate. Check out local and nationwide moving companies, what services are included, insurance rates, reviews — all of it. See our tips on comparing moving services and costs, from DIY rental trucks and moving containers to full-service movers, for pros and cons. It's also a great time to start casually mentioning that you'll be moving to plant the seed in case you need to call on any friends and family for moving help.
Pro Tip: An 8-foot PODS container* is the perfect size** for apartment moves and can easily double as a convenient and secure storage option for anyone who needs to give notice but isn't quite sure where they'll be headed. Get a PODS local moving quote now or call for a long-distance quote at 855-706-4758.

*PODS is constantly upgrading its container fleet, and container sizes may vary slightly from one model to another. **Suggested container sizes are for guidance only. Larger items and how efficiently containers are loaded can significantly impact the size and quantity of containers you'll need.
(Source: Anete Lusina via Pexels)
6 Weeks Out: Schedule Your Move and Get Familiar With the Details
Next step is booking your moving company and services and finishing up any formal filings or requests.
Schedule Your Service
Whether you're making a local or long-distance move, now's the time to schedule your moving container delivery, truck rental, or movers on your calendar. If you're not exactly sure about dates, keep in mind that it's a lot easier to change dates (or even cancel risk-free) with a moving container service or rental truck company than with full-service movers.
Submit Your Permits and Requests
By the end of the week, you should also make sure to wrap up any necessary paperwork or filings for those pesky little moving details you researched two weeks ago — parking permits, reserving a move date with your building, applying for curbside use with the city, etc.

On a strict budget? Check out our tips for hiring hourly moving help without breaking the bank.
5 Weeks Out: Start Planning Ahead
We know you've been diligently prepping for your move, but this week may be the week that it finally hits you that you're actually moving. Why? Your apartment will start to show telltale signs. Here's what's on the agenda this week.

Gather Your Supplies
This is when you should start collecting your moving and packing supplies. Dedicate a spot in your apartment where you'll keep everything until you start packing. If you're on a tight budget or eco-conscious (or both!), we've got a few tips on how to score free moving boxes.
Snag a Welcome Packet
Sometimes apartment buildings will have welcome packets for new residents that help explain how things work, where the closest post office or other important services in the neighborhood are located, plus numbers to call to set up utilities, apply for parking permits, or call for repairs. If your new apartment offers one, grab it now, so you can get your ducks in a row.
Start Selling Things You Don't Want
An easy way to recoup some of your moving costs is to sell the things you don't want to keep. Host an estate sale, garage sale, yard sale, or even list individual items online via platforms like Facebook Marketplace, Craigslist, Nextdoor, or OfferUp. Just because you don't want something anymore doesn't mean someone else won't pay you money to take it off your hands.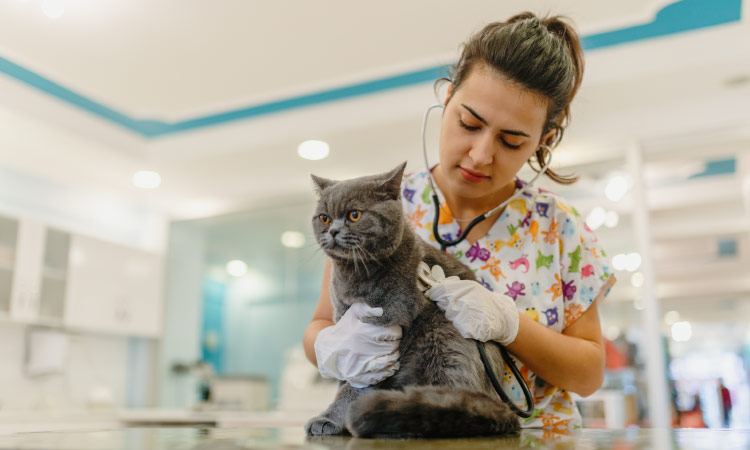 4 Weeks Out: Tackle the Tiny Details
Congratulations, you're halfway through your apartment moving checklist — and about a month away from your new apartment! It's time to get down to business. You know all the small stuff that falls in the cracks? Nope, not this time. This is the week you're going to tackle the tiny stuff, and it's going to have a big payoff.
Handle Service Requests
Put in cancellation requests for your utilities at your current apartment and request new service at your new apartment. Make sure it'll be guaranteed up and running by your move-in date.
Change Your Address
Schedule a change of address with the USPSⓇ, and update it on other services like your cell phone or memberships — but hold off on your banks and credit cards (we'll do that later).
Get Your Pet to the Vet
If you've got a pet, get it to the vet for any certificates, vaccines, or medication you might need to cover your furry BFF for the next month or two.
Request Time Off Work
If you need to request time off work, ask for it now, even if you're just moving locally. Sometimes moving company and rental rates are cheaper during the week, and it can be worth taking some PTO for your move, both mentally and financially.
Sort Out Your Moving and Renters Insurance
If you opt for moving insurance, sign up for that now just to get it out of the way. It's also a great time to get the ball rolling on your new renters insurance, in case there's a waiting period.
Go Over Any Contracts
Things are about to get hectic, so make sure you understand all the stipulations in any contracts associated with your move, from your new and old apartments to any moving company or services you'll be using. If there's a discrepancy, this will give you a month to work it out before go time.

Got moving questions? We've got answers and tips for your top moving questions.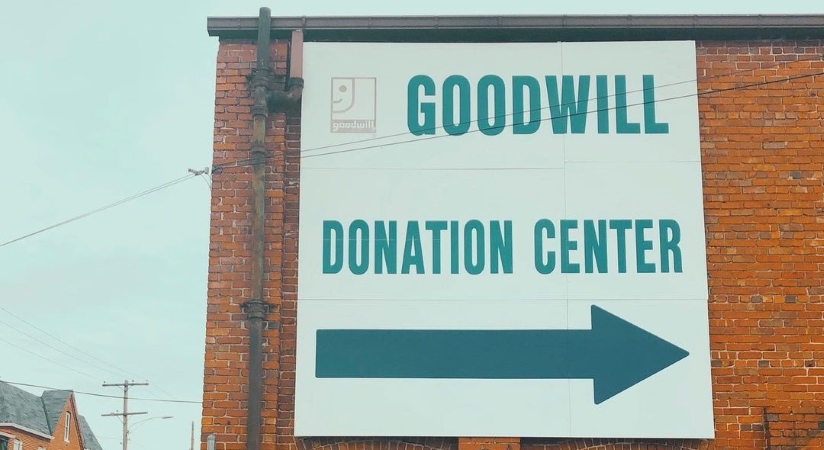 (Source: @goodwillmv via Instagram)
3 Weeks Out: Size Up Your Stuff and Schedule Cleaning
Okay, real talk. This week can be one of the most grueling because you've got to make some serious decisions about what you'll be taking with you. Hopefully you already managed to sell some stuff back in week five because now you're going to have to decide what's coming with you and where to get rid of the rest.
Decide What To Keep
Sure, you can bring it all, but moving is also a great time to downsize and finally get rid of stuff that is just taking up space, whether its furniture, kitchen gadgets, or sweaters. Can't decide whether to toss or take an item? It helps to ask yourself if an item is worth paying to move — again, the more stuff you have, the more it costs to move.
Make a Donation Run
Take the good stuff you're not keeping to your local Goodwill or charity. Make sure the items are in good condition and working order. And check to make sure the dropoff location is taking donations before you go.
Schedule Cleaners
If you're using one, schedule a cleaning service to make sure you leave your soon-to-be old apartment cleaned as per your rental agreement. If your budget allows, I'd also recommend a possible clean sweep of your new place to make it move-in ready. Unpacking in an already-clean apartment is akin to jumping into a bed with fresh sheets — it just feels better!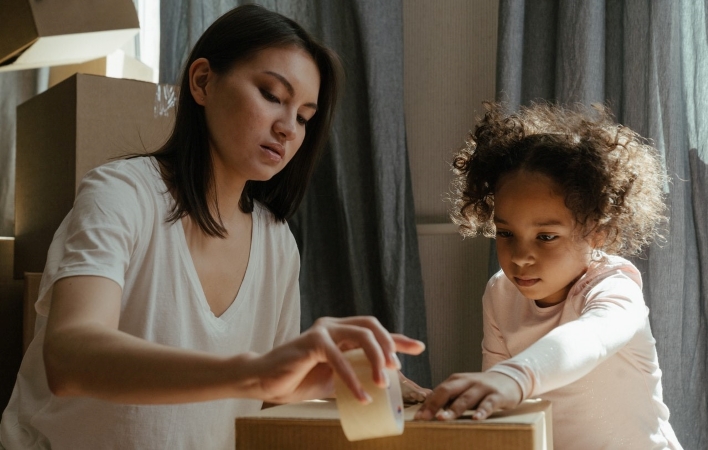 (Source: Cottonbro via Pexels)
2 Weeks Out: Start Packing
You are so close, you can almost taste it! Better get packing because if I've learned anything after moving more than 25 times, it's that you always have more stuff than you think! Start with things you don't use often, like seasonal items, decorations, books, extra linens, etc. Leave things like kitchen items, bathroom stuff, and your current rotation of clothes.
Confirm With Movers
Hey, now is not the time for surprises, so confirm all your movers and double-check any permits or permissions you've applied for.
Eat Your Stash
Do you really want to pay to move your food? Certainly you don't want to waste it. You're three weeks away from the big day. Start eating through your stores of food. Try not to buy anything new unless it's absolutely necessary and will be eaten ASAP.

Pro Tips: Here are some of my favorite packing and moving hacks to help get the job done!
Moving Week: It's Go Time!
Now you're getting into crunch time and hopefully you're all set on the mundane but necessary and important things, so you can dedicate this week to finishing packing up, painting, repairing, and cleaning your apartment. I always suggest packing one room at a time, if possible, which then gives you a great opportunity to take a break from packing to do any necessary work on a given room to bring it up to move-out condition. This is also a superb time to make last-minute donations of items you took a second look at and decided not to keep.
As you inch closer to your actual moving day, it's important to tie up your last loose ends. Here's a good guide on what you should be doing a few days before and then on moving day.

Q: What are the first things you need when you move into an apartment?
A: Before you start moving into your new apartment, make sure you've got lighting — otherwise, you may find yourself unpacking in the dark. You'll also want to keep your box of kitchen items, like plates and cutlery, at the ready. Even if you order takeout or delivery, you'll likely need cups or forks to enjoy it.
A Few Days Out…
Change Your Address for Credit Cards and Banks
Remember when we said to hold off on changing your address for your credit cards and bank accounts? Now's the time! You want to wait until later, since sometimes you need to verify this information to make a purchase or, if you lose a card, the new one will be sent to the address on file — which you won't be living at just yet.
Get Cash for Tips
Don't get stuck with no cash to tip your movers or moving help! Make sure you get out enough (or maybe a little more) a few days ahead of time.
Finish Packing
Getting everything packed away a few days ahead of time feels great — plus, it gives you a little more flexibility to handle anything that did end up falling through the cracks (it's okay, we won't tell!).
Do a Walk-Through and Pick Up Keys
If you can, pick up the keys and do a walk-through of your new apartment while there's nothing in it — and document the condition of everything as a record and reference for when you move again. Fix anything, clean anything, and get ready for your move.
Get Confirmations, Again
Last call for confirmations. Be sure you double-check times, meeting places, permits, handoffs, etc., a few days before your move to avoid any surprises on moving day. You should also confirm (again) that your utilities will be working by moving day.
Plug In Your Fridge
This oft-forgotten item on the apartment moving checklist can cause serious disappointment and waste. You're going to need to unpack whatever fridge items you moved ASAP, so be sure to plug in your fridge a few days ahead of time, so it can be nice and chilled by the time you move in.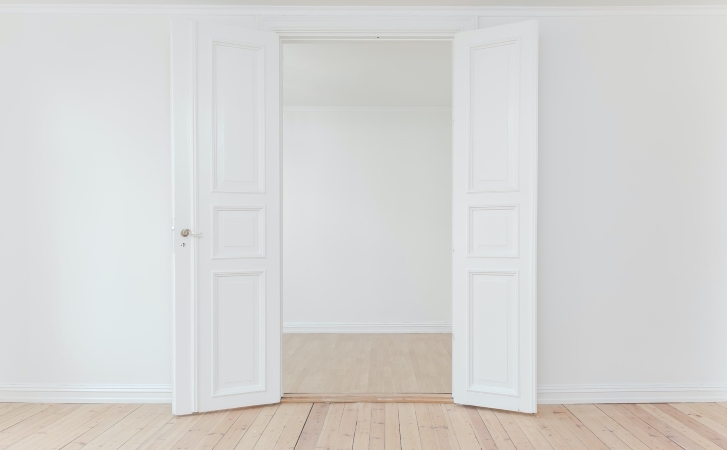 (Source: Philipp Berndt via Unsplash)
Moving Day
The day has finally arrived. Congratulations, you are moving! Here are a few things you should remember to do...
Move
This is what you've been prepping for within the last two months. Be sure to be on time, keep your moving file handy, and stay on top of your things, whether you're doing a DIY self-move or going with the pros.
Clean
Do a last-minute sweep of your place and have it cleaned or clean up anything necessary in order to meet your lease standard for turnover. You don't need to scrub down everything, but try to leave it in a condition that you'd want to receive it in yourself.
Do a Final Walk-Through
Once you've moved everything out and cleaned, grab your apartment manager and do a walk-through, so you can both document the condition of the apartment before the handover. This will help with any disputes around damages down the road — and hopefully help you get your security deposit back without too much hassle. If there's damage, estimate the price on the spot, if you can. This is also where you say goodbye and hand over the keys.
Unpack Perishables
Once you're all moved into your new place, the first thing you should do is immediately unpack any perishable items. Hopefully, you've already separated them out during the move and they are waiting patiently in the kitchen. If you've got a bottle of bubbles, pop it and cheers to a job well done!

Whether you follow this to the "T" or just use it as a general guideline to help keep your next apartment move on track, we hope you feel a little more empowered and confident during the process. Remember, every move is different; we're just here to help make them all a little easier.

Alex Keight is a frequent contributor to the PODS Blog who has moved 20+ times because she loves to experience new places.

Get a Quote
Choose the service you need
Comments
Leave a Comment
Your email address will not be published. Required fields are marked *