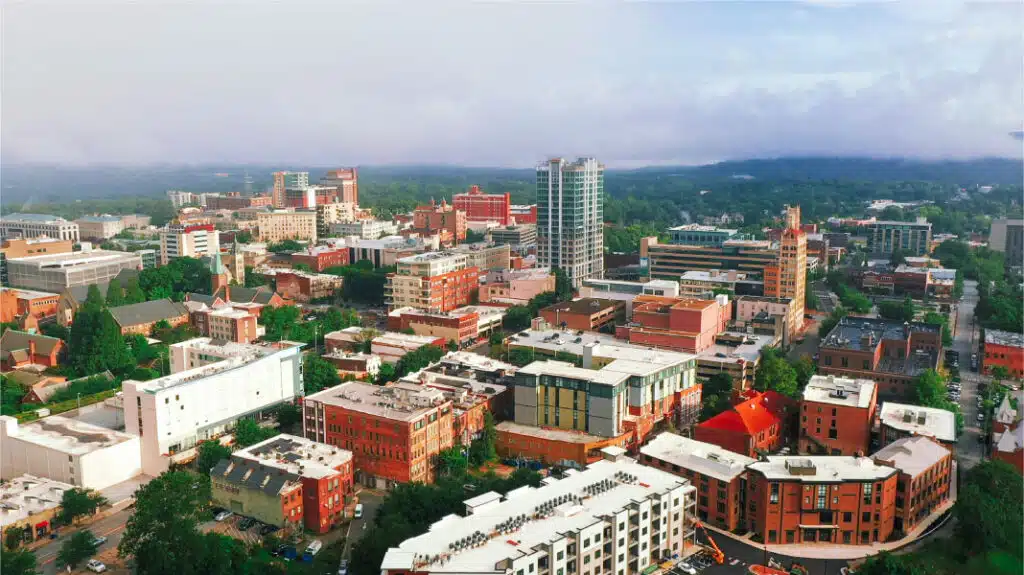 Blue Ridge Mountains on Your Mind? Let These Can't-Miss Asheville Neighborhoods Be Your Guide
You may know that for decades, the Biltmore Estate, about 10 minutes from downtown Asheville, has been a main attraction for North Carolina vacationers. Over the years, millions of visitors have flocked to the French chateau-style resort to enjoy its elegant gardens, extensive horseback riding trails, and fine dining.
What you may not know, though, is that the Asheville city center — only a few miles away from the Biltmore Estate — didn't match the gravitas of the castle in the 1970s. Not even close. But by the late 1980s, a few determined downtowners decided it was time to change all that, and with a facelift and a smart business plan, Asheville's neighborhoods and streets soon became a must-do on vacation itineraries and bustled with downtown workers and city-living pioneers.
Centering the arts as the heart of their mission, the boosters' rejuvenation campaign was the start of a cultural renaissance in Asheville. And today, the city fully lives up to the expectations of those early believers — and then some — with the number of people living in Asheville, North Carolina, being just shy of 100,000.
The 12th-largest city in the state, Asheville is tucked into the mountains in NC, east of the Great Smoky Mountains National Park and about two hours from the business hub of Charlotte. Outdoor lovers are in heaven in Asheville. Rafting outposts, hiking trails, and camping spots dot the nearby woods and riverbanks with endless options for vacationers, locals on weekend getaways, and retired empty-nesters ready to get active.
Asheville isn't just surviving now; it's thriving. And if you're considering becoming one of the many tourists turned residents, keep reading for more specifics on the best Asheville neighborhoods to put down your roots. But before that, let's answer some quick questions you may have about this city in the hills.
Did you know? This is actually the third article in a series about Asheville. In case you missed them, visit the PODS Blog for a look at our guide to moving to Asheville and our walkthrough of living in Asheville. From answers to big questions like, "Is Asheville, NC, an expensive place to live?" to a snapshot of job opportunities, year-round weather, and school options in the area, they're sure to assuage any lingering uncertainty about making the move.
What is the nicest part of Asheville?
For people moving to Asheville, NC, pretty much every part of town appeals to someone's taste and neighborhood preferences. Do you like tidy yards and privacy? Biltmore Forest might be for you. Are you into an industrial vibe of warehouse-converted lofts? Check out the River Arts District. Basically, Asheville has a neighborhood to meet everyone's wants.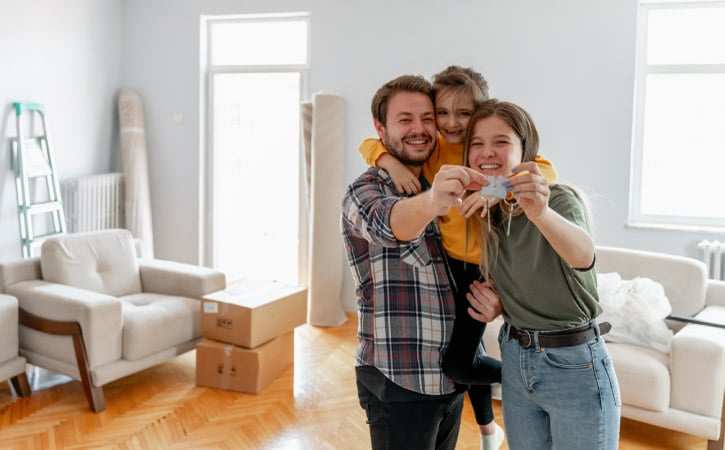 What are good areas to live in Asheville?
If your definition of "good" is a dining destination on every block, you'll love downtown Asheville. If you prefer an artsy aesthetic with indie coffee shops and murals brightening up the streets, try West Asheville. And if the no-frills 'burbs are more your style, look into Fairview — due southeast from downtown on an Asheville neighborhoods map.
Is Asheville a walkable city?
Asheville's overall walkability score isn't all that impressive, meaning it is car-dependent. And with a less-than-ideal public transportation system, the city definitely requires a car for running errands.
Downtown Asheville and nearby neighborhoods, however, do tend to be very walkable — and often "stoppable'' because you'll undoubtedly want to stop and pop into the dozens of restaurants, independent shops, galleries, and bars on your stroll along the lively, hilly streets.
Asheville neighborhoods
So are you ready to move to this artsy mountain gem? Before you get packed, it's a good idea to know where you're going to unpack, right? Here's a look at a few of our favorite Asheville neighborhoods.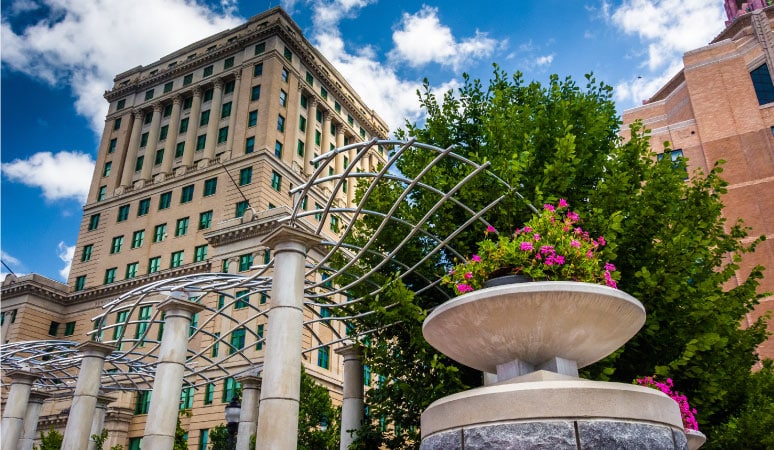 Neighborhoods Near Downtown Asheville
Median listing home price: Varies depending on neighborhood
Average monthly rent: Varies depending on neighborhood
Good for: Public schools, families, nightlife, diversity
Several popular neighborhoods occupy the area around downtown Asheville. Here's a look at a couple of standouts:
River Arts District
Home to more than 200 working artists, this former industrial zone along the railroad tracks and the French Broad River is the creative center of Asheville. Known appropriately as the "RAD," the area has evolved since the '80s into a charming indie oasis of thrift stores, art galleries, and small businesses. A trolley runs regularly along the district's mile-long stretch with easy-on, easy-off access.
Dozens of historic RAD buildings have been repurposed in recent decades, most for galleries but many for a variety of locally owned small businesses. Built in 1898, the Hans-Rees Tannery, for instance, was one of the largest tanneries in the U.S. at the time. A century later, it houses dozens of small business owners and artists specializing in a variety of mediums. At Pink Dog Creative, a former textile warehouse is now home to artist studios, restaurants, and shops. And the list goes on.
As far as the housing in RAD is concerned, it varies from modern lofts to older bungalows. Condos and new construction options are becoming more commonplace, as well, so there are plenty of options. You'll find an eclectic bunch here — so if you find yourself at home when surrounded by art and close to the best bars in town, this is the spot for you.
South Slope
Where the beers are! Dubbed the Brewery District, this area on the south side of downtown has undergone a major evolution, from an industrial hub to a hip hotspot for craft beer. But Asheville breweries aren't just garden-variety bars. Catawba Brewing is a dog-friendly brewery, for example, serving craft beer as well as the newly popular hard seltzers. Burial Beer Co., another favorite, updates their tap list and to-go menu weekly and even has wine available from their VISUALS winery (for those who prefer grapes over hops).
Homes run the gamut in South Slope from older, single-family bungalows near the outskirts of the neighborhood to lofts and condos in the former industrial spaces. The area is typically home to young professionals and creatives, but with new construction on the rise, young families are discovering this lively hub, too. The breweries are a main draw for many newcomers, but South Slope's lively dining scene, galleries, and trendy shops are also attracting new Ashevillians.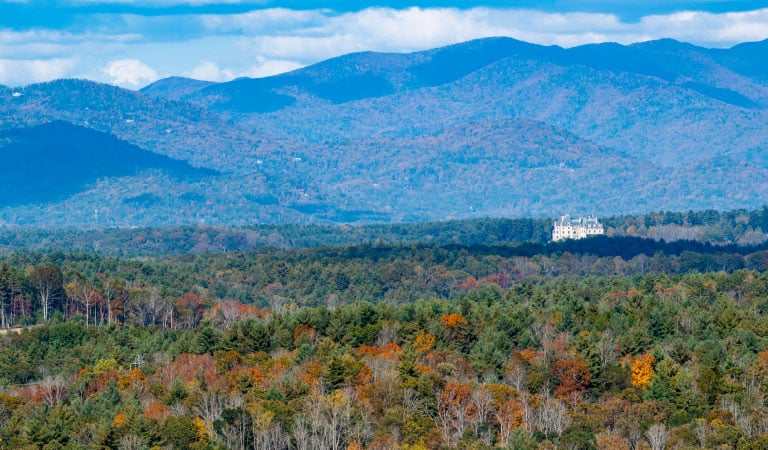 Biltmore Forest
Median listing home price: $1.6M
Average monthly rent: $1,606
Overall Niche grade: A+
Good for: Public schools, families, jobs, outdoor activities, safety, health and fitness, privacy
One of the most sought-after neighborhoods in the Asheville area, Biltmore Forest is actually its own incorporated township. The 2.9-square-mile plot was originally part of the Biltmore Estate, sold in the early 1920s with the intention of lessening the Biltmore Estate's expenses and upkeep. Today, residents of Biltmore Forest live comfortably in homes ranging from mid-century ranch styles to spacious estates.
Besides its proximity to all the treats of Asheville, Biltmore Forest has its own distinctive amenities for residents to enjoy, as well — including privacy. For instance, the neighborhood itself isn't gated, but homes are tucked away behind beautiful trees and long driveways, and some have their own iron gates to keep out uninvited guests. In addition, the Blue Ridge Parkway runs through the township, but travelers can't get on or off until they reach Hendersonville Road, on the edge of Biltmore Forest. Likewise, grocery stores, shops, and restaurants are located outside of the community proper, ensuring that the neighborhood remains nestled away from the hubbub of everyday life.
At the invitation-only, member-owned Biltmore Forest Country Club, residents enjoy golfing, swimming, tennis, dining, and special events in its 47,000-square-foot clubhouse. Less-exclusive recreation is available — free to the public, in fact! — in Biltmore Forest, as well, on picturesque walking trails through the community and in two greenspaces: Greenwood Park and Rosebank Park.
Grove Park-Sunset
Listing Home Price Range*: $289,000-$785,000
Average monthly rent: $1,469
Good for: Families, schools, professionals, fabulous views
Surrounding the iconic Omni Grove Park Inn, the upscale Grove Park-Sunset neighborhood is just a couple of miles north of downtown. The supervising architect of the Biltmore Estate, Richard Sharp Smith, influenced much of the area's distinctive style. Tree canopies shade its quiet, curved streets with bungalows, Tudor-, Georgian-, and colonial-style homes. Prices are as varied as architectural styles in the neighborhood, but the area's proximity to downtown and the Asheville airport makes it a favorite for affluent professionals.
While the Blue Ridge Mountains are within view from almost every Asheville neighborhood, Grove Park-Sunset has a particularly spectacular vantage point high in the hills. To really fall in love with Asheville, new residents need to take in the view over afternoon cocktails at the Sunset Terrace. At Grovewood Village, an 11-acre destination next door to The Omni Grove Park Inn, visitors enjoy galleries, studios, and a sculpture garden, along with the Biltmore Industries Homespun Museum, which explores the history of the village as a regional center for weaving.
*Housing market trends were unavailable for this neighborhood, so a current listing price range was provided instead.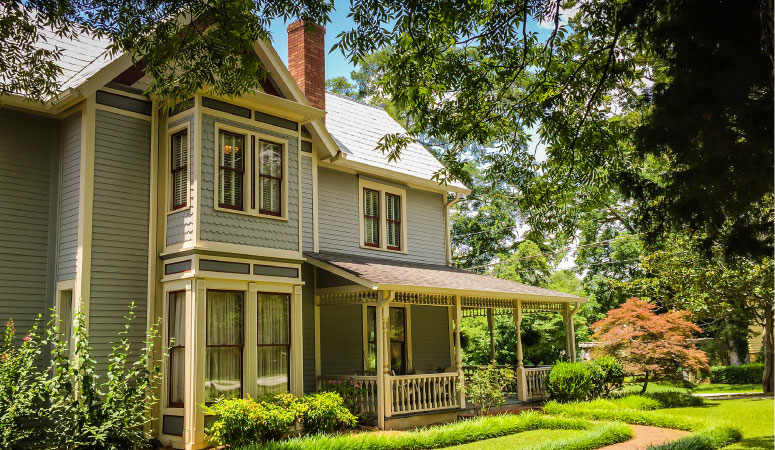 Montford
Median listing home price: $790,000
Average monthly rent: $1,568
Good for: Families, schools, professionals, outdoor activities, arts, history
Historic B&Bs are a hallmark of Montford, founded in 1893, along with older homes lovingly restored to their original glory. With part of the neighborhood designated a National Register Historic District, Montford is notable in a region full of historic landmarks. At Homewood Manor, for instance — a now-restored 1920s stone mansion originally owned by Duke University's Dr. Robert Carole — a 1,500-square-foot piano room with cherry walls and a stone turret are only part of the extravagance Carole created. Today, the manor is a popular wedding venue.
Montford's homes are a bit less grand than Homewood Manor, but beautiful nonetheless. Most areas of Montford are family-centered, with an abundance of street fairs and festivals, including the Montford Music & Arts Festival and the Montford Park Players' live performances of Shakespeare and other classic plays. The Hazel Robinson Amphitheatre hosts concerts and plays in the summer months — always a big draw for residents and a great way for new Ashevillians to meet the neighbors.
Black Mountain
Median home price: $489,400
Average monthly rent*: $1,494
Overall Niche grade: A
Good for: Public schools, families, outdoor recreation
About 15 miles from downtown, this quaint mountain town feels like a mini-Asheville, with its own locally owned shops, restaurants, and galleries. Craft breweries include Pisgah Brewing and the Black Mountain Ciderworks + Mead, which uses locally sourced apples and honey.
Like most Western North Carolina towns, Black Mountain has infinite opportunities for outdoor recreation. Lake Tomahawk Park features an easy half-mile hiking trail along the water, with gorgeous views of the nearby Graybeard Mountain. More intrepid adventurers can make their own paths in the beautiful Blue Ridge Mountains when the Asheville, North Carolina, weather cooperates — which it nearly always does, with mild temperatures year-round.
And homes in Black Mountain are a smidge more affordable than in many Asheville neighborhoods. A variety of eclectic neighborhoods make up Black Mountain, most featuring homes in the popular craftsman bungalow style.
Want to know something interesting? Black Mountain's popular Grovemont neighborhood was one of the first planned-community subdivisions in the U.S. This family-centered neighborhood has its own library and a public park with a playground. And every summer, residents gather for the Groovin' on Grovemont music festival.
*Average monthly rent for a 1-bedroom apartment.
Did you know? Black Mountain was once home to the renowned Black Mountain College, an experimental arts school attended by luminaries including Robert Rauschenberg, Merce Cunningham, John Cage, and Willem and Elaine de Kooning. The college closed in 1957, but the Black Mountain College Museum + Arts Center in downtown Asheville keeps its legacy alive with a deep dive into its history and a roster of arts events.
Moving to Asheville, NC
There's a lot to think about — and do — when you're ready to make the move to Asheville. Where should I live? Where will my kids go to school? How do I get there?
For that last question, there are a few things you can do. You can hire professional movers to load your things and ship them to your new home, you can load them up yourself in a trusty rented truck, or you can use a flexible solution like a PODS portable storage container. Load your container on your own schedule right in your driveway, and when it's ready, it'll be picked up and sent straight to your Asheville home! No rush, though — a month's storage is built in when you move with PODS.
Is your heart set on the mountains for your next move but you're still in the exploration stage? Check out the PODS Blog for the scoop on other hilly areas like Colorado Springs, Calabasas, and Northern Virginia.
---
Shannon Jacobs is a Tampa-based freelance writer and frequent contributor to the PODS Blog. She has lived in Atlanta, the Berkshires, and Nashville, but always returns to the warmth of Florida's Gulf Coast.
Sources:
Get a Quote
Choose the service you need
Comments
Leave a Comment
Your email address will not be published. Required fields are marked *