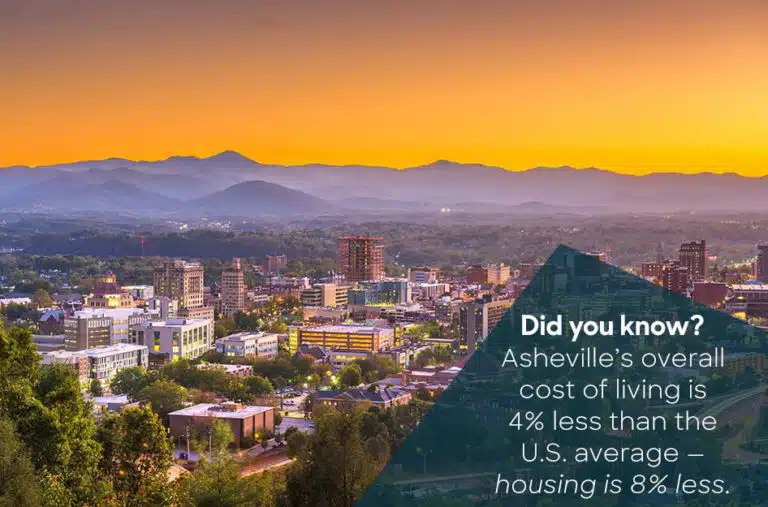 The Arts, Outdoors, and More: Living in Asheville, North Carolina
If you're considering moving to Asheville, NC, you're not alone. This artsy mountain city in Appalachia is a vacationer's dream, attracting millions of visitors annually to its charming downtown and endless recreation. And of those visitors? Plenty of them have turned into converts over the years, making Asheville home instead of a once-a-year retreat. If this "Paris of the South" might be your next move, here are a few highlights we think you should know about living in Asheville, North Carolina.
Asheville at a glance
Asheville is tucked into the Blue Ridge Mountains between Charlotte, NC, and Knoxville, TN.
The city's population is 94,589, which marks about 13% growth since 2010.
Asheville has almost 100 bars and breweries – more per square mile than just about any other American city — and has earned the nickname "Beer City, USA" again and again.
Is Asheville, North Carolina, a nice place to live?
Good weather, abundant arts, world-class dining, and absolutely infinite options for outdoor recreation make Asheville an extraordinary place to live. Indeed, most non-native Ashevillians choose this mountain haven as home because of its eclecticism.
What is it like to live in Asheville, North Carolina? Well, for starters, if you enjoy live music, you'll find a thriving local scene and a packed schedule of touring acts. Sports more your thing? UNC Asheville basketball keeps things bouncing in the winter months.
If your weekend isn't complete without a farmers market, Asheville has a seasonal option nearly every day of the week, thanks to a bounty of working farms in the vicinity and an overall aesthetic that values a green economy and keeping things local.
Like to get out of town and go au naturel once in a while? When a city is surrounded by such beauty, obviously the opportunities are endless. RV parks and campsites in Asheville, NC, and the surrounding areas are plentiful. Not to mention the natural beauty of the French Broad River, Great Smoky Mountains, Blue Ridge Parkway, and Pisgah National Forest (among others). Or go a little bit less rustic and find a signature Asheville, NC, cabin for a close-by weekend getaway. Your options include everything from cozy romantic cottages to super-luxurious estates with all the fixings — hot tubs, rec rooms, giant-screen TVs, and more. We could go on and on…
Is your heart pumping with excitement over the city yet? Want to know even more about what it has to offer? Take a look at these eight other reasons why living in Asheville, North Carolina, may just be your next best decision.
1. Asheville weather is delightful.
Temperatures are comfortable nearly year-round in Asheville, with average lows and highs of 25°F and 47°F in January and 62°F and 84°F in July. The city gets just under a foot of snow and 44 inches of rain annually, on average. And Asheville autumns are spectacular, with the mountains ablaze in color and festivals welcoming visitors for music, arts, and tastes of local specialties. Of course, the occasional freak snowstorm or flood may disrupt life — but the climate is generally agreeable and is one of the joys of living in Asheville for active families, retirees who've chosen the area as home, and young professionals who enjoy getting out in nature.
2. You'll never run out of things to do in Asheville.
Outdoor life is at the heart of Asheville's appeal. And living in the Blue Ridge Mountains, Ashevillians have an endless supply of trails that reward hardy hikes with dazzling views — simply take a look at any Asheville, NC, map and you'll find hundreds of nearby trails. Local rivers also test the skills of whitewater rafters to varying degrees (but don't worry, novices and those who prefer "calmer seas'' have options, too). In fact, several rafting outfitters can plan an event matched to your group's skill level.
Asheville has always been a magnet for artists, as well. Of course, the majestic views over the Blue Ridge Mountains provide inspiration for masterpieces. But the breathtaking scenery isn't the only appeal of Asheville. Downtown's well-preserved Art Nouveau, Beaux-Art, and Deco styles are their own destination.
And drawn by cheap rents in the former warehouses and industrial sites that line the French Broad River on the edge of downtown, a creative community has evolved through the decades into today's River Arts District — aka RAD. Galleries for glassblowers, visual artists, potters, and tattoo artists share space with live music spaces, craft breweries, restaurants, and cafés.
For a few more options:
The Basilica of St. Lawrence welcomes guests for mass or a tour exploring the 117-year history of the church.
Bloom lovers won't want to miss The Botanical Gardens at Asheville, a 10-acre oasis dedicated to local flora. Breathe deep as you tour the grounds, and come back later for a full menu of classes and seasonal native plant sales.
The Biltmore Estate is definitely a star attraction. With its centerpiece a 250-room, 175,000-square-foot chateau, the estate also features an equestrian center, winery, and the Vanderbilts' exquisite art collection, among other things.
A drive along the Blue Ridge Parkway is nothing less than breathtaking. Take a few hours to cruise this legendary trail through the mountains past waterfalls, spectacular overlooks, and historic landmarks.
3. Foodies are in heaven in Asheville.
Yelp reviewers named Asheville the Top U.S. Foodie Destination of 2020 — and we're not arguing. The city's Deco-decked streets are chock full of options, from interesting farm-to-table places to cozy coffee shops and vegan eateries.
Topping the list for many critics is Cúrate Bar de Tapas, serving classic Spanish tapas in a former bus depot. This special eatery has been recognized for its exceptional all-Spanish wine list. The new S&W Market food hall and tap room has also added a smorgasbord of options, such as Buxton Chicken Palace (from James Beard Award-nominated Chef Elliot Moss), Peace Love Tacos, and Bun Intended.
A few more indy options in town include:
12 Bones Smokehouse: Gives Memphis BBQ a run for its money
Biscuit Head: Biscuits, fried chicken, sweet tea, and more
Tupelo Honey: Southern hospitality for breakfast, lunch, and dinner
Sunset Terrace at The Omni Grove Park Inn: Ten-time winner of the Wine Spectator Award of Excellence (most recently in 2019)
And as one of America's "Beer Cities," Asheville offers up some awesome craft breweries. Here are some of our favorites:
Cellarest Beer Project
Rye Not
New Origin Brewing Company
Brouwerij Cursus Keme
Asheville Brewing Company
4. Asheville's students have plenty of options.
Ten Asheville City Schools campuses serve about 4,500 students. Asheville's public schools rank above average with around 90 private and public schools in the area — with many receiving a Niche grade of A or better. Francine Delany New School is one of the top 20 public elementary and middle schools in the state, and Asheville School ranks as the fifth best private high school in North Carolina.
There are also ten colleges and universities in the greater Asheville region, including Western Carolina University and University of North Carolina at Asheville. (Basketball, anyone?)
5. Asheville's job market has stayed steady.
Unemployment is slightly lower in Asheville than in the country at large as of December 2021, at 2.6% compared to the national average of 3.9%. Perhaps surprising, given that tourism, one of the city's main economic engines, has taken a huge hit during the pandemic. However, the economy in the Asheville region remains diverse, with economic drivers that include a growing population, manufacturing, hospitality, and healthcare.
6. Commuting in Asheville isn't bad at all.
Once you've landed a job, getting to work is a breeze, relatively speaking. Business travelers can get to the Asheville Regional Airport from downtown in about 20 minutes. The average one-way Asheville commute clocks in at 17.8 minutes — significantly shorter than the national average of 26.4. And you don't necessarily have to drive your own car; buses run regular but limited routes as part of Asheville Rides Transit, or ART — a snappy, fitting acronym for the "Paris of the South." And Gray Line Asheville runs hop-on, hop-off trolley tours that stop at various hotels and popular sites, in addition to scheduled ghost and Christmas tours.
7. Is Asheville, NC, an expensive place to live?
You'll find that the cost of living in Asheville is a bit lower than the national average — 4% less overall, with housing a significant draw at 8% less. That's not to say that Asheville is lacking affluence, of course. Check out the College Street/Patton Avenue district, the area known as Grace, and Lakeshore Drive/Merrimon Avenue for some of the most gorgeous (and most expensive) homes in the area. (And who can forget the Biltmore Estate?)
8. Asheville neighborhoods are as eclectic as you'd expect.
From hip artists' districts to middle-class family enclaves, Asheville neighborhoods run the gamut. Here are three examples:
Historic Montford Asheville: Just north of downtown, Montford's oak-shaded streets are lined with restored homes and bed and breakfasts. This gorgeous area features neighborhood festivities including the Montford Music & Arts Festival and the Montford Park Players' Shakespeare in the Park. Want to know an interesting tidbit? F. Scott and Zelda Fitzgerald and the Vanderbilts attended private concerts at Montford's Homewood Manor, a stunning castle in the heart of Asheville that now serves as a wedding and event venue.
North Asheville: Like a lot of the area, North Asheville features a mix of multi-million-dollar mansions and affordable bungalows tucked away in lush Carolina greenery. Established neighborhoods include Lake View Park, Beaverdam, and Grove Park (home to the beautiful and historic Omni Grove Park Inn). UNC Asheville is here, too — making it a super easy commute for students and professors.
West Asheville: Any neighborhood with a Dolly Parton mural is absolutely worth at least a visit — if not an immediate offer on a home, don't you think? With a hipster vibe, thanks to artsy Gen X and Millennial residents, this hood is a tad quieter than RAD (River Arts District) but still vibrant. Homes are eclectic, too, with quaint fixer-uppers on the next block over from green-built homes. And with lots to do — from dining at iconic restaurants and shopping local to outdoor activities on the French Broad and the eclectic street life — this part of the city has become a top destination for new Ashevillians looking for community.
Moving to Asheville, NC? Here's an easy game plan.
When you're ready to become an Ashevillian, you'll need a game plan to get there. Sure, nobody wants to actually go through the process of moving, but luckily there are plenty of options. A good ol' rental truck or pro movers can do the trick, but they can also be pretty rigid in their demands. If you need some time to find your perfect home, PODS is ready to help you make the move. With built-in storage, PODS portable storage containers are uber-flexible and give you the time you need to find your dream home in Asheville. And did we mention PODS does all the driving?
Of course, if you want to consider other trend-setting cities in addition to Asheville for your next move, check out the PODS Blog for the lowdown on hot spots like Portland, Maine, the bustling Twin Cities, and the Texas oasis of Austin. Regardless, we'll be here for you whenever (and wherever) you need us. 
---
Shannon Jacobs is a Tampa-based freelance writer and frequent contributor to the PODS Blog. She has lived in Atlanta, the Berkshires, and Nashville, but always returns to the warmth of Florida's Gulf Coast.
Sources:
Get a Quote
Choose the service you need
Comments
Leave a Comment
Your email address will not be published. Required fields are marked *