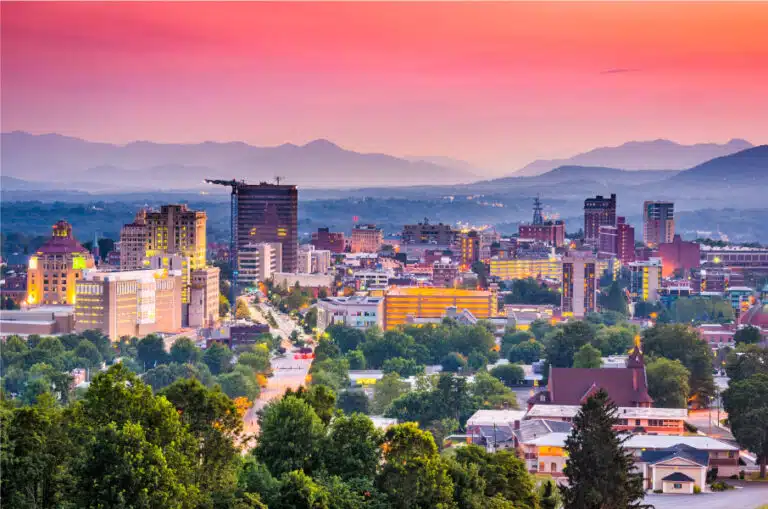 Considering Moving to Asheville, NC? Here's the Scoop on This Artsy Mountain Town
Nestled in the Blue Ridge Mountains between Charlotte and Knoxville, Asheville has long been a favored summer vacation destination, thanks to pleasant weather and stunning views. In recent years, though, word's gotten out about Asheville's welcoming, artsy vibe and exciting cultural scene, and people aren't just visiting — they're moving to Asheville, NC. In fact, between 2010 and 2020, the city (known as "Paris of the South") had a population increase of over 13%, which goes to show this is somewhere people want to live. Looking for a new home of your own? Read on to discover if this cozy mountain haven calls out to you, too.
Asheville, NC, at a Glance
Who's living in Asheville? Well, 18% of residents are 65 or older, which doesn't come as a surprise, since the city was ranked one of the best places to retire in the U.S. for 2021. Adults aged 19 to 64 make up another 64% of the population, and nearly 50% of adults 25 or older have at least a bachelor's degree.
The city's thriving arts and dining scene, not to mention endless recreational opportunities, have definitely drawn a diverse mix of people to Asheville — from families in search of a laid-back atmosphere for raising kids to young professionals attracted to burgeoning business opportunities to empty-nester retirees ready to relax and enjoy the outdoors. As for single people, in particular? In 2021, Asheville was ranked 5th on a list of "Best Places to Live for Singles."
Weather is another pleasing trait of Asheville. The city experiences all four seasons without the extremes of nearby "Tornado Alley'' and coastal tropical storms. With a generally comfortable climate year-round, Asheville gets an average of 212 sunny days, with a winter low of 25°F and a summer high of 84°F. The city also gets about 44 inches of rain and 10 inches of snowfall each year. In a nutshell, Asheville, North Carolina, weather is inviting, with just enough variation to make recreation possible in four distinct seasons.
Pro Tip: Go for the leaf-peeping, but stay for the fests. Autumn in the Blue Ridge Mountains is worth the trip for the foliage alone, but from the sounds of the Earl Scruggs Music Festival to the flavors of the Apple Butter Festival, you'll want to stay for the celebrations, too!
The most famous Asheville landmark — and a centerpiece of its tourist industry — is the Biltmore Estate, a 250-room, 175,000-square-foot, French-style chateau. Among its highlights are a winery, shops, restaurants, and 8,000 acres of breathtaking views, where guests can go hiking, biking, horseback riding, and more.
Fun fact: Part of the Biltmore Estate land was sold in the early 1920s to create a town called Biltmore Forest, a 3-square-mile plot between the estate and the city of Asheville. Home to 1,350 people, upscale living is the hallmark of this small community.
Is moving to Asheville a good idea?
Ashevillians have a lot to smile about — and the nearly 3,000 people moving to the city every year would likely answer this question with a resounding "yes." Beyond the pleasant climate and spectacular mountain scenery, here are a few other benefits of moving to Asheville:
World-Class Dining
Asheville has a dozen restaurants for every 1,000 people, with a vibrant farm-to-table movement gaining ground in local eateries along with lots of vegan and vegetarian options. The city also boasts nearly 100 bars and breweries. In fact, with more breweries per square mile than just about any other city in the U.S., Asheville has earned the title of one of the best beer cities in the nation.
Thriving Art Scene
Within the city limits, you'll find more than 25 museums, galleries, and studios. And architecturally, downtown's Neoclassical, Beaux-Arts, and Art Deco styles provide a lively backdrop for visitors exploring the area.
Outdoor Paradise
If the great outdoors is more your style, you'll be happy to find more than 3,000 miles of hiking trails nearby thanks to the nearby Appalachian Trail — and that's not counting the unmarked paths intrepid hikers take through the Blue Ridge Mountains. Rafting, tubing, and kayaking are more reasons outdoor lovers move to Asheville, with the nearby French Broad River, which runs through downtown.
Is Asheville, NC, an expensive place to live?
The cost of living in Asheville is 4% lower than the national average, with housing as the main driver at 8% less than the rest of the U.S. Among Asheville's most expensive neighborhoods are College St./Patton Ave., Grace, and Lakeshore Dr./Merrimon Ave., to name a few.
Is Asheville, NC, a nice place to live?
If it's not evident already, Asheville is a coveted destination for people looking to relocate to a scenic, active Southern city. And even with the influx of artists, chefs, and musicians, the area maintains a generous measure of old-fashioned Southern hospitality.
What are the best Asheville neighborhoods?
Asheville has a wealth of diverse neighborhoods, some favored by families and some home to artists. Here are three top picks:
River Arts District: Named one of America's "hippest neighborhoods to hang out in," the aptly nicknamed RAD, was a gritty warehouse area until artists discovered its potential — cheap rent, for starters. Today, the neighborhood is a mix of funky thrift stores, record shops, and coffee shops. Situated between downtown and the French Broad River, RAD is home to the working studios and galleries of hundreds of artists.
Downtown Asheville: Downtown is full of award-winning dining, chic boutiques, lively street performances, and local music — all showcasing the walkable urban vibe the city is known for. As for housing, dozens of historic buildings have been converted to condos — many with spectacular mountain views — and new construction has emerged, as well, to keep up with demand.
Montford: Just north of downtown, historic Montford in Asheville is another charming neighborhood of oak-lined streets and boulevards. Grand homes designed by the supervising architect of the Biltmore House have been restored to their original glory, now welcoming new generations of Ashevillians. Neighborhood celebrations include the Montford Music & Arts Festival and the Montford Park Players' Shakespeare in the Park.
What's the cost of moving to Asheville, NC?
Now that you have an idea of what Asheville is all about, it's time to get down to the nitty-gritty: that is, what it would take for you to get there. Like any relocation, the specifics of moving to Asheville, NC, will depend on your preferences and, of course, where you're coming from. Here's a high-level look at a few options:
Moving Route
Miles
PODS
(includes transport & 1-month storage)
Full-Service Movers
(includes transport & loading/unloading)
Rental Truck
(plus fuel costs)
South Florida to Asheville
788
$1,723-$2,408
$1,920-$4,100
$914-$1,411
Los Angeles to Asheville
2,298
$4,430-$5,601
$2,980-$6,020
$1,904-$2,752
Northern California to Asheville
2,595
$5,940-$8,320
$3,500-$6,895
$2,041-$2,952
*Based on estimates from PODS and MoveBuddha for a 2-3 bedroom household (800-1,200 sf), costs don't include insurance or taxes. Prices will vary based on specific locations, dates, size of household to be moved, and available discounts. For a detailed quote, call PODS at 877-350-7637.
Tips for moving to Asheville, NC
Even if you're relocating to a city as exciting as Asheville, the process of moving may not be loads of fun. But planning properly can make all the difference: Do it right, and you'll have more time to enjoy moving to Asheville and, thus, discover all your new city has in store for you.
Here are a few options:
Full-Service Movers
Soup to nuts, full-service movers take care of everything — including packing, if you prefer. Make sure to do your due diligence before signing anything, though: Read online reviews, ask for references, and make sure you get everything in writing — including the cost estimate, arrival and departure times, insurance coverage, any extra fees or charges, and policies concerning inclement weather or other unforeseen events.
PODS Moving and Storage Containers
Whether you're coming from one town over or across the country, moving can be tough. The tried-and-true method of grabbing a rental truck, loaning some friends for the day, and then schlepping everything to your new home works, but it's a load on your mind you may want to avoid. Likewise, if you hire a moving company, you're officially on their schedule, not yours. Moving with a PODS portable storage container can be the best of both worlds — and save you a headache or two. Delivered on your time right to your driveway, PODS will handle all the driving and deliver your stuff right to your next front door. And take your time — a month's storage, whether it's at your home or at a secure PODS Storage Center, is always included.
Rental Trucks
With the right size truck, the DIY option is a convenient, budget-saving way to go — as long as you have good friends who are willing to pitch in. Professionals at the truck rental agency can help you make sure you get the appropriate size truck. But, as with full-service movers, you'll still want to make sure to ask a lot of questions: Do they charge by the mile or by the day? Do you need to fill up the gas tank before you return the truck? Do they have a dolly and blankets you can use to protect your things? What kind of insurance coverage do you need? Review all of these things with the agency rep before you sign anything.
Want to see how Asheville compares to other outdoor living hot spots? Check out the PODS blog for info on other top recreation destinations like Denver, St. Petersburg, and Malibu.
---
Shannon Jacobs is a Tampa-based freelance writer and frequent contributor to the PODS blog. She has lived in Atlanta, the Berkshires, and Nashville, but always returns to the warmth of Florida's Gulf Coast.
Sources:
Get a Quote
Choose the service you need
Comments
Leave a Comment
Your email address will not be published. Required fields are marked *