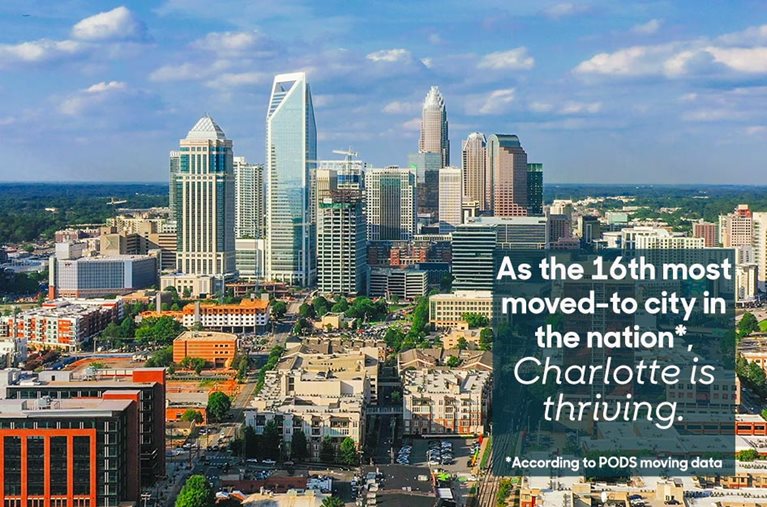 Life in the Queen City: 22 Things to Know About Living in Charlotte, NC (in 2023)
If you ask a Queen City local what living in Charlotte, NC, is really like, they'll regale you with tales of four beautiful seasons; a reasonable cost of living; gorgeous East Coast nature; and a friendly, small(er)-town feel with a big-city skyline. If you're thinking of uprooting your life to move there, though, you'll want more than just a sentence of niceties. Let's take a closer look at the pros and cons of living in Charlotte, NC. Here's our list of 22 things to know about living in Charlotte.
Charlotte at a Glance:
Population: Charlotte's population is about 885,663, according to 2023 estimates.
Cost of Living: The cost of living in Charlotte, NC, is about 2 percent below the national average.
Average Rent: The average monthly rent for a one-bedroom (943 square feet) apartment in Charlotte is around $1,675 per month.
Average home value: The average home value in Charlotte is around $382,900 as of July 2023.
Average commute time: The average one-way commute time in Charlotte is 25.3 minutes-Just a little shorter than the U.S. average of 26.4.
Living in Charlotte, NC- FAQ
Before we jump into our list, let's answer a few frequently asked questions about living in Charlotte, NC.
Q: Is Charlotte, NC, a good place to live?
A: Charlotte, NC, is a lovely place to live. With a lower-than-average cost of living, strong financial industry, relatively mild climate, and an up-and-coming food scene, it's no wonder it's one of the top 20 fastest-growing cities in the U.S.
Q: Why are people moving to Charlotte?
A: You may have heard that Charlotte, NC, is one of the fastest-growing cities in the U.S. and wondered why. For city dwellers flocking from larger hubs like New York, Charlotte offers the twinkly skyline and surplus of things to do (think: brewery tours, ball games, festivals, and museums) but with blissfully lower rents and real estate prices and even a slightly lower cost of living than the national average.
Q: What is it like to live in Charlotte?
A: Living in Charlotte, NC, means living in a mid-size southern city known for its financial industry, multiple professional sports teams and stadiums, delicious (and evolving) food scene, an abundance of parks, and a total of more than 200 neighborhoods — perfect for young singles and families alike. It also means lush, green lawns and beautiful tree-lined streets.
Q: What salary do you need to live comfortably in Charlotte, NC?
A: According to MIT, a single person without any children requires an annual income of about $36,000 before taxes, while a couple with two children (and both partners working) requires about $106,000 annually before taxes. According to the U.S. Census, the per capita income in Charlotte is around $43,000, while the median household income is around $68,000 — not far off from the national numbers. When it comes down to it, though, your required livable salary depends on where in the city you live and what kind of lifestyle you lead.
Q: Should I live in Charlotte or Raleigh?
A: While we're not in the business of comparing entire cities — each locale has its own charm and residents who relish calling it home — there are some notable differences between Charlotte and Raleigh that may help you decide where to settle. While Raleigh is the capital city of North Carolina, Charlotte boasts more of a city feeling with a population in the ballpark of twice as large. Raleigh, on the other hand, enjoys a bustling but more suburban vibe, thanks to the several universities and colleges in the area. In terms of climate and cost of living, though, you'll find both cities are fairly similar.
Q: What are the pros and cons of living in Charlotte, NC?
A: Living in Charlotte, NC, is chock full of pros, from its beautifully mild climate that still goes through four seasons, its fast-growing population and true city feel, strong job market (especially for those in the financial sector), and surplus of fun things to do for kids and couples alike. On the cons side, those who don't love the heat may want to stray clear of the hot, muggy summers, while those who hate driving may find the public transit options lacking and have to brave the traffic-prone and sometimes accident-ridden roads.
Cost of Living in Charlotte, NC, vs. the National Average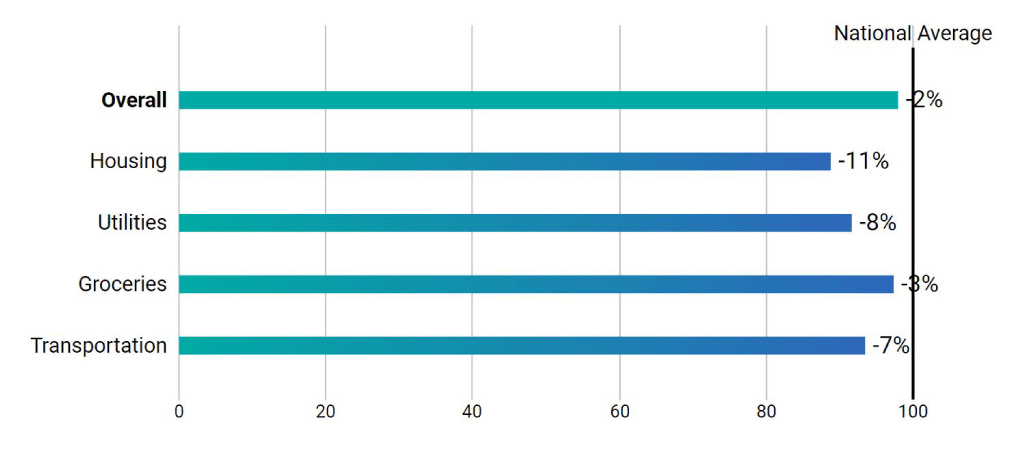 Cost of living breakdown for Charlotte, NC, versus the national average.
(Source: payscale.com)
1. The cost of living in Charlotte, NC, is lower than the national average.
Charlotte isn't hugely cheaper than other U.S. cities. Its average cost of living is on par with many other cities in North Carolina and 2 percent lower than the overall U.S. average. But depending on where you're moving from, you may notice a little extra savings in your account — especially when it comes to housing. The average monthly rent for a one-bedroom apartment in Manhattan (averaging only 703 square feet), for instance, will run you around $4,750, while the average monthly payment for a bigger one-bedroom (943 square feet, on average) apartment in Charlotte is only around $1,675. (That may be why thousands of New Yorkers flock to Charlotte each year, accounting for part of the population boost of 150,000-plus in the past decade.) Of course, the actual rent you pay depends on the building amenities, apartment size, and exact location. But on a macro level, Charlotte is more affordable than some other major cities.
2. Families enjoy a solid public school system.
Niche gives Charlotte an above-average rating when it comes to the city's public school system, so families with kids have a good shot of finding an excellent school in Charlotte. If you're looking for the A+ options, Metrolina Regional Scholars Academy, Charlotte Engineering Early College, and Ardrey Kell High School are among the top-ranking schools.
3. There are tons of fun things to do in Charlotte, NC, with kids.
When they get off the school bus, the kiddos have plenty to do around Charlotte. Looking for some ideas? Try these.
Ride the roller coasters at Carowinds amusement park.
Explore interactive exhibits at the Discovery Place Science Museum.
Catch a family-friendly show at the Children's Theatre of Charlotte.
Try out the racing simulator at the NASCAR Hall of Fame.
Take your toddler to explore nature at the Discovery Place Nature Museum.
Pan for gold at Reed Gold Mine, the first documented place gold was found in the U.S.
Bounce around for hours at Big Air Trampoline Park.
Admire turtles and stingrays at Sea Life Charlotte-Concord.
4. And there are plenty of things to do in Charlotte, NC, for couples, too!
Whether you're hiring a babysitter for date night or you're exploring the dating scene in Charlotte, it's not hard to find something fun to do on a night out. Here are some ideas for keeping the romance alive in Charlotte.
Get buzzed while brewery hopping around the city.
Catch some laughs at a comedy show.
Channel your creativity at a paint and sip night.
Enjoy some playful competition via bowling, ping pong, foosball, or pinball- all at the same venue.
Take them out to a ball game.
Go to an "urban golf club"- equal parts country club and speakeasy.
Tune in to an outdoor concert.
Sample different cuisines in a cool converted textile mill turned food hall.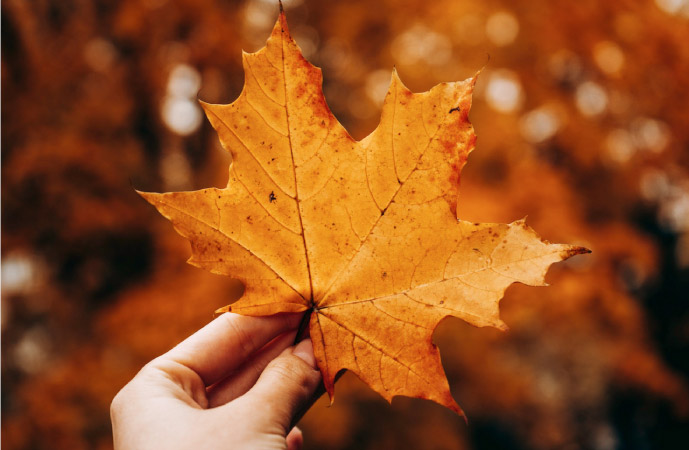 (Source: Petra Kopásková via Pexels)
5. You can embrace all four seasons.
If you relish the changing of the seasons but hate packing on layers of parkas, you'll love the weather in Charlotte. The temperature throughout the year averages about 62 degrees Fahrenheit, and winters tend to be mild (most of the time). Prepare to soak up the sun, though — summers are known to be warm and muggy, with temperatures averaging in the upper 70s.
6. You can escape to nature any time you want.
Sometimes, living in an urban locale means sacrificing access to gorgeous naturescapes. Not so in Charlotte. If you need a break from the congestion, there are several beaches close enough for a day trip. Ramsey Creek Park, for instance, is a mere 45-minute drive from Charlotte and features a 46-acre waterfront park with picnic shelters, a playground, nature trails, and more on the Lake Norman waterfront. If you're after a saltwater beach, you'll have to trek a bit further to Myrtle Beach, which is about 3.5 hours southeast of the city — but it'll be worth it to dip your toes in the Atlantic.
7. You don't have to go far to take a hike.
If you're craving a tree-lined trek more than a relaxing afternoon on a sandy beach, take to one of the many hiking trails around Charlotte. Crowders Mountain State Park offers a scenic two-mile trail just 40 minutes from Uptown Charlotte, while South Mountains State Park boasts a loop that crosses over Jacob Fork River, ending at High Shoals Waterfall — and only a 1.5-hour drive from Charlotte.
8. It's a dynamic, fast-growing city.
Who doesn't want to live in a sought-after place? Unsurprisingly, Charlotte is growing. In 2022, Charlotte experienced the nation's fifth-largest population increase, adding about 15,000 newbies from the year prior. PODS can corroborate that trend with their own data — Charlotte ranked as the 16th city with the most move-ins, according to 2023 moving trends.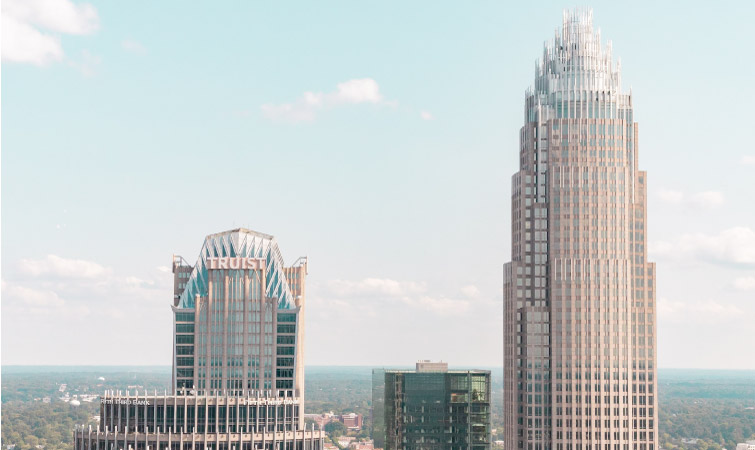 The Bank of America Tower (on the right) in Uptown Charlotte.
(Source: Pisgah Digital via Unsplash)
9. Charlotte is a thriving financial hub.
Here's a fun fact: After New York City, Charlotte is the second largest banking center in the country. This is thanks to one of the biggest banks in the world, Bank of America, which is headquartered right here in the Queen City. If you're looking to work in finance, Charlotte surely has plenty of job opportunities to offer.
10. It has a strong job market.
On top of its booming financial industry, Charlotte has a generally solid job market. Its unemployment rate in June 2023 was just 3.4 (down from 3.7 a year prior). That's less than the national average of 3.8 in June of 2022 and 2023. Looking ahead, the North Carolina job market is projected to add more than 300,000 new jobs by the end of 2028, and most of those jobs will be created in Charlotte and Raleigh.
11. It's the most diverse city in North Carolina.
According to a report by WalletHub, Charlotte ranks as the 74th most diverse city in the U.S., out of 500 of the largest cities (and the 26th among large cities) — also making it the most diverse city in North Carolina. That's taking into account race and ethnicity, birthplace, and language. When it comes to ethnic diversity, recent Census data shows the population is made up of roughly 45% White residents, 35% Black or African American residents, 15% Hispanic or Latino residents, and 7% Asian residents.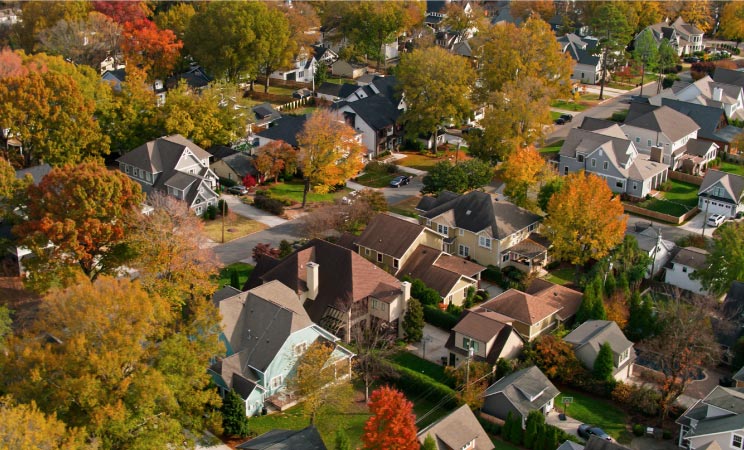 Dilworth neighborhood
12. There are so many lovely neighborhoods to reside in.
With a plethora of neighborhoods and suburbs, Charlotte has a wide range of communities to choose from. Families looking to settle down in an area with gorgeous single-family homes, tree-lined streets, and top-notch schools may gravitate toward Myers Park; young professionals on a budget might prefer the relatively affordable rents of Belmont; while tourists, and those looking to be within walking distance of bars and businesses, should flock to Uptown.
13. Living in Charlotte, NC, is a dream come true for sports fans.
Whether you're a die-hard Panthers fan or just tagging along for the tailgate, Charlotte has so much going on in the way of
sporting events
that you're likely to go to a game at some point. From Charlotte Hornets basketball games at Spectrum Center to Carolina Panthers football and Charlotte FC soccer games at Bank of America Stadium, you've got your bases covered for live sports viewing all year round.
14. It's a city with a regal history.
Spend a little time in Charlotte and you'll likely hear it referred to as the Queen City. Why? "Charlotte and its resident county are named in honor of Charlotte of Mecklenburg-Strelitz, the queen consort of British King George III during the time of the city's founding," explains the
city's official site
. Long live the Queen City!
15. It has a hoppy brewery scene.
From patios with skyline views to quaint taprooms, Charlotte has more breweries than there are cans in a case of beer — more than 40, actually! Heist Brewery is great for brunch and hanging out in their covered beer garden, for example, while Lenny Boy Brewing Co. offers alternatives for non-beer drinkers such as kombucha and food trucks. For a comprehensive look at the city's breweries, vibes, and the best drink to buy at each, check out this guide.
16. It's one of the next big food cities.
Take it from Food & Wine, who named Charlotte, North Carolina, in their 2022 list of "America's Next Great Food Cities". They note the city's BayHaven Food & Wine Festival, celebrating Black chefs in the region; the range of dishes at Optimist hall, from Indian street food to dumplings to microbrews; and the ever-changing injection of fresh flavors into the food scene, thanks to the Johnson & Wales University Charlotte campus.

As much as you may love where you live, having fun nearby destinations is a perk worth prioritizing.
17. There are weekend getaways galore.
As much as you may love where you live, having fun nearby destinations is a perk worth prioritizing. Mix things up by taking a long weekend to explore locales like the state capital, Raleigh, North Carolina; the gorgeous Outer Banks islands; or Asheville, known for its Blue Ridge Mountain views and arts scene.
18. It has a nice skyline and a small-city feel.
Along with the amenities and mix of people, part of the allure of living in a city is the look of it: the skyscraper view you can catch driving into the city or the dramatic skyline you can snap a photo of from a rooftop bar. Charlotte offers that
photo-worthy vista
, but locals also tout how it manages to maintain the friendly calm of a smaller city — though with its population on the rise, that feeling may be changing.
19. There are oodles of parks to hang out in.
Over and over again, studies have shown how important green space is for mental health and wellness — specifically in cities, where there's more asphalt than grass. But Charlotte has no shortage of green spots to spread out with a picnic or play a game of frisbee with friends. According to a 2022 report by Stacker, Charlotte ranks number 27 among the 50 U.S. cities with the most green space per capita. With 14 parks in total (and counting), Charlotte has nearly 11,000 square feet of green space per resident.
20. There are a few ways to get around town.
When it comes to public transit, Charlotte has a few options. The bus system, known as CATS (Charlotte Area Transit System) comprises 70 different local, regional, and express routes. A local ride will cost you $2.20 each way, while express and regional tickets go for $3 and $4.40, respectively. For when you first touch down at Charlotte Douglas International Airport, Sprinter Bus Service can shuttle you to any of various central locations. Ride-sharing services like Uber and Lyft, taxis, and bike-sharing services like Charlotte B-cycle and LimeBike can also whisk you around the city.
21. You'll want to be on your best driving behavior.
Though there are public transit options, extended wait times and limited routes mean many residents choose to drive to get where they need to go. That said, driving in the Queen City can be dangerous. In fact, Charlotte is home to two of the state's deadliest stretches of road — Interstate 85 (between Brookshire Boulevard and Sugar Creek Road) and Interstate 77 (between Remount Road and Exit 13A).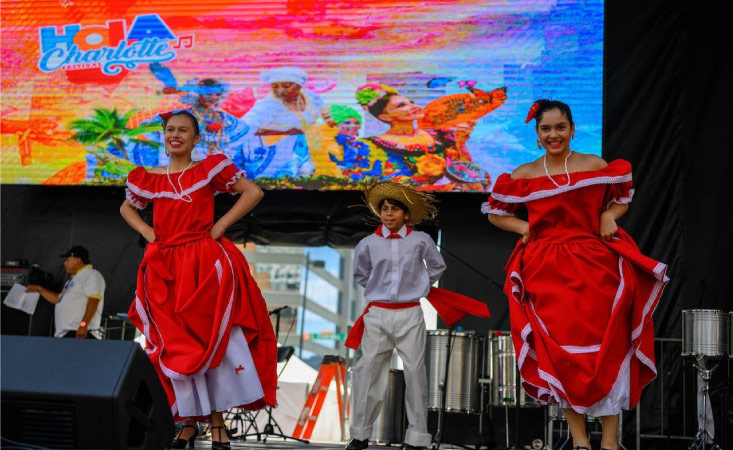 Hola Charlotte festival
(Source: charlottesgotalot.com)
22. It's a city of festivals.
Nothing makes a city feel more like a community than a festival, and by that measure, Charlotte is one big, celebrated community. From film festivals and porch fests to performing arts showcases and food and wine weeks, there are just so many fun opportunities to come together throughout the year.
Now that you have a better sense of the pros and cons of living in Charlotte, NC, are you ready to make the move and start living your best life in the Queen City? Consider using a PODS portable moving container for a flexible move that works with your schedule. PODS will deliver a container right to your driveway, where you can pack and load at your own pace. When you're ready, they'll pick it up and deliver it to your new home in Charlotte. Need some more time before you're ready to move in? You can keep your container as a PODS Storage Center for as long as you need. PODS will simply deliver your container to you when you're ready.

Sofia Rivera is a Boston-based lifestyle editor and frequent contributor to the PODS Blog. Her work has appeared in Boston magazine, Apartment Therapy, and more. You can most often find her redecorating her apartment, trying out a new recipe, or trekking all over the city.
Get a Quote
Choose the service you need
Comments
Leave a Comment
Your email address will not be published. Required fields are marked *