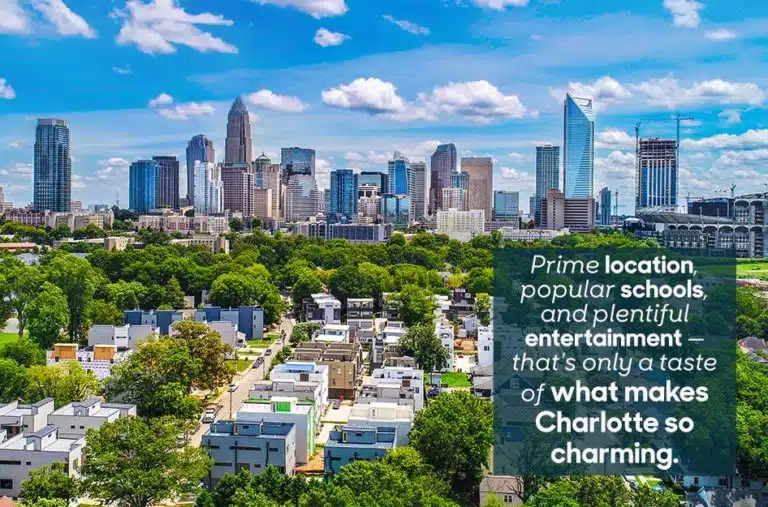 Expect Southern Hospitality and Modern Amenities When Moving to Charlotte, NC
So you're thinking about making the Queen City your new home, huh? Well, how do you feel about Southern hospitality? It's one of the most important things to know before moving to Charlotte, NC: The city embraces Southern hospitality and always extends a pineapple-decorated welcome mat for masses of newcomers — especially from Northern and Western states.
You won't find strict adherence to all Southern traditions, though. Well, except for sweet tea, BBQ, and a little "Bless Your Heart'' sentiment thrown in now and then. And even though some neighborhoods stick to traditional roots, the city has adapted to a wide range of cultures and attitudes brought in by new residents. It's like the best of both worlds in one city.
So chances are, your new Charlotte neighborhood will not just be brimming with Southern charm, but it will also have an eclectic mix of people: North Carolinians, New Jerseyans, Michiganders, Californians, and natives of a few other states for good measure. Our PODS Blog article titled "Where Are People Moving to in 2022?" confirms the city's diverse pedigree by naming Charlotte #18 on the list of cities with the most growth.
Q: Is moving to Charlotte, NC, a good idea?
A: A lot of people think so. Charlotte's unique mix of urban and suburban features gives everyone a chance to find the perfect neighborhood. Whether you prefer a few acres of land or want to walk to dinner each night, this modern yet classic Southern city is welcoming and continues to entice new residents from across the country.
About Charlotte, NC
Charlotte is a large city in Mecklenburg County with a population of nearly 880,000. If you include the metro area, the number bumps to around 2,600,000. Much of the population is composed of young families (the median age is 37.6 years) looking for affordable homes and quality public schools. The booming banking and healthcare industries that Charlotte is known for draw professionals of all ages, while nearby universities are a natural funnel for college graduates. It's easy to see why Charlotte continues to attract a talented and highly educated crowd.
Pros and Cons of Moving to Charlotte, NC
No doubt you've heard rave reviews about Charlotte, and they probably have you thinking, "Should I move to Charlotte, NC, too?" You're not the first (nor will you be the last) to consider the change, but before you buy tickets to your first NASCAR race, there are some pros and cons to consider.
Central Location
Charlotte's geographically central location is a big draw. It's close to several Interstates, including I-95, so trips up and down the East Coast are doable on short notice. And, of course, the Atlantic Ocean and the Blue Ridge Mountains are just a few hours away. Finally, big, but not too big, Charlotte Douglas International Airport transports you across the country or to any international destinations you want to explore.
Crime Rates
Overall, Charlottonians feel safe in their communities and use common sense street smarts. But, like any big city, Charlotte has its fair share of crime, if not more. NeighborhoodScout reports that your chance of becoming a victim of either violent or property crime is one in 24.
Transportation
Charlotte has every amenity a modern city should, including a high quality of life, thanks to overall affordability and plenty of room to develop housing and industry. But where you find continued growth, you'll also find growing pains in the infrastructure, including insufficient public transportation and constant road construction. Luckily, most commutes in and out of the city are short on mileage. And locals who know how to navigate Charlotte's back roads and cut-throughs will get around traffic jams much faster.
Public Schools
Charlotte public schools rank high against other North Carolina districts, earning a B+ score from Niche. And many individual schools receive higher scores, which is an excellent asset for the community, but top-ranked schools are often overcrowded and endure waves of redistricting and neighborhood school zone changes.
Cost of Living in Charlotte, NC
One of the giant pros of moving to Charlotte has always been its relative affordability for a city of its size. But inflation and pandemic migration have increased the cost of living, and Charlotte isn't as affordable as it once was. Keep in mind, however, if you're moving from somewhere like Chicago or Washington, D.C., the Charlotte lifestyle is still a bargain. Plus, you can say goodbye to your cold-weather gear.
As of September 2022, the cost of living in Charlotte, NC, was 1.5% higher than the year before. The cost of living increase doesn't seem too bad, but if you combine it with the fact that Charlotte home values increased 20.8% during the same time, reaching a typical home value of $400,662, and the median household income is $65,359, it paints a more expensive picture.
Don't worry, though. If your heart is still set on relocating and adding "ya'll" to your everyday vocab, there are a couple of ways you could catch a break and save some money, depending on the state you move from.
Q: What is a good salary to live in Charlotte, NC?
A: Now that you've seen the cost of living in Charlotte, NC, you probably want to know how much you need to earn to live comfortably. The Massachusetts Institute of Technology created a table that suggests two working adults with two children need to make $23.81 an hour to earn a living wage. Or take into account two popular Charlotte professions and their typical annual salary. Managers earn $117,047, and those working in business and financial operations earn $73,819.
Charlotte Weather
If you ask a new resident why they moved to Charlotte, chances are good that they'll mention the weather — especially if they left a Northeastern city like New York or Boston. Charlotte has the coveted distinction of experiencing four seasons, yet none are severe. Yes, it's hot and humid during the summer, when the highs hover near 90 degrees, but during the winter, average lows don't usually dip below the 30 degrees.
You won't need to worry about snow days; only about two inches of snow falls per year. But watch out for the occasional icy weather event that will close schools and many businesses in the area. Like many other Southern cities, spring and fall are the best times of year to practice your golf swing or enjoy cocktails near the backyard fire pit.
Q: Why are so many moving to Charlotte?
A: The answer is simple. Charlotte has the prized combination of affordable living, plenty of job opportunities, a thriving cultural scene, and weather that's neither too hot nor too cold for too long.
Three of the Best Charlotte Neighborhoods
1. Huntersville
If you've always dreamed of lake life in the Carolinas, Charlotte's northern suburb, Huntersville, located on Lake Norman, turns dreams into reality. Choose from charming cottages nestled in the woods or sprawling lakefront homes with perfect views. Either way, you'll always have access to year-round lake activities. You can probably guess that you'll pay extra for the privacy and lake access, of course. With that in mind, Niche gives Huntersville a B- for its cost of living grade, thanks to its median home value of $318,000 compared to the national median of $229,800.
Families appreciate the excellent schools, abundance of outdoor and water fun, and the chance to thrive like they live "away from it all." But Huntersville's best-of-both-worlds location near Interstates 77 and 485 lets residents enjoy Charlotte's big-city attractions just 15 miles away. You don't have to leave Huntersville to find everyday amenities, though. There are plenty of shopping and dining outlets to try, as well as parks, trails, and nature preserves to explore.
2. Ballantyne
Upscale and home to plenty of newcomers, Ballantyne is a southern suburb (so southern it reaches South Carolina's border) of Charlotte. But if you ask a local, they firmly feel Ballantyne is a city unto itself, especially when discussing the divisive local tax issues. The area is split between East and West, and there's some difference between median home values of $435,645 (East) and $416,958 (West).
Ballantyne is home to the nationally recognized Ballantyne Corporate Park, which houses multiple Fortune 500 headquarters and more than 35 Fortune 500 companies, including Brighthouse Financial, Wells Fargo, Premier, Synchrony, TIAA, Lincoln Financial Group, Spectrum, and Siemens.
Ballantyne has thousands of apartments and over 1,000 single-family homes within the 2,000-acre community. For the most part, you need a car to get around, and there's plenty of traffic during high commute times, but residents appreciate the high-end lifestyle that local boutiques and eateries bring to the area in addition to national stores like Target and Starbucks. Niche ranks Ballantyne East and West as the #1 and #2 Neighborhoods to Raise a Family in Charlotte in 2022. Parents also seek Ballantyne's high-performing public schools.
3. Matthews
Families flock to Charlotte's southeast suburb, Matthews, for the small-town feel and affordable housing. The community vibe is strong, and neighbors pack their calendars with holiday events, seasonal festivals, and neighborhood get-togethers, like impromptu weekend college football parties. North Carolina is in the South, after all! In town, you'll find movies and concerts in the park, a farmers market, and the local hub for the arts, The McDowell Arts Center.
The area is growing at a fast pace, so you're sure to run into other out-of-towners that appreciate low taxes and the proximity to Charlotte's dining, shopping, and entertainment scene. For example, Redfin reports that New York homebuyers were the #1 inbound movers into Matthews, spending a median sale price of $470,00 in September 2022.
Things to do in Charlotte, NC
Many Charlottonians think the entertainment factor is one of the best things about moving to the Queen City. Even its geographic location is ideal. For example, you could easily pack the car in the morning, head west, and spend the day apple-picking in the mountains. Or drive east and hit world-class beaches at the Outer Banks or Myrtle Beach, SC. If bustling cities are your calling, visit Charleston, just three and a half hours away.
Closer to home, you won't spend a ton of time searching for things to do in Charlotte because there's always an event to attend. So whether you appreciate the buzz of a museum gala, the excitement of a sporting event, or a soothing yoga session in a park, you'll find activities that happily fill your day. Here's a list of popular things to do to help you get started.
Moving to Charlotte, NC
Now that you know about the long list of why you should move to Charlotte, NC, it's time to create an action plan. After deciding when you'd like to move — remember, it's usually less expensive to move during off-peak months like the fall or winter — plan for a few thorough rounds of decluttering before moving. You'll thank yourself later when you pay for less labor and moving truck space.
After, decide if you have the time and energy for a DIY move or if your time is better spent letting professionals work their moving magic. Either way, start hunting for moving boxes and read our packing tips on the PODS Blog. They'll help you pack efficiently, save money, and worry less about your move.
Best Moving Companies: Charlotte, NC
It's always good to have choices, right? So when moving to Charlotte, rest easy knowing you have three options you can customize to make the transition seamless.
Full-Service Charlotte Moving Companies
If you're moving across the country, look into a long-distance moving company that services your Charlotte address. A full-service moving company takes care of everything (for a cost, of course), from packing and loading at your old address to unloading and reassembling furniture at the new one. You can also hire a full-service moving company to manage your local move if you prefer a luxury, white-glove experience.
There's no shortage of full-service movers in Charlotte, so just look up best moving companies in Charlotte, NC and you'll be on your way. But before you decide which to hire, always research their policies, ask questions about your quote, and ask for referrals.
A DIY Move With a Rental Truck
It makes sense to move yourself if you're budget-conscious or packing a small load with a local move in mind. The trick is to carefully plan a Jenga-like pack job to get everything you need in as few truckloads as possible, with as little damage as possible. Prepare to spend plenty of time sourcing packing materials like moving blankets, packing paper and/or bubble cushioning, and sturdy moving boxes. And, of course, be prepared to do all the heavy lifting yourself, unless you can convince some friends and family members to pitch in some time and energy.
Hiring a rental truck company is similar to hiring professional Charlotte movers. Ask for accurate pricing and a contract that clearly states the terms and conditions, especially regarding insurance. You'll want to know what you pay for versus what the company covers, in case of an accident.
PODS Portable Moving Containers
PODS portable moving and storage containers customize your local or long-distance Charlotte move in a few easy steps. After choosing one of three containers that match your load size, you can expect a container to arrive at a predetermined time in your driveway. Then, when you're ready, you can pack and load your boxes. The containers are built to resist the weather, so you can take your time and pack efficiently. After, a driver will pick up your container and move it to your new address or a nearby PODS Storage Center. And lucky for you, you won't have to break the bank, dodge traffic, or pay high gas prices. Here's another bonus: You can keep your container for as long as you need it. PODS will simply come get it when you're finished.
---
Dawn M. Smith writes about most home topics, including relocation, real estate, and home improvement. As a military spouse, she knows all too well the ups and downs of creating a new home after each move. From scouting the best neighborhoods and packing last-minute to choosing the perfect paint color, she gets it all done (usually in a hurry) with her family and Golden Retriever in tow. Dawn shares her lessons learned with the PODS Blog and other outlets like Angi, HomeAdvisor, and MilitaryByOwner.
Get a Quote
Choose the service you need
Comments
Leave a Comment
Your email address will not be published. Required fields are marked *