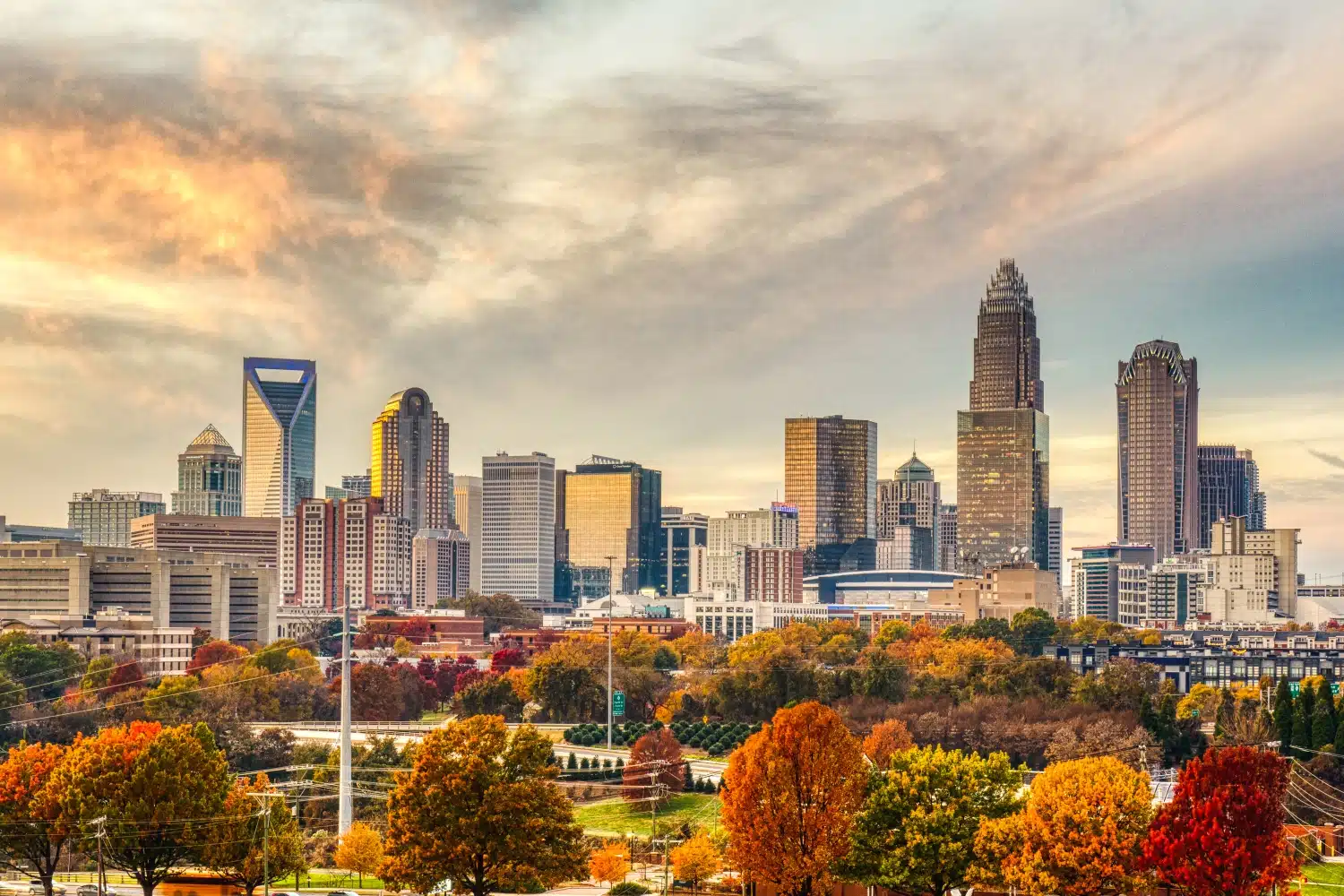 15 Best Neighborhoods in Charlotte, NC, for 2023
Contemplating a move to one of the best neighborhoods in Charlotte, NC? We don't blame you. When you think of Charlotte, it's easy to describe it as hip, vibrant, and…well…huge. Yep, the Queen City is the country's 15th most populous city — even surpassing famous metropolises like San Francisco. And there's no doubt it goes big on business — especially in the banking industry. Believe it or not, Charlotte is actually the nation's second-largest banking hub, coming in right behind NYC.
A great job market, diversity, tons of culture, good schools, an outstanding food scene (don't think we forgot about that lip-smackingly good North Carolina BBQ), and a relatively affordable cost of living make Charlotte a hot contender among young professionals, families, singles, and students. Life here is laid back, fun, and full of southern charm.
But wondering where to look for a Queen City home or rental to call your own? We know sussing out a city with over 200 neighborhoods can be overwhelming. So we've got you covered with a closer look at some of the best neighborhoods in Charlotte, NC — complete with all the things you want to know, including average home prices, types of housing, vibes, schools, and things to do.
Whether you're moving to Charlotte, NC, from nearby or relocating from afar, we think you're going to love it. In fact, we'll bet you can bank on it.
What Are Charlotte Housing Prices Like?
Charlotte's popularity has resulted in a real estate boom. It's also caused a rise in housing prices and the overall cost of living. But while it's getting more and more challenging to find great deals on homes, prices for both buyers and renters aren't too far off from the national average — at least for now.
As of March 2023, Zillow lists the average home value in Charlotte at $375,300 — up 3.3% from the same time the previous year, but down nearly 3.5% from a high in August 2022. For comparison, the national home value average saw a 5% increase over the last year and lists at about $334,300 as of April 2023.
Looking to rent instead of buy? According to February 2023 RentCafe numbers, rent in Charlotte averages a little more than $1,600 per month — roughly $100 less than the national average. While there are a variety of rental types available, the average apartment size in Charlotte is about 940 square feet (think one-bedroom).
Best Neighborhoods in Charlotte, NC
Charlotte has nearly 200 official city-designated neighborhoods, which works out to approximately one neighborhood every mile and a half! That's good news for anyone looking to call the Queen City home. From historic Victorian and Tudor homes to more contemporary condos and modern high-rise apartments, there's plenty to choose from. Plus, you'll have your pick of neighborhoods and vibes, ranging from the buzzing Central Business District to the more settled-down suburbs.
1. Uptown Charlotte
Don't be confused by this bustling neighborhood's name. Uptown Charlotte is located in the downtown Central Business District. Uptown is split at the intersection of Tryon and Trade Streets and divided into four wards, all encircled by the 277 and 77 Interstates. Don't want a car? You might not need one. Walk Score rates Uptown's First, Second, and Fourth wards as Charlotte's top walkable areas.
Uptown is considered the city's heartbeat, pumped full of tech startups, creatives, restaurants, bars, the city's top museums, gobs of nightlife and entertainment options, and a true big-city feel.
Diverse housing options range from single-story Victorian homes to chic high-rises. And unsurprisingly, having all Uptown has to offer at your fingertips makes this neighborhood one of Charlotte's most popular — and more expensive.
Most residents here are young professionals, singles, or students from the nearby colleges and universities. You know, folks looking for a lively slice of walkable city life — and who don't mind the noise or higher prices that come along with it. However, anyone who lives here will be sharing the neighborhood with locals and visitors alike, as Uptown is also a popular tourist spot.
2. Providence Estates East
Providence Estates East is a very small, family-oriented neighborhood in southeast Charlotte that boasts a surprising amount of diversity and inclusion for its size. Most folks here own their homes, which are above the city's typical average price point. This is a very suburban spot and one of Niche's best places to raise a family in Charlotte, as well as one of their top five places to live in Charlotte. The vibe here is very residential, and you'll notice less public activity or places to hang out, though there is a central park (Colonel Francis Beatty Park) smack in the middle of the 'hood with gorgeous lake views, hiking and walking trails, and a few sports fields.
3. Providence Crossing
If you're looking to raise a family, Providence Crossing is one of the top three Charlotte neighborhoods to do so, according to Niche. This larger-sized neighborhood is about 16 miles south of the city center and serves up good suburban vibes with a side of top-rated schools. Most residents tend to own their homes, which come in at a slightly higher average value than the city average, but aren't as expensive as some of Charlotte's wealthier neighborhoods. Rent, however, is a few hundred dollars more. In this subdivision neighborhood, you'll mostly find large, single-family homes with big, manicured and landscaped yards.
4. Myers Park
It's no coincidence that one of Charlotte's premiere neighborhoods is also one of its most picturesque. If you were ever wondering, "What is the richest area in Charlotte?," Myers Park is at the top of the list. A well-heeled area located about 10 minutes from the city center, Myers Park is known for its 100-year-old oak canopy-lined streets, stately mansions, and collection of upper-crust amenities. It's also home to some of Charlotte's wealthiest residents and a high concentration of families.
Myers Park isn't very walkable or well connected to public transit, but that's actually how it was designed. Residents come here for the suburban feel and highly rated public schools, and they stay for the gourmet grocers, upscale boutiques, swanky country club, Booty Loop trail, and art galleries. Whether you end up calling Myers Park home, stopping by Wing Haven Garden & Bird Sanctuary's rose garden is a lovely way to spend a day — even better if you bookend it with breakfast at littleSpoon Eatery off the Selwyn Avenue strip and a visit to the 98-acre Freedom Park.
Fun Fact: What is the prettiest street in Charlotte? Hermitage Road in Myers Park is often lauded as the city's most beautiful street.
5. Beverly Woods
Beverly Woods has A ratings from Niche for its schools, housing, and jobs. It's also ranked by the site as one of the best neighborhoods in Charlotte to raise a family. Most residents praise the community's friendliness and convenient location — you can reach the airport, Uptown, and South Charlotte in 10 to 15 minutes by car. There are tons of green spaces, some good restaurants, and an overall urban-meets-suburban feel. However, it's not very ethnically diverse. Most people here own their homes, which are single-family dwellings in a range of styles. Bonus: Almost all of them have decent-sized yards. Schools here are extremely well rated and include several top schools in the state at various learning levels.
6. Plaza Midwood
Plaza Midwood is a mid-sized neighborhood in Charlotte that refuses to be labeled. You've got historic homes sharing streets with trendy thrift stores and a host of good eats alongside wellness venues. Breweries, bars, and cool hip eateries are common. There's something here for everyone, but the area appeals most to families without kids and professionals looking for a calm and friendly place to delight their many different whims. Schools here have an overall B rating from Niche, and rent is about $100 lower than the city average.
7. SouthPark
Located about 15 minutes south of Uptown, Charlotte's SouthPark neighborhood offers a life full of luxuries both big and small. This neighborhood is loaded with extravagant mansions and apartments, high-end shopping, and upscale restaurants. Families are drawn to the neighborhood's quiet, tree-lined streets and large homes, though SouthPark's posh side appeals to young professionals looking for a taste of the sweet life, as well.
Even if you don't end up living in SouthPark, chances are you'll still find your way to this beautiful area of Charlotte. Full of upscale, designer retailers, SouthPark Mall is a huge destination for locals and visitors. Events (or just walks) at Symphony Park, special meals out at SouthPark's restaurants — like tapas at Bulla Gastrobar or cocktails and small plates at Dogwood: A Southern Table — or perusing the independent boutiques are a must.
8. Cherry
If you're looking for that small community feel without sacrificing your social calendar or adding to your commute, take a look at Cherry. Under two miles from Uptown, Cherry offers residents easy access to the hubbub of the city center while living in a quieter area. Niche rates this as the second best place to live in Charlotte and gives its nightlife, diversity, and wellness A ratings. However, higher rent and housing prices than the city average bring the cost of living down to a C. Most residents are adults between 25 and 45, making Cherry — and all that it's accessible to — a favorite among young professionals.
9. Ashbrook-Clawson Village
Ashbrook-Clawson Village has an A+ rating from Niche (as of April 2023). This tiny neighborhood is located 4 miles south of Uptown, and the closest large greenspace is Freedom Park, just under 1.5 miles away. Families with children make up about a quarter of the 2,500 residents here, but unlike some of the family-friendly neighborhoods with more of a sparse suburban feel, Ashbrook-Clawson Village has a little bit more going on when it comes to bars, restaurants, and shops.
10. Belmont
This trendy neighborhood pulls in young professionals and singles with affordable rentals and adjacent proximity to the action in Uptown. Located on the eastern edge of Uptown's First Ward, Belmont features a lot of beautiful Southern-style bungalows with wraparound porches, new high-rise condos, and single-story Victorian homes. The neighborhood has been going through somewhat of a revival over the last few years, making the transition from Old Charlotte to New Charlotte.
No matter what you decide about living in Belmont, you can't live in Charlotte without sinking your teeth into some of the local BBQ. Head over to Sweet Lew's BBQ, a Belmont spot, to snag a traditional taste of North Carolina's signature style. And for dessert, take a trip to Alexander Street Park for delicious sunset views of the Charlotte skyline, or head out for a beer at Catawba Brewing Company.
11. Dilworth
Niche rates Dilworth as the best neighborhood in Charlotte — and we can't argue. This neighborhood has stood the test of time and is now a gorgeous mix of old and new. (Fun fact: Dilworth is on the National Register of Historic Places.) Tons of boutiques, restaurants, cafes, bars, and shops are scattered about the neighborhood, all within easy walking distance, giving this popular neighborhood a cozy feeling with small-city energy. Schools here are also great, attracting families, and it's not uncommon to have communal events. Dilworth is also home to Freedom Park, a 98-acre greenspace where you can get your sports on or just chill by the lake.
Q: What's the Best Neighborhood to Live in Charlotte, NC?
A: Determining the best neighborhoods in Charlotte, NC, for you depends on your personal preferences. For example, families may want to consider neighborhoods in Charlotte with less car traffic and good schools, such as Myers Park. Young professionals and students may prioritize amenities and the ability to walk or bike to work or school and prefer living in Uptown Charlotte in the heart of the city. Still, others may be looking for a community-driven neighborhood with more affordable prices like Belmont. It's all about you and your wants.
12. Providence Plantation
If you're looking for that spread-out suburban sprawl, the fairly large community of Providence Plantation might be just right. This "neighborhood" is a development that sets single family homes on half-acre to two acre plots of land, giving families with kids (or dogs!) a lot of outdoor play space. This friendly community is located close to I-485 and has excellent schools. And as of April 2023, Niche ranks Providence Plantation as the top spot in Charlotte to raise a family. In addition to idyllic green streets, you'll also find a host of community amenities from sports courts to planned events and activities. Rentals may be sparse, though, as most folks here own their homes.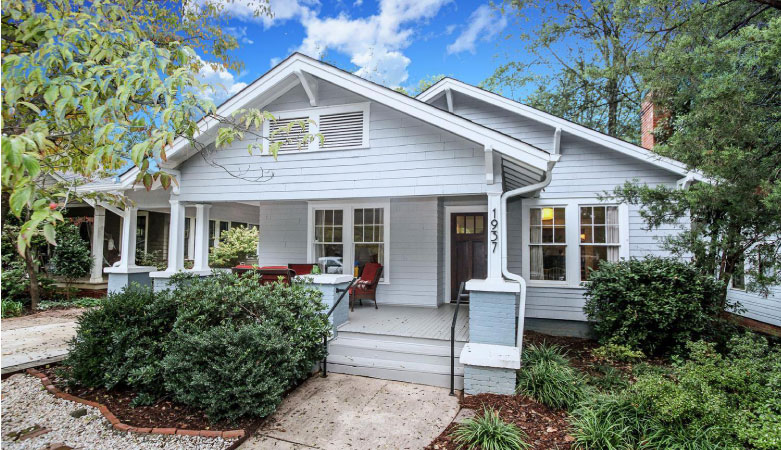 13. Elizabeth
You'll find this small historic neighborhood sandwiched between Cherry and Chantilly, a few blocks from I-74. It's a low-key but vibrant historic area of the city beloved by locals and newcomers alike. This is the neighborhood where everything seems almost too cute and quaint to be true, whether you're picking up a coffee and pastry at one of the bakeries, walking in the sun with an ice cream cone, spending time at the Independence Park rose garden, or sipping a few cocktails at a watering hole. Think exposed brick, worn woods, and many covered patios. It's also home to Central Piedmont Community College. Housing is higher than average, but not by too much (and many residents will say it's worth the extra coin).
14. Provincetowne
Provincetowne is a medium-sized, middle-class neighborhood with a suburban feel located about 16 miles south of the city center. Niche gives this neighborhood an A+ rating and ranks it as the second best place to raise a family in Charlotte. Schools, housing, diversity, and jobs all received A ratings as well. Houses and apartments here are contemporary, spacious (usually between 1,000 to 1,500 square feet for a one-bedroom), and are priced above the city average. There are particularly a lot of townhouses here.
15. Wesley Heights
If you're looking for a room with a view, Wesley Heights offers spectacular vistas of the Downtown Charlotte skyline. Another Charlotte spot that combines old with new, Wesley Heights is walkable, full of tree-lined streets, and has enough going on where you won't need to leave the neighborhood. But, if you do, this area is super close to I-77 and is walkable via green walking paths to the fancy shops and eats in Uptown. And while there aren't too many families with kids in this bustling area, Niche still gives the schools an overall above average rating. The many things to do, proximity, and lower rent tends to draw mostly young professionals, singles, and creatives.
Bonus: Best Charlotte Suburbs
Belmont, NC
Not to be confused with the Belmont neighborhood within Charlotte city limits, Belmont, NC, is located about 15 miles west of the Queen City. Niche rates it as one of the best suburbs to live in North Carolina, giving it an overall A grade. The vibe here is spacious and suburban, the schools are highly rated, and the commute to Charlotte is easy, making Belmont popular with families, young professionals, and young family transplants from the city.
Belmont is full of a mix of condos, townhomes, and apartment homes — many built in the early 1970s and sporting brick exteriors. Want something more modern? Rentals tend to be newer builds.
There are 15 public schools in Belmont, including the Highland School of Technology, which ranks as the 22nd best public high school in the state, according to Niche. Residents here enjoy breezy strolls through the Belmont Historic District, hunting finds at the Catawba River Antique Mall and Piccolo Antique Mall, and flexing their adrenaline and watersports skills at the nearby U.S. National Whitewater Center.
Davidson, NC
Located about a 30-minute straight shot north of Charlotte, Davidson is a popular suburb for young professionals, college students, and families. Niche rates Davidson as the top suburb to live in the Charlotte area — and in the top four best suburbs to live in the state. The vibe here is spacious and suburban but vibrant, thanks to the younger-skewing pool of residents.
Condos are a common find here, and many come with gorgeous waterfront views over Lake Davidson, spacious wooden balconies, and multiple bedrooms. Davidson families have a great selection of public schools to choose from, including nearly 20 schools that Niche grades as A or better. It's also home to the prestigious — and selective — Davidson College, a liberal arts college also known for its athletics teams.
Planning Your Move
Ready to start planning your move to Charlotte? It's never too early to start. Check out more tips and tricks from the PODS Blog to help get you on the move. From how to pack for a long-distance move and the top questions to ask when vetting a moving company to tips on moving with portable containers and more, PODS Moving & Storage is here for you every step of the way.
---
Alex Keight is a frequent contributor to the PODS Blog who has moved 20+ times because she loves to experience new places. She most recently moved from Los Angeles to Portland, OR.
Editor's note: Monthly rental prices were rounded to the nearest $25 and home values were rounded to the nearest $100 for ease of reading.
Get a Quote
Choose the service you need
Comments
Leave a Comment
Your email address will not be published. Required fields are marked *