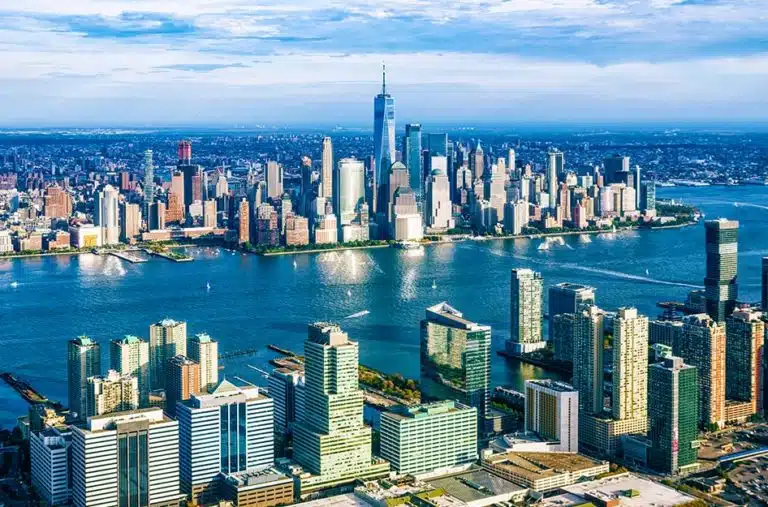 9 Cities Near New York: More Space & Lower Cost of Living - PODS Blog
The allure of living in New York City is real. We see it in movies, books, and in the way people's eyes light up when they talk about it. We've romanticized New York City — in part, because it lives up to its romantic persona. But is the high cost of living worth it? For most, it's not even feasible. If you want to earn a livable salary and live a comfortable life, especially with children in tow, New York can be more stressful than romantic. Besides, if the pandemic taught us anything, it's that space really is of the essence, and hustle culture is not all it's cracked up to be. But what about the cities near New York?

According to the New York City's comptroller in a 2021 report titled The Pandemic's Impact on NYC Migration Patterns, the pandemic had a major impact on migration in and out of the city. At the time, many people moved to the suburbs "temporarily" for more space, but some ended up staying there permanently. Since, though, as offices have reopened and housing prices in the suburbs have risen, many people have moved back into the city. New York might have experienced one of the largest exoduses as a result of the pandemic, but its population drop has since slowed and is back on the rise, according to Bloomerg.
Still, if you want to live more comfortably — physically and financially — exploring some cities near New York City may be just the ticket you've been looking for. They offer the culture, history, and activities you're looking for with a cheaper price tag and more space — plus easy access to the Big Apple means you still have your NYC fix. Here are 9 of our favorite cities near New York.
Q: What small towns are near New York City?
A: Between the traffic, the thousands of restaurants, and the millions of residents, New York is no small town. But believe it or not, there are many quaint small towns near New York City. Here are a few:
Cold Spring, NY
Hudson, NY
New Paltz, NY
Rhinebeck, NY
Greenport, NY
Woodstock, NY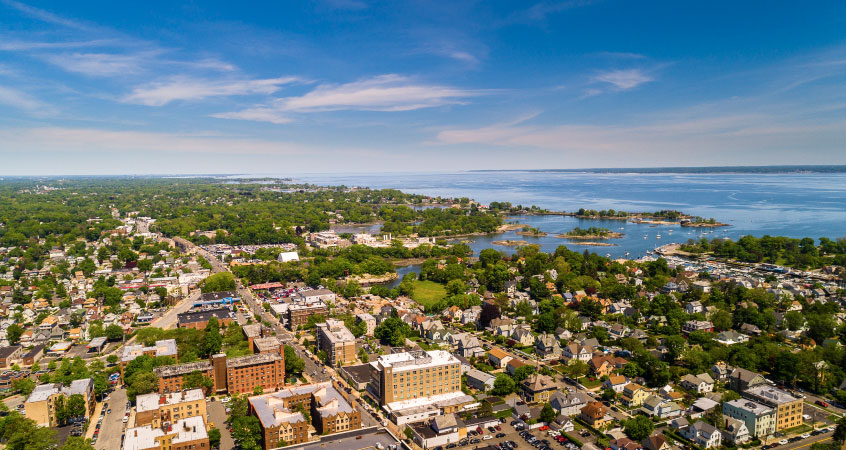 New Rochelle, New York
1. New Rochelle, NY
Average rent (one-bedroom):
$2,525
Typical home value:
$807,200
New Rochelle, NY, a popular city in Westchester County, is a short 25-mile commute from New York City. By car, it's about one hour away. With the Metro-North Railroad, you can be at Grand Central Terminal from New Haven in 40 minutes. It's very common for people who live in New Rochelle to commute to NYC for work or a night out.
As the seventh largest city in New York, New Rochelle, NY, has plenty to offer. Its suburban charm features older homes to marvel at and recently built homes/condominiums where newcomers can reside. And with a beautiful waterfront, you get the best of both worlds: urban living and popular beach clubs. There are also plenty of colleges and high schools for young adults to attend.
A diverse population of around 80,000 people are spread out across popular New Rochelle neighborhoods, including Wykagyl Park, Paine Heights, Forest Heights, and Beechmont. Some of the most famous kid-friendly attractions include Glen Island Park, The Rock Club, and the Museum of Arts & Culture at New Rochelle High School.
On Main Street downtown, you can easily find restaurants, boutique shops, and other fun places to walk around. Additionally, there are plenty of newly constructed rental buildings and many co-ops available.
2. Jersey City, NJ
Average rent (one-bedroom):
$3,550
Typical home value:
$589,900
If you've never heard of
Jersey City, NJ
, then you'd be surprised to know that it's a part of New Jersey and New York. Now, don't let this city's name fool you — it's closer to New York City than you think! You can easily get to NYC from Jersey City in only 20 minutes by taking the ferry or PATH Subway, making it one of the easiest cities near New York for commuting into Manhattan.
Jersey City, NJ, home to
over 286,000 residents
, is known for its young community and college town vibes. Many young adults and couples live here because of its proximity to NYC, where they work or go to school. The city itself has its own vibrant nightlife, boasting tons of restaurants and bars. Its diverse community lends credibility to its diverse food, too. And as the second-largest city in New Jersey, its budget-friendly living options (in comparison to Manhattan) make it a top pick for people who want to live in New York without paying its high cost of rent. Head to the Statue of Liberty and Ellis Island by boat or hang out in Liberty State Park for the day. End your night with Razza, a pizza place that won 27th place on the list of
best pizzas in the world in 2022
.

Did you know?
According to
Roof Stock
, renter-occupied households in Jersey City make up 71 percent of the total occupied housing units. The secret is out, and more people are renting in Jersey City!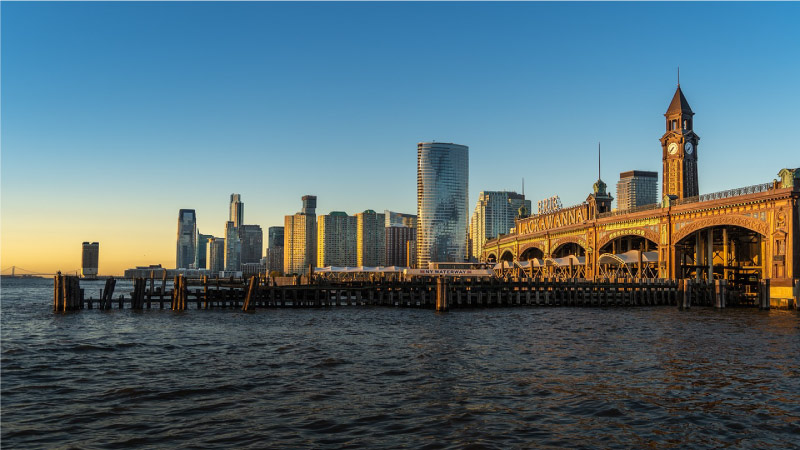 Hoboken, New Jersey
(Source: Pierre Blaché via Pixabay)
3. Hoboken, NJ
Average rent (one-bedroom):
$4,250
Typical home value:
$823,700
Great for:
Nightlife, families, outdoor activities
Hoboken, New Jersey, is a city in Hudson County, and it's just four miles from New York City. Similar to Jersey City, Hoboken is a quick commute to NYC. You can drive through the Holland Tunnel in just 20 minutes. Similarly, you can take a 20-minute bus ride from the Hoboken Terminal to the Port Authority Bus Terminal in New York or the PATH train into Penn Station. Interestingly, it can be quicker to get from Hoboken to NYC than it is to travel from the east side to the west side in NYC.
With only a little over 57,000 residents, Hoboken is a small and tight-knit community. It attracts young adults who go to college or are in entry-level roles in their careers. Families who choose to move there, though, will have solid schools and safe neighborhoods to choose from.
The best part? The cost of living in Hoboken is less expensive than NYC. Read everything you need to know about moving to Hoboken in our Garden State Guide to New Jersey Moving.
Q: Which cities are closer to New York?
A: Some of the most popular cities that are close to New York City are New Rochelle, Jersey City, Hoboken, and Elizabeth. They are all approximately an hour commute by train or car.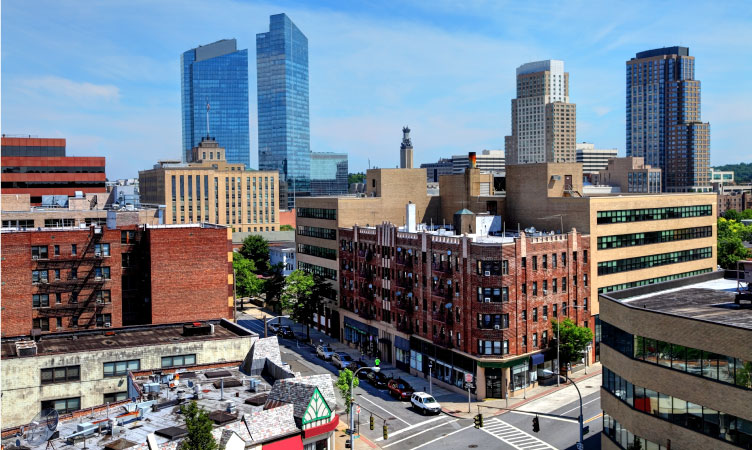 White Plains, New York
4. White Plains, NY
Average rent (one-bedroom):
$3,050
Typical home value:
$701,000
Like New Rochelle, White Plains is a city in Westchester county in New York. But unlike New Rochelle, White Plains only has a population of around 60,000.
In 1776, Judge John Thomas of Purchase read the Declaration of Independence out loud for the first time in the state of New York in White Plains. Then, just a few months later, General George Washington fought the British in the Battle of White Plains. Can you believe that only 505 people lived in White Plains during the late 1700s? The city has grown more than a hundred fold in the last two centuries!
White Plains is rich in history and activities to enjoy with the whole family.
Now, the city boasts more than just a few houses and a courthouse. It has proper school systems, restaurants, safe neighborhoods, and a great quality of life for families.
And if you're looking for a job opportunity, you don't even have to leave the city. More than 170 businesses are headquartered in Westchester County, which White Plains is part of, including Mastercard, Pepsico, and IBM.
From the Bronx River Path and Soldier's Monument at White Plains Armory to the White Plains Performing Arts Center, White Plains is rich in history and activities to enjoy with the whole family.
Q: What towns are one hour away from NYC?
A: Some of the most popular towns near New York City that are no more than an hour away (depending on the traffic), include the following:
Stamford, Connecticut
Ossining, New York
Tinton Falls, New Jersey
Montclair, New Jersey
5. Ossining, NY
Average rent (one-bedroom):
$2,775
Median home sale price:
$503,800
Ossining, NY, is a small, charming village in Westchester County with a population of around 27,000 residents. It takes about an hour to drive from Ossining to NYC, and taking the Hudson Line to Grand Central Terminal is around the same. It's not as close as the other cities near New York we've listed, but the lower cost of living makes up for it.
If you're the outdoorsy type, you'll love the village of Ossining's quaint streets and hikes through the Croton Aqueduct Trail. Take in its rich history with a Museum in the Streets walking tour or visit Bethany Arts Community to check out the art installations. Then, end your weekend watching the sunset over the Hudson River from Sparta Park or Henry Gourdine Park.
Most residents in Ossining own their homes and live a slower pace of life. But even though it's a small place to live, there are tons of restaurants, grocery stores, and activities for families to enjoy.
Q: What cities are 2 hours away from New York?
A: Some popular cities near New York City that you can typically reach within a two-hour or so drive (or train ride) include towns in New York, Connecticut, Pennsylvania, and New Jersey, such as:
Beacon, NY
Philadelphia, PA
New Haven, CT
Atlantic City, NJ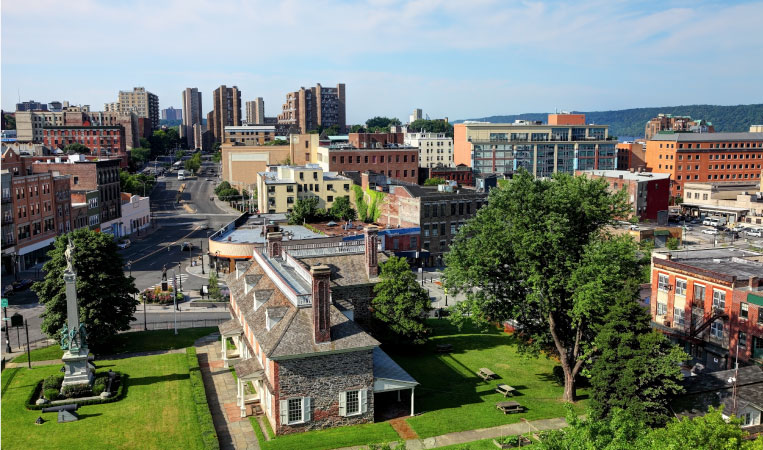 Yonkers, New York
6. Yonkers, NY
Average rent (one-bedroom):
$2,450
Typical home value:
$617,300
Great for:
Nightlife, diversity, outdoor activities
Yonkers, NY, is a city on the Hudson River in Westchester county. By car, it's about a 45-minute commute to NYC, and by train, it's about a half hour on the Amtrak-Metro North Station to Penn Station.
Yonkers is known for its greenery and historic monuments. As the largest city in Westchester County, there are approximately 208,000 residents. Within the city, there are a myriad of busy streets and waterfront views. And since it's located only a few miles north of the Bronx and Manhattan, it's no wonder why locals call it "The Sixth Borough of New York."
Yonkers has many different types of homes to choose from, including lofts, apartments, condos, single-family homes, and multi-family homes. However, there is a higher cost of living compared to other cities surrounding New York City.
"The cost of living in Yonkers is 23 percent higher than the New York State average and is 46 percent higher than the national average," Uphomes.com says. Still, it's cheaper than living in NYC.
Some of the most popular colleges in Yonkers include Sarah Lawrence College, Manhattan College, and Westchester Community College. Because there is a high Irish-American population, the city's St. Patrick's Day celebration is not to be missed! And best of all, if you're looking to move with a family, Yonkers was rated #8 for safest city in America in 2023.
Q: Which state is closer to New York?
A: What are the three states near New York, again? The closest states to New York are Connecticut, New Jersey, and Pennsylvania.
7. Stamford, CT
Average rent (one-bedroom):
$2,875
Typical home value:
$612,300
Stamford, Connecticut, might not be in New York, but it's only an hour and 15 minutes away by car and about an hour by the Amtrak train. The cost of living is significantly lower than living in NYC, but it's still 12 percent higher than the state average and 30 percent higher than the national average.
Stamford has many large corporations — including nine that are Fortune 500 companies. It's become known as "The City That Works," with a growing financial district and population of just over 136,000 residents. If you want to travel, the John F. Kennedy International Airport in New York and the Newark Liberty International Airport are just an hour away, while LaGuardia is just 45 minutes away. And from The Connecticut Grand Opera and The Terry Connors Rink to the The Avon Theatre Film Center and Cummings Park public beach, you won't have to travel far for family-oriented attractions.
Pro Tip: Once you've chosen a city to live near NYC, have a PODS portable moving container delivered to your driveway, where you can pack and load at your own pace. When you're ready, PODS will pick it up and deliver it to your new home. And if you need storage, it's built into every move!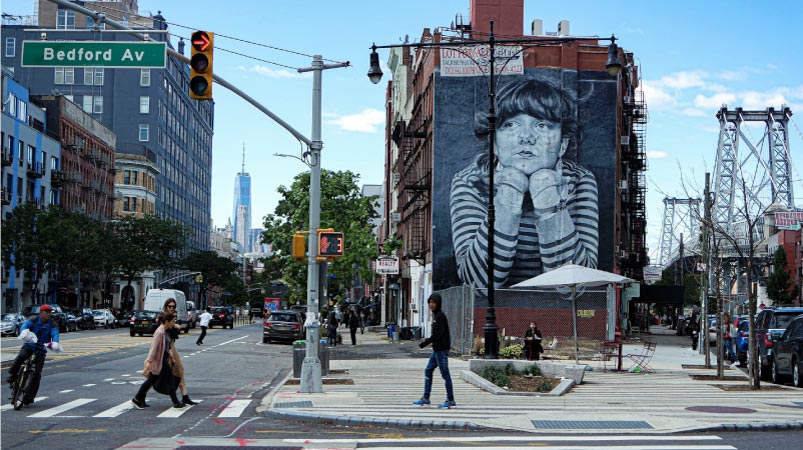 Williamsburg, New York
(Source: Enzo Ticà via Unsplash)
8. Williamsburg, NY
Average rent (one-bedroom):
$4,025
Typical home value:
$1,018,400
Williamsburg is a neighborhood in Brooklyn known for its young, hipster crowd. (Of course, when it comes to cities near New York City, it doesn't get closer than Brooklyn, which is one of the five boroughs of NYC.) Williamsburg is near Greenpoint, Bed-Stuy, and Bushwick. Since the 1990s, this neighborhood has undergone extreme gentrification, which has transformed decrepit buildings into bars, restaurants, and a vibrant nightlife scene. There are various ethnic groups that live in Williamsburg, which has influenced the neighborhood's diversity and growing population of about 157,000 residents.
There are a mix of families, young couples, and singles living in the neighborhood. Most people live in apartments, condos, or co-ops.
Stroll through Domino Park and grab a bite to eat at Misi nearby. Go bowling and see a concert at the same venue at Brooklyn Bowl. Grab a drink and play games at Barcade. Or go to McCarren Park, which shares a border with Greenpoint. There is an abundance of things to do! And the best part? Williamsburg is only a 25-minute drive into NYC, or take the G, J, M, Z, and L subway lines for a half-hour commute.
9. Montclair, NJ
Average rent (one-bedroom):
$2,075
Typical home value:
$964,800
Dubbed "The Brooklyn of New Jersey," the township of Montclair is one of the most underrated near NYC. It's a 45-minute car ride and an hour away by train to NYC. There, you can visit the Montclair Art Museum and the Van Vleck House & Gardens. Or spend the day at Edgemont Memorial Park and the Montclair Brewery.
Montclair has also been called "The Greenwich Village of New Jersey," and it couldn't be more true. The town is known for its culture, arts, and small businesses. The streets are clean and the people are friendly. It's not cheap to live there, but it's worth it for their highly rated public school district, safe neighborhoods, and local shops. Most people in Montclair own their homes and raise their families in a suburban neighborhood.
Insider Tip: Before you officially say goodbye to the Big Apple, learn about PODS City Service (a portable moving container service specialized for big city moves), and explore NYC moving costs and options on the PODS Blog.

Bonnie Azoulay Elmann is an NYC-based freelance writer and frequent contributor to the PODS Blog. Her work has appeared in Glamour, Health, and Parents, among others. She is an extremely driven digital storyteller who may or may not have a slight obsession with fanny packs.
Get a Quote
Choose the service you need
Comments
Leave a Comment
Your email address will not be published. Required fields are marked *