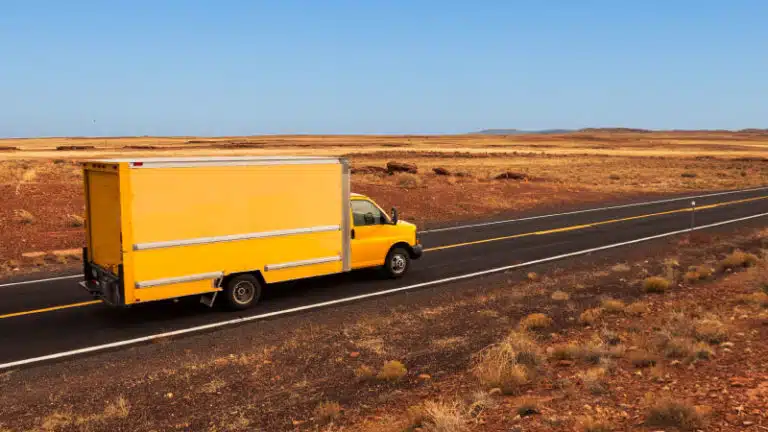 Driving a Moving Truck Rental? Top Tips to Keep You Safe
Whether you're moving for a job or personal reasons, moving comes with a unique set of challenges that everyone has to face. One of the main challenges? Figuring out how to get your stuff — everything from your bed to your pet and your pet's bed — from your old house to your new one.
For the DIY moving types, driving a moving truck rental is a great way to bring a "road trip" mentality to what many consider a stressful situation. And if you know your spouse, kids, and pets will have a "we're in this together" mindset, then driving a moving truck across town, the state, or country may be a once-in-a-lifetime chance to create lasting memories.
That said, there are some important tips, tricks, and lessons to learn along the way that you'll want to consider. Moving trucks are different from standard cars in many key ways — especially when it comes to weight, maneuverability, and conveniences. Moving trucks also require more fill-ups and more frequent stops. But you know what? We think you can handle it! Ready to learn what it takes to be king (or queen) of the moving truck rental road? Read on!
Questions to ask before you go
Before you head to the moving truck rental company or download their app, you should consider several things. First, you'll want to think about moving truck sizes and what is best for your move. Also, is it hard to drive a moving truck? According to most people, moving trucks require more time and attention. In fact, the general consensus is that with lots of preparation and forethought, a moving truck can be useful in moving your things, but you have to devote enough time and patience to make it work. You'll need to learn about the truck's clearance, adjustments, controls, and safety equipment in detail before you hit the open road with everything and everyone you love inside.
The basics of driving a moving truck
First things first: You will need to drive slower in a moving truck, especially when it is one that has your entire household inside. You will need to follow posted speed limits or even drive slower, especially in inclement weather. You will also need to allow more space between your moving truck, cars, and other large vehicles. In fact, consider keeping at least the space of five regular vehicles between you and other cars or trucks.
But wait, there's more.
You must also apply your brakes sooner than you would with an average vehicle — remember, you're carrying the weight of the moving truck as well as your stuff inside. And when you're turning, you need to create much more room than you are used to with your everyday vehicle. These trucks are long, wide, and heavy, so you want to have your wits about you for every second of the ride. For example, you'll want to make sure you can make a complete stop each and every time because the brakes are going to feel different than those in your car, and it takes much longer to stop, in general. Keep your speed down until you really feel like you've gotten proper control over every aspect of this new situation.
Bad weather, blind spots, and other unexpected events
Driving a moving truck means you need to be prepared for just about anything — you never know when you'll encounter drivers who are texting, putting on makeup, or doing an impromptu drag race (to name a few examples). Most importantly, you need to plan ahead for how you will navigate poor weather conditions and the challenges of driving a vehicle you're not familiar with or regularly drive. That means avoiding passing others unless absolutely necessary, especially when driving up hills or around curves. Narrow road? Stay right where you are. When you are passing someone in a large truck, it takes much more distance and time to get around, and you may not be used to judging that kind of space. Passing can also use up more gas, so that may affect your fuel economy over the long haul.
And because of a truck's blind spots, mirrors will be your best friend throughout your trip. Most experienced truckers advise having someone help you back up or get into a parking space. Some rental moving trucks don't have rear-view mirrors (or any mirrors for blind spots, for that matter), so you will likely need assistance in some way. And if you do hit bad weather, you'll need to add extra time and attention to your drive, as well. This could change your route or require an overnight stop, so you'll want to look ahead to find areas where there are hotels available, in case you need to take a break.
Common costs and conundrums
Renting the moving truck — and doing the calculations to determine whether you've selected the right size for the job — is the first step of a long process. You'll want to make sure you're ready for a cross-country move, if that's what you're doing. Next, you need to determine the right insurance coverage amount to ensure everything inside your truck is protected in case of an accident. Then, have extra money put aside for unexpected expenses.
Unfortunately, there's always a chance of theft if you have to stop overnight or along your route for a longer-than-expected amount of time — or even a dinner break. You are responsible for any damage to your moving truck rental, and most traditional insurance company coverage will not help with those costs.
You also need to cover all of the gas needed to move your heavy load across town or across the country. These are larger gas tanks than an average car, and you will likely need to refill often because of the truck's weight and slower speeds.
A way to avoid moving mayhem
Speaking of costs, a budget is likely a top concern with any move, especially if it is a personal one, right? Well, when you look at the costs, PODS moving and storage containers are another option you may want to consider instead of a moving truck rental. When you take everything into consideration — including fees for the rental, the gas, the insurance, and the time involved as well as potential and unavoidable headaches — having someone else do the driving may start to sound more attractive. In fact, in many cases, the flexibility and convenience of PODS portable containers can make the whole moving process a much smoother one.
The best part of PODS doing the driving for you and your family? It can give you the mental and physical space to think about the other details of your move. With PODS, giving someone else the wheel allows you to focus on what really matters, which is getting everything — and everyone — you care about where they need to be in a timely and safe manner. Happy moving!
Want more moving advice? From packing hacks to loading tips, we've covered it all on the PODS Blog.

---
Karen Dybis is a freelance journalist and a frequent contributor to the PODS blog. Her work has appeared in Time magazine, U.S. News and World Report, The Detroit News, and more.
Get a Quote
Choose the service you need
Comments
Leave a Comment
Your email address will not be published. Required fields are marked *