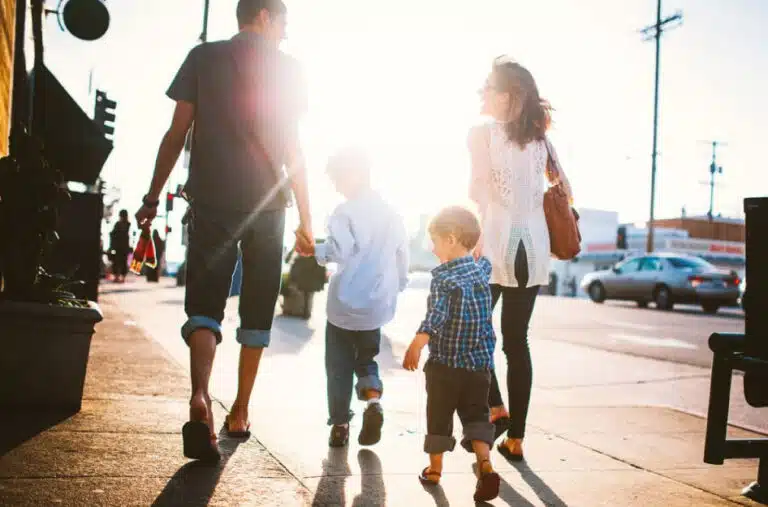 The 6 Best Neighborhoods in Los Angeles for Families (and the 5 Best Suburbs)
Moving with a family can be overwhelming under any circumstances. So many people to feed, bodies to move, and boxes to coordinate. Moving to a big city like Los Angeles? That's a whole new ballgame. It's a sprawling city with an immense number of neighborhoods, and finding the best neighborhoods in Los Angeles for families can feel like an insurmountable task.
If you're making the move to Los Angeles with your family, your head is probably filled with all kinds of questions. Where are the safest neighborhoods in Los Angeles? What about the best school districts in L.A.? Should I be looking outside the city for the best suburbs of Los Angeles? Where can I find the most family-friendly neighborhoods in Los Angeles? In a city with over 400 distinct neighborhoods, knowing where to start can be a challenge. We'll guide you through how to make the right neighborhood decision for your family. Here are 11 of the best L.A. neighborhoods for families, from the city proper to its lovely suburbs.
Q: Is Los Angeles a Good Place to Live With Kids?
A: Los Angeles is a great place to settle down with your kids, from the sunny California weather and ample opportunities to get outside and play to the abundance of diverse neighborhoods to enjoy. That said, it's the second largest city in the U.S., so soaring real estate costs are a factor to consider if you're looking to buy a house for your family.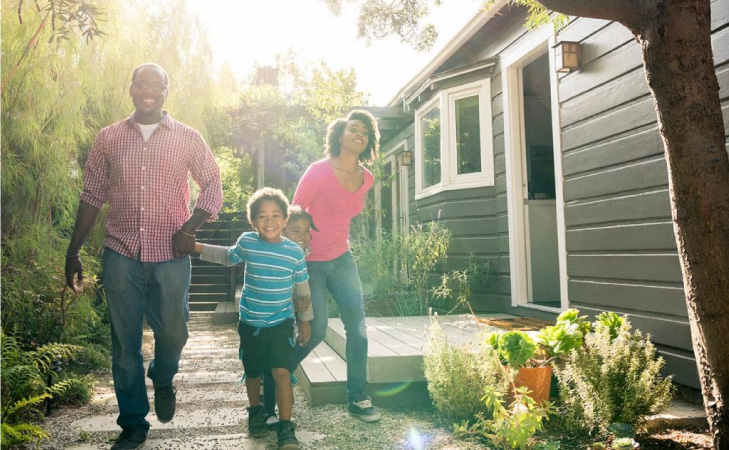 Finding the Best L.A. Neighborhood for Your Family
As with any search for a new home, finding the best neighborhood for your family depends on you and your family's specific needs. Every family has its own idea of what makes a "great family neighborhood." That might be affordability (and where you can get enough space for your tribe), access to family-friendly activities, low crime rates, walkability, or proximity to excellent public schools.
If you're not sure where to start, ask yourself some key questions to clarify your priorities. Your answers will help guide your neighborhood search.
Will My Child Be in School While We Live in L.A.?
If you have school-aged kids, finding a neighborhood close to good schools is probably top of mind for you.
Do I Plan to Send Them to Public or Private School?
Those who are public school bound will likely be considering which neighborhoods have strong public schools. Headed to private school? The specific neighborhood may not matter as much, as enrollment isn't dependent on home location.
What Does My Family Like to Do for Recreation?
Does a typical Saturday find you in a theater with popcorn in hand or playing a game of soccer at the park? Look for neighborhoods where you'll find activities that you all enjoy.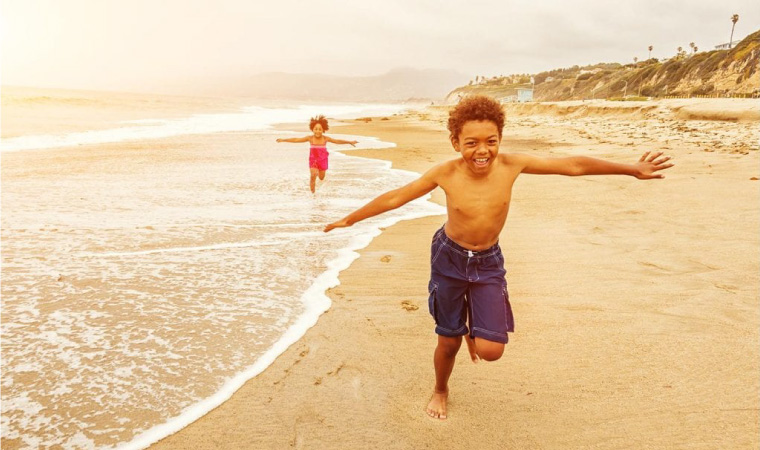 Do I Need Easy Access to Outdoor Activities?
Whether you're outdoorsy or not, chances are you'd like to let your kids run out their energy outside the walls of your house or apartment. If you'll be primarily on public transit or you're a single-car family, consider whether you'll want a park within walking distance.
Is It Important to Me to Live Near Other Families?
Are you hoping to meet other parents and kids while hanging out in the front yard or at the neighborhood park, or do you expect you'll just make friends at school or hang with your family? Certain neighborhoods have a higher percentage of families, making it easier for your kids — and you — to make friends with neighbors.
Q: What part of California is good to raise a family?
A: While the City of Angels may initially conjure images of the Hollywood sign more than yellow school buses, Los Angeles is full of family-friendly neighborhoods for parents and their kids to call home. For some of the best public schools not only in Los Angeles but in all of California, check out San Marino. For instant beach access and great museums, try Santa Monica. Other neighborhoods within Los Angeles to consider for raising a family include Sherman Oaks and Eagle Rock, while some great options in the Los Angeles suburbs include Glendale and Burbank.
The 6 Best Neighborhoods in Los Angeles for Families
Now that you have some clarity about what's important to you, you may want to first dive into an overview of some of the best neighborhoods in Los Angeles with our L.A. Neighborhood Guide on the PODS Blog. Then, move on to our expanded list below to help you specifically find the best family-friendly neighborhoods in Los Angeles.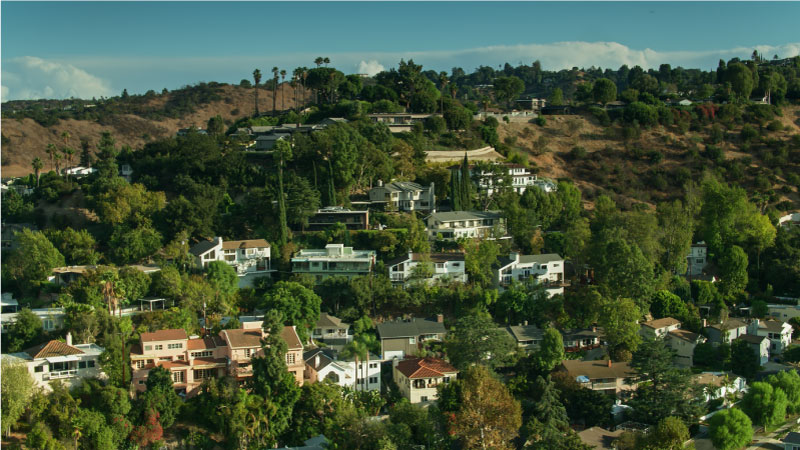 1. Sherman Oaks
Part of the San Fernando Valley, Sherman Oaks is a neighborhood with a suburban feel, plenty of amenities, and residents that make it one of Los Angeles' most family-friendly neighborhoods. Ranked as one of the safest neighborhoods in Los Angeles, Sherman Oaks also features multiple parks and a number of weekly farmer's markets, so you'll have no trouble finding things for your family to do together. Sherman Oaks has a number of public and private school options, as well, giving you the freedom to choose the kind of education that's right for your family.
2. Culver City, CA
Culver City is a bit like a city within a city and operates as an entertainment business hub. While Culver City's busyness might not be the right fit for every family, a high level of diversity and some of the best public schools in Los Angeles make this neighborhood appealing to many. Quick access to the beach is a bonus, as well!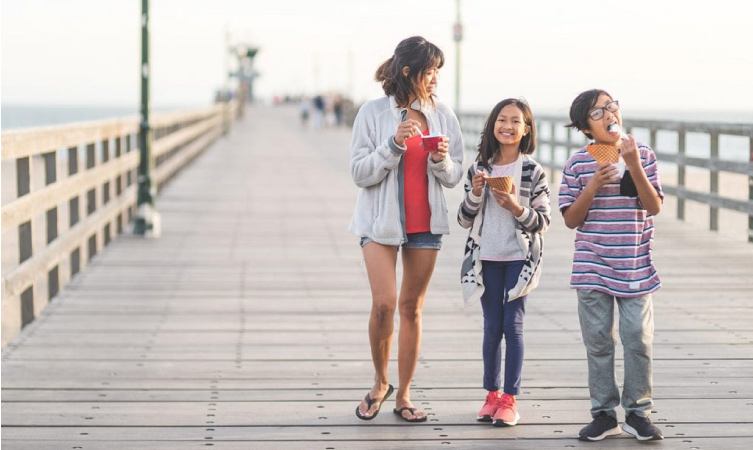 3. Santa Monica, CA
An idyllic beach town located on the western edge of L.A., Santa Monica offers plenty for families to be excited about. Featuring some of the best public schools in Los Angeles and a selection of private schools, the Santa Monica-Malibu Unified School District is one of the best school districts in Los Angeles, ranking among the top 20 in California in 2023. With great museums, shopping, and, of course, the beach, you'll have no shortage of places and activities to experience with your family.
Q: What are the nicest suburbs in L.A.?
A: Though the line between Los Angeles proper and its suburbs can get fuzzy, there are so many suburbs in Los Angeles County outside the city itself that are well worth exploring. Particularly for families moving with kids, some of the nicest suburbs in Los Angeles are Glendale, Pasadena, Manhattan Beach, Burbank, and San Marino.
4. Cheviot Hills
This little pocket of a neighborhood near Century City and south of Beverly Hills is one of L.A.'s hidden gems for families. With excellent public elementary schools, you have some of the best public schools in L.A. within walking distance for you and your kiddos. And with a local recreation center and park, you'll find plenty to do together after school, too.
5. Eagle Rock
Located west of Pasadena, Eagle Rock has a positive, laid-back environment that will help make it quickly feel like home. With well-ranked schools as well as a public library for your family's enjoyment, the neighborhood also has a weekly farmer's market to peruse! If you're looking for a smaller-town feel and quick commuter access to other parts of the city, Eagle Rock may be just the right place for your family to settle down.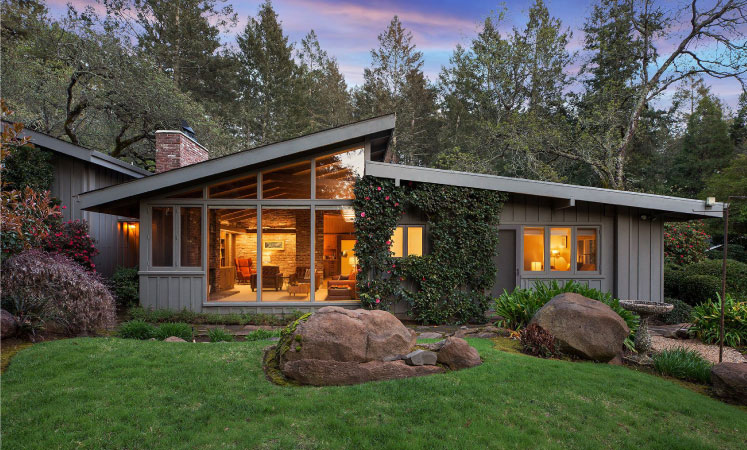 6. Montecito Heights
Montecito Heights — or just plain Montecito, depending on who you ask — is a neighborhood northeast of Downtown L.A. filled with family-friendly amenities. Little explorers (and parents, too!) will love the wilderness feeling of Ernest E. Debs Regional Park, with hiking trails full of new discoveries and lots of open green space. The neighborhood also features great real estate and fun activities for kids. As a small community, there aren't a large number of schools to choose from within the neighborhood itself. That said, schools in the area are well ranked and include some of the best private high schools in the state.
The 5 Best L.A. Suburbs for Families
The line between Los Angeles neighborhood and city is fuzzy at best. Colloquially, many of the "suburbs" of L.A. are considered part of the city. If you're not sure you want to be in L.A. proper and are open to a suburb, there are some fantastic areas surrounding the city to choose from. Here are some of our favorite L.A. suburbs for families: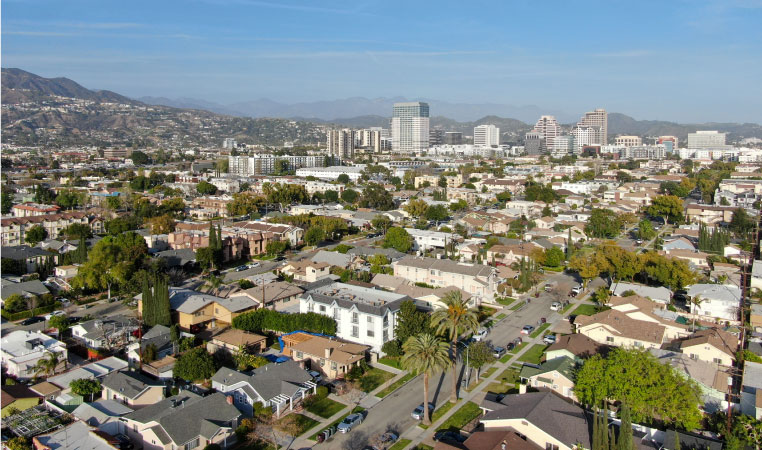 1. Glendale, CA
Nestled between Burbank and Pasadena, north of L.A. proper, lies the city of Glendale. With plenty of great family activities like the Los Angeles Zoo, museums, and hiking in the San Gabriel Mountains, it's easy to find something for everyone on the weekend. And although Glendale offers both public and private schools, rankings vary, so it would be wise to do some research before enrolling (you can check school rankings here). Another major appeal of Glendale? It's one of the safest neighborhoods in Los Angeles — and even one of the safest cities in the country.
2. Pasadena, CA
Just east of Glendale and Eagle Rock, Pasadena has long been a popular destination for families looking for a slower pace than the inner city. Pasadena also features some of the best schools in Los Angeles within its Pasadena Unified School District. Close to both wilderness and city activities, Pasadena offers great balance for families.
3. Manhattan Beach, CA
This oceanfront town lies south of Santa Monica and Venice. While living here will certainly take an investment (both rent and home prices are high), the cost may be well worth it, as Manhattan Beach has one of the best schools in Los Angeles. It's also hard to resist perks like beachfront access and beautiful homes.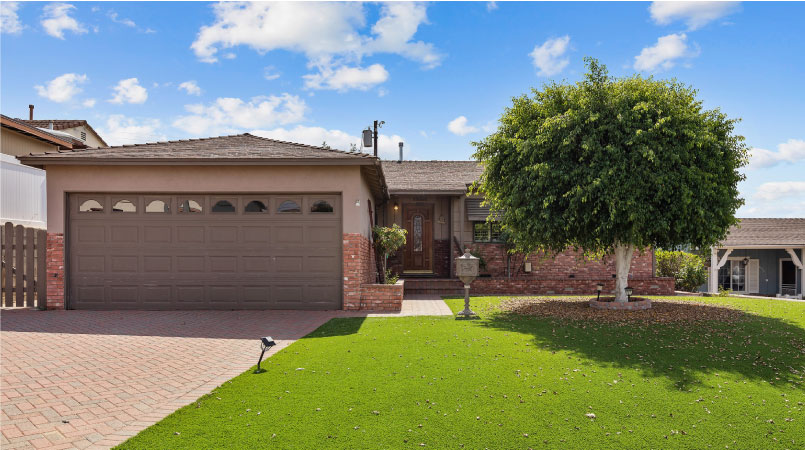 4. Burbank, CA
Northwest of Glendale and not far from Hollywood, you'll find the city of Burbank, which serves as an extension of Hollywood's movie industry with several studios located here. Burbank has some of the best schools and public schools in Los Angeles, making it a sweet spot to send your kids to school. The downtown area features plenty of family-friendly activities, like movie theaters, restaurants, and a farmer's market, as well.
5. San Marino, CA
A small community east of Pasadena, San Marino's major selling point to families is a truly stellar collection of schools. Dubbed one of the best school districts not just in Los Angeles but also in California, you'll find excellent public school options in San Marino. The neighborhood is also home to great parks and a gorgeous botanical garden, giving you many options to explore.
Los Angeles Has Great Neighborhoods for Families
America's second largest city may be known for the movie business and the beach, but there's plenty for families to love, too. With wonderful schools throughout Los Angeles, family-friendly neighborhoods, and loads of indoor and outdoor activities, you're bound to find something you and your family will love. And just as no two families are alike, every neighborhood is different. With a little patience, research, and exploration, you're sure to find the Los Angeles neighborhood that's right for your crew.
Now that you've gotten a sense for some of the best neighborhoods in Los Angeles for families, you may be ready to start slathering the kiddos in sunscreen and setting your sights on the City of Angels. If that's the case, PODS can take some of the stress out of your move so you can focus on the excitement of setting your family up in a new city. PODS City Service can drop a portable moving container right at your door and then pick it back up and move it for you. Now you can reserve the slots on your to-do list for more interesting tasks, like figuring out which Los Angeles neighborhood is best for you and yours.
---
Sofia Rivera is a Boston-based lifestyle editor and frequent contributor to the PODS Blog. Her work has appeared in Boston magazine, Apartment Therapy, and more. You can most often find her redecorating her apartment, trying out a new recipe, or trekking all over the city.
Editor's note: Monthly rental prices were rounded to the nearest $25 and home values were rounded to the nearest $100 for ease of reading.
Get a Quote
Choose the service you need
Comments
Leave a Comment
Your email address will not be published. Required fields are marked *