Advice for PCS Moves from a Military Spouse Who's Done It 6 Times
PODS is proud to serve the men and women who serve our country. Active, retired, and veteran members of the military community can receive up to a 10% PODS military discount. For PPM/DITY moves or storage during deployments, call 866-556-9574.
A permanent change of station (PCS) move is an inescapable part of military life. In fact, PCSing is so common that most military families relocate every two to three years. Some families love the collection of adventures and opportunities that grow from PCS moving, while other families prefer stability and structure. All military families, however, want to avoid the bumps in the road that pop up during the moving process.

If you have PCS orders, there's a lot you need to know before you begin. So let's talk about PCS basics.
1. What is a PCS?
A PCS is a fancy way of saying the military is officially moving your household to a new duty station in the U.S. or abroad. You can manage the move in a few ways, so PCS orders are not a one-size-fits-all document. Basically, orders tell the service member when, where, and how to show up at the new location. PCS orders also describe the monetary allowances you're eligible for to pay for the move.
If you're new to the PCS game or need a refresher, MilitaryOneSource is the best place to start learning the ins and outs of the process.
2. How many miles is considered a PCS move?
The government considers an official PCS a move that's 50 miles or more, and the orders include moving expenses. Some military members might receive a Permanent Change of Assignment (PCA). A PCA is different because it typically requires an unpaid, local move under a 50-mile radius. PCAs are common in dense military locations in the National Capital Region or the panhandle region of Florida.
3. What are the military terms for moving?
Even seasoned military movers sometimes need a PCS acronym cheat sheet. If you're prepping for a move, you'll probably run into these terms in your official documents.
BAH: Basic Allowance for Housing
DLA: Dislocation Allowance
GTCC: Government Travel Charge Card
HHG: Household Goods
JTR: Joint Travel Regulation
MALT: Monetary Allowance in Lieu of Transportation
PCS: Permanent Change of Station
TLA: Temporary Lodging Allowance
TLE: Temporary Lodging Expense
TO: Transportation Office
CONUS: Continental United States
OCONUS: Outside Continental United States
4. How much does the average PCS move cost?
Technically, the military pays for your PCS move, so military members don't directly pay a moving company unless they choose to (more on that to come). However, seasoned military movers know many out-of-pocket costs aren't reimbursed. The Military Family Advisory Network estimates military families spend about $5,000 of their own money (every move!) to cover necessary moving expenses.
My Military Spouse PCS Moving Experience
As a military spouse, I've already moved with my Marine six times, so I've practically written the unofficial military moving guide! Each move has been different:
Our first move was without children. Now we have five.
We've moved overseas and back, driven across the country, and moved within the same state.
Sometimes we let the military pack us, and other times we've packed and moved ourselves.
One of our biggest moving challenges was the cross-country move, when we drove our minivan with four children across the country in five days. On another move, we were given such short notice that we packed our whole household ourselves in just one week!
Through all these moves, I've learned a lot, and sometimes it's been the hard way. I'm sharing my moving tips to help you be more prepared for your own military PCS move — and hopefully avoid some of the pitfalls I ran into along the way.
What You Need to Know About PCS Moves
First, you need to know that you have a big decision to make about your upcoming PCS move: You can choose to let military moving services relocate you, or you can move yourself. Here's how the two options work: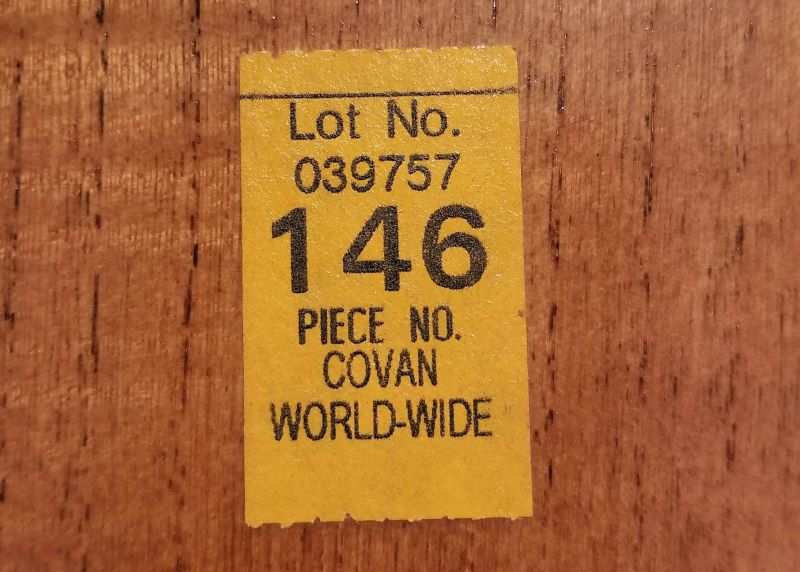 Option 1: Move with a Military-Approved Moving Company (TSP)
If you choose to work with a government-provided moving company or "Transportation Service Provider" (TSP), you make a request via Move.mil, the official military PCS moving portal. Inside, search for the military moving allowance calculator to help you create a relocation budget.
On pack day, a team of professional movers will come to your house and pack everything in one to two days. Then they'll return and load it all onto a moving truck, which will take it to a warehouse and then eventually deliver it to your new location. Keep in mind, there might be gap days between packing and loading, especially during peak summer months.
Or sometimes, if the stars align and your truck driver has a schedule that allows it, they might offer a door-to-door pickup and delivery and skip the warehouse storage. Most military families love this option because it's faster, and there's less opportunity for damage or loss. If a door-to-door move is available, make sure you have a direct phone number to your driver and stay in touch with them along the way.
Regardless of how your household goods arrive at your new address, a separate team of PCS movers will unload the truck, assemble your main furniture, and place boxes in the appropriate rooms. Depending on the contract's fine print and your preference, they may also unpack your boxes but leave the placement and storage up to you.
Here's a tip for a faster delivery day: Military families commonly ask the movers to assemble just the essential or complex items like the beds or a sectional sofa. You'll also stress less if you let the movers leave your boxes unopened in each room. You can unpack them on your schedule instead of wading through piles of household goods emptied on the floor.
The great thing about letting the military move you is the movers do all the heavy lifting — literally! — and everything is insured. There's a claims process to get reimbursed if anything is lost or broken during the move. The downside is that you have to work on their schedule. During the summer peak season, you may not get the packing or delivery dates you need, and there's often a long delay before your belongings are delivered. And since shipments are often unloaded from a truck to a warehouse and then re-loaded onto another truck, there's a higher chance for things to get lost or broken during a military move.
How Long Does It Take for the Military To Move Your Stuff?
Now that you know the basics of moving with a TSP, you probably want to know how long the process takes from pack day to delivery day. And unfortunately, there isn't a simple answer. The length of time is connected to the time of year you move, how much weight you have, and if your belongings sit in storage. You can, however, plan for about one to three days to pack the entire house and load the truck. Unloading and unpacking moves much faster and is usually finished in one long day, maybe two.
Did you know? Big changes are coming to how the military handles PCS moving. U.S. Transportation Command has contracted a private company, HomeSafe Alliance, to operate the overall PCS process under the new Global Household Goods Contract. The change is scheduled for September 1, 2023. If you're planning a move around then, stay in touch with your local transportation office and Move.mil for the latest details.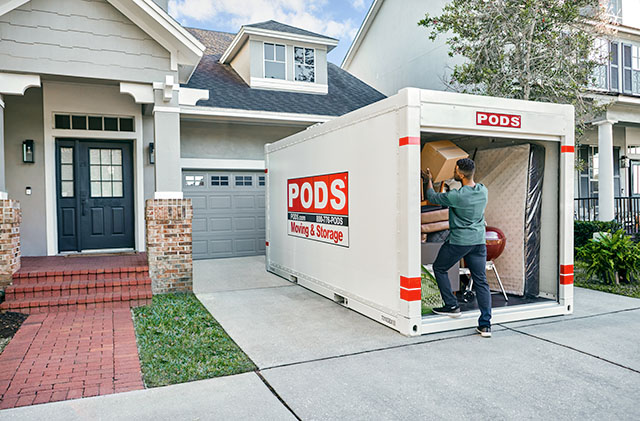 Option 2: PPM Move (Personally Procured Move)
If you choose to move yourself, it's called a PPM (Personally Procured Move). Many families still refer to it as a DITY (Do-it-Yourself) Move. When you opt for a PPM, you're responsible for the moving process, and the military will reimburse you for the same rate that they would have paid professional movers to handle your household goods. Reimbursement rates are based on the service member's rank, family size, and the distance of the move. And good news: The reimbursement recently increased from 95% to 100%, giving you more payment for your efforts. A PPM is more work on your end, but if you plan carefully, you can pocket thousands of dollars in return. (For a quick primer on DIY moving and costs, see Self-Moving 101.)
If you need help sorting your PPM options, "Moving in the Military: Storage That Makes the Most Sense for You" will help you decide.
The great thing about a PPM is that it gives you more control and tons of flexibility over the moving process, while allowing you the opportunity to make extra money from your move. You can choose how and when you want to move. And you can hire professional assistance for parts of the move or choose to do it all yourself. Here are just a few of the possibilities for a PPM strategy:
Rent a moving truck and do all the work yourself. To minimize costs, you can plan to fit all the loading, driving, and unloading in as few days as possible. Or give yourself more breathing room by adding an extra day or two to your rental.
Not comfortable driving a huge truck? Get a portable container delivered to your driveway instead. Using PODS for a military move gives you an entire month's rental, and you can start packing weeks ahead of time and gradually load your container. When it's loaded, PODS will pick it up and transport it to your new home — or to a secure storage center for safekeeping until you're ready to move in.
Save 10% with PODS' Military Discount: Available to all Active, Retired, and Veteran members of the military. Find out more.
If you don't mind the driving but need help with the lifting, either hire a local crew or bribe a few friends to help you out on moving day. Depending on your location and the number of movers you hire, you'll probably spend between $25 and $200 an hour for labor. You can hire labor to help with loading and unloading the containers, too.
The military will reimburse most moving expenses, including a moving truck, portable storage containers, packing supplies, gas, and labor. The more you do yourself, the more money you can pocket when you get your lump sum payment in the end. Make a note: Come tax time, if you have any moving expenses the military won't reimburse, you might have the option to deduct them when you file your return.
The major downside of a PPM is that it's a lot more work if you choose not to hire hourly labor help. Also, depending on your insurance plan, you will have fewer reimbursement options if you drop your TV or don't pack your china set carefully. On the other hand, the damage claims rate with traditional full-service movers is ten times the rate vs. using PODS, as you're less likely to break something when you're in control of packing your own stuff and not mixing it in with other people's belongings in a truck or warehouse.
Get free, fast shipping on moving supplies. And don't forget to turn in all your receipts for reimbursement!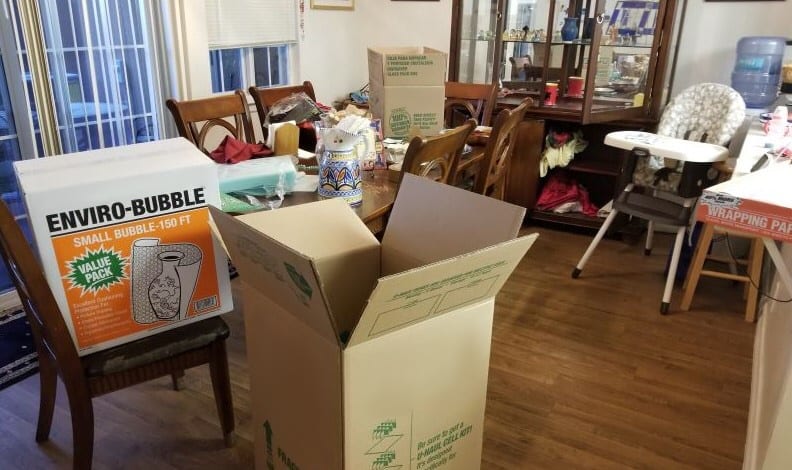 Prep for Your Military PCS Move Like a Pro
If you want your move to go smoothly, you need to do your research and prepare ahead of time with helpful tools like a PCS moving checklist. Whether you choose to use military moving companies or move yourself, there is still prep work that will help things go right throughout the move. Read these tips from someone who has been through several PCS moves and seen the good, the bad, and the ugly.
If You're Using TSP Military Movers...
Prepare Your House for Packing Day
You can begin to prepare for PCS moves weeks in advance. Even though the military moving company will pack everything for you, it's up to you to get things organized and ready for them.
Downsize what you have to move by decluttering room by room.
Take photos or videos of all your furniture and high-value items, so you can prove that things were in good condition and working properly before the move.
Take a picture of the back of your TV, then disconnect the wires and wrap and label them.
Take down curtains, curtain rods, and picture frames from the walls.
If you have hobby items or books spread throughout the house, gather similar items together in one place so they will all get packed together.
Create "Do Not Pack" Spaces
The movers will pack everything, including your cell phone, your charger, the bag of clothes you need for your hotel stay, etc. To prevent having something you need during your move being packed in a warehouse for weeks, clean out one small room or closet. Label it clearly so the movers know to stay out. Keep your moving paperwork here, your travel essentials, and anything precious you will hand-carry in the car during your move. This is also a good place to crate your pets on moving day.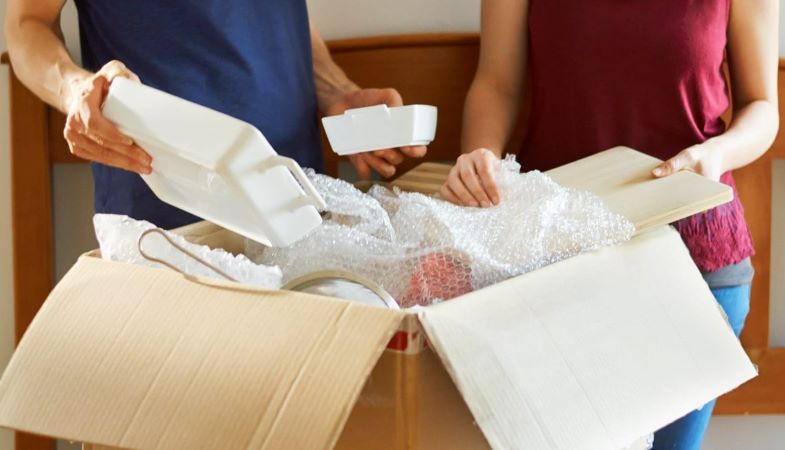 If You're Moving Yourself....
Research Packing Tips
There are tons of tips available online to help you pack like a moving pro.
Instead of reusing cardboard boxes, it's worthwhile to purchase packing supplies from a moving store or online.
Put plastic furniture wrap around wooden furniture to protect the edges from scratching.
Bubble cushioning roll and moving paper can protect individual items in boxes
Use moving blankets that protect bulky furniture or appliances. Nothing should be exposed, as items shift during transport.
Save All Receipts
The military will only reimburse your PCS moving expenses if you do the correct paperwork.
Set up your move on Move.mil.
Activate and use your Government Travel Charge Card for official purchases.
Get a weight ticket when your moving truck or container is empty, then another when it's full.
Save all your moving-related receipts in one binder to make your reimbursement claim easier.
Get Help
Even though you're moving yourself, you don't have to do all the work! Invite friends and neighbors to help on moving day, or hire professional movers to help with the packing or loading. Better yet, get a moving container company to drive your things to the new destination. This frees you up for a more relaxing road trip. You can visit family members or turn it into a mini-vacation to make the most of your travel per diem.
A military PCS move is a lot of work, which is the last thing military families need. But if you follow these tips and start preparing early, you can avoid hassles, reduce stress, and set yourself up for a successful military move.
Lizann Lightfoot is the Senior Content Editor for PCSgrades, a company that helps military families through PCS moves with trusted reviews by and for the military community. She is also the author of the Seasoned Spouse blog, which provides encouraging advice for military families. Her book, "Open When: Letters of Encouragement for Military Spouses," was published in 2021.
Get a Quote
Choose the service you need
Comments
Leave a Comment
Your email address will not be published. Required fields are marked *