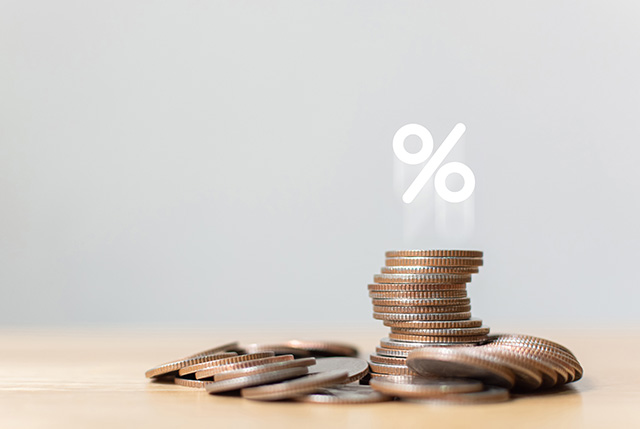 What is a Moving Loan? Your Essential Guide to the What, When, Why, and How to Use a Loan for Your Next Move
Moving is an exciting but often expensive process. Whether you're moving on a tight turnaround across the country or have the luxury of time to plan a move across town, relocating your residence can cost a chunk of change. Before dipping into your savings, emergency fund, or interest-yielding investment account to pay for your move, consider taking out a personal moving loan.

Not sure what a moving loan is or how to apply for one? We've got just the thing. This essential guide to moving loans will school you on what a moving loan is; how loans for moving can help cut your moving costs; when you should think about taking out a moving loan (and when not); and how to find the best moving loan for your budget, move, and peace of mind.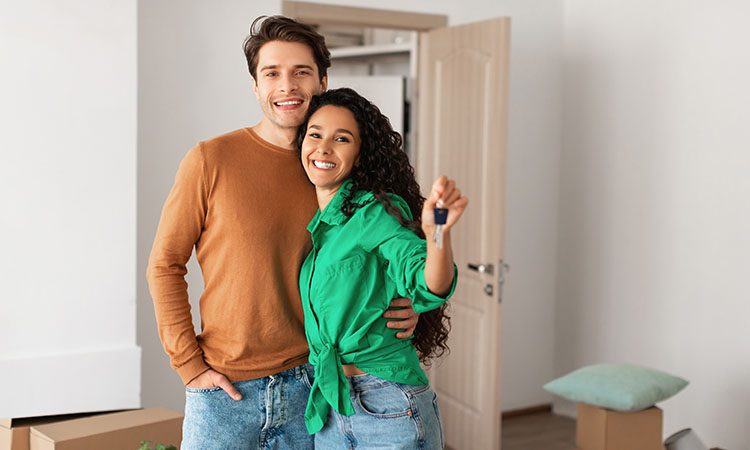 What is a Moving Loan — and How Do You Know if You Need One?
Moving loans are a type of personal loan used to cover costs and expenses for moves. As with any other kind of personal loan, you have the option of having it secured or unsecured. A secured loan requires some kind of collateral, like a car, savings account, or even your home, that would become the lender's if you can't repay. This lowers the risk of a default for the lender, and therefore, they're typically easier to get approved for. Borrowers will also receive a lower interest rate, generally, with a secured loan.

Unsecured loans don't require collateral. These types of loans are riskier for lenders, and usually have a higher interest rate than a secured loan would. But you wouldn't have to worry about losing any collateral if you can't repay.

Both kinds of loans, secured and unsecured, will look at your income and credit score to determine the amount and rate of your loan. To reiterate, a secured loan will typically have a lower APR than an unsecured one. Some moving loans have fixed interest rates, but keep your eyes out for any promotional interest rates during the lifecycle of your loan.

While taking a loan out can seem like a big step, many people find moving loans can take off some of the stress of organizing and paying for a move — especially unexpected, costly, and deadlined ones. Getting loans to help with moving costs allows you to pay for everything upfront instead of piecemeal.

Why use a moving loan instead of a credit card or cash to pay for moving expenses? Great question. As mentioned, moving loans can have fixed interest rates, and many lenders allow you to select your repayment terms during the application process. Credit cards work on revolving credit, keeping your balance in flux throughout the duration of your move planning. Keeping up with balances and payments can be hard, and interest levels can fluctuate, making it easier to overspend and harder to budget, but paying in cash can add up. People may not have the income or savings flexibility to pay for a move in cash, or may not want to withdraw from interest-earning accounts — this is where loans for moving expenses come in.
Q: How does a moving loan work?
A: Some of the criteria that go into a lender's decision include credit score, income, and loan length, but can differ from lender to lender. In most cases, you'll begin repaying your loan immediately on a monthly basis for a fixed amount of time at a fixed interest rate. Some lenders have minimum loan amounts, and since you'll be paying interest, it's always wise not to borrow more than you need or can feasibly continue to pay back. Once you receive your lump-sum loan, you can spend it on whatever moving services and products you wish.
Moving Expenses Covered by a Moving Loan
Moving loans can be used for various moving expenses, not just movers. Some loans for moving may even allow you to use the loan to put down a deposit on your new home. Here's a quick list of the types of things you'll need to budget for — and can pay for — with a moving loan.
A PODS moving and storage container
Packing supplies
Packing and loading help
Home inspections
Moving labor
Moving truck services or rentals
Agent fees
Storage fees on either end of the move
Security deposits or down payments for your new home
Utility and internet setup fees
Move-out costs such as cleaning and repainting services
Incidental moving costs, like car maintenance, has, hotel stays, meals, and flights
Furniture and appliances for your new home
Moving insurance premiums
Pros and Cons of Personal Moving Loans
Loans to help with moving costs have become more popular over the last few years, especially for those who find themselves strapped for cash during their move or adhering to a strict monthly budget. They can even be a good way to strengthen your credit, but they're not the best solution for everyone. Consider these pros and cons to help get a better idea of whether or not taking out a moving loan is a good option for you.
Pros for Moving Loans
Some of the biggest pros to taking out a moving loan are the convenience they offer and the choice of having it secured or unsecured based on your needs. If you choose to secure your loan with collateral, you can often land a lower interest rate. If you choose an unsecured loan, you don't have to worry about putting up collateral, but your interest rate may be higher. Common repayment terms are 3 to 5 years.
Disclaimer: We recommend speaking to a financial expert for advice about your specific situation before accepting any loan terms.
Cons for Moving Loans
Cons include an increase to your debt, eligibility requirements, and that fees can be high if you can't repay in a timely manner. Sometimes, even if you pay off too soon.

Luckily, one of the benefits of partnering with the Acorn Finance platform is that all lenders on Acorn are forbidden from repayment penalties. Acorn's partners will never have to pay a penalty for paying their loan off early. Get started here.

Another thing to look out for is origination fees. An origination fee can range from 1 to 10% of the total amount borrowed, and it's taken out of the principal amount given to you. This means that a $5,000 loan could end up actually only paying out $4,500. If there's an origination fee, don't forget to do the math and factor that into your moving budget.
Q: Is it smart to take out a loan to move out?
A: Taking out a moving loan can lower the immediate out-of-pocket cost of a move. If you don't have thecash on-hand to cover your move or want to avoid maxing out credit cards, it can be a smart move to get a loan — as long as you don't overborrow, can stick to your moving budget, and think realistically when it comes to what you can afford to pay back.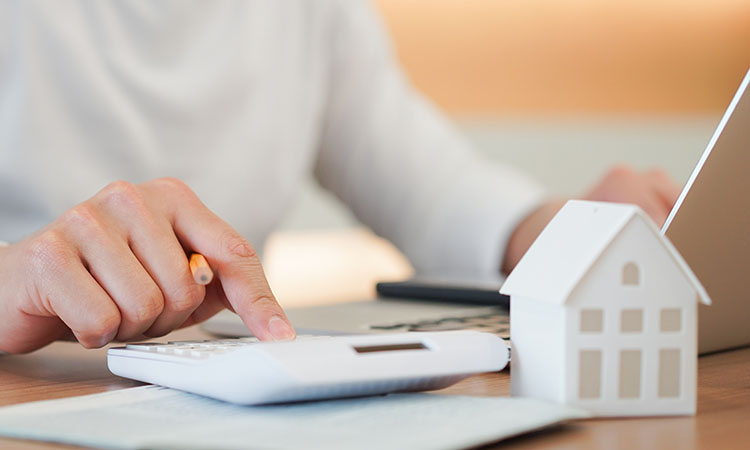 How to Find the Right Moving Loan for You
Now that you've decided to take out a moving loan, it's time to grab your calculator, do some research, crunch the numbers, and find the best moving loan for your move.

According to an August 2023 Bankrate study, the average interest rate on a personal loan is 11.29%, though your exact rate will depend on your creditworthiness, income, and loan term. Acorn Finance can find refer you to a lending partner with interest rates under 7%. Remember, it's possible to get moving loans with bad credit, but it might bump your interest rate up. With good credit, you may be able to find lower interest rates.
Here are a few tips for finding the right loan for your finances and move:
Take an honest look at your income and monthly expenses to determine a good range of what you can afford in terms of monthly installment payments.
Check your credit score with a free service, such as freecreditscore.com. If you have enough time, find out what you can do to increase your credit score over the next few months. Remember, your credit score at the time you apply will affect the amount of interest you'll be paying for the loan term.
Zoom out and look at the long-term effect taking out a moving loan may have on your financial goals. Will it disrupt your ability to save for other life events, such as buying a home or car, starting a family, adding to high-yield investments, or contributing to retirement funds?
Gain a solid understanding of how you would allocate the loan to your move. Being realistic is crucial for getting these numbers as close to the real thing as possible. We suggest creating at least three different tiers of budgets: A bare-bones budget that includes the essential moving expenses you would want to cover, a luxury budget that includes nice-to-have convenience services, and a midline budget that covers essentials and a few convenience items. Pro Tip: Call PODS ahead of time to get an up-to-the-minute quote for the most accurate pricing to help build your budget.
Finally, take those three budgets, add available interest rates and installment plan terms to the total and monthly costs, and then compare the numbers. The combination of your principal loan amount, exact interest rate, and fixed term — plus any other fees, penalties, or rules outlined in your loan agreement — will determine how much your monthly payments and total loan cost will be. The totals may surprise you.
Consider a $3,000 and $5,000 loan at 10% APR versus 12.50% APR versus 15% APR, over one, two, and five-year periods. These examples are based on someone with a good credit score between 670-739. You'll notice that longer loan periods lower the monthly payment burden, but exponentially increase the total interest added to the principal. In some cases, the interest equals more than half of the amount borrowed. Review your loan terms carefully, and choose the loan term that makes the most sense for your monthly budget and overall financial goals.
Here are a few example numbers to consider:
| | | | |
| --- | --- | --- | --- |
| Loan: $3,000 | 10% APR | 12.50% APR | 15% APR |
| 1 year | $275/m ($300 interest) | $281/m ($375) | $288/m ($450) |
| 3 years | $92/m ($900) | $94 ($1,125) | $96/m ($1,350) |
| 5 years | $55 ($1,500) | $56 ($1,875) | $58 ($2,250) |
| | | | |
| --- | --- | --- | --- |
| Loan: $5,000 | 10% APR | 12.50% APR | 15% APR |
| 1 year | $458/m ($500 interest) | $469/m ($625) | $479/m ($750) |
| 3 years | $153/m ($1,500) | $156 ($1,875) | $160/m ($2,250) |
| 5 years | $92 ($2,500) | $97 ($3,125) | $109 ($3,750) |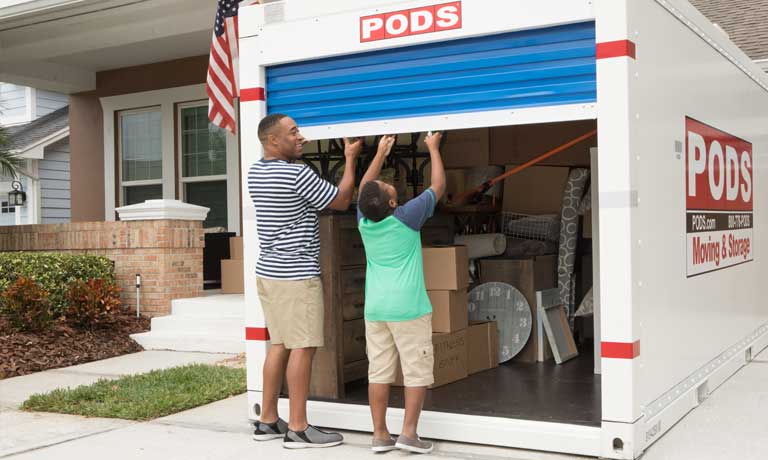 Moving Loans Made Easy With PODS
Not sure where to start looking? PODS has your back. We not only provide you with accurate estimates of moving services and container estimates to make sure your budget stays on track, but we've also partnered with Acorn Finance to make applying for a moving loan easy. When you get a PODS quote on PODS.com or by calling (855) 706-4758, we'll connect you to the Acorn Finance marketplace where you will be able to preview and compare loan options from the nation's top lenders to find your best match. It's just one more way that PODS offers support before, during, and after your move.
Get a Quote
Choose the service you need
Comments
Leave a Comment
Your email address will not be published. Required fields are marked *