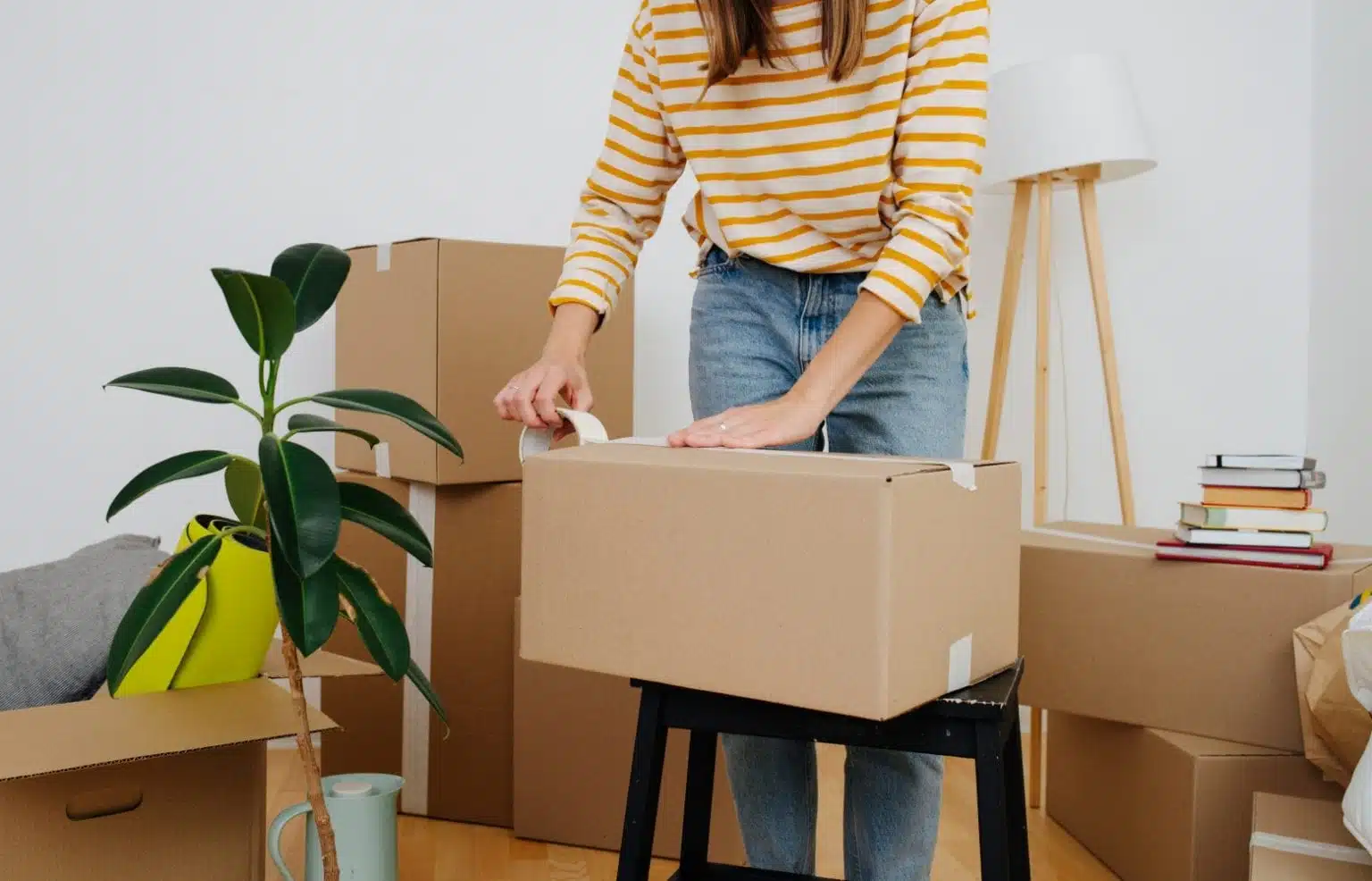 Moving Tips: We answer your top questions
Moving may not be rocket science, but it can seem pretty darn complicated sometimes. That leads to questions. A whole lot of questions. So we decided to put together a list of answers to the most common questions people ask about moving. Bonus: You'll find all kinds of helpful moving tips and nuggets of advice within the answers.
Read on, or jump to the questions most on your mind:
---
Q. What's the average cost of movers?
A. Moving costs can vary widely, depending on the distance moved, size of the move, location, and timing. Before you start getting quotes, here are some ballpark estimates for local and long-distance moves:
Local Moving Costs
A traditional moving company will cost, on average, from $550 to $2,000, for basic service, which includes loading/unloading and transport, according to Move.org. A moving container service like PODS usually costs between $349* and $549* for local moves, including one month of storage in your driveway or at a secure Storage Center and standard delivery, transport, and pick-up service. 
Long-Distance Moving Costs
If you hire traditional movers, the average cost for a long-distance move will range from $2,000 to $7,500 (including loading/unloading and transport), according to Move.org. If you use a moving container service like PODS, a long-distance move usually costs from $999* to $2,999*, which includes one month of storage in your driveway or at a secure Storage Center and standard delivery, transport, and pick-up service. 
* Averages based on PODS rates published September 2020. An estimated 20% of PODS moves fall above or below the average range.
Q. What's the cheapest way to move across the country?
A. As you probably guessed, the cheapest way to move cross-country is to do it all yourself – the packing, loading, driving, unloading, and unpacking. That's if you can fit all your belongings into your own vehicle, and you're up for doing all the work. If that's not you, then your best bet is to compare costs between rental trucks and a moving container company like PODS, which includes storage time and all the driving. In both cases, you do all the packing and loading yourself or you can hire hourly labor to help with the heavy lifting.
Be sure to factor in all related costs when you're comparing estimates. For example, if you have to drive a big rental truck 2,000 to 3,300 miles across the country, you may have to add the cost of transporting your car. If you need storage, you may find that PODS offers the lowest total cost -- not to mention less stress.
For example, moving across the country will cost about:
$2,180 to $3,150 with a rental truck (doesn't include fuel costs)
$3,000 to $4,300 with a PODS container (includes one month of storage and transport)
$3,500 to $6,900 for full-service movers (includes loading, unloading and transport)
Costs are based on estimates from PODS and the MoveBuddha Moving Cost Calculator for relocating a moderately furnished 2- to 3-bedroom household from NYC to Los Angeles, which is about 2,800 miles and 41 hours of drive-time. Keep in mind that you should always get detailed estimates based on your specific moving details before creating your budget.  
Looking for more cost-saving ideas? See avoiding hidden costs of moving and how to cut costs while moving.
Q. Do you tip movers? And if so, how much?
A. Whether you've hired full-service movers to do the entire job, or hourly moving help to just take care of the loading and unloading, it's customary to show appreciation for good service and hard work by tipping each helper individually. 
How much to tip movers? Tipping for moving services works differently from tipping restaurant servers and other services. It's best to base your tip on time worked instead of a percentage of the bill. According to HireAHelper.com, $10 per mover for a half day or $20 per mover for a full day is a good rule of thumb. Another approach is to give each mover $4-$5 per hour or $6-$8 per hour for exceptional service.
As with any type of gratuity, the tip should be based on the performance. Consider a bigger tip if the job involved extra heavy furniture, a lot of stairs, or service above and beyond. On the other hand, if you received poor, careless, or rude service, then you may choose not to tip or to adjust the tip amount accordingly.
A tip for the tippers: Whether you can tip or not, it's always good form to provide cold water, Gatorade, or soda for your movers, as hard, back-breaking work requires proper hydration.
And if you happen to be using portable containers like PODS, tips are not expected by PODS drivers, as they are there to deliver or pick up your moving container after you've loaded or unloaded your belongings.
Q. Can you hire hourly help with moving?
A. You bet. In these days of on-demand services, it's easy to hire local moving help by the hour, for example, to load or unload your truck or moving container, or to assist with packing and unpacking. Using à la carte moving services is a great way to save money because you just pay for the help you need. Learn more with 5 Ways to Get Help With Moving Without Breaking the Bank.
Q. What should you pack first when moving?
A. Start your packing process with the spaces and items you use and need the least. For example, start packing:
Spare rooms
Storage closets and cupboards
Decorative items and knick knacks
Books
Junk drawers
Storage closets and cupboards
Attic and garage storage
Just be sure to leave out special items you may need for your trip or your first few nights. What might those things be? Read the next question and answer.
Q. What should you not pack when moving?
A. When you're packing, be sure to set aside a box, suitcase, or both, for traveling and "first-night essentials," so those items don't get packed away and loaded accidentally. You'll want to have enough clothes, toiletries, medication, and everyday basics for your trip as well as the first few days after your arrival. You'll also want to keep important documents and valuable items with you.
Having your essentials with you will take pressure off having to unload everything and dig through boxes right away, and you won't be forced to run out and buy stuff you already have.
Items to keep for your essentials include:
Clothing for travel and first few days -- remember the weather may be different where you're moving!
Toiletries
Daily medication -- keep at least a one-week supply, but aim for a bigger supply if possible
Basic first aid items
Toilet paper, a few towels and paper towels
Shower curtain and rings
Air mattress and pump -- don't forget to keep these out when you're packing up storage items
Kitchen essentials -- sponge, eating utensils, knives, a few plates and bowls, favorite pan, large spoon, and spatula
Cleaning supplies -- hand and dish soap, disinfectant cleaner, and wipes
Small set of basic tools
Flashlight and batteries
You also shouldn't pack hazardous items, such as fuel or toxic chemicals, or waste. For a full list of prohibited items, check with your service provider.
Q. When is the best time to move?
A. If you have flexibility, try moving in the off-season months (generally September through May), when fewer people are moving. You'll get the best moving rates and have fewer scheduling issues because moving companies aren't as busy during those months. You'll also have a better chance of negotiating a good deal on your new home or apartment when fewer buyers and renters are in the market. Of course, if you live in an area with harsh winters, you may want to avoid the worst months.
Q. How long before moving should you start packing?
A. It's best to start packing at least four weeks before your moving date. Before that, start with getting rid of stuff you no longer need or want to keep.
Q. Can your movers charge more than the moving estimate? 
A. Movers are prohibited from charging more than the estimate if you have a written binding estimate for your move. However, if you only have a non-binding estimate, then the total cost can exceed the estimate the movers gave you. This is why it's so important to get your moving estimate in writing, note that it states clearly whether it's binding or non-binding, and details all services to be performed. To provide a binding estimate, traditional movers generally require an in-person inspection of your home so they can estimate the weight of your belongings, which is how they determine your moving costs.
If you use a moving container company like PODS, the pricing isn't based on weight, but on the container size, distance, and storage time. Once you reserve with PODS, your quoted price is locked in, and will stay the same unless you change the order.
Q. Do you need moving insurance?
A. Accidents and damage can happen, even with the best moving companies. If you want to be reimbursed for any damages to your belongings, then you should look into moving insurance. If you already have a homeowners or renters insurance policy, you should check with your insurance company first, to see if they offer coverage during a move, and if so, how much. If there's no coverage, or it's inadequate, then check with your moving company about coverage options. Want to learn more? Here's a quick primer on moving insurance. 
Q. How can you make moving easier?
A. Moving's never going to be easy, but there are zillions of moving tips for making it a lot less painful. Here are some of our favorite tips to make moving easier:
Start with a moving checklist to stay organized and on track.
Get rid of as much stuff as possible by donating, selling, and giving it away.
Begin packing as soon as you know you're moving
Have a moving container delivered, so you can take your time and pack and unpack gradually while minimizing the clutter and chaos in your living space.
If you can swing it, schedule some overlap between homes.
Hire hourly moving help to take care of the heavy lifting and stuff you don't want to do.
Expect some hiccups, have a sense of humor, and keep moving forward.
Of course, we could go on forever when it comes to questions and tips about moving. However, in the interest of helping you get moving, we'll let you go ahead and get started. But if you've got a specific question you don't see listed here, use the comment section to share it below, and we'll do our best to get you an answer. Or if it's a question about moving with portable containers, visit PODS FAQs or give us a call at 877-350-7637.
---
Liz Taylor is a freelance writer who keeps up with moving and storage trends while editing the PODS Blog.
Get a Quote
Choose the service you need
Comments
Leave a Comment
Your email address will not be published. Required fields are marked *