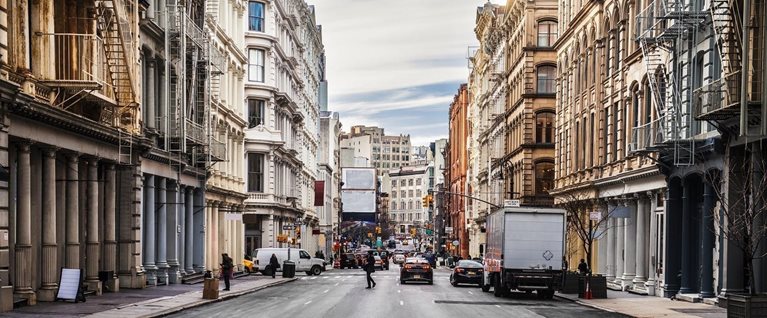 Moving to a new city? Our best tips to conquer big-city moves with less stress
Relocating anywhere is no easy task, but moving in a big city can present its own brand of headaches. Even after you've signed your lease or home contract you still have to get the actual moving part out of the way. The bigger the city and more urban your location, you'll likely have to deal with crazy traffic, aggressive drivers, and parking conditions that are ridiculous enough for cars, let alone a big honking moving truck. Moving to an older building? Be prepared for skinny hallways and endless staircases.
But there are definitely ways to ease all that stress and strain. With that goal in mind, we've put together this checklist for moving to a new city that covers preparing -- as well as choosing the right relocation options to suit your unique needs. Whether you're thinking about going with self-moving, pro city movers, or a happy medium like PODS City Service, these tips will help you survive moving day with a minimum of hassle, so you can soon start enjoying all your new city has to offer.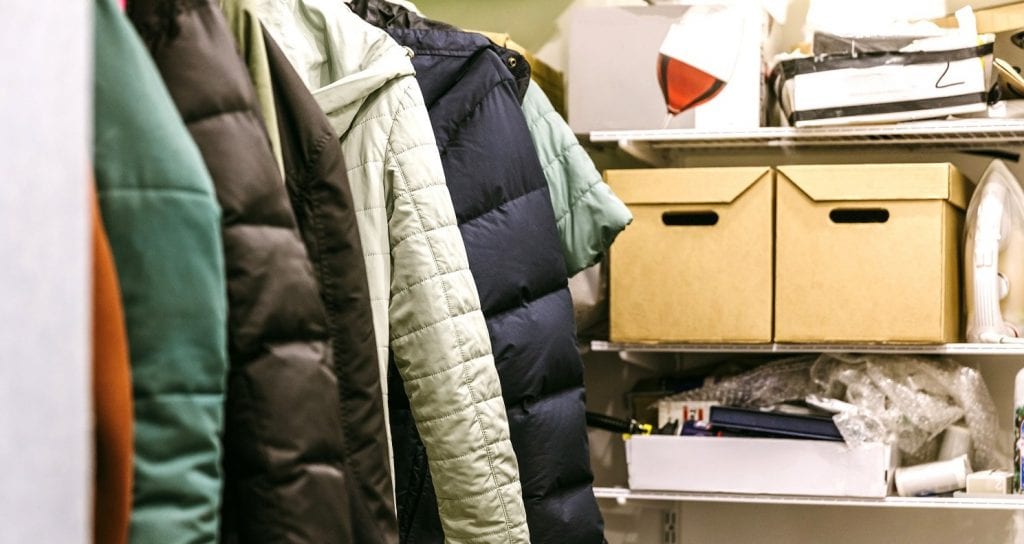 1. Declutter to lighten your load before moving in a big city
The last thing you want to do is pack boxes full of stuff you don't use. Take a few days to cast a critical eye on the contents of every room and closet. If you haven't used those fancy appliances for years, or you're hoarding clothes you never wear, now is the time to give stuff away or even sell it for extra cash.
If you have valuable items, post a free ad on Craigslist or Ebay or list them on Nextdoor. But if taking pictures, creating ads, and fielding inquiries isn't worth your time, pack up some boxes and donate your unused items to Goodwill, Salvation Army, or another favorite charity. Some may even do pick-ups.
In a hurry? Listing items for free on Craigslist is a sure-fire way to get them out of your way in no time.
For larger items like couches, mattresses or extra-big appliances, check with your local charity or garbage service to see if they'll do a free bulky items pickup.
Once you're done downsizing, you're ready to start packing. Check out these hacks for packing like a pro.
2. Scope out your new apartment building before showing up with a truck
Moving to an apartment building definitely has its own set of challenges. While newer, modern apartments have large elevators and big hallways, older apartments can really vary in size.
Take some measuring tape and a notepad to your new home and plot a path for your furniture. Make sure your couch can fit through narrow doorways and around sharp corners. The last thing you want is for your antique armoire to get stuck on moving day!
If you're moving to a big city sight unseen, ask the building manager for details regarding the size and width of hallways and doors. Some buildings even have maps with the dimensions of every room. This can be very helpful to prevent surprises on moving day.
For walkups, make sure you know how many flights of stairs you'll have to climb so you can alert movers or friends who'll be helping out. Check with the building manager to see if there's a freight elevator to ease the job.
For high-rise apartment buildings or condos, schedule a meeting with the building's general manager to ask for advice about moving. You may be able to reserve time on one of the elevators or use a special parking spot on moving day. You'll be surprised by how much you'll find out just by following up with the manager.
3. Negotiate move-in and move-out days
Instead of moving out on the 31st and racing to move in on the 1st, chat with your current and new landlord about flexible dates.
Adding a few days to the front or back end of your lease can make moving day a lot less stressful. It's worth a small fee or paying a few extra days of rent to give yourself some leeway on moving day.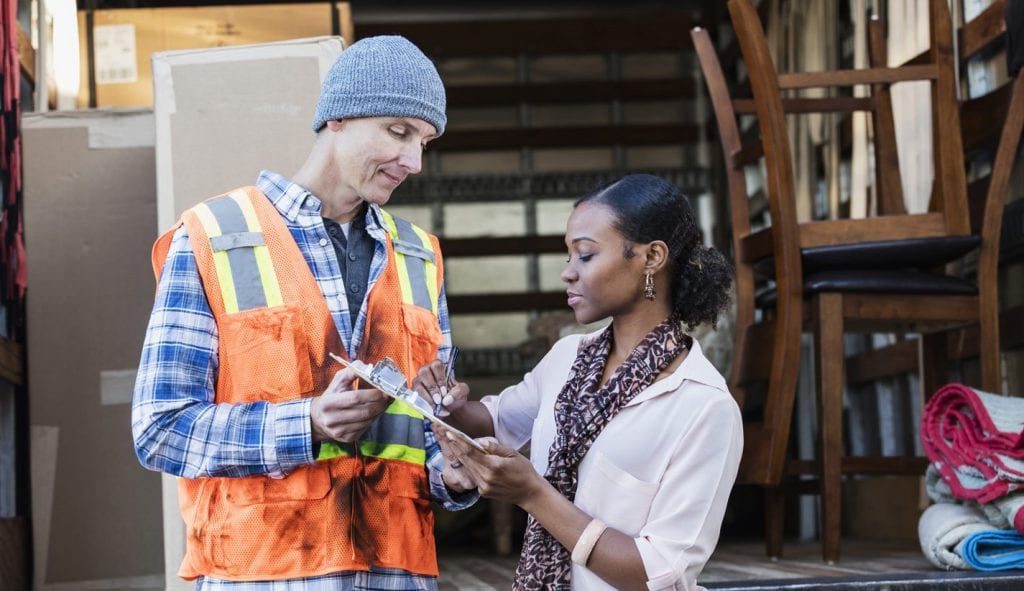 4. Research hiring pro city movers vs. self-moving companies
Deciding whether to hire movers or going with self-moving options, like renting a truck or using a moving container, depends a lot on you individual situation. Are you relocating from small apartment to small apartment or do you have a large house with tons of stuff? How much money do you want to spend on moving? Do you prefer to diligently pack and wrap every item yourself or pay someone else to do it for you? Would you prefer to have a moving container set up right outside your house so you can take your time loading up?
To sum it up, your decision will depend on these key factors:
Your moving budget
How much stuff you have to move
Parking conditions and loading regulations – both where you're moving from and to
Your moving timetable and degree of flexibility
Whether you'll need storage
Your available time, energy, and personal preferences
With those conditions in mind, here are your main options for moving to a new city:
PRO CITY MOVERS AND WHITE GLOVE MOVING SERVICES
If the thought of packing and moving your own stuff gives you the heebie-jeebies, you may want to consider hiring professional city movers or white glove moving services.
What exactly are white glove movers? These movers are responsible for all the ins and outs of moving, from packing up your delicate items to unloading them into the right room in your new place. They are true experts and know just how to pack that fancy mirror or original art so it doesn't get damaged in the middle of your move. Some white-glove moving services even have temperature-controlled trucks for items like instruments, wine, and electronics. With white glove movers, you don't have to worry about any part of the moving process. If money is no object, then this is the ultimate way to move.
However, if you can't afford white glove movers, you can still hire traditional movers to do the work of loading, unloading, and driving the moving truck. Check their licensing, insurance, and references. Watch out for scams where they bid low and then change the price on moving day.
If you're hiring movers, here are a few good questions to ask:
What are the base rates for moving?
Are there extra fees for stairs, extra heavy items, or other potential upcharges?
Are there extra charges for moving bags versus boxes, and vice versa?
How flexible is the moving schedule – what happens if it needs to change?
Professional movers can be great when you…
Have zero time to deal with moving yourself
Want to avoid lifting heavy furniture and boxes
Have good movers whom you trust to make things easy
Don't want to drive and park a huge truck in big city
Have no budget worries
You may want to consider other options if you…
Can't afford to pay too much for your move
Need a more flexible moving schedule
Are worried about damage to your stuff
Want to know exactly what your move will cost, with no surprises
Know you'll need storage as part of your move
SELF-MOVING OPTIONS: RENTAL TRUCKS AND MOVING CONTAINERS
After paying for all the other expenses associated with starting life over in a new city, many people need to keep their moving costs to a minimum. Others simply prefer to have more control over their move by doing all or most of it themselves. Fortunately, there are more self-service moving options than ever before, from rental trucks to moving containers and hourly professionals to help with the heavy lifting.
MOVING CONTAINERS WITH BUILT-IN STORAGE
An affordable alternative to hiring expensive movers, moving container companies can offer a less stressful approach compared to driving an enormous rental truck through crowded urban streets. If you've got a driveway or an apartment parking lot where you can keep a container for more than a day, you can set your own pace for moving. For example, with PODS standard service, the container is delivered to you and when it's loaded, PODS will pick it up and take it to your new place, or keep it at a secure PODS Storage Center until you're ready. Unlike many other container services, PODS is available for both long-distance moving and local moves. As an option, you can also hire hourly labor to help with loading, unloading or both.
PODS moving containers can be great when you…
Don't want to drive a big truck
Want the peace of mind of no-contact moving
You need storage as part of your moving process
Aren't sure about your schedule and need more flexibility
Prefer to take your time packing, loading, and unloading
Want the option to pay only for the help you need
You may want to consider other options if you…
Prefer to do everything yourself, including driving the truck
Need the cheapest move, and that turns out to be a rental truck
Want to leave everything to a pro mover, even if it costs a lot more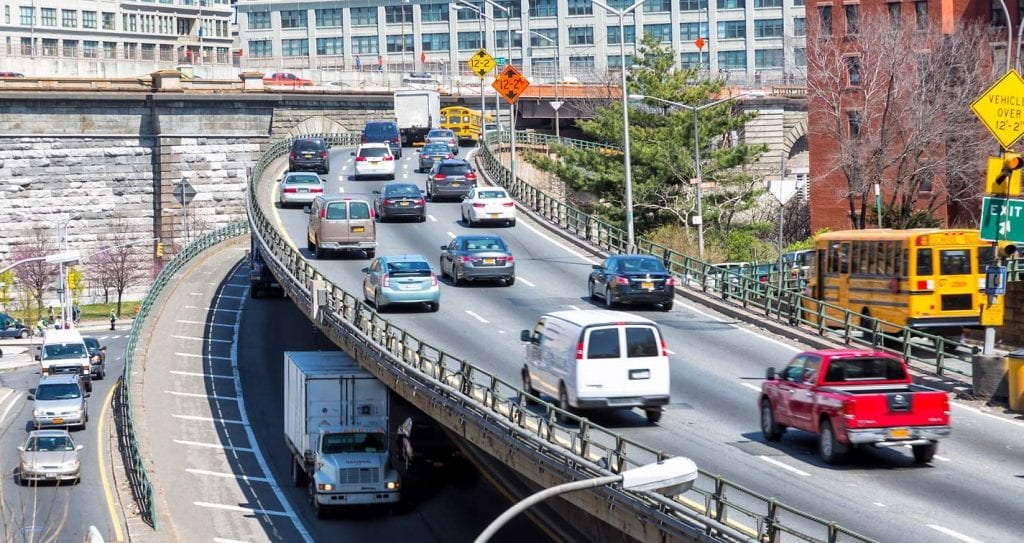 MOVING CONTAINER SERVICE SPECIALIZED FOR CITY MOVES
Since there are some city locations where you're not allowed to keep a container, you may want to consider using PODS City Service. Available in select areas of several major cities, the service is designed to ease the stress of moving and storing in crowded urban areas. Like PODS standard service, you don't have to deal with driving or parking a truck, and you still have built-in storage options. The only difference is the container is brought to you on a truck, where it stays while you load and unload, assisted by a built-in lift. You can also combine City Service with PODS standard service. For example, if you're moving from a home with a driveway or parking lot, you'd use PODS standard service on the front end and take your time packing and loading. Then, if your new location is in a big city where you can't keep a container, you'd use PODS City Service for unloading and moving in.
Here's how PODS City Service works:
A PODS driver brings your container at your scheduled time and stays for loading or unloading, helping to defend against tickets, thieves, and any other threats to your belongings.
While your container remains on the truck, a heavy-duty, hydraulic lift carries you, your helpers, and your belongings to and from your container.
You load and unload at ground level – no carrying heavy items up and down a ramp.
If you're moving out, after your container is loaded and ready to go, it will be taken to your new place (whether it's in a neighborhood nearby or across the country), or to a secure PODS Storage Center until you're ready for it). If you're moving in, once your container is unloaded you're done.
PODS City Service can be great when you…
Want to avoid driving a big truck in a big city
Need storage because you're downsizing or need date flexibility
Prefer to pay only for the help you need
Need a moving container service that serves both local and long-distance moves
Want to load at ground level instead of pushing stuff up a ramp
You may want to consider other options if you…
Want to control everything, including driving and parking a truck
Need the cheapest option, and that turns out to be a rental truck
Want to outsource everything to pro movers, no matter the cost
Are moving in a city where PODS City Service isn't available
RENTAL TRUCKS
Then there's the total DIY approach -- renting a truck and doing all the packing, loading, unloading, and unpacking yourself. If this is your decision, we strongly recommend checking on parking availability and regulations (see our tips below). You'll also want to ask yourself if you're comfortable with driving and parking a huge truck in a big city where the traffic can be unforgiving. And you'll need to ask friends or family for help with any heavy lifting.
Rental trucks can be great when you…
Are moving a short distance and need the cheapest possible solution
Want hands-on control, including driving your stuff in a truck
Have used rental trucks before and like the online scheduling
You may want to consider other options if you…
Have no desire to drive and park a huge truck on city streets
Need storage as part of your move  
Don't want to get hit with late fees if you get stuck in traffic
Would prefer to drive your own vehicle to your new city
Have no easy way to pick up the truck and drop it off
5. Renting a truck? Plan ahead for parking and best routes
If you're planning on driving a rental truck, you can save yourself costly tickets and headaches by thoroughly researching parking availability and regulations, as well as driving routes before you go. In some cities with dense neighborhoods, you may have to apply for a temporary parking permit for your moving truck. Here's some tips to avoid potential moving day nightmares:
Check on parking. Research online or call the city's department of transportation to find out if there are any special regulations and permits for moving trucks that include "no parking" signs to reserve spots for several hours to a day or two so you have room to move. It's imperative to do this in advance. Even though a permit may cost you some bucks, it will almost certainly be a lot cheaper than a whopping parking ticket in your brand new city.
Plan your route in advance. Be aware of toll bridges and highways, one-way streets, steep hills, and low clearances. Driving a truck isn't in everyone's comfort zone, so you want to make it as easy as possible. If you're not near your new city, use resources like Google Street View to scope out your route.
6. Congrats – you've made your move! Now what?
Moving to a new city isn't all about the actual moving part. Now that you're settled in, there are a few key things you don't want to forget.
Change your address. It can be easy to forget this critical step in the hustle and bustle of relocating to another city, but it's super important. Submit a change-of-address form to the post office and be sure to change your address with your bank and subscription services.
Update your driver's license and license plates. If your move to another city brought you to another state, you'll have to take proof of address to the DMV and update both your driver's license and your license plates. The amount of time you have to complete this task varies by state. If you can, make an appointment to avoid sitting around on less-than-cozy plastic chairs at the DMV.
Join some social groups. Moving to a new city can be both exciting and lonely at the same time. You might be moving somewhere you don't know anyone. Joining a Meetup group, a dance class, or a hiking group can be a fun way to meet new friends.
Explore your new neighborhood. One of the most exciting parts of moving to another city is you get to explore. Rent a bike or scooter, or just walk to discover fun parks, restaurants, and coffee shops in your neck of the woods. You'll have a list of new favorite spots in no time, and new friends to go with. Enjoy your newfound life!
---
Kristin Hanes is a freelance writer living in San Francisco. Her work has appeared in SF Gate, Marie Claire, and Realtor.com, among other publications.
Get a Quote
Choose the service you need
Comments
Leave a Comment
Your email address will not be published. Required fields are marked *