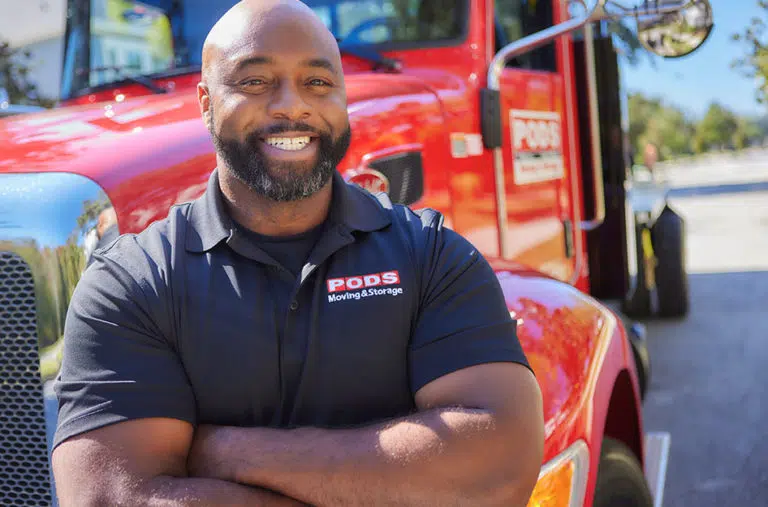 Need to Store Stuff While You're Moving? Here Are Our Top 3 Moving and Storage Picks
Moving is all about the when, where, what, and how of getting your stuff from point A to point B. The logistics can be hard to balance — especially during times of uncertainty (like a cloudy housing market). But with the right planning and preparation when it comes to moving and storage, that balancing act can get a lot easier.
Using storage when moving isn't something everyone thinks about (most will default to a truck), but it can make the whole process much easier and lower your stress level. In many cases, storage offers the best and most convenient option.

Q: What should I put in storage when moving?
A: You can put lots of different things in storage when you're moving, but some of the most common items include: tables, chairs, bulky furniture items, mattresses, beds, seasonal items like holiday decorations and warm winter clothes, large appliances, kitchenware, books, art, and files. (Note: To avoid potential headaches, don't put high-cost items or important documents in storage. Keep them with you.) In general, it makes sense to store things that you don't need every day. That way, you can prioritize unloading and unpacking essential items (like your toothbrush and your ultra-deluxe waffle-maker).

Need a little convincing? There are plenty of circumstances that make moving and storage services a stress-reducing, convenient option. Among them, when you need to:
Store your possessions while you wait for your new house or apartment to be available
Move in stages or over time, rather than all at once (which helps provide some flexibility)
Store your stuff while you make more permanent arrangements during downsizing
Store furniture, appliances, and other belongings while a remodel is underway at your new place
Q: What is the hardest room to pack when moving?
A:
The kitchen, no doubt. Dishes and glasses are breakable, for starters, so you'll want to make sure to have plenty of packing paper and bubble cushioning roll to keep tender items safe during the moving process and in storage. You can also purchase boxes specifically for dishes and glassware, with tidy individual break-proof compartments built in.
What are your three main options for moving and storage?
You have a few storage options when it comes to moving: portable containers, full-service moving and storage, and local self-storage units.

Let's talk about the pros and cons of each type, so you can figure out which one best meets your specific moving and storing needs.
Wondering where to store furniture when moving? PODS makes it simple. Have as many containers as you need delivered to your front door, load them up, then have them sent either to your next home or to a secure PODS Storage Center for as long as you need to.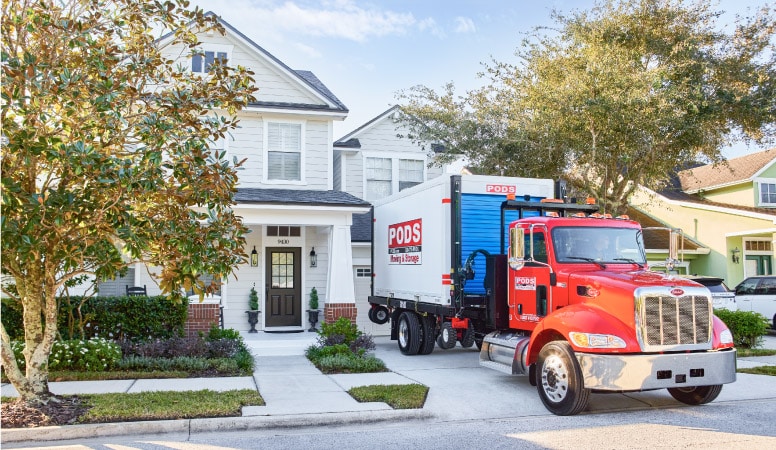 1. Moving and Storage Services With Portable Containers
You've probably seen the giant container boxes on the back of large trucks or parked in front of homes. These portable storage containers can be used both to move and store your stuff — affordably and conveniently, so you'll have some peace of mind without breaking the bank.
Did you know? PODS is the No. 1 moving and storage container company of 2023. No one understands complex moves and storage needs like PODS. That's why Move.org recognized PODS as this year's best moving and storage container company.* From pay-as-you-go pricing to changing your dates with ease, PODS' flexible and convenient solutions were designed with you in mind.

*Move.org's rankings for Best Moving and Storage Container Companies were released on Oct. 3, 2023.

These are some of the main benefits of using moving and storage container companies like PODS:
Flexibility: Containers make complex moves and storage projects simple. A company like PODS will deliver the container to you, and from there, you can send it wherever it needs to go. Sending furniture to the kids? No problem. Have to wait a month before closing on your new home? Keep the stuff in the container until then, no worries.
One-time loading: If you're moving and storing around the same time, you can save yourself a ton of effort with PODS. Rather than loading, unloading, and then loading your stuff again at a self-storage unit, you can just load and unload a single time.
No driving: The toughest part about the moving with storage option is the need to drive back and forth between your unit and your home. PODS eliminates that by doing all the driving. Just load your storage container and tell PODS where you need it to go — and relax. PODS will handle the rest.
If you need help loading your container, you can easily hire hourly moving help to take care of the heavy lifting — and even the packing and unpacking. The best part? You'll only pay for the services you need. For example, you might want help loading the container, but once it's delivered, you just want assistance with a few large pieces because you want to take your time sorting through and organizing everything else room by room. That's okay.
Bonus Advice: Hourly help can do as much or as little as you would like them to. For additional advice on how to vet your help and ensure you're getting the most value possible, see our guide on getting accurate moving cost estimates.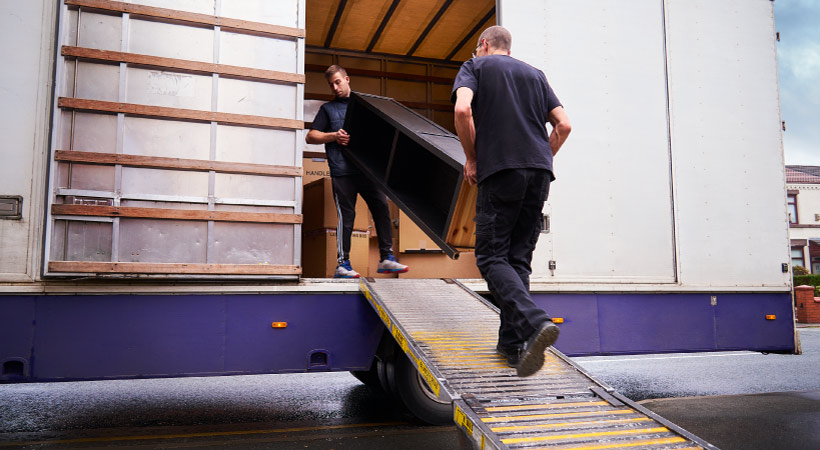 2. Full-Service Movers With Storage
Full-service movers, on the other hand, take care of it all — sometimes including moving house to storage. For folks who want to be as hands-off as possible and don't mind shelling out some serious cash, hiring full-service movers that also offer storage may be an option.
Full-service movers will do everything for you: disassemble, load, drive, unload, reassemble, and take your leftover stuff to storage. You can even pay extra to have movers pack and unpack your boxes for you. Obviously, that sounds great. But there are some potential downsides to using their services.
The biggest barrier for most people will be cost. Full-service moving and storage services can easily reach $15,000 for a cross-country trip, or potentially more depending on how much stuff you own and plan to take with you. You can buy a decent used car for that much moolah!
And besides the cost, the full-service option comes with some risks:
Other people will handle your stuff: This introduces the risk of damaged and lost goods.
You may not have easy access to your things in storage: Many full-service movers don't provide a way for you to get to your belongings while they're in the warehouse. Be sure to read the fine print if that's an important factor.
Your possessions may be mixed in with others': Yep. With storage containers, your belongings are in one box, which is itself inside a storage center — providing a double layer of protection. But full-service movers will sometimes mix multiple customers' things on the truck during transit, or mingle items within a warehouse or single storage unit to save space and minimize operational costs.
You're stuck to the movers' schedule: Should you need (or just want!) an extra day or two to pack up your things, you'll find yourself out of luck with full-service movers.
Q: How much does it cost to store furniture between moves?
A: We've mentioned that some moving and storing solutions are cheaper than others. But just what kind of prices are we talking about for storage between house moves? Renting a local storage unit can cost anywhere from $70 to around $300 a month, depending on the size, for a yearly average of around $2,200 (plus any applicable taxes and fees). If you use a container service like PODS, you'll pay in the higher range of self-storage units. But that investment gives you time-saving flexibility and peace of mind that you don't have to schlep all your stuff across town into a standard storage unit. And since the type of storage provided directly by movers varies significantly, check with your mover for their storage rates.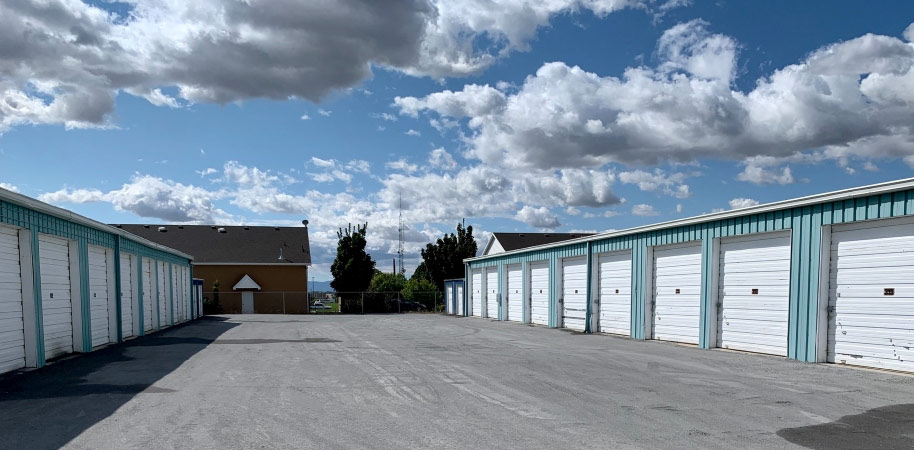 3. Self-Storage Unit
On the surface, the cheapest option for storage is an old-fashioned local storage unit. And if you live in a metropolitan area, there are probably several storage options available nearby.
The advantage of a storage unit is, of course, the low cost. But it also offers you autonomy. You can load and unload your storage unit at your own leisure, whenever you want. It's also a great option for those who are just storing stuff and not moving at the same time.
The disadvantage? It takes a lot of work. Not only do you have to load your stuff into a truck (after renting a truck if you don't have one), but you also have to unload everything at the storage unit. Then, when you're ready to move into your new place, you need to do it all over again.
If you want to avoid the hassle of lugging all your stuff between locations, perhaps multiple times, a portable storage container may be a better option.
Q: What is the cheapest way to store and move?
A: Moving containers — like the ones offered by PODS — and rental trucks are your best bets when it comes to getting the most bang for your buck. Which one is more cost effective for you will depend on how far you need to travel. It'll also depend on whether you're making a quick move or you'll need some storage space while getting settled at your new place. Remember that cheaper isn't always better, though.
Storing Furniture Between Moves
So the options for where to store household goods and furniture between moves are now clear. But do you know how to pack your belongings away safely before it actually goes into storage? It's easy to assume that covering your things will protect them. But a storage space doesn't necessarily mean it's preserved. Consider taking the following precautions before you leave your belongings in a storage space:

Q: What is the best way to store furniture when moving?
A: You can choose between a portable container like the ones offered by PODS or a more traditional self-storage unit. The first is better for flexibility during your moving and organization period, but the latter could be a cheaper indefinite-term solution if you have things that don't have a place in your new home (and that you're not quite ready to give up).
Clean each piece.
One of the easiest ways to damage your furniture is to pack it up when it's dirty. Not only can odors build up, but crumbs of food or other debris can cause a lot of trouble for the material itself. Thoroughly wiping down and vacuuming anything that's going into storage is the best way to prevent this potentially harmful mess.
Take everything apart.
Once you've cleaned everything, it's time to take your furniture apart. This is usually a fairly simple process for desks, tables, chairs, shelves, and the like. And not only does this extra step make it easier to pack, but it'll also reduce the chances of things getting broken or scratched. Remember to keep all the screws, washers, and other small items in a safe place (like securely taped to the appropriate piece)!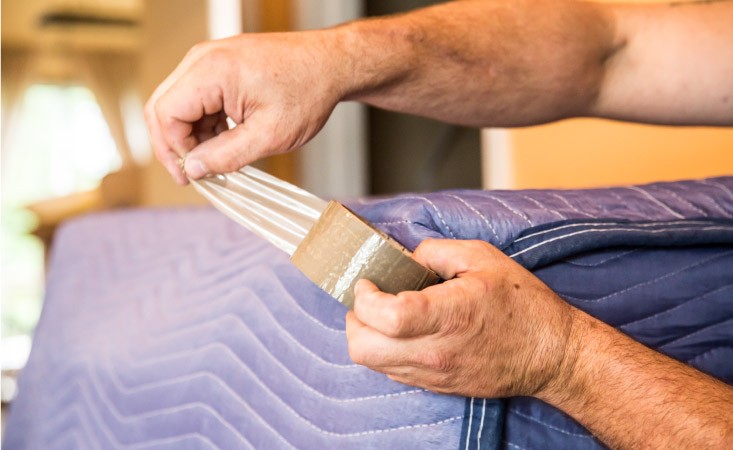 Wrap it up.
Gather all your old sheets, blankets, and drop cloths to cover the floor and the furniture that's going inside the unit. You can also lay plastic sheeting on the floor to prevent moisture from making its way inside. Just be sure not to wrap your big furniture items in the plastic, which can result in trapped moisture and mold inside your furniture. Cloth covers, on the other hand, are breathable, so they may be your better option.
Lift everything up.
When you're storing things without climate control, you want to make sure nothing can get ruined by being placed directly onto the floor. Using pallets is a great way to add an extra layer of protection against flooding or other unexpected events that could cause exposure to the elements.
Don't overstuff your storage.
Finally, be careful not to overdo it when it comes to space "optimization," as this is a surefire way to break things. Instead, take a second to organize your storage unit for easy access and unloading, making sure you have enough space. Start with the biggest pieces and work down to the smallest, and be sure to leave an aisle or two to walk down, so you're able to see and retrieve things.

Q: How do you pack a house for storage?
A: Whether it's short- or long-term storage, you'll want to prepare each item carefully. That means making sure each item — whether it's art, documents, furniture, or clothing — is clean, wrapped, and carefully placed inside a strong box, bin, or tub. When it comes to furniture storage, in particular, you may also want to add protective padding around fragile items or support if an item is made of glass. What is the best way to store clothes? Garment boxes — so they maintain their shape and have air circulation. Watch out for moisture, too! Ensure every item is dry before being stored. Even one damp item can result in a mold and mildew nightmare — and lots of ruined belongings.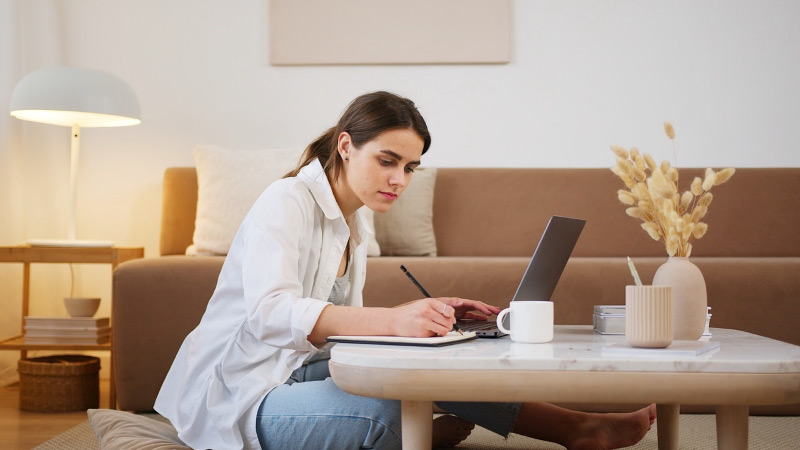 (Source: Artem Podrez via Pexels)
Choosing the Right Storage Company
Once you've figured out what kind of moving and storage services you want to use, it's time to find the right company. Our main advice? Be sure you use an established and reputable company (they'll be handling your beloved possessions, after all!).
Here are a few tips to keep in mind:
Read online reviews to see what previous customers have said about the company.
Peruse all contracts and agreements carefully before signing.
Compare prices and factor in the things that are important to you — so you don't overpay.

Q: Is it better to use PODS or a moving company?
A: PODS is the superior choice if you want the added convenience of moving on your own terms. With the flexibility to accommodate your schedule and the ability to unload things as you sort through them, your moving process could be a lot less stressful and personalized to your needs.

Ready to get a quote from a moving and storage company? You might be surprised to see how affordable moving and storage services from PODS can be. Visit PODS.com for local moving and storage, or call 877-350-7637 for a long-distance moving quote.
For additional moving and storage tips and tricks, check out more from the PODS Blog.

Easton Smith works as a freelance writer and researcher, reviewing technology trends and the moving industry. He moved all around the continent, from New York to California, before landing back in his hometown of Salt Lake City.
Get a Quote
Choose the service you need
Comments
Leave a Comment
Your email address will not be published. Required fields are marked *