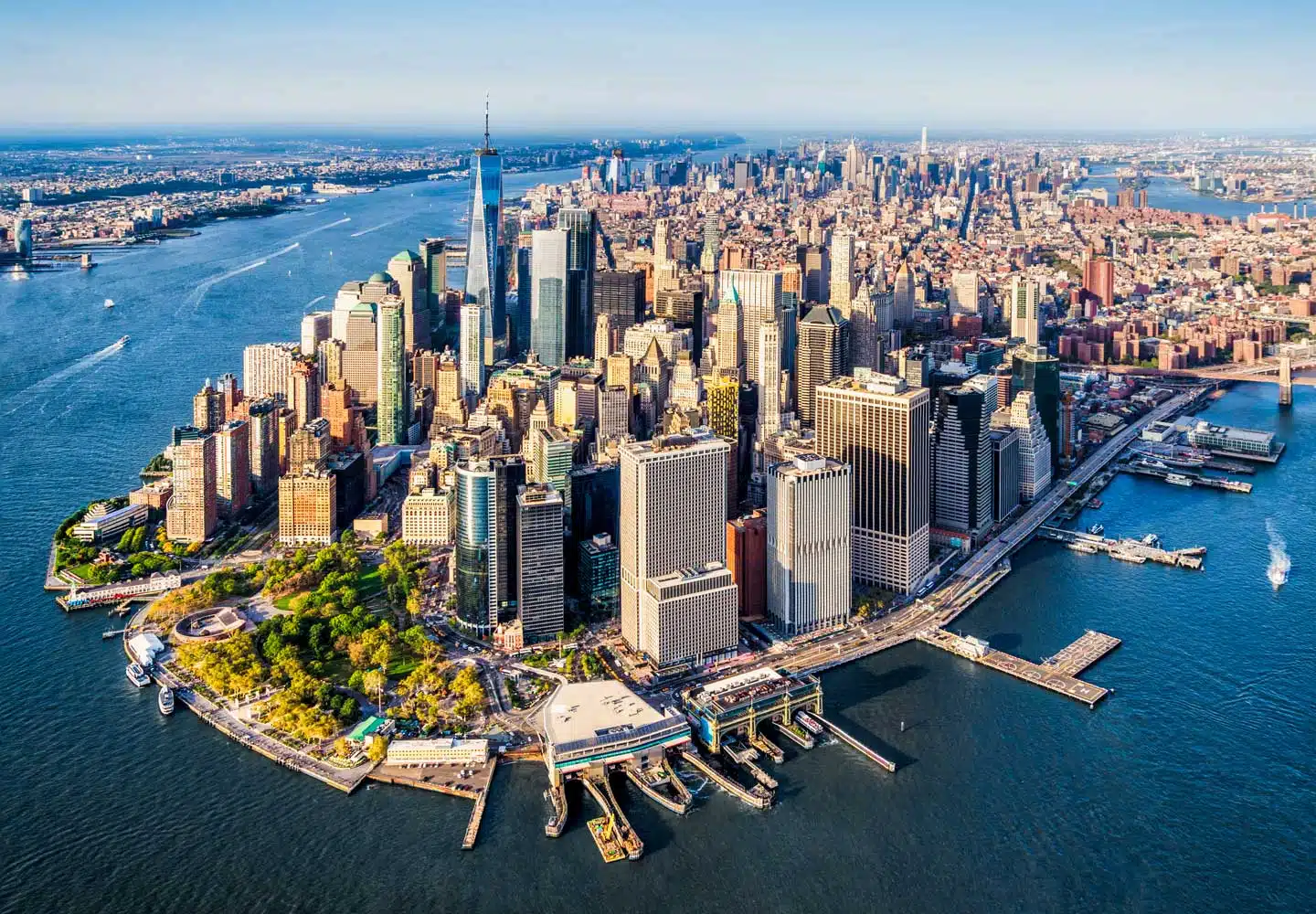 NYC Moving Guide: The 5 Boroughs of NYC, Explained
As any local will tell you, NYC isn't just a single place, as you might expect with a smaller city. It can mean dozens of things! Do you want to head to Manhattan for a classic Empire State experience, perhaps looking to replicate the lifestyle you've seen on your favorite TV show? Or will you settle in Brooklyn, or maybe Queens? In all 5 boroughs of NYC, you've got a lot of choices! But don't worry, we'll help you narrow things down to find the best spot for you.
New York is made up of 5 major areas or "boroughs," some separated by rivers and connected via ferry or bridge. So, what are the 5 boroughs of New York? Manhattan, Brooklyn, Queens, Staten Island, and The Bronx. Read on to find the right area for you.

Planning a move to New York City? Start by getting a quote from PODS.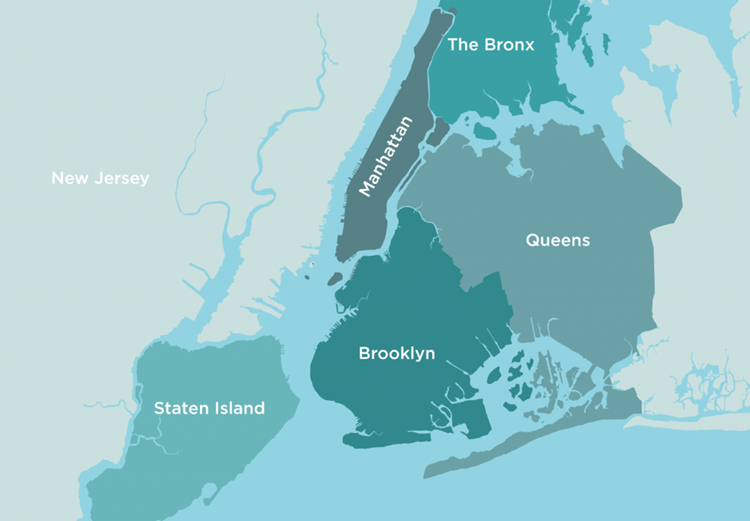 NYC Neighborhood Guide – Where to Start
As you consider where to live in the 5 boroughs of NYC, here are a few key factors to consider:
What, to you, makes a great neighborhood?
If it's all about quick transport to work, you'll want to research subway lines to and from your job. Is it more important to have access to museums and high-end shopping experiences or to live walking distance from a grocery store? If you have kids, you'll want to factor in the local schools and parks. There isn't one best neighborhood in NYC; it's all about what works best for you.
What's your price point?
Coming from almost anywhere, New York real estate will be a price bump, and the process of finding a new place is unique. There are significant price differences from borough to borough and neighborhood to neighborhood. Work through what you're willing to spend before getting your heart set on a pricey locale.
Would you rather pay for space or access?
Rents in different neighborhoods pay for different benefits. In Queens or Staten Island, you get more space for your money but sacrifice quick access to Manhattan luxuries like shopping, dining, and a shorter commute. For some, it's worth being farther out to enjoy extra square footage. Especially if you have or plan on having children, you'll want to consider whether you want to live in a building with less space or a home with a yard. Regardless of where you end up, you'll want to find reliable city moving and storage services to help you navigate moving to your new home in the Big Apple.
Are you renting or buying?
Since certain parts of New York are more expensive than others, you may want to consider renting in Manhattan for a certain amount of years and buying a home in another New York borough once your need for more space arises. Buying an apartment in NYC typically comes with high taxes and high maintenance costs on top of what you'll already be paying for a mortgage.
We'll break down the boroughs one by one in a second, but before that, we'll answer some common questions we see about them.
New York Boroughs Q&A
Q: What are boroughs?
A: A borough is a town that has its own government. "Why does New York have boroughs," you ask? Because New York is so massive, there are 5 boroughs that make up the city. Each borough in New York has dozens of neighborhoods, some bigger and more well known than others.
Q: What are the 7 boroughs of New York?
A: There are actually only 5 boroughs of NYC! You'd be surprised by how many locals don't know how many boroughs there are in their own hometown. Some people consider Jersey City and Hoboken to be the sixth borough because it's so close to New York City (especially by train), but it's not actually a borough. Manhattan, Brooklyn, The Bronx, Queens, and Staten Island make up the 5 boroughs.
Q: What are the 4 New York boroughs?
A: Whoops! Try again! There are actually 5 boroughs of New York. Getting this answer wrong happens to the best of us — even New York locals. Manhattan, Brooklyn, The Bronx, Queens, and Staten Island make up the 5 boroughs.
Q: What are the 5 boroughs of New York City?
A: Manhattan, Brooklyn, The Bronx, Queens, and Staten Island. Each of the 5 boroughs of NYC has dozens of neighborhoods with their own flavor, experiences, and cuisines.
Q: Which borough is Harlem in?
A: Since Harlem is located in Upper Manhattan, it's considered to be a neighborhood in the Manhattan borough. To the west of Harlem, you'll find the Hudson River. To the north is Harlem River and 155th street. Fifth avenue is on the east of Harlem, and Central Park North is on the south.
Q: Is Long Island part of the 5 boroughs?
A: No, the 5 New York City boroughs consist of Manhattan, Brooklyn, Queens, the Bronx, and Staten Island. Many people assume Long island is part of the 5 boroughs, but this is not the case!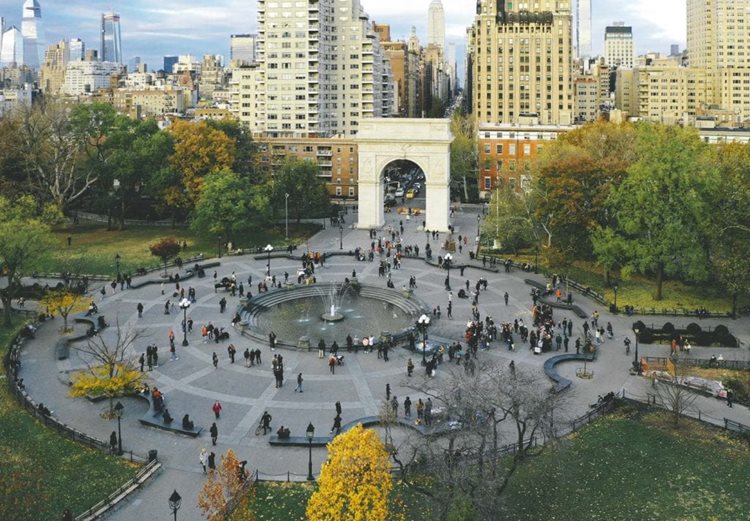 Washington Square Park in Greenwich Village
Manhattan
When most people think of New York City — skyscrapers, museums, yellow taxis, Central Park — they are thinking of Manhattan. Manhattan is a narrow island at the center of New York's 5 boroughs. While geographically very small, there are dozens upon dozens of small Manhattan neighborhoods offering differing costs of living, unique experiences, and their own mix of residents. Bustling, crowded, and bursting with new things to see and experience around every corner, Manhattan is ideal for someone looking for a fast-paced lifestyle and access to big-city amenities.
Noteworthy Manhattan Neighborhoods
Upper East Side: The Upper East Side boasts true New York treasures such as The Metropolitan Museum of Art and the Guggenheim Museum, as well as Madison and 5th Avenues. UES is also home to the United Nations, and has a large concentration of private schools, making it one of the best neighborhoods for families in NYC.
Greenwich Village: If you're looking for a classic New York feel, Greenwich Village is an ideal area to explore. Home to New York University and Washington Square Park, there are tons of great dining options to explore. The Greenwich Village area also offers a short commute to both midtown and the Financial District downtown.
Upper West Side: Bordering the west side of Central Park, the Upper West Side is home to some of the most beautiful real estate in the City. With views of Central Park to the east and Riverside Park to the west, UWS has old-school Manhattan charm with pre-war architecture and, if you're lucky, stunning park views.
Cost of Living in Manhattan
Cost of living in Manhattan is high when compared to the rest of the nation, and even in comparison to other boroughs. That said, your rent will vary greatly depending on the neighborhood in which you live, with average one-bedroom rents ranging from $2,400 per month (Washington Heights) to $3,900 per month (SOHO).
Living in Manhattan
Move to Manhattan if you're looking for a "classic New York City" experience. Convenient for those who work on the island, there's also never a shortage of things to do in Manhattan, no matter the time. Well-connected and densely populated, Manhattan is city living at its core. With this prime location and added convenience often comes a higher price tag and less living space, though. Keep in mind that the cost of extra storage space may need to be factored into your total expenses!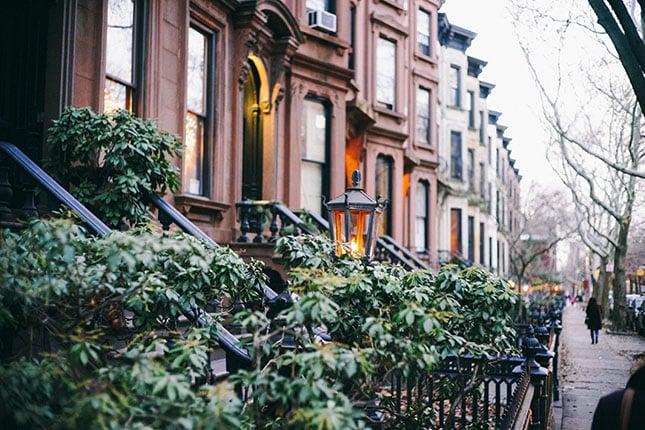 Park Slope in Brooklyn
Brooklyn
Located west of Manhattan via the iconic Brooklyn Bridge, Brooklyn's stereotype is affluent families and hipsters too cool for mainstream Manhattan. While some of this characterization holds water, Brooklyn carries much of the cultural influence and weight of Manhattan, with a more relaxed vibe. Home to beautiful parks, terrific watering holes and dining experiences, and plenty of culture, Brooklyn neighborhoods offer a bit more breathing room than cramped Manhattan.
Noteworthy Neighborhoods in Brooklyn
Williamsburg: Once a mecca for struggling artists and young creatives, Williamsburg has become a buzzy borough with grit having given way to "hip." In Williamsburg, you'll find a thriving arts and music scene and plenty of artisanal goods and foods.
Park Slope & Prospect Heights: Located west and north of the beautiful Prospect Park, these two neighborhoods are home to many young, more affluent families, as well as professionals. Here, you'll find beautiful green spaces and venues like Union Hall and Barclays Center.
Cost of Living in Brooklyn
While the cost of living in Brooklyn may be higher than in similarly sized cities around the country, it certainly is a price break from Manhattan. Expect to pay $4,250 a month for a one-bedroom apartment, with a price jump of up to $5,150 for the priciest neighborhood (DUMBO). Living in Brooklyn also often means a bigger apartment compared to those offered in Manhattan.
Living in Brooklyn
Move to Brooklyn if you're looking for access to big-city amenities, with more space and a more relaxed atmosphere. While your commute to work may be slightly longer, you gain green spaces, unique culture, and great coffee and beer.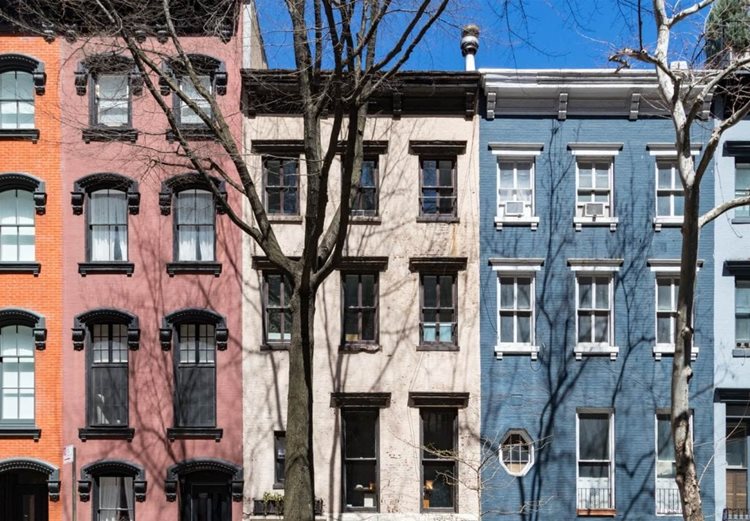 Apartments in Williamsburg, The Bronx
The Bronx
The Bronx is home of the New York Yankees, is the cradle of hip hop, and boasts the biggest park in the city. Geographically, this borough is located north of Manhattan over the Harlem River. The Bronx features plenty of attractions that make it a unique place to live, including Pelham Bay Park, Bronx Zoo, Yankee Stadium, and phenomenal opportunities to experience culture. What's the downside? While the subway is set up to take people back and forth to Manhattan, transportation within the borough itself can be a bit cumbersome.
Noteworthy Neighborhoods in the Bronx
Fordham: Comprising a few neighborhoods surrounding Fordham University, this neighborhood offers attractions like the Edgar Allan Poe Cottage and New York Botanical Garden. Due to its proximity to Fordham University and lower cost of living, this is a popular neighborhood for students moving to NYC.
Riverdale: One of the more upscale neighborhoods in the Bronx, Riverdale is home to tree-lined streets and homes that feel more suburban in nature (read: not conjoined brownstones).
South Bronx: Home to the wide-street shopping area The Grand Concourse, South Bronx is where you'll find Yankee Stadium and the Bronx Documentary Center, and you can even catch a tour of key locations in the birth of hip hop.
Cost of Living in the Bronx
The Bronx offers lower rents on average than other boroughs like Manhattan or Brooklyn — think $2,125 per month instead of $4,300 for a typical one-bedroom. If it's more important for you to have affordable rent than to be right in the heart of the city, the Bronx might be a great fit for you.
Living in the Bronx
Move to the Bronx if you're looking for decent access to Manhattan (no ferries here!) while enjoying lower rent. Or if you're just a huge Yankees fan. Also, if you're a park person, you're in luck. The Bronx is home to the most public parks of any borough. However, the night life and professional job market aren't quite as robust as areas with a higher cost of living, typically.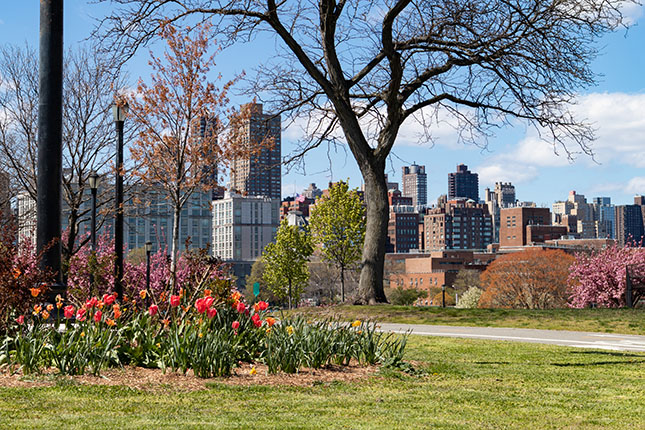 Rainey Park in Astoria, Queens
Queens
Queens is the easternmost borough of New York City and geographically the largest of the 5. With a relaxed, suburban feel, Queens neighborhoods are unpretentious but still close to the big-city perks you love.
Noteworthy Neighborhoods in Queens
Astoria: Located just a short train ride from Midtown Manhattan, Astoria has become popular with young professionals looking to find lower rents without sacrificing quick access to Manhattan. Living in Astoria gives you all the perks of the best NYC suburbs without the commute!
Sunnyside: This western Queens neighborhood is spitting distance from the Empire State Building, with great pubs and thrift shopping. You'll find a larger variety of housing style options like apartments, houses, and condos, giving the area more of a suburban feel.
Cost of Living in Queens, NY
Queens offers a much lower cost of living than other New York City boroughs, with average rents ranging from $2,900 for a studio and peaking in the mid-$3,000s per month for a two-bedroom+, with an average around $3,000 for a one-bedroom apartment. The pricing and experience are much more akin to living in a suburb than living in New York City. If you have a family, this may be perfect for you — for a lower cost, you'll experience diversity, green space, and plenty to do with children. If you're a young single looking for nightlife and excitement, you may want to choose Brooklyn or Manhattan, where you'll pay a little more for access to amenities.
Living in Queens
Ever wonder what it's like living in Queens, NY? If you're looking for a more suburban lifestyle, where you can potentially own a home rather than renting an apartment (the median sold home price is
around $615,000
, which is comparable to other big cities), moving to Queens is a great option. It's also a great place to live if you're looking for cultural diversity and a balance of big-city perks with suburban luxuries.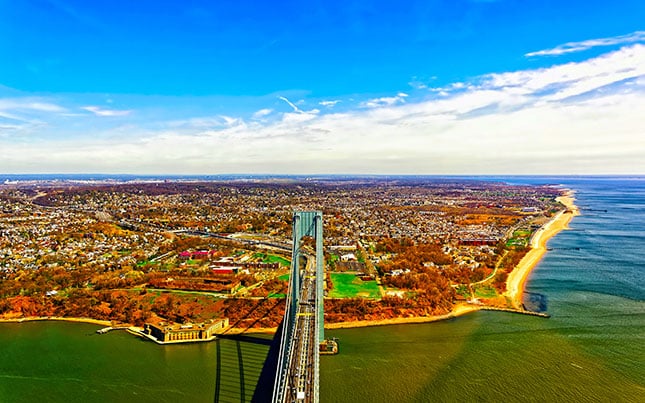 Verrazano Narrows Bridge leading to Staten Island
Staten Island
The southernmost borough in New York, Staten Island is connected to Manhattan via ferry! Sometimes referred to as the "forgotten borough," Staten Island offers a suburban, family-oriented lifestyle preferred by its residents, featuring a great zoo, botanical gardens, and backyards with pools. Wondering where to live in Staten Island? Check out a couple neighborhoods of note below.
Noteworthy Neighborhoods in Staten Island
Great Kills: This neighborhood is home to plenty of families attracted to the area by great schools, park and beach access, and trails for running or biking. While this neighborhood isn't the best option if you're commuting to Manhattan, Great Kills has a lot to offer in terms of lifestyle if you're looking for a family-friendly spot.
St. George: Located on the northeastern tip of Staten Island, St. George has easy access to the ferry to Manhattan, making it a great option for those who need to commute. With a downtown strip and a variety of housing options (including charming Victorians), St. George is a lovely neighborhood to explore.
Cost of Living in Staten Island
Living in Staten Island is comparatively very affordable, with average rent hovering around $1,600 per month for a one-bedroom apartment. Buying in this area is more feasible than in other NYC boroughs, with median sold home values around $630,000.
Living in Staten Island
Move to Staten Island if you'd rather spend money on your home, not your convenience. Separated by water from more populous NYC boroughs and bordering New Jersey on its other side, Staten Island is a great choice for families looking for parks, activities, and the benefits of suburban living.
Planning a Move to Your Favorite NYC Borough
Now that you have a better idea of where you might want to live in NYC, you're ready to check out our guides on how to find an apartment in the Big Apple and NYC moving costs and options. And no matter which of the 5 boroughs in New York City you choose, our flexible moving and storage solutions and articles on the best neighborhoods in each borough can help reduce stress during your relocation. So check back often for more content!

Editor's note: For ease of reading, monthly rental prices were rounded to the nearest $25 and home values were rounded to the nearest $100.

Bonnie Azoulay Elmann is an NYC-based freelance writer and frequent contributor to the PODS Blog. Her work has appeared in Glamour, Health, and Parents, among others. She is an extremely driven digital storyteller who may or may not have a slight obsession with fanny packs.
Get a Quote
Choose the service you need
Comments
Leave a Comment
Your email address will not be published. Required fields are marked *