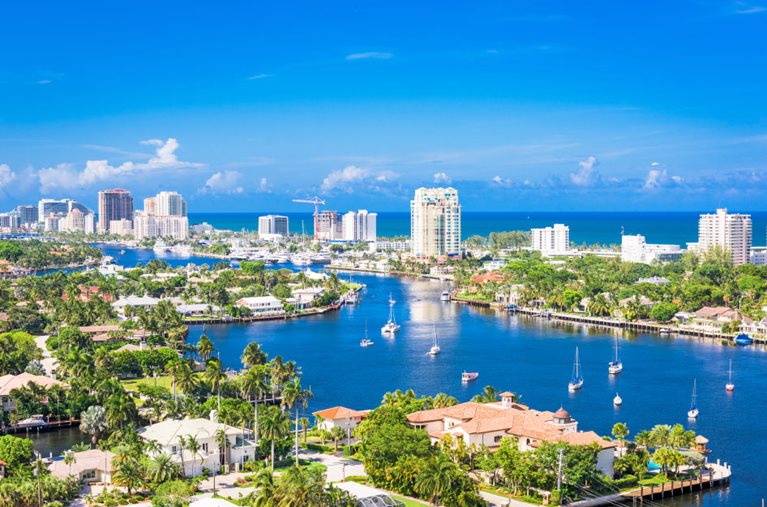 Relocating to the Venice of America? Top 10 Cities near Fort Lauderdale, FL
Fort Lauderdale is good for more than Spring Break and hitting the beaches. In fact, the "Venice of America" is often thought of as one of the best cities in the area! With 300 miles of inland waterways and world-class beaches, there's plenty to explore in this city. But you know what? The same can be said for cities near Fort Lauderdale, as well.

There are plenty of job opportunities in the area, and the market is going to keep growing over the next few years. Obvious industries include tourism and entertainment, but there are also plenty of roles in healthcare and retail to be found close by.

Opting to live in a nearby city is also great for finding more housing options. You'll find your fair share of wealthy communities with luxury homes, but you can also find plenty of more affordable single-family homes and condos.

You'll also find that living near the city versus in the city costs you less. The overall cost of living directly in Fort Lauderdale is a bit higher than nearby cities and towns at 21% higher than the state average and 22% higher than the national average.
What Cities Are Near Fort Lauderdale? - FAQ
Q: What other towns are close to Fort Lauderdale?
A: Wilton Manors, Plantation, and Davie are a few of the municipalities bordered by Fort Lauderdale.

Q: What cities are between Fort Lauderdale and Miami?
A: Areas like Cooper City, Southwest Ranches, Davie, and Pembroke Pines are located south of Fort Lauderdale and north of Miami.

Q: What major city is near Fort Lauderdale?
A: Pompano Beach is about 20 minutes north of Fort Lauderdale, and Hollywood, FL, is about 20 minutes south of Fort Lauderdale.
Best Places to Live Near Fort Lauderdale
While Fort Lauderdale is a desirable place to live for many, there are a variety of nearby cities, towns, and suburbs that are great for all walks of life to settle. Here are 10 of our favorites.
1. Weston, FL
First established in 1996, the city of Weston takes the #1 spot on Niche's list of "Best Places to Live in Broward County." It has a crime index of 77 on NeighborhoodScout, which means it's safer than 77 percent of U.S. neighborhoods, and you can find several hospitals, schools, and parks throughout the city. Despite its residential nature, however, there's plenty to do. Locals love heading to Weston Town Center for shopping and dining whenever the mood hits, and the Weston Golf Club is always a hit.
2. Parkland, FL
The community of Parkland comes with miles of trails to explore and plenty of recreational activities for both kids and adults to enjoy. It's been ranked #1 by Niche in "Best Places to Raise a Family in Broward County," and it's even home to a few interesting residents like Caesar Bacarella, a professional NASCAR driver, and Jon "Stugotz" Weiner, co-host of the national sports podcast, The Dan Le Batard Show with Stugotz. Its proximity to Fort Lauderdale and its numerous affluent neighborhoods make it an ideal place for people looking to live the high life.

Along with a great shopping center — the Shoppes of Parkland — this community is also home to some fun areas like Pine Trails Park and Liberty Park.
3. Cooper City, FL
Cooper City is a vibrant and adventurous place to live! Some local attractions include Brian Piccolo Park, Cooper Colony Golf and Country Club, and, of course, shopping at Embassy Lakes Shopping Center.

And although it's a little pricier to live in the Cooper City area, it does have some of the best schools in the state.

(Source: Bill Sohl Luxury Homes Team via Facebook)
4. Coral Springs, FL
Coral Springs is a city situated in Florida's southeastern corner, a little north of Miami and the Florida Keys. Although it's not as wild as the urban centers nearby, it still maintains its own unique character. Due to its welcoming community, excellent education, exciting recreational activities, and flourishing economy, Coral Springs is one of the best places in Broward County to raise a family, according to Niche.
5. Southwest Ranches, FL
With interesting wildlife, winding roads, and plenty of green space, Southwest Ranches is quite a unique place to live. Residents love to take advantage of the nearby recreation centers and parks.
The local Southwest Meadows Sanctuary is undergoing a phased overhaul and will offer playfields, wetlands, trails, and parks, along with environmental education once everything is complete.
6. Davie, FL
College students looking to attend a school in South Florida will often choose to live in the town of Davie, as it's close to at least 28 different colleges and universities.

And with a "western town" reputation, there are so many fun outdoor activities to help pass the time. Some top attractions include the Flamingo Gardens, Tree Tops Park, and The Butterfly Pavilion at Flamingo Road Nursery.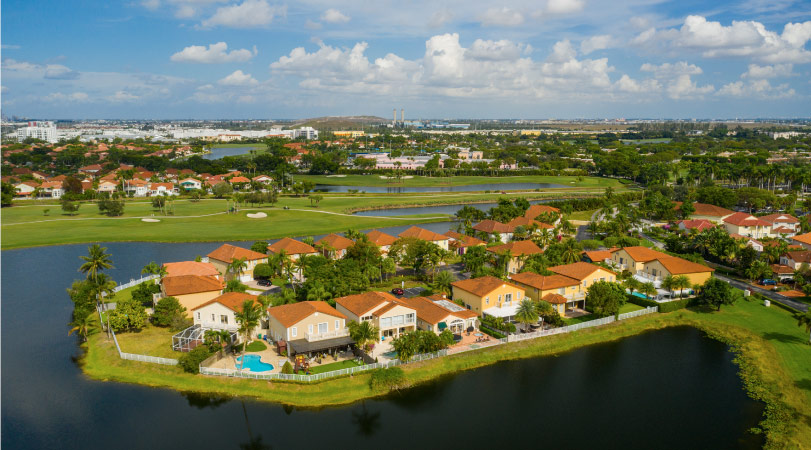 7. Pembroke Pines, FL
The City of Pembroke Pines is a welcoming community that offers its residents and visitors a variety of fun things to do alongside its bustling work environment. It's a great place to live and raise a family while still providing plenty of entertainment for its young professionals.
Fun local events are prominent in the Pembroke Pines area, and there are a lot that take place annually. Some of the best ones include the National Kids to Parks Day and the annual Art Festival, ArtFest in the Pines.
8. Coconut Creek, FL
Located about halfway between West Palm Beach and Miami, Coconut Creek is home to about 57,300 residents. Those who live in the community enjoy the coconut palm tree-lined streets, as well as its environmentally friendly atmosphere. It has been referred to as the "butterfly capital of the world" due to Butterfly World, a tourist attraction that features thousands of butterflies.
The nearby Promenade at Coconut Creek and Seminole Casino are some of the most popular establishments in the area. You can also check out the Holiday Fantasy of Lights at Tradewinds or catch a show at the Omni Auditorium and the Township Center for Performing Arts.
9. Plantation, FL
The city of Plantation is located in the heart of South Florida, and it's known for its variety of outdoor activities, vibrant nightlife scene, and entertainment. You can enjoy a day at Plantation Heritage Park where you can do some fishing, go on a picnic, and even bike. Then, easily spend your night at a show at one of the nearby comedy clubs.
Florida is known for its strong economy and innovation, and Plantation is no different. The state, and cities near Fort Lauderdale like Plantation, have also been recognized as some of the best places in the nation for businesses.
In Plantation, local industries include healthcare and social assistance, which employ a significant portion of the city's workforce. Other notable sectors include manufacturing, construction, and wholesale trade.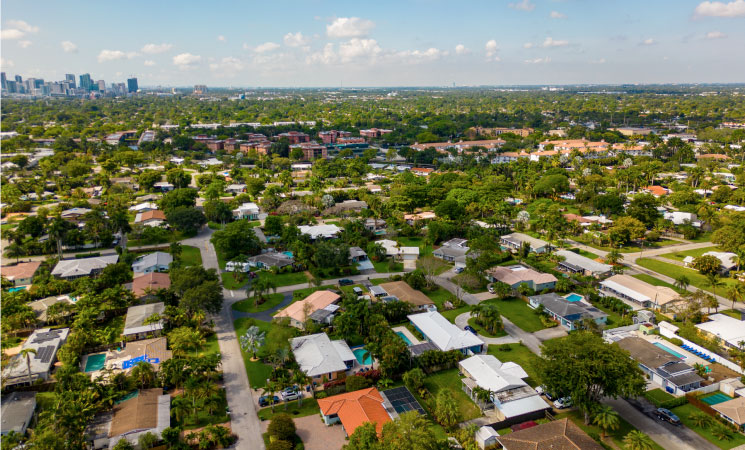 10. Wilton Manors, FL
The city of Wilton Manors can be found in the eastern part of Broward County. It's situated alongside Interstate 95 and provides residents with close access to the beach.
In 1947, the city was first incorporated, and its residents refer to it as "WilMa" or "Island City." The main thoroughfare of the town is Wilton Drive, which features a variety of restaurants, shopping, and nightlife. And a recreation area for nature lovers is the Colohatchee Park, which spans 8.5 acres. You'll be able to enjoy the dog park, a boat ramp, and a nature observation deck there.
Waterfront homes are also very common in the area, if that's what you are looking for.
Simplify Your Fort Lauderdale, FL, Move With PODS
Whether you're planning to buy a home or rent in a city near Fort Lauderdale, PODS can assist you with the moving process and deliver a portable moving container to your doorstep. And once you're ready to move, they will pick it up and deliver the container to your new residence. The best part? With one month of storage included, you can easily take your time unloading.

Editor's note: For ease of reading, monthly rental prices were rounded to the nearest $25 and home values were rounded to the nearest $100.
Get a Quote
Choose the service you need
Comments
Leave a Comment
Your email address will not be published. Required fields are marked *