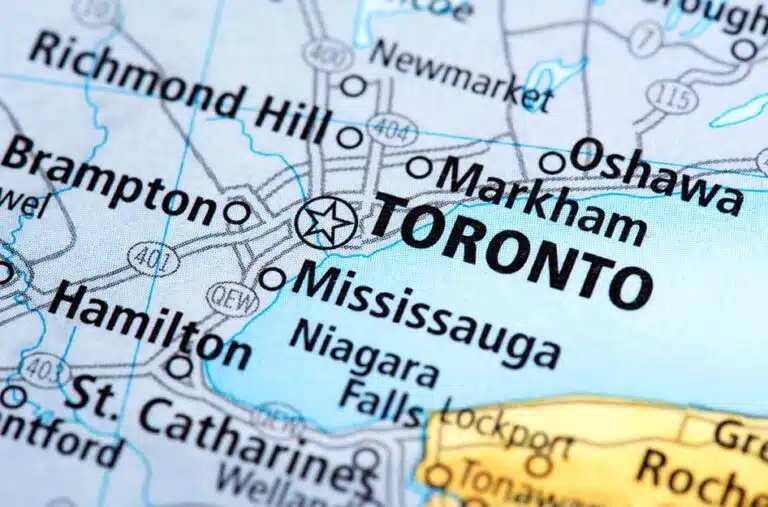 Everything You Need to Know About Moving to the City of Markham
Just northeast of Toronto lies the idyllic city of Markham — a collection of historic towns and villages, prestigious neighbourhoods, and newer planned communities with amenities galore. Come with us as we explore what is now the seventh largest city in the province of Ontario and see if Markham makes an impression on you, too!
Markham at a glance
Is Markham a nice place to live?
If you're interested in a slower-paced suburban lifestyle, vast employment opportunities, world-class amenities, and easy access to Toronto, the city of Markham may have your name on it. It provides a unique blend of living options to suit any taste or budget. There are heritage homes, sprawling estates, family-friendly subdivisions, condominiums, and several newer planned communities. And the best part about Markham? Its outdoor opportunities.

There are wide swaths of green space to explore, including the Milne Dam Conservation Park area, which is part of Rouge National Urban Park, the largest urban park in North America. Toogood Pond Park is another beautiful area to bike, hike, and even ice skate when the weather turns a bit colder. But these are only two of the more than 300 parks and over 22 km of scenic pathways for walking, biking, and hiking available in the city.

It's hard not to bump into a golf course as you work your way around Markham, as well. Angus Glen is a premium public facility with two 18-hole layouts that have both played host to the Canadian Open. For more budget-conscious hackers, Remington Parkview Golf and Country Club and the challenging 9-hole Markham Green Golf Club have tee times waiting for you. And in Thornhill, you'll find the private Bayview Golf and Country Club and the Ladies' Golf Club of Toronto — which was designed by the great Stanley Thompson and is the first and only golf club in North America run by and for women.

Tennis anyone? There are also plenty of public courts to be found throughout the city of Markham. If you're looking for a more exclusive experience, though, head over to either the Markham Tennis Club or the Unionville Tennis Club, where you'll find beautifully kept hard and clay courts and clubhouses.
Why are people moving to Markham?
For many, Markham is a top choice because it offers a classic and often upscale suburban vibe along with easy and quick access to Toronto. For others, it's the numerous job opportunities in a wide range of industries. One of the things that attract families, in particular, to Markham is the high quality of its education system. There are 47 elementary and nine secondary schools in Markham, and the vast majority of these schools are ranked in the highest category as judged by the Fraser Institute.
Did you know? There are more than 1,500 high-tech and life science companies in Markham. Companies like IBM, Johnson & Johnson, Allstate Insurance, and Honda Canada are just a few of the long-time employers.
Is it expensive to live in Markham?
Markham isn't a "cheap" city, by any means. In fact, the cost of living in Markham is similar to Toronto's, with housing also generally on par with the big city. But while the composite price of a home in Markham in June 2022 was $1,414,100 — 22% higher than a year ago — it was also 13% lower than the highwater mark set only two months earlier (April 2022). And as the Bank of Canada continues to hike its lending rate, home sales, along with prices, have begun to drop. Looking to rent instead of buy? The average rental price for a one-bedroom apartment as of August 2022 is $2,010.
So yes, you can find some reasonably priced living options in Markham, but the city does tend to attract higher-income individuals. The median household income in Markham in 2020 was $104,000. For comparison, London and Halifax — a similarly sized city to Markham — median household incomes were $76,500 and $81,000, respectively.
What are the best areas to live in Markham?
Of the more than two dozen individual Markham neighbourhoods, here are a handful of popular areas you don't want to miss:
Let's start with the city's namesake — Markham Village. This area includes older homes and larger lot sizes in comparison to most neighbourhoods in Markham. It's also one of the most mature neighbourhoods in the city, with large trees lining most of the streets. You'll find a mixture of detached homes in the area, with a great selection of split-levels, bungalows, and regular two-storey homes. And, perfect for families, there is a park at the centre of Markham Village — Morgan Park — that offers a large playing field, playground, pool, tennis courts, and lawn bowling.
Just to the west lies the town of Unionville. It's one of the more popular areas for families because of the excellent schools and recreational activities, among other amenities. In fact, this area was once known as a quiet village, but now it's a bustling urban centre, thanks to its consistent new developments. One thing remains, however; Unionville's lively, historic main street is one of the most beautiful village settings in the Greater Toronto Area.
The Cachet and Devil's Elbow communities are usually considered the priciest neighbourhoods in Markham. Homes here consist of mostly large, detached family homes with sizable, mature lots. Pool or tennis court on your wish list? Cachet and Devil's Elbow can certainly deliver.
On the other end of the spectrum, in Cornell — a planned neighbourhood that was developed in the 1990s — there's a great mix of townhomes and semi-detached and detached houses with urban-style garages and laneways at the rear. Perfect for young professionals, this densely populated area is highly walkable and provides plenty of public transportation options. Cornell is also home to the Markham-Stouffville Hospital, which is the primary health care facility in the Greater Markham area.
How do I move to Markham?
If Markham sounds like the place you've been looking for, your next step is to start thinking about making the transition — and that involves figuring out how you'll get there. Here are three of the most popular options for moving to Markham.
Full-Service Movers
When cost isn't top-of-mind and you want to limit your time and effort, a full-service mover is your best bet. Want your entire house packed and unpacked for you? A full-service moving company can do that. In fact, they can provide as little or as much service as you're willing to pay for. Naturally, that means it's your priciest option, but if you have the financial means, it will also be your path of least resistance. The key is to do plenty of research first and make sure all important details are documented, so there are no loose ends or surprises along the way.
Rental Trucks
Want to do the move as inexpensively as possible? You can always rent a truck and do the heavy lifting on your own. And, sure, that can certainly work if you have a strong back and a few helping hands. But when you consider all the additional expenses you will incur — like fuel costs, insurance, food, and lodging — along the way, this approach could actually end up being more than you bargained for. Here is a side-by-side comparison of how a rental truck stacks up against PODS services.
Portable Moving Containers
If you're looking for a more flexible and less stressful way to make your move to Markham, consider moving with PODS portable moving and storage containers. There are three different container sizes to choose from, and they are delivered straight to your driveway. The beauty of it all? You can take your time packing and loading at your own pace. When you're all loaded up, simply give them a call, and PODS will pick up your container and take it to your next destination — whether that's directly to your new home in Markham or to a secure and convenient PODS Storage Centre nearby.
Check out the PODS Blog for more on moving to Canada, as well as other great tips on planning for any move.
---
Tony Caradonna is a freelance writer who lives with his wife in Toronto, ON. A more recent PODS Blog contributor, Tony loves exploring the world and immersing himself in exciting locales with his travel guitar and Michelin guide in hand. When not travelling, he is either golfing or writing about this most addictive pastime on his blog, TheGolfingLife.ca.
Get a Quote
Choose the service you need
Comments
Leave a Comment
Your email address will not be published. Required fields are marked *