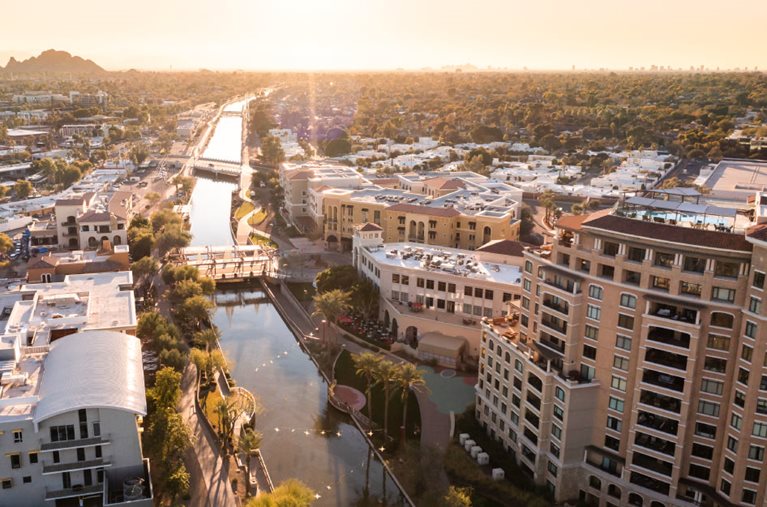 Living in Scottsdale, AZ: Everything You Should Know Before Packing Up and Moving to One of Arizona's Best Cities
There are many reasons why Scottsdale is consistently ranked one of the best cities to live in America, including the beautiful year-round warm weather, plentiful job opportunities, fun attractions, and good walkability. In fact, it's ranked as Niche's 25th
best city to live in America
, and it holds the same ranking for the
healthiest city
.
Planning a move to Arizona?
Start by getting a quote from PODS
.
Scottsdale at a Glance
Bordered by the city of Phoenix to the west at the foot of the McDowell Mountains, Scottsdale is situated in the stunning Sonoran Desert.
Scottsdale is approximately 184.5 square miles in size.
The median age in Scottsdale is around 47.7 years old.
Scottsdale has a population of around 243,000.
1. Cost of Living in Scottsdale, AZ
Is Scottsdale an expensive place to live? Well, compared to the national cost of living index — which sits at 100 — Scottsdale's number is a bit higher at 113. There are a few reasons for this, including housing and transportation, which sit at 240 and 109.2, respectively.
Livable Salaries in Scottsdale, AZ
For a family of four (two adults and two children) with at least one parent working, the required annual income to live comfortably after taxes is around $72,900.
For a young adult or retiree, the required annual income to live comfortably after taxes is closer to $32,800.
The specific cost of living for you to be comfortable depends on several lifestyle factors, of course.
Q: Is Scottsdale, Arizona, a good place to live?
A: Put simply, yes. Scottsdale is ranked as Niche's #1 best city to retire in America, it has an A- grade for families and an A-grade school district, not to mention it's an overall beautiful place to live. Basically, whether you're raising a family, retiring, or somewhere in between, Scottsdale has something to offer you.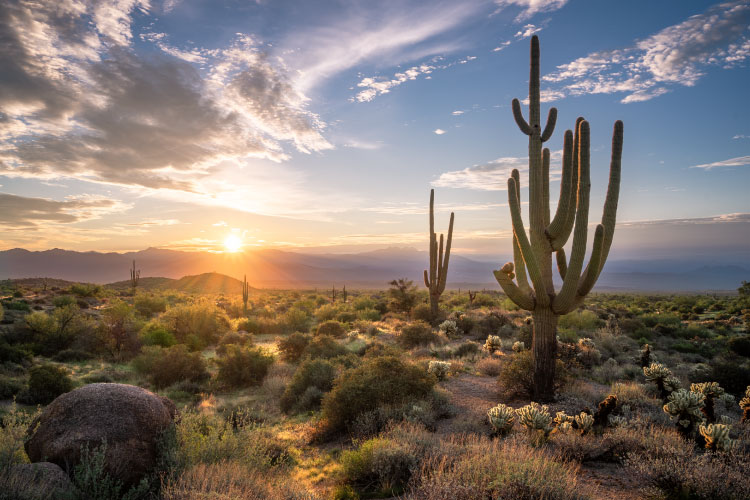 2. Pros and Cons of Living in Scottsdale, AZ
What are the pros and cons of living in Scottsdale, Arizona? Scottsdale may be home to warm weather, good areas for families, and fun things to do, but no city is perfect. Here are some of the pros and cons you can expect when living in Scottsdale.
Pro: Perfect Climate for Outdoor Activities
Scottsdale is home to both warm and sunny weather year round, particularly in the spring and summer months. The spring time may be best to enjoy those outdoor activities, though, as the weather in the summer can be a bit too hot for comfort, at times.
Con: Sometimes the Heat Is Too Much
Speaking of being too hot for comfort, in the summer season, temperatures can reach 111 degrees Fahrenheit. Although you don't have to worry about the humidity making it feel muggy, during the warm months, it's best to run your errands in the morning or evening, if you can help it. Also be sure to hydrate!
Pro: Near Some of the Best Attractions in the Country
Being near some of the most well-known attractions in the nation is definitely something to brag about, when it comes to living in Scottsdale, AZ. Some of these attractions include Taliesin West — Frank Lloyd Wright's desert laboratory — or Pinnacle Peak Park. Other noteworthy places of interest include Old Town Scottsdale and the McDowell Sonoran Preserve.
Con: Tourism
Arizona's warm weather definitely attracts northerners, as things cool down up north. During the winter months, in particular, you'll notice these snowbirds in the area — especially in traffic or in line at the grocery store.
Pro: Strong Schools
The Scottsdale Unified School District is ranked #4 on Niche's list for "
Best School Districts in Arizona
" and #2 on the list for "
Best School Districts in the Phoenix Area
." Whether you're looking for a charter school,
good athletics programs
, or
great teachers
, Scottsdale can cater to you and your family.
And as a bonus, those interested in pursuing an International Baccalaureate (IB) education can check out Desert Mountain High School and Mountainside Middle School.
Con: Desert Wildlife
While the chances of you running directly into a wild coyote aren't too common, it's still important to be aware of the desert wildlife that surrounds you. Whether it's those coyotes, bobcats, scorpions, or snakes, keeping a close eye out can prevent a lot of accidents. What's most important is watching your pets closely — especially around dusk and dawn.
3. Scottsdale Housing Market
One of the biggest drawbacks to living in Scottsdale is the more expensive cost of living, which largely comes from the city's pricey housing market. The average home value in Scottsdale is around $790,200.

A typical home in the city of Scottsdale is characterized by its stucco exterior, which is complemented by tile roofs and various landscaping features, like desert vegetation and cacti. You can find all sorts of styles, from Tuscan to Spanish Colonial.
4. Apartments and Renting in Scottsdale
The average size for a one-bedroom apartment in Scottsdale is around 950 square feet, and the
average rent
is around $2,050. Of course, you can expect to pay more, if you're looking for more space.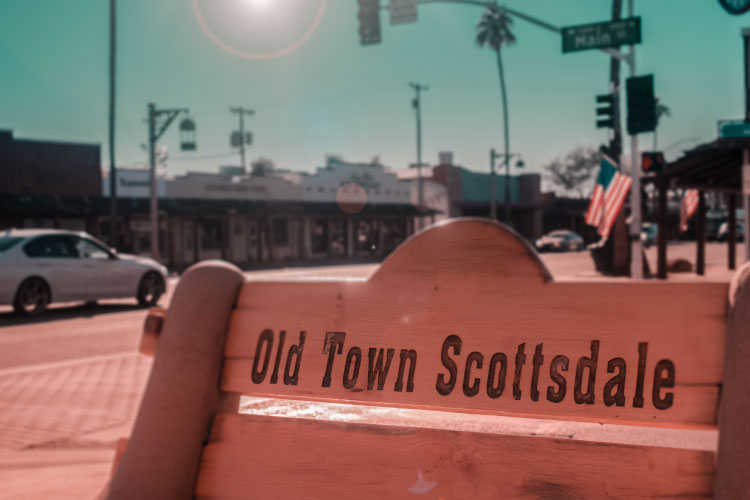 Old Town Scottsdale
5. Best Places to Live in Scottsdale
Why are people moving to Scottsdale, AZ, specifically? When making the move to a new city, finding a place that offers a variety of great neighborhoods is key. When it comes to Scottsdale, there's a neighborhood in store for just about every lifestyle — and that makes this city so desirable, no matter your walk of life! Here are a few of the standout neighborhoods.
Old Town Scottsdale
Old Town Scottsdale has been growing over the years, and it's a great place to call home if you're looking to live in the city center. Old Town is also a good choice if you want a place that's full of character and offers great dining, shopping, and nightlife experiences ideal for young professionals!
Gainey Ranch
Gainey Ranch is a planned community ideal for families, and it features 19 different gated neighborhoods and over 560 acres of land. There are single-family houses, townhouses, and large homes with both commercial areas and office buildings. The Gainey Ranch community also features three nine-hole golf courses and a network of trails that are ideal for walking, cycling, and hiking.
McCormick Ranch
The McCormick Ranch community started as a horse ranch that raised Arabian horses. Over the years, it has evolved into a beautiful suburban community that features various lakes and mountains views. Its 67 subdivisions house approximately 27,000 people, and the community is geared toward both young families and retirees.
6. Public Transportation in Scottsdale
One of the most popular public transportation systems in the Phoenix metropolitan area, including the Scottsdale area, is the Valley Metro Transit, which provides service to various communities through its bus and light rail networks.
Residents in the city of Scottsdale can also get around easily with the help of the Scottsdale Trolley System. These free rides allow people to get around the area without the need for a car and are also handy for connecting to other nearby transit systems.
Scottsdale Cab Connection is another special program that helps cover cab services for people with disabilities and seniors 65+ in the city. It allows them to maintain their independence and flexibility at an affordable price, with vouchers that cover 80% of their fare provided each month.
7. Scottsdale's Walkable Lifestyle
With an impressive walk score of 81, the city of Scottsdale is very walkable, which means you can get around pretty easily without using a car, if you don't want one or can't afford it. The city is also very clean and safe, a bonus when you're wanting to explore all the different places on foot!
8. Schools in Scottsdale
As mentioned in the pros and cons list, Scottsdale is home to some of the best schools in the entire country. Take a look at some of the top-ranked schools to consider:
BASIS Scottsdale - Public Charter 5-12 School
Great Hearts Academies - Scottsdale Prep - Public Charter 6-12 School
Archway Classical Academy - Scottsdale - Public Charter K-5 School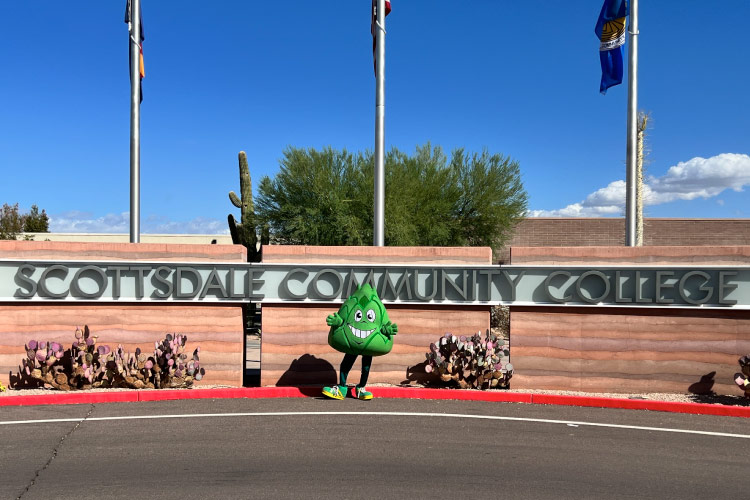 Scottsdale Community College
(Source: Scottsdale Community College via Facebook)
9. Higher Education in Scottsdale, AZ
There are at least 40 colleges that are in close proximity to Scottsdale, including everything from private schools to public schools to community colleges with 2-year degrees. Some of these schools include:
10. Scottsdale Sports
The city of Phoenix (which is only about 20 minutes away from Scottsdale), is home to several professional sports teams. Some of these include the Arizona Diamondbacks, the Phoenix Suns, the Arizona Coyotes, and the Arizona Cardinals.
The San Francisco Giants, the Colorado Rockies, and the Arizona Diamondbacks all train in the city of Scottsdale during the spring training season. The Waste Management Phoenix Open is also one of the most popular events on the PGA Tour, held in Scottsdale each year.
11. Job Outlook in Scottsdale
People looking for work in the city of Scottsdale can find numerous positions within the tourism, health care, and aviation industries, in particular. GoDaddy, Axon, and Blue Yonder are among some of the city's most high-paying companies.
12. Scottsdale Crime Rate
Compared to the rest of Arizona, Scottsdale is a safe city to settle down in for both yourself and your family. You have a 1 in 204 chance of being a victim of violent crime in the state of Arizona, but your chances are a bit less likely if you're living in Scottsdale at 1 in 461. Both of these comparisons are per 1,000 residents.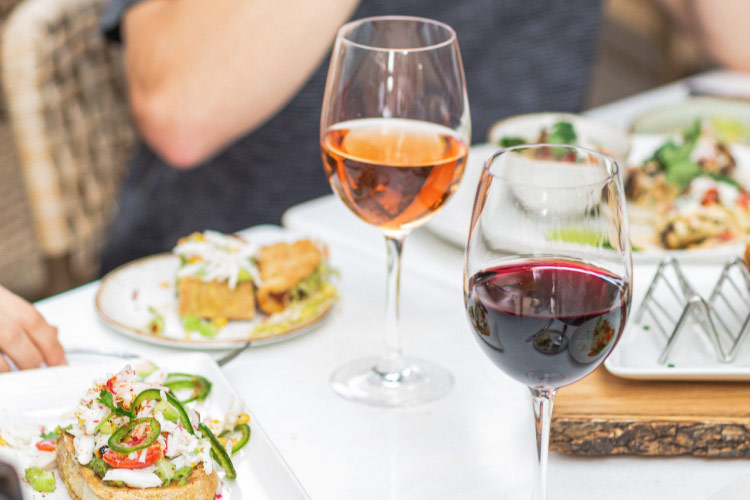 The Greene House
(Source: The Greene House via Facebook)
13. High-End Cuisine in Scottsdale
The city of Scottsdale is known for its great dining, and there are plenty of places to choose from. Some of the most popular establishments include steakhouses, brunch spots, and more, and they're popular among both residents and tourists who come and visit the city. Here are some of the most popular favorites to keep on your radar:
Arcadia Farms Cafe
The Arcadia Farms Cafe is a family-owned restaurant that serves a variety of delicious food items at a great price. Originally a carryout bakery, this establishment has since evolved into a full-service restaurant that offers a variety of breakfast and lunch dishes. Some of the popular items offered include the breakfast quesadilla, smoked salmon plate, and fresh berry crepes.
Cowboy Ciao
For over two decades Cowboy Ciao has been a staple in Scottsdale's local restaurant scene. The menu features a variety of American dishes with a Tex-Mex fusion. Whether you're in the mood for fried chicken or the "Quesadilla Del Ciao" served with oaxaca cheese, you can find it here.
The Greene House
If you're looking for a great open-air restaurant, The Greene House is a must-visit. This establishment has a wide variety of options, such as burgers, chicken sandwiches, and flatbreads. It's known for its lavish dining atmosphere and one the nicest outdoor dining spaces in the city!
14. Exciting Activities in Scottsdale
No matter your lifestyle or personal interests, the activities and sights to explore around Scottsdale never get old. Here are some of the most fun things to do in Scottsdale:
McDowell Sonoran Preserve
As one of the top things to do in Scottsdale, visiting this area's permanent protected desert habitat provides visitors and locals with the opportunity to appreciate the Southwestern landscape's unmistakable beauty. There are various hiking trails that are suitable for all abilities, and the Gateway Loop is a great choice for experienced hikers. If you are just starting out, though, Brown's Ranch might be a good choice.

Scottsdale Center for the Performing Arts
If you're looking to see the best of the best in the performing arts and culture space in Arizona, then the Scottsdale Center for the Performing Arts is a great place to visit. This facility is regarded as one of the best in the western United States and features dance performances, along with theater, comedy, and, of course, musical acts.
Scottsdale Fashion Square
One of the most popular pastimes of luxury shoppers is to visit the Fashion Square in Scottsdale (the largest shopping mall in Arizona). This mall features a variety of high-end brands, such as Louis Vuitton, Nordstrom, and Neiman Marcus.
Scottsdale's Museum of the West
Scottsdale's Museum of the West
in Old Town Scottsdale is a must-visit for anyone who is interested in learning more about the history of the West. This 43,000-square-foot gallery features paintings and artifacts that showcase the region's cultural and historical significance. It frequently exhibits different works of art — ranging from
Hopi pottery
to railroad history
.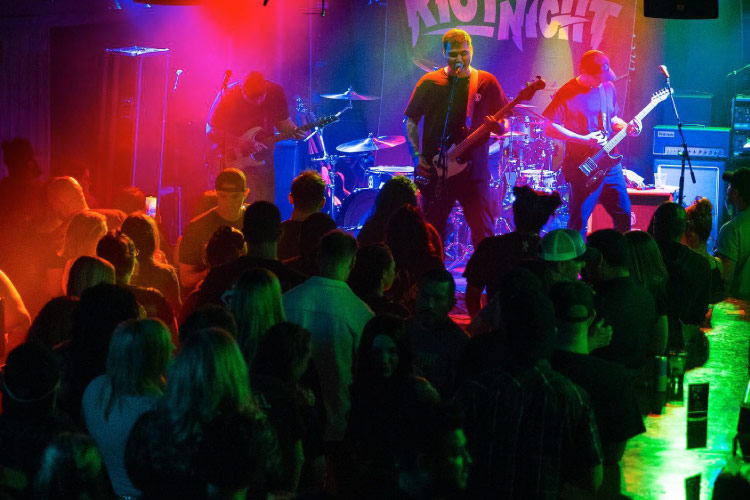 Rockbar inc.
(Source: Rockbar inc. via Facebook)
15. Nightlife in Scottsdale
Although it hasn't quite attained the reputation of Los Angeles or New York as a party destination, Scottsdale is still known for its vibrant nightlife. Every weekend, there are plenty of clubs, lounges, and wine bars open for business. Here are a few of the best in the area:
Rockbar Inc.
Rockbar Inc. in downtown Scottsdale touts itself as the top venue for rock 'n' roll music in the area. It features a variety of live music and DJ sets, as well as exclusive performances by prominent local and national acts. Its rooftop bar is also a popular spot for taking in the city's glittering skyline.
Coach House
The Coach House — which was established in 1959 — is Scottsdale's oldest tavern. It's full of Southwestern hospitality and serves as a welcoming neighborhood gathering place where locals and tourists alike can mingle.
Wasted Grain
At Wasted Grain, everyone is truly welcome. It's a laid-back establishment that serves up a variety of beverages and entertainment for all occasions. Whether you're looking to have fun with friends while drinking beer or dance the night away with some of the hottest electronic dance music, Wasted Grain is a great spot to check out.
Start Living in Scottsdale, AZ, With the Help of PODS
Deciding to move to Scottsdale is the easy part, but actually getting there is the challenge. When you use a portable moving container from PODS, you can easily load and pack your belongings on your own time. You can also get connected with local packing and loading assistance to help you get the job done quicker. Once you're ready for your move, PODS will pick up and deliver your container to your new Scottsdale residence. Or alternatively, you can store it in a secure PODS Storage Center until you're ready.
Get a Quote
Choose the service you need
Comments
Leave a Comment
Your email address will not be published. Required fields are marked *