Small business owners have multiple strategies at their disposal when their goal is to achieve new levels of success. For many entrepreneurs, the best way to get there is by relocating their business.
According to a Wells Fargo Survey conducted in the last quarter of 2018, 80% of small business owners say their financial situation is currently "very good or somewhat good," and 84% expect it to be "very good or somewhat good" over the next year. A record number (55%) of business owners also reported increased revenue.
If this describes your operation, the time may be right to reinvest in your business. Whether you're looking for an even better business environment, need a larger storefront, or hope to reduce your operating costs, relocation is a great way to make a fresh start.
Geography: relocate your business wisely
Before you make the leap to a new location, there are decisions to be made — beginning with where to go. City is always top of mind for businesses looking to relocate, and there's no shortage of available options.
The personal finance website WalletHub ranked 182 cities based on their business environment, access to resources, and business costs. Last year's 10 best cities for starting a business include:
Oklahoma City, Oklahoma
Austin, Texas
Sioux Falls, South Dakota
Bismarck, North Dakota
Missoula and Billings, Montana
Cheyenne, Wyoming
Durham, Charlotte, and Raleigh, North Carolina
WalletHub's survey also found that Austin and Charlotte are among the cities with the highest average growth in small businesses, while Salt Lake City and West Valley City, both in Utah, offer the most accessible financing. The lowest labor costs can be found in Detroit, Cleveland, and Hialeah, Florida, and the cheapest office spaces are likely to be found in Lewiston, Maine, Fort Smith, Arkansas, and Huntington, West Virginia.
Space: extra storage can help
Another major consideration when plotting your business relocation strategy is your store or office space. Evaluate your current situation and identify areas in need of improvement, as this will help you prioritize your real estate must-haves when it comes to choosing your new space.
Conducting demographic research will reveal areas best suited to your needs, but don't forget to also assess whether a potential location is move-in ready or requires work. Ask about the local zoning restrictions to confirm that they can accommodate your type of business, in addition to the terms of your lease and the nature and popularity of the neighboring businesses. Finally, be sure to inquire about available storage space.
Timing: Choose the right time to relocate
It stands to reason that you shouldn't relocate your business during your busiest season, but are there advantages to moving in the summer versus winter, or at the start of the year versus the end?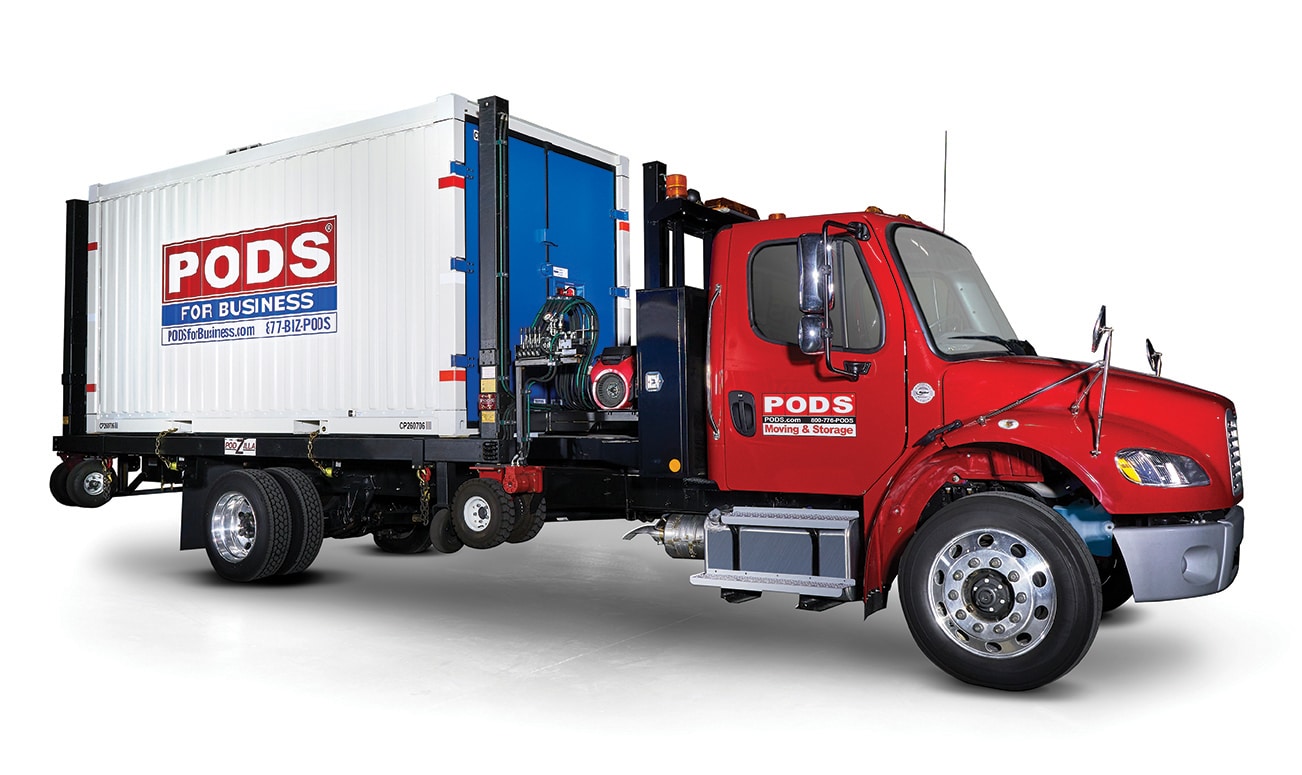 The answer is likely to vary based on the nature of the business. A retailer might be wise to move after the holiday season, when business is slower, while gyms — which tend to see increased membership sign-ups in January — may consider doing the opposite. The same case-by-case strategy applies to whether you move on a weekday or over the weekend. Venues that sometimes host children's birthday parties should opt for a weekday move, while a weekend move is preferable for physical therapy practices that are only open Monday to Friday.
logistics: The pods advantage
All of this preparation leads to the move itself, and the complicated logistics that come along with it. Using PODS containers to pack and store your equipment and merchandise, and partnering with PODS to relocate it all, ensures your goods are both secure and accessible when you need them.
PODS business containers can be used for moves, as you load them with goods and PODS delivers everything to your new site. Container scheduling and rental flexibility allows you to keep merchandise on-site for situations like renovation delays, and offer the opportunity to unpack and setup on your time frame, not according to a moving company's schedule.
Relocating your business — whether across the country or within your same state — takes planning and an immense amount of effort. With the right strategy, you'll be up and running in Oklahoma City, Cheyenne, or Charlotte in no time.
[maxbutton id="1"]
Get a Quote
Choose the service you need
Comments
Leave a Comment
Your email address will not be published. Required fields are marked *