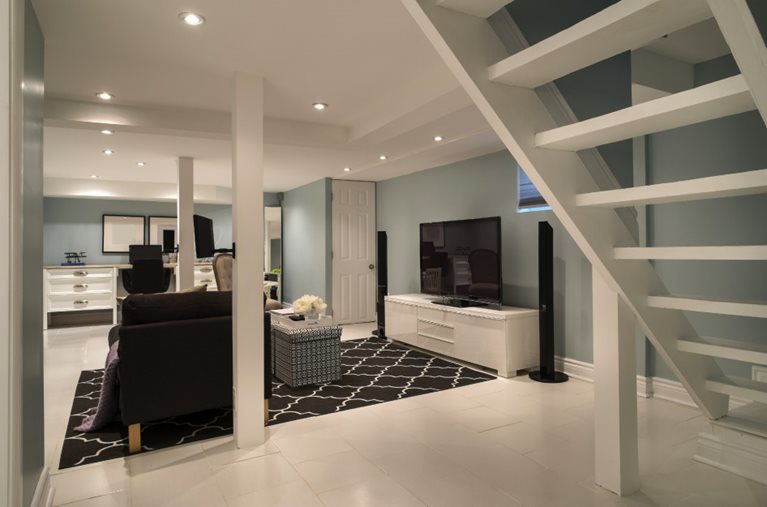 Basement Renovation & Remodeling Ideas for 2023
If you own a home with an unfinished and under-used basement, you may be considering renovating or finishing it in the new year and with good reason! Remodeling a basement can add immense value to your house while creating more usable living space for your family to enjoy. A remodel can also improve the overall function and look of your home. But is it worth it for a basement renovation?
It's first important to establish what your goals are for your basement and if the effort and cost of the project will be worth it in the end. For most of us, when we think of a basement, we think "storage space" or "laundry room," but this sometimes underrated room has so much more potential than that. It could be an additional guest room, home office, or workshop. Maybe an in-house movie theater, private speak-easy, or family game room. A home gym is a great option, too. Regardless of which of these basement renovation ideas you decide to run with, by finishing your basement you'll be adding usable space and valuable square footage to your home. It's a win-win!
Is it worth renovating a basement?
The answer is simple and the answer is yes! Renovating a basement is worth it. Sure, there will be a cost to finishing the basement. However, if you do it right, it'll be easy to see how the benefits outweigh the cost.
Need more convincing? A basement renovation will add significant value to your house. If you're planning to sell soon, a finished basement can get you a sale of full asking price, versus a lowball number. A renovation or remodel, too, can create more living space. From an extra bedroom to a Man Cave or She Shed, the ideas are endless. And the return on investment (ROI)? It's about 70%. We'll get to that later in this article.
Creative basement renovation ideas also include converting your basement into a lounge and bar or a children's playroom. A maker's studio or kitchenette with a living room is a cool combo that's ideal for teens, college kids, or young professionals. Think big, there is no wrong answer.
You can even use your remodeled basement as a side source of extra income. With recession fears and inflation at a high, homeowners are feeling the pinch. You can rent out your new finished space to a tenant or even set up a small business space!
What to know before remodeling your basement
There are certain things you need to figure out before beginning your basement renovations. By completing these steps first, you'll avoid common pitfalls and keep your project running smoothly.
Get your home's foundation checked. Assessing its condition can give you a good foundation (pun intended) before starting any major renovations.
Identify code violations that need to be addressed. You'll likely need to bring a pro in for this step, but it's important and it's worth it. The last thing you want is to find out after renovating that something is violating local residential building codes and needs to be redone.
Determine your permitting requirements. Every house and housing community is different, so do your due diligence and find out what you need to get started.
Eliminate water issues. Find and repair all leaks. Refresh piping if necessary.
Insulate properly, especially if using your basement space as a guest suite or workspace.
Assess the ceiling for any needed repairs.
Plan out your remodel on paper or digitally. It'll give you a clear idea of what you plan to change in the space and help you estimate the required materials for the project.
Some of these steps will require the expertise of a contractor or inspector. Hang tight! We're going to address how to find a reliable contractor a little later in this post.
What costs the most when finishing a basement?
Flooring and wall paneling cost the most when finishing a basement. To frame basement walls, as regular drywall, the national average for materials is $0.96 per square foot. The total price for labor and materials together is about $3.67 per square foot. For floors, the average range is quite varied. You're looking at between $500 and $5,000 in total, depending on the square footage of your space and quality of flooring you want.
And looking at your basement remodeling cost overall, the national average cost to finish a basement is about $21,541, which equals about $30-$75 per square foot.
The good news? All this money put into your home will result in money back to you with increased profits when you sell it. On average, in the United States, remodeling your basement will give you a return of between 70% and 75% of your investment. If you spent $1,000 on improvements, this increases your house's value by about $700. If you spend $10,000, you're looking at a ROI of about $7,000. And in the future, when you sell your home, having a finished basement can help you get full asking price or better, versus a reasonable negotiation at best.
Pro Tip: Decide on an overall budget beforehand, but be sure to also break it down into a detailed budget for each part of your basement renovation. As is often the case, you'll probably go over budget in the end, but knowing your budget in advance and tracking expenses closely can help keep it from getting out of control.
What is the cheapest way to remodel a basement?
DIY is the cheapest way to remodel a basement (are you surprised?). Sure, hiring a contractor is the easy way to go, but it's also the most expensive. If you're handy with a hammer and have the time to DIY portions of the remodel, you can save thousands of dollars on the cost to finish your basement.
Tackle these simple DIY basement remodeling ideas (on a budget):

Walls:
A simple drywall with a coat of paint will work just fine, or you can install paneling for a simple high-end look. Use strong adhesive to fix strips of wood to your basement's concrete walls. Attach the paneling to those wood strips using wood screws to match the panels. This makes it easy to remove panels later if you ever need to access pipes or wires that are hidden behind them.

Floors:
Most likely, your basement floor (like the walls) is made of concrete. If your concrete floors are in decent condition and you don't mind the look of them, you can simply add an area rug or two. Try waterproof or outdoor versions for easy cleaning. Rubber or foam tiles can work well if you'll be using your basement for a playroom or home gym. If you don't love the raw concrete look, you can apply your own epoxy finish. These are relatively easy and they make your floors look great.

Ceilings:
Most basements have exposed beams. Use them to your advantage for an edgy workspace or workshop. Hang some string lights or use eclectic looking floor lamps for a boho chic vibe. If you're feeling confident, you can drywall your ceilings (not super easy), or create a suspended ceiling (DIY friendly). Either option will hide exposed beams, ductwork, and pipes. Alternatively, you could install paneling to the ceilings in the same way you did the walls.

Stairs:
Depending on the state of your basement stairs, they may simply need a fresh coat of paint to give you that "like new" look. If they're made of unfinished wood, consider sanding rough spots before painting. And if your staircase is less stable than you'd like (and you feel good about your woodworking skills) add some stabilizing elements. Feel free to leave that last project for your basement remodeling contractors if it feels like too much for you.
These ideas won't break your budget, but they will help your basement become a space you love to inhabit.
Finding reliable basement remodeling contractors
If you're not comfortable with DIYing your basement renovations, definitely use a licensed professional. Sure, you can search online for "basement remodeling companies" or "basement remodeling contractors," but don't just go with the first one you find. Use our guide for how to hire a home remodeling contractor. It has tips for finding a trustworthy and competent professional, as well as a handy list of questions to ask before settling on a contractor for your basement renovation.
How do you modernize an old basement?
Ready to really update, go fancy or take on a DIY challenge? Let's get elaborate and use these tips to modernize an old basement into your dream space:
Walls:
After drywalling, install some shiplap planks to your walls for a cozier vibe. Two or three shiplap walls combined with one or two painted accent walls is an easy way to create a modern look. If shiplap isn't your thing, consider textured walls. Or, if you'll be using your basement as a space for the kids or teens, a chalkboard wall is a great option!

Floors:
LVP (luxury vinyl planking) is still the "in" thing. This flooring is super durable, scratch-proof, and waterproof — great qualities for a basement floor. You can also opt for striking finishes in electric colors or patterns for a retro or whimsical feel.

Ceilings:
Install recessed lighting in your ceilings or even pendant or statement lighting for bar or kitchenette settings. You can leave some of the beams exposed or add faux wood beams for a stately finish.

Stairs:
Finish stairs with matching basement flooring or paint in a coordinating or contrasting shade. Add LED lighting along the sides to create an easy to see path, even in dimmer settings. Just try to steer clear of carpeted stairs. Basements can be humid and humidity and carpets do not mix.
Pro Tip: At some point during your basement renovations, you're going to need to clear it out. This is where PODS comes in. Have a PODS portable storage container delivered right to your driveway and use it as a "temporary" basement to house anything that you need kept out of the way (but close at hand). You can also use it as a workstation to house tools and equipment during your basement remodel. Keep it as long as you need and when you're done, PODS will pick it up!
Basements are no longer the dingy, musty storage spaces of years past. They're becoming an asset to homes everywhere. In the future, your basement renovation will make you a profit when selling your house. It'll give you an additional room and space for whatever you desire. A basement remodel will also improve the home life of you and your family. There's no question how useful a finished basement can be, so let's get to it!
---
Kiran Bahl is a freelance writer who loves discovering how to make something better yet simpler at the same time. She lives happily and peacefully amongst her family and enjoys dessert every day — especially after meeting a writing deadline early.
Get a Quote
Choose the service you need
Comments
Leave a Comment
Your email address will not be published. Required fields are marked *