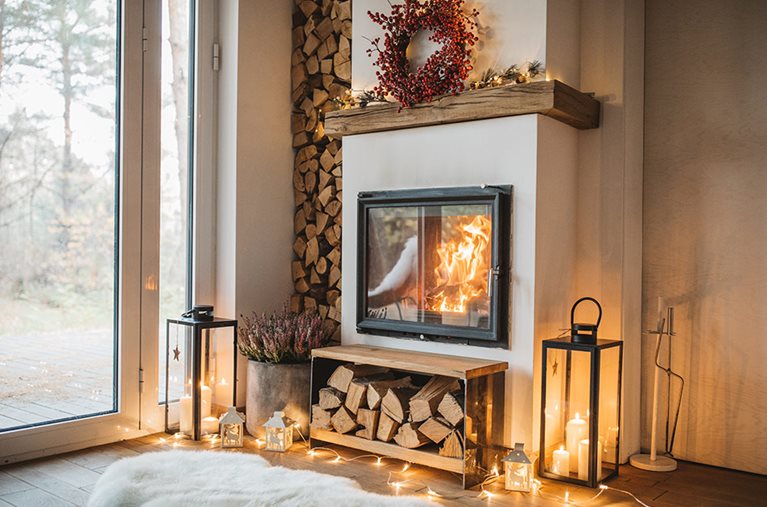 2023 Fireplace Designs and Trends That'll Make You Say Ahhhh
When the cold air seeps into the house and the long, cloudy days turn into long, chilly nights, it's only natural to yearn for a beautiful fireplace filled with dancing flames to cuddle up next to. It's in our human DNA, after all. But if your fireplace is outdated and unused, or you find yourself wistfully staring at the space where a new one would fit perfectly, it's time to embrace your favorite fireplace designs and trends. They'll bring your visions of toasty gatherings around the fire to life in no time.
But choosing a fireplace design that you'll love for years to come can be tricky — especially if it means spending thousands of dollars. According to HomeAdvisor, the typical cost for fireplace installation is estimated between around $900 and $3,900, but you could reach $30,000 or more for a custom luxury wood-burning fireplace. So to help you maximize your design choices and budget, we've broken down the most common fireplace types and added examples of trending styles and designs that will add the "wow" factor you deserve.
3 common fireplaces to choose from
If your heart desires a comfy, cozy fireplace warming winter nights, there's a version that will suit your budget and level of upkeep commitment.
1. Wood burning
Wood-Burning Fireplace: There's just something about a wood-burning fireplace that's hard to replicate. That's why they continue to have a devoted following, even though they aren't the most energy-efficient or cost-effective fireplace option. You'll also need to factor in the time and money required for upkeep.
Chalk up the popularity to a huge dose of nostalgia and the way a wood-burning fireplace evokes emotion through all of your senses, but either way, there's a reason holiday movies and real estate shows are filled with gorgeous wood-burning fireplaces.
Wood-Burning Stove: A wood-burning stove is similar to a wood-burning fireplace, but it's enclosed and throws much more heat into the room. Stoves burn firewood better than fireplaces, and their efficiency ratings sit between 60 and 90 percent, depending on the model. In comparison, an open wood-burning fireplace's output is as little as 10 or 20 percent efficient. You can also retrofit a wood-burning stove into an existing chimney, so it's a smart option for an efficiency update if you use it as a heat source.
2. Electric
If you love a fireplace's ambiance but don't love a wood-burning model's mess, one of the flameless (don't worry, a faux flame is included) electric fireplace designs could be your favorite option. Electric fireplaces are wall-mounted or placed as an insert. They're affordable and energy-efficient and have a convenient plug-in system that turns on with the flip of a switch. And since electric fireplaces emit less heat, they're ideal for homeowners in warm climates who occasionally want to add a bit of festive atmosphere to the room.
3. Gas
Gas fireplace designs are popular because homeowners relish the chance to enjoy the creature comforts of a fireplace but want to avoid the constant care. They're sold with or without gas logs and have higher efficiency rates than wood-burning fireplaces. If the traditional fireplace look doesn't match your keen out-of-the-box style, you're in luck because gas fireplaces are highly customizable and sought after because they add high impact to any decorating preference.
Gas fireplaces are affordable alternatives to install from scratch (standalone models and inserts are available) or when you want to convert an unwanted wood-burning fireplace during a renovation. However, a gas fireplace does require a gas line and a carbon monoxide detection system because, of course, safety first.
Insider Tip: A fireplace install or update is an exciting home improvement project, but just like the soot you'll clean from the wood-burning fireplace, the construction debris is messy, so you'll need a solution to keep your home tidy while under construction. If you want more space (other than your kitchen or living room) to store the project's materials and tools, consider reserving a PODS portable storage container for renovation and remodeling storage.
Popular fireplace design materials that make a statement
Fireplace designs are as varied as the homeowners who build them. Want a funky fireplace that serves as an art piece? It can be done! Crave one of those classic stacked-stone fireplace designs with a recycled mantel? All you have to do is ask. Working with a home remodeling contractor will expand your design palette and steer you toward safe and budget-friendly options.
When searching for fireplace inspiration, you'll often find fireplaces built from these materials:
Brick: Brick fireplace designs are inexpensive, come in unique colors, and can be painted or white-washed.
Natural stone: Durability and uniqueness are the hallmarks of marble, granite, and limestone.
Plaster: Plaster is sometimes used to cover ugly fireplace finishes like dated rock.
Tile: Add plenty of personality to your fireplace with colorful ceramic or porcelain tiles.
Concrete: Apply concrete in the standard gray or add color for more presence.
Metal: Steel and iron elements create strong, modern fireplace designs.
Wood: Reclaimed, hand-hewn, and rough-sawn are just some of the styles found in wood fireplaces.
If after you update or add a fireplace and think a living room remodel is in order, the PODS Blog has articles like "Remodeling Your House? You Need This Step-By-Step Home Renovation Checklist" to help you navigate the process. 
Q: How do I learn how to design a fireplace?
A: Standout fireplace designs stem from customizing the three main aesthetic fireplace parts: the mantel, surround (material around the firebox), and hearth (space in front of the fireplace). A cohesive design should include finishes for each. mantels are often made from distinctive wood, like reclaimed lumber. Surrounds are commonly created from unique rock or tile, and natural stone slabs like granite are go-to hearth features.
What is the current trend for fireplaces?
Good news! There isn't one overriding trend for fireplaces. There are, however, endless amounts of impressive design ideas out there, so clear out your Pinterest boards to make room for an overload of fireplace envy. Keep in mind that most people are naturally drawn to designs similar to the house's existing decor and architecture. But if you need a little guidance, you can't go wrong with one of these fireplace options.
Open
If your home demands a showpiece fireplace, consider an open fireplace to become the house's proud focal point. Unimpeded open flames cast a considerable amount of light and will immediately draw your guests to enjoy the ambiance. Choose reflective materials for the surround to add extra sparkle and drama.
Frameless
Sleek, sharp, and linear installation rule frameless fireplace designs. You'll adore frameless fireplaces because they're easily tailored to your preferences. Most are built either single-sided or as a see-through tunnel. These modern fireplace design ideas look uber-sophisticated if paired with a black or dark marble surround or another dramatic and eye-catching material like steel.
Convertible
Can't decide between a gas or wood-burning fireplace and want the benefits of both? Then a convertible fireplace is a brilliant solution. In just about 30 minutes, you can switch your wood-burning fireplace to gas. Then, later, when a gorgeous snowfall starts and your inner lumberjack calls, you can switch back to wood burning and enjoy your ax and saw handiwork.
Two- or Four-Sided
If more is always more for you, then you'll want full-view access to your fireplace through two or four sides of clear glass. Essentially a glass box, these show-stopping fireplaces let you view your fire from every angle and enjoy the warmth and light bouncing around each glass panel.
Traditional Gas
Tradition never dies, so you'll always be on trend if you prefer a classic gas fireplace — especially if your home has a rustic or cabin feel. Gas fireplaces are clean, easy to start, and look like a traditional wood-burning fireplace with hefty stone or rock surround and hearth details.
So what is in style for fireplaces in 2023?
One of these popular fireplace styles might spark inspiration, if you're looking for a fresh decorating finish. However, if you focus on your personal preferences for fireplace finishes, they can take on whatever style you love most. Consider designing the fireplace with the rest of your home's aesthetic in mind, and it will blend in or stand out as much as you prefer.
Traditional: wood, plaster, tile
Craftsman: tile, wood
Rustic: stacked stone, river rock, brick
Victorian: cast iron
Scandinavian: built-in wood storage
Farmhouse: shiplap
Modern: concrete, metal
Mid-Century: brick, metal
Q: How can I make my fireplace look nice?
A: An easy, budget-friendly, DIY way to boost your fireplace's appeal is to focus on fireplace mantel design ideas. The mantel is the perfect showcase for precious heirlooms, a holiday scene (snow globe collection, anyone?), or a rotation of one-of-a-kind collections each season. If you display things you already love and own, like family photographs or local artists' work, you'll never be stuck with the same look, even if the rest of your fireplace remains the same.
Your fireplace's return on investment (ROI)
Interior fireplaces don't add as much home value as they used to — only between $500 and $1,000, depending on your location. But the financial investment isn't the point for people who treasure a fireplace. Instead, they crave the warmth, light, and ambiance that only a fireplace offers, and the personal benefits outweigh the costs.
If you're on the fence about updating or installing a fireplace and need a couple more pros for your pro/con list, know that, depending on the model and the amount of use, some fireplaces (especially stoves), might reduce your heating bills a little — although it's not worth going off the grid anytime soon. Also, most potential homebuyers don't fiercely hate fireplaces and avoid houses with them installed. In fact, they're a proven selling feature in home sale marketing pictures and videos. It's hard to deny that a roaring fire is the highlight of any room.
Add an outdoor fire feature for more ROI
On the other end of the spectrum, outdoor living spaces with magazine-worthy fire features provide some of the best home-improvement ROI stats. For example, just adding a fire pit could bring home a whopping 500% ROI!
If you're a homeowner with an eye toward resale in the future, remember that by extending your inside living space into the outside, you'll spend more time enjoying multiple seasons in comfort and attract buyers with the extra square footage. Think about fall afternoons filled with football games on the TV/fireplace wall unit designed especially for you. And don't forget, an outdoor fire feature is a perfect excuse to enjoy seasonal snacks like s'mores on a summer evening or roasted hotdogs for a Halloween dinner. 
Outdoor fireplace designs are similar to their indoor counterparts — you'll choose from wood-burning, electric, and gas. But outdoor fireplaces need weather-resistant materials, such as stone, to prevent damage and maintain their beauty. You'll also need to decide whether you prefer a standalone model or if extending an existing fireplace outside makes sense. 
So what's it going to be? A bold, new gas fireplace with sexy finishes? A to-die-for chimney made of local stones and a fireplace big enough to stand in? Or, if these sound too extreme, a gentle dip into fireplace life with a lovely electric model sure to chase away any wintertime blues?
For more inspired home remodeling and renovation ideas, visit the PODS Blog.
---
Dawn M. Smith writes about most home topics, including relocation, real estate, and home improvement. As a military spouse, she knows all too well the ups and downs of creating a new home after each move. From scouting the best neighborhoods and packing last-minute to choosing the perfect paint color, she gets it all done (usually in a hurry) with her family and Golden Retriever in tow. Dawn shares her lessons learned with the PODS Blog and other outlets like Angi, HomeAdvisor, and MilitaryByOwner.
Get a Quote
Choose the service you need
Comments
Leave a Comment
Your email address will not be published. Required fields are marked *