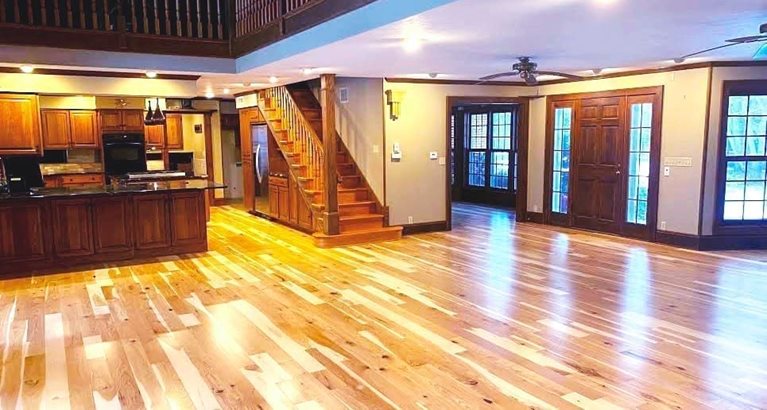 Homeowner Shares Her #1 Hack and Other Life-Saving Tips for Getting New Floors
You've selected the wood, got your estimates and picked the best contractor to replace your old flooring. Now what the heck are you going to do with all your furniture while the work is being done?
This is the challenge Diane Galow Hertel of Oshkosh, Wisconsin faced when getting new hickory wood floors in the main part of the home she shares with her husband and their golden retriever, Finley. Both with busy careers -- she's an elementary school principal and he's an attorney -- they wanted to keep their home livable, while also protecting their belongings from damage.
By using some creative problem-solving and renting a 16-foot PODS storage container, they got the job done with a minimum of disruption. Diane shares how they did it.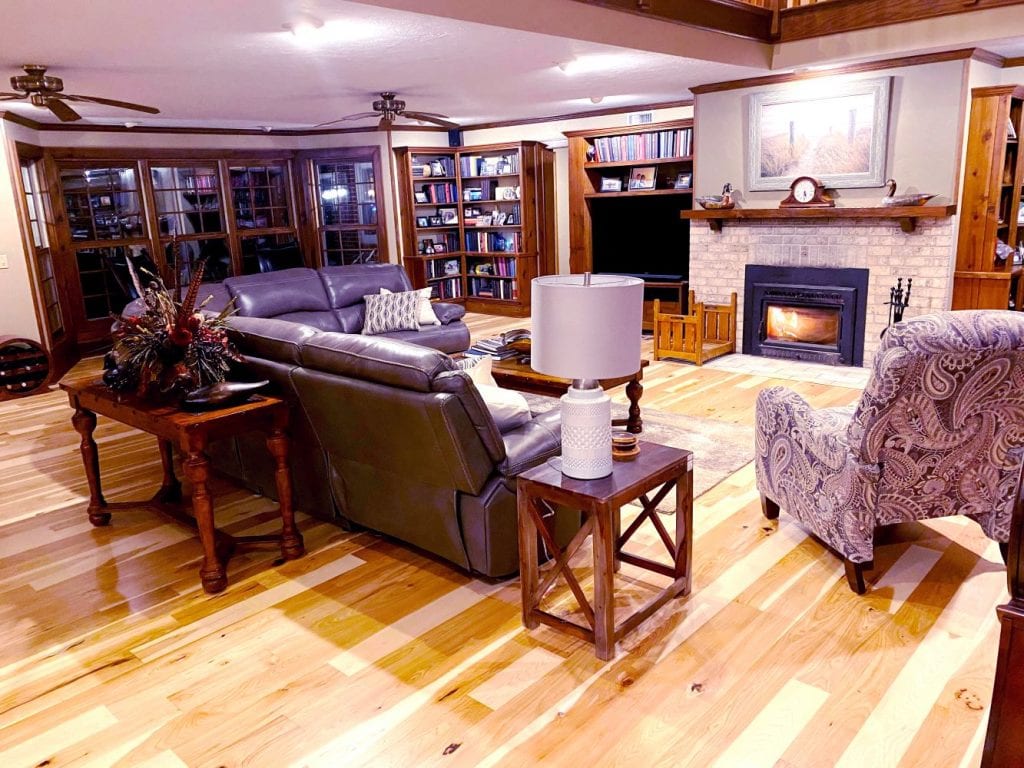 Tell us about your new flooring project.
We replaced almost 2,100 square feet of oak and travertine tile with real hickory flooring. This included the most high-traffic areas of our home -- the kitchen, great room, formal dining room, bar area, and some hallways. First our contractor, Badger Hardwood Flooring, had to remove all the old oak and tile. Then they had to install the hickory, sand it, and stain it. We have a large 6,000-square-foot home -- we'll eventually do two more phases.
Did you have an escape plan?
We knew it would be a painful process, so we decided the best thing to do was to go on vacation. It needed to be around the school holidays, so we worked with our contractor on the timing. He had craftsmen interested in working and staying busy during that time. We went to Florida.
Right. When you live in Wisconsin, Florida's a great place to go in December. Was the job done by the time you got back?
No, it took three weeks, from start to finish, with our contractor working around the clock. But we knew that from the beginning.
What made you decide to rent a PODS container for remodeling storage?
We wanted our house to be livable when we got back from vacation. Without some other type of storage, the rooms that weren't being done would be piled high, from floor to ceiling with furniture. We have ample garage space, but you think of mice or getting an oil stain … it's not the cleanest environment. I didn't want my good furniture sitting in a garage.
We talked about a self-storage unit for some of our more expensive furniture, but the idea of hiring a company to move it made no sense. Plus, you never know what you're getting when you get a storage facility, how clean it will be.
Once I thought of renting a PODS container and checked into it, that was a no-brainer. A stroke of genius.
What did your husband think?
He was skeptical at first. But the container was clean, we could lock it, and having it made the process so easy and effortless.
Afterwards, he said, "Ok, the next two phases we'll be getting the PODS container back."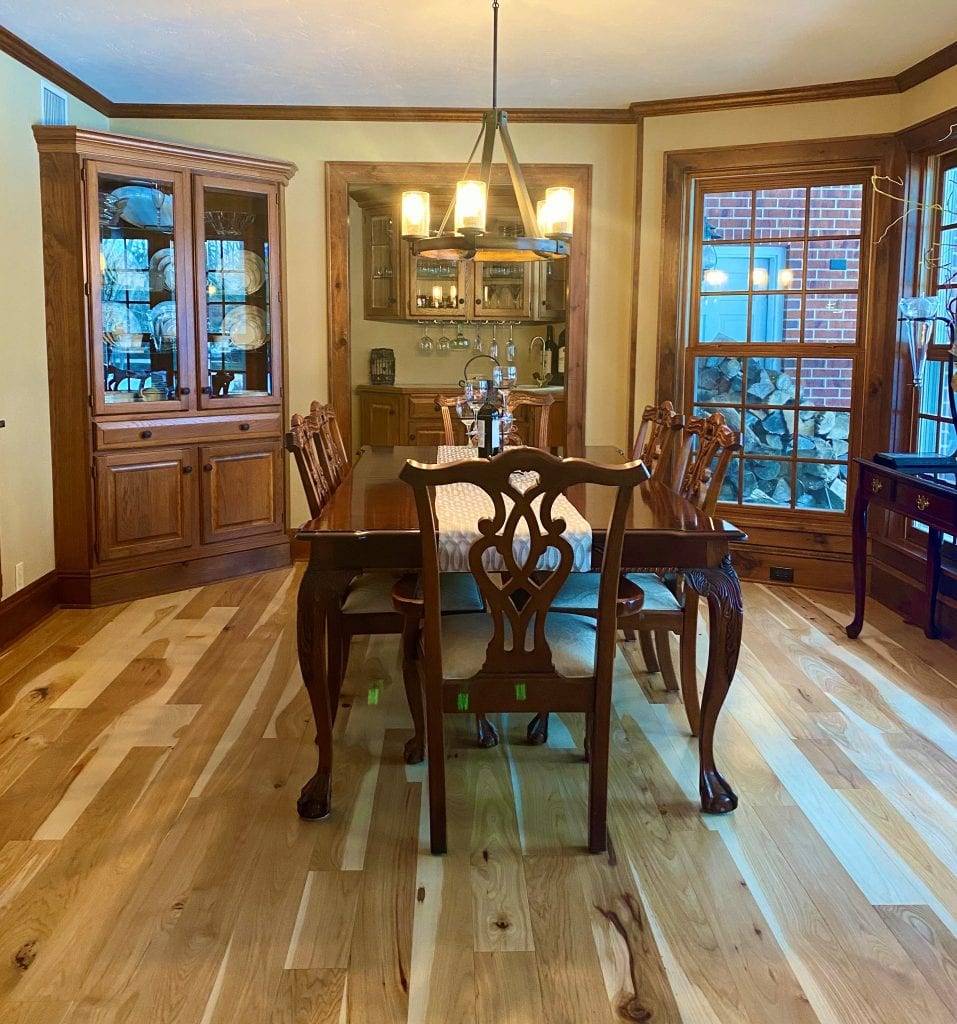 How did you manage moving the furniture?
Helpful, helpful neighbors assisted us, and we got the pizza and beer. The day the container was delivered, we emptied everything. It's so easy, you just march right back and forth. After the floors were finished, all our things were there, ready to go right back where they belonged.
How did the timing work out?
Perfectly. Since the project took three weeks and PODS rentals are a month at a time, we took less than one month, from delivery to final pick-up.
What about your dog?
I was so concerned about Finley. He came to Florida with us, but this way, he didn't panic when we got back. He had ample places to roam and feel comfortable.
Diane's Top 7 Hacks for Getting Ready for New Flooring
When we asked Diane what advice she'd offer others for surviving home remodeling like new flooring and other projects, she had plenty of helpful tips based on her experience. Here are her top seven:
1. Use a portable storage container
Having a clean and secure place to keep your belongings just steps away makes it much easier to survive a flooring project as you don't have to deal with clutter and disorder on top of everything else.
2. Go away on vacation
Escape all the noise and dust by taking a break while most or all of the work gets done.
3. Plan the timing with your contractor
Make sure your contractor knows your plan and is committed to the schedule.
4. Remember your pets
Keep pets calm by making sure they have room to roam without piles of furniture and other obstructions.
5. Clear away any clutter
Pack up all books, accessories, and other knick-knacks that may be lying around on furniture or inside bookcases in advance so furniture is easy to move quickly.
6. Enlist neighbors or friends to help move furniture
Plan a moving party -- treat your helpers to good food and drink.
7. Do the project in phases
Especially if you're replacing all the flooring in a large home, it helps to do it in chunks -- both for budgeting and timing, so you have an area clear for living.
Looking for more tips on managing remodeling projects? You may be interested in these:
Liz Taylor is a freelance writer who keeps up with moving and storage trends while managing the PODS Containing the Chaos blog.

Get a Quote
Choose the service you need
Comments
Leave a Comment
Your email address will not be published. Required fields are marked *