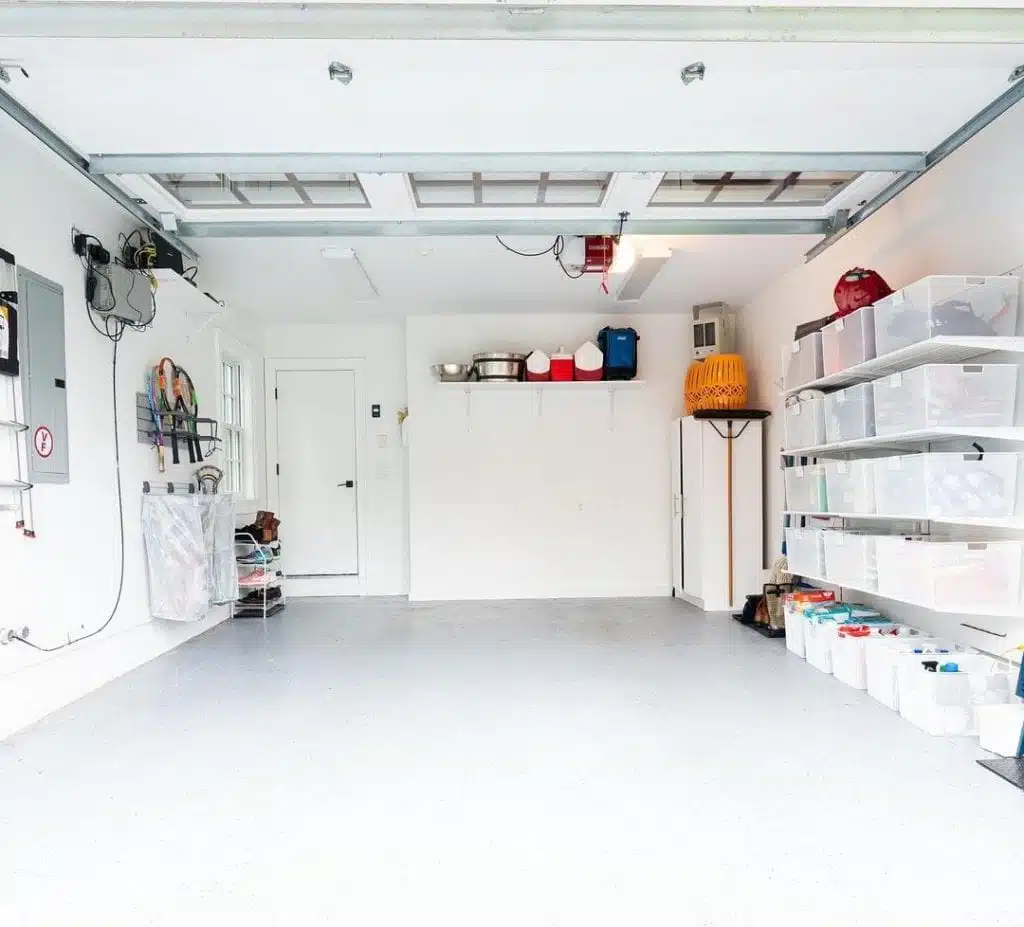 13 Budget-Friendly DIY Garage Organization Ideas
When it comes to organizing areas of our homes, the one most often overlooked — perhaps on purpose — is the garage. In fact, it's probably where all of our stuff goes after we complete a cleaning-out project. It's easy to stash our things in a room made for storage, but using the garage as a home junk drawer can quickly cause a big mess. If you're ready to sweep up that pile of brooms, untangle the bikes, and finally figure out what to do with all those tools, then we have some tried-and-true DIY garage organization ideas for you. And don't worry, they're all budget-friendly!
Pro Tip: As you prepare to tackle the organization of your garage, consider using a PODS portable storage container as a staging area to sort through everything.
1. Set Aside Enough Time To Get the Job Done.
This one may seem obvious, but sometimes people get so excited to tackle a home DIY garage storage project that they jump right in without a plan or enough time carved out of their day (or days). Organizing a garage can be incredibly time-consuming, so don't kick things off at 10 p.m. unless you've got the coffee pot ready and no alarm coming early the next morning.
As a best practice, set aside a weekend or entire day — or at least a good five to six hours — to account for the cleanout, organization, small fixes, and trips to the home improvement store.
2. Gather the Right Materials.
Sure, the goal is to get things out of the garage, but you may need to bring a few things in to get the job done right. Some handy items to have include:
Trash cans and heavy-duty trash bags: You'll likely be tossing a lot of old, unused stuff you just don't have a need for anymore.
Cleaning supplies: You don't want to store dirty items, do you? This is a good opportunity to give your things a proper cleaning.
Notepad and pen: You'll want to make a list of what you'll need to start your garage organization projects — like pegboards, hanging hooks, or plastic storage bins (more on these very soon).
Drills, hammers, and other tools you'll need: They'll come in handy if you're creating some DIY storage options.
Q: How can I organize my garage cheaply?
A:
DIY garage organization doesn't require going out and purchasing one of those storage systems that costs thousands of dollars — no matter how nice it is to look at. Instead, you can organize your garage in a much more budget-friendly way by doing a major decluttering, taking advantage of the space and items that you already have (you probably already have a small collection of totes that have just been collecting dust, don't you?), and even building some shelving units yourself. Total cost to you? Not nearly as much as that shiny, new, and super-expensive storage center. Keep reading to find out more!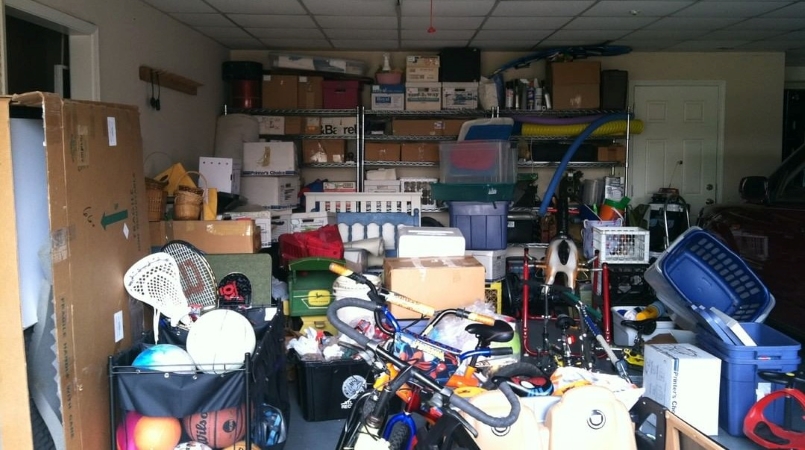 (Source: @whambamorganized via Instagram)
3. Decide to Declutter.
You may not be ready to hear this, but you need to go through everything in your garage before you start an organization project. Yes, even that scary pile of lawn chairs, tiki torches, and bent rakes in the corner. It doesn't have to be intimidating, though! You just need to get in the decluttering mindset.
Instead of putting everything into one big pile or trying to tackle your entire garage at once, break the space into quadrants.
Sort through one section at a time, grouping items in categories: tools, lawn care, cleaning supplies, recreation, etc.
As you declutter, put things in a bin or box that can be donated. Maybe there are even some items you can sell. If something is irreparably broken, put it in the trash.
Having trouble deciding what to discard? A good rule of thumb is that if you haven't used it for a year, you won't miss it.
Q: How can I organize my garage better?
A: First, you make a plan. Then, you make the time to get it done. DIY garage organization involves going through each item and determining whether it needs to stay or go — and that takes a lot of time. From there, you divide your "keep" items by category and then find the right bins or containers to neatly store them in. Displaying the storage containers on shelves will ensure they are easy to access yet out of the way. It may seem overwhelming at times, but the end result is well worth it!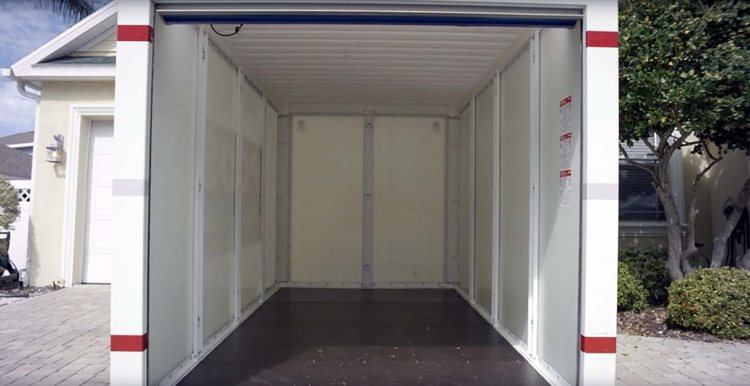 4. If It Needs To Stay, Stow It Away.
You may be wondering what to do with seasonal items like your Christmas tree, strands of twinkle lights, and that bulky turkey fryer. These are things that you only use once a year, but they're taking up valuable garage real estate.
To reduce that clutter but still have easy access to those things, consider renting a small storage unit or portable container. This could be used for seasonal storage or serve as a short-term storage solution while you complete your garage organization project.
For example, a PODS container can be delivered right to your driveway in no time. This allows you 24/7 access to all your stuff, just steps away, giving you time to sort everything, add shelving, or even organize items for a garage sale (the goal is to end up with more usable space, right?).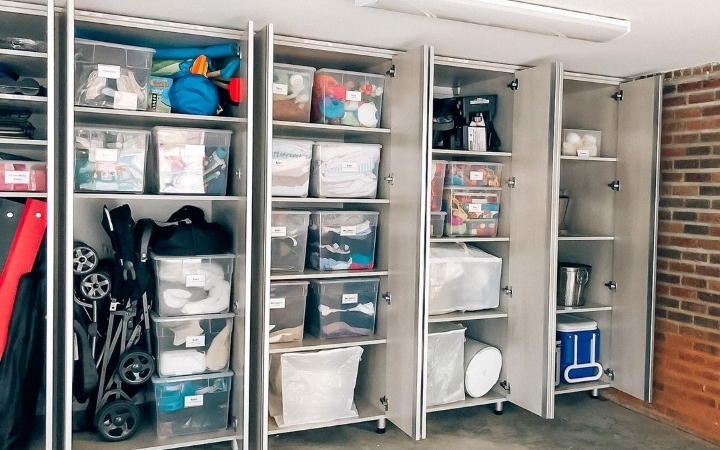 (Source: @cwhome_charlotte via Instagram)
5. Contain Yourself.
Need some DIY garage organization ideas? Plastic bins are a quick and inexpensive way to get the job done. Once you've grouped your things into categories, put them into a bin and add a label. Use these tips for these tips for choosing storage boxes, though, before throwing things into the first available bin.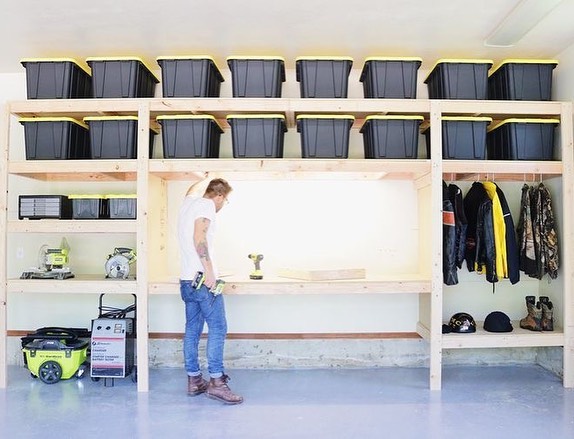 (Source: @homesweethomewithsusan via Instagram)
6. Buy or Build Shelves.
One of the best DIY garage organization ideas is to make the most of your space using shelves. This is especially true if your items fill up several plastic containers. You can purchase an affordable and sturdy storage rack at a home improvement or bulk store.
Want to channel your inner carpenter? Watch this how-to video with steps for a simple one-person shelving project:
When stacking your bins, put the most commonly used items on the middle shelf for easy access and anything hazardous or dangerous on the top rack, so it's out of the reach of children.
To store smaller items, like nails and screws, use a muffin tin or small plastic lunch containers with dividers. You can either keep these smaller containers at your workbench or inside a toolbox or chest.
Q: Is it cheaper to buy or build garage shelves?
A:
That depends. Are you wanting a few basic shelves, or are you wanting an entire shelf system? Similarly, are you pretty comfortable in the woodworking department, or would this be a new DIY endeavor? Typically, building garage shelves would be cheaper than purchasing prefab, but that assumes you're not making anything too ornate, you know what you're doing, and you do it correctly the first time (meaning you don't have to buy more materials).
7. Don't Drill If You Don't Wanna.
Maybe you live in a rental and can't go buck wild drilling holes. Or maybe you just want to find the quickest way to efficiently get your items stowed away. Regardless of your reason, it's totally possible to organize your garage without actually installing any type of storage system. How, you ask? Two words: freestanding storage. Hang those bikes on a freestanding rack that simply leans against the wall. Stack those totes on a freestanding shelving unit that can be moved anywhere. Basically, if you have the stuff to store, you can easily find a freestanding unit that will do the job — without breaking the bank, too!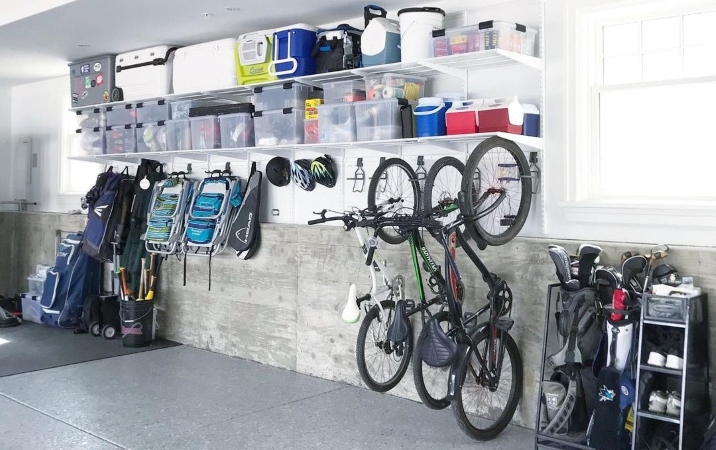 (Source: @simplyorganized via Instagram)
8. Go Vertical.
How do you maximize storage in a small garage? You go floor to ceiling with your storage solutions. A great way to make the most of a small space is by using pegboards, wall mounts, and hooks for your smaller hand tools. Consider investing in a vertical bike rack, as well, to free up valuable floor space.
Pegboards are not only cheap and simple to install, but you can also paint them to create a more customized look. It's important to note, however, that pegboards can't support heavier items.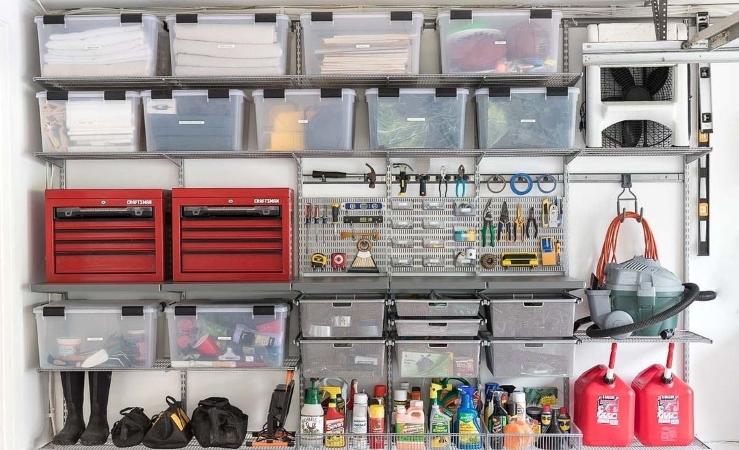 (Source: @clickhmo via Instagram)
9. Don't Stop Until You Reach The Top.
There's valuable storage space right above your head. That's right — the ceiling can be used for storing items like ladders, camping gear, seasonal items, and other things you rarely use. Install racks or shelving close to the ceiling for large boxes, coolers, backpacks, and more. You can even put hooks on the underside to hang lighter-weight items.
Pro Tip: Don't want to go the DIY garage organization route? Or are you wondering how to organize an unfinished garage? You can easily find metal versions of shelving that hangs from the ceiling. They install in minutes, don't involve any other area of the garage, and leave the perfect amount of room for your car to be parked underneath!

This video shows you how to install shelves in the often-wasted space above the garage door:
10. Commit To Consistency.
Found the perfect bins? The perfect hooks? The perfect shelving? Then stick with it! A lot of storage systems are just that: systems. All of the parts and pieces are specifically made to complement each other, in turn making the storage system as effective as possible. The best part? You can purchase the items in the collection piecemeal, making it work with your specific budget. Oh, and that cohesiveness sure does look nice, too.
11. Create a Workstation.
After a successful decluttering session, you may find yourself with room for a small workstation. This doesn't have to be an expensive or time-consuming project. Repurpose an old chest or desk and — voila! — you have a new garage workspace. Now you can tackle projects without messing up the kitchen table!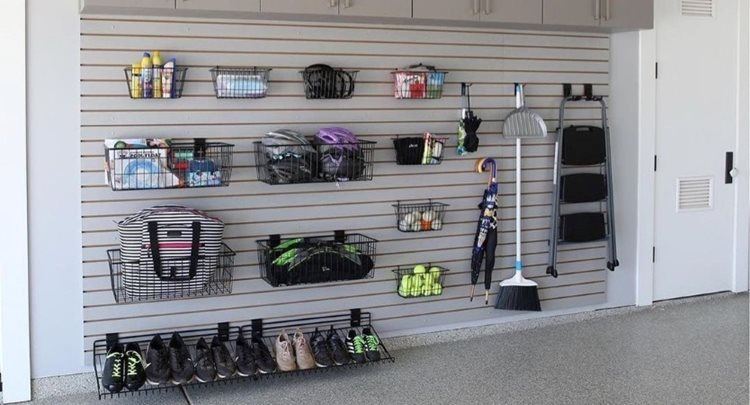 (Source: @amynolenrealtor via Instagram)
12. Get Sporty.
If your kids always drop their soccer gear by the back door or your husband props his golf bag on the garage wall, you could probably use a sports station. All it takes is a few racks, hooks, or open bins, and you can say goodbye to tripping over cleats or rolling the basketball out from under the car.
Use a hanging mesh bag to contain loose balls, attach a few hooks to hold tennis racquets, or install a simple drying rack to air out that sweaty athletic gear. Looking for a place to store those tennis shoes? Here's a how-to video for creating a low-cost shoe rack with PVC pipe:
13. Create Zones.
Speaking of workstations and sports sections, the most organized garages are those that have designated "zones" for specific things. This way, your things won't be lost or forgotten once they're sorted and stored. For example, holiday decorations can be in their own zone, camping equipment can be in their own zone, and winter sports equipment can be in their own zone. Need some inspiration? Borrow some ideas from Theresa Finnigan of Organized Living:
You can even go further and organize your zones based on how often items are accessed. Before you know it, you'll be begging for someone to ask you where something is in the garage just so you can see how quickly you can get to it!
Q: How do you plan a garage layout?
A: Putting items in their own "zones" is a great way to group things in your garage. It's not only organized, but you'll also know exactly where to locate your stuff when the time comes. Put your more-used items, like tools or sporting equipment, in an accessible spot, while holiday and seasonal items can go further out of reach. To keep track of everything, make a simple map of your garage layout and don't forget to label the bins.

Are you ready to reclaim your garage? Turn the space from cluttered to clean with a few simple and cheap DIY garage organization ideas. And guess what? You may actually be able to finally get your car in there!

LB Gabriel is a freelance writer who lives with her husband, daughter and Golden Retriever in Memphis, TN. A frequent PODS Blog contributor, she's a sucker for any tip she can find on downsizing, cutting clutter, or minimalist living. When she's not on a deadline, you can find her on a tennis court or golf course.

(Source for image featured at top: @fitzjustrightny via Instagram)
Get a Quote
Choose the service you need
Comments
Leave a Comment
Your email address will not be published. Required fields are marked *