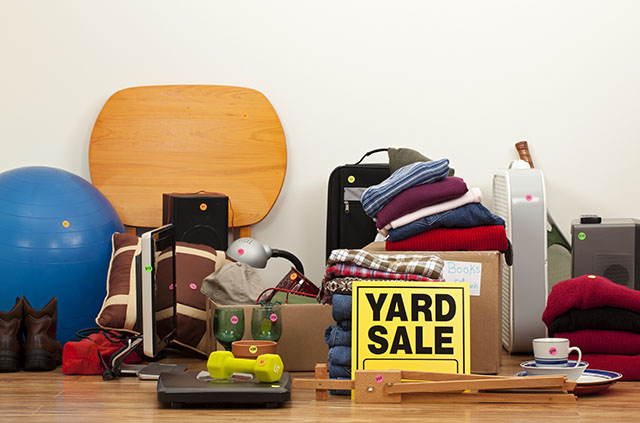 ​​How to have a successful garage sale: Your questions, answered
Maybe you've sold a few things on a social media marketplace or made some donations to a local nonprofit organization, but now you're looking to get rid of several household items at once (and make a little fun money while doing it!). Get out your folding tables and pricing labels because it sounds like you're looking for advice on how to have a successful garage sale.
Should be simple, right? Gather your unwanted goods, put a price on them, set up some tables, and watch the dollars roll in. While you can certainly handle your sale this way, if you want to maximize your profits and minimize frustration, it's going to take some pre-sale planning. And, lucky for you, we've heard some of the most popular questions — and answers — about prepping for a garage or yard sale.
Here are our favorite tips for a successful garage sale: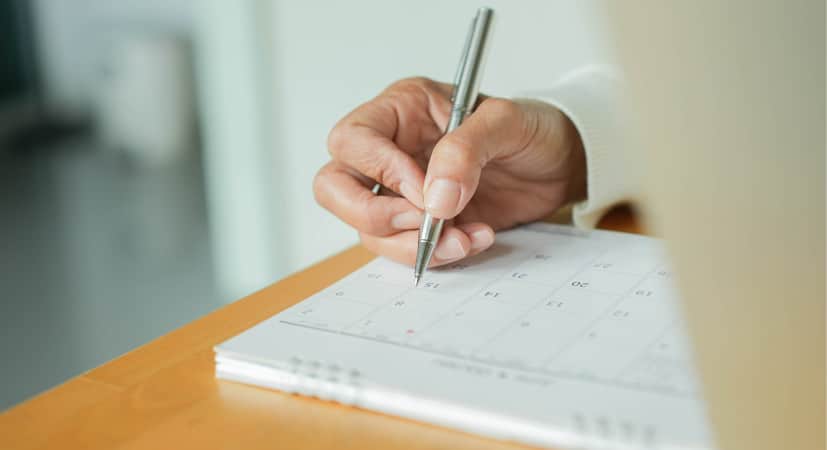 When's the best time to host a garage sale?
Everybody's working for the weekend — because that's when they're out and about, trolling for steals and deals. As you likely guessed, weekends are the most popular times because that's when most people can typically attend. As for seasons, garage sales usually take place in the spring and summer because of favorable weather conditions.
Although, because spring and summer are such popular times for garage sales, some sources claim that fall is actually the most favorable season. In short: Just don't have a yard sale during the cold winter months.
For the best attendance, go for a Saturday or Sunday morning between the hours of 7 and 11 a.m. when temperatures are cooler. If you're able to have a two-day sale, that's an even better way to maximize your profits.
Make sure to check the weather forecast, too, before you set your date in stone. Your garage may provide shelter from the storm, but bad weather deters potential customers from coming out of their homes altogether.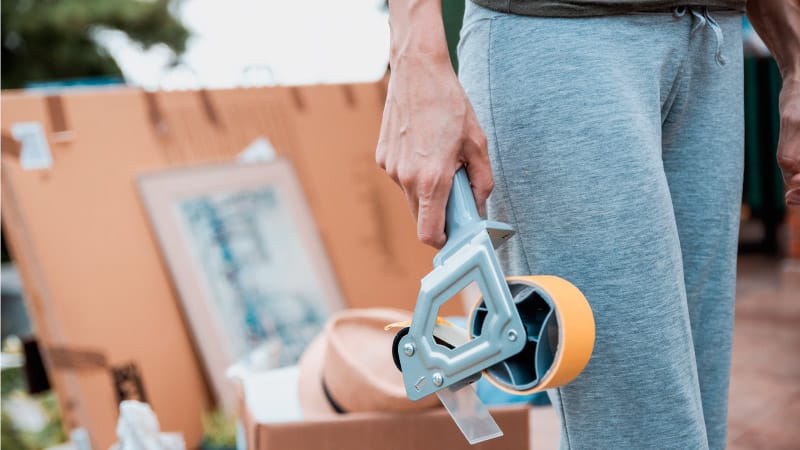 What supplies do I need for a garage sale?
Sometimes you've got to spend a little money to make a little money. If you don't already have these basic garage sale supplies on hand, you may want to stock up.
Black permanent markers: You may not stick to the sale price, but at least it'll be well seen and won't rub off. These will also come in handy for signage.
Poster board: Use posters to advertise your garage sale around your neighborhood and to categorize sale areas (clothing, electronics, kitchenware, etc.).
Pricing stickers: Shoppers are looking for that price tag. Make it easy to find and avoid answering a lot of questions.
Folding tables: You'll need some flat surfaces to display your items. Use folding tables or other tables you have on hand.
Cleaning supplies: Before your sale, make sure your items look their best by giving them a quick once-over.
Shopping bags: Shoppers may want to buy more than one thing. Make it easy for them by providing some shopping bags. This doesn't have to be a new purchase; you can reuse some from the grocery store.
Packing supplies: If you're selling fragile items, you may want to provide bubble cushioning roll and packing tape to help shoppers get their purchases home safely.
If you're having a garage sale but your garage is already filled with clutter, it might be a good time to do some quick and efficient organizational exercises to clear space for the sale. The PODS Blog has all the information you need to get you started.
How do I promote my garage sale?
Hanging garage sale signs in your neighborhood is great for grabbing the attention of people at the moment, but some seasoned shoppers peruse social media looking for a good haul.
Post your garage sale details in your neighborhood's Facebook group, or, if a group like that doesn't exist, make a personal post and share it with your network. Maybe ask a few friends to share the post, too. You can also add a post to Nextdoor and Craigslist. These are great (and free!) alternatives to taking out an ad in your local newspaper.
Did you know that you can also use a garage sale app to spread the word? You can post the details of your garage or yard sale in the garage sale app, so interested parties can attend. Plus, you can sell items directly though the garage sale app. Some even offer donation services for the things that don't sell.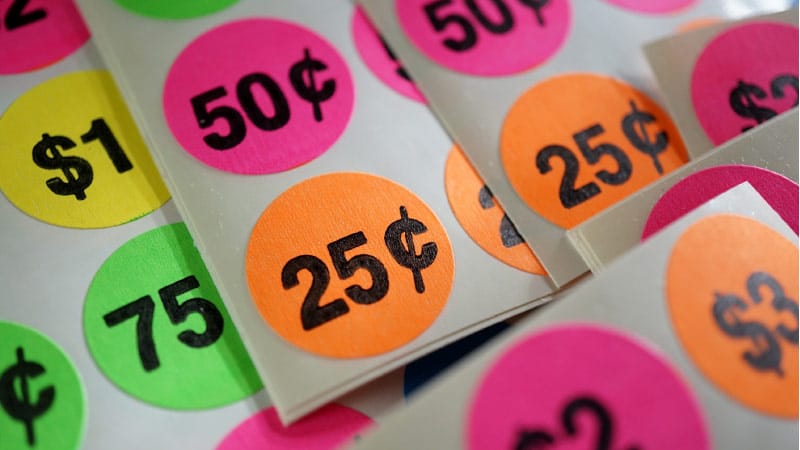 How should I price items for a garage sale?
Here are some quick rules about pricing items. For additional details, check out another article we've written on the PODS Blog about garage sale best practices while moving.
Price Your Things To Sell
People come to garage sales because they want to get a deal. If you have something of real value and want to be paid what it's worth, consider selling it through another outlet like eBay or Poshmark.
Don't Devalue Your Big-Ticket Items Too Much
While we're all for competitive pricing, we don't advocate that you immediately give your stuff away for pennies on the dollar. How do you make the most money at a garage sale? One of the best ways is by prioritizing the sale of your high-quality items, like collectibles, electronics, or furniture. To see what your things are worth, do some research online (again, eBay might be a good place to start) and note the prices of the items in new condition. Then, ask yourself what the condition is of your items (new, like new, used, etc.). Drop the price accordingly for items that have minimal to noticeable wear and tear.
Follow the 10%–20% Rule
Some people suggest pricing your items at only 10%–20% of their retail value. It may seem low, but it'll move your inventory quickly. If your item still has the tag on it, you may be able to get away with pricing it for up to 40% of the retail price.
Be Prepared To Haggle
Negotiations are a part of the garage sale process. It's half the fun! Know you'll likely be asked to lower the price, so consider that when presenting your opening number. How low are you willing to go?
Label Prices Individually
It's tempting to dump things in an "Everything's $1" bin, but people may pick up items from different areas and not remember the original location, leaving you to do the guesswork. Doing a little work beforehand to label every item will help you keep things organized the day of the sale.

Pro Tip: You can easily become overwhelmed when you start pulling items out of every nook and cranny of your house. For a more relaxed (and spread out) pre-sale organization, consider taking advantage of the convenience and flexibility of a PODS portable storage container. It's delivered straight to your driveway, and you can simply load and unload it whenever you'd like.
What should I not sell at a garage sale?
You can sell almost anything at a garage sale — emphasis on the word "almost."
Here a few things to avoid:
Used undergarments: This isn't just unsanitary; it's a turn-off for buyers.
Used beauty products: Once soaps, makeup, lotions, and other similar toiletries have been opened, it's best to discard them to prevent the spread of germs.
Broken appliances and electronics: Unless it's a simple fix, it's better to give these away for free or recycle them.
What is the average profit from a garage sale?
It's tough to give a strong estimate of how much money garage sales usually make because some are incredibly successful while others aren't worth the time and effort. As you can tell from this article, the devil is in the details. With proper planning and garage sale pricing, though, you can potentially earn between $500 and $1,000, depending on how much you have to sell.
What are the most — and least — popular garage sale items?
Like we mentioned, you can try to sell lots of things at a garage sale, but that doesn't mean they'll actually sell. It's important to keep in mind some things are in higher demand than others.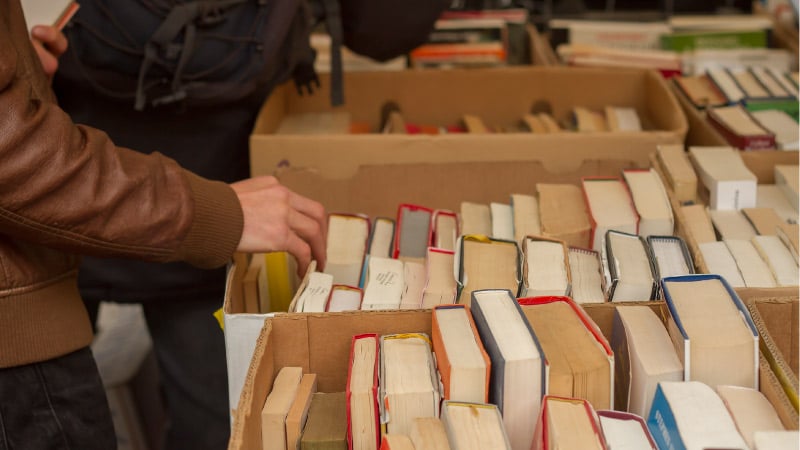 Here are some popular items:
Video games and gaming systems: These are expensive to purchase new, so people are looking for deals. Don't be surprised if potential buyers want to plug them up first to make sure they work before purchasing them, though.
Outdoor furniture: This type of furniture is going to get some wear and tear no matter what, so it's easier to sell used.
Books, especially hardcover ones: These retail for more than $20, so getting books for $5 or less is a deal.
Sporting equipment: Especially bikes in good condition, skis, and other larger pieces.
Jewelry: This isn't the place to sell your grandmother's wedding ring, but some fun costume jewelry or vintage pieces will likely go quickly.
Dishes: Again, probably not the place for your expensive china, but if you have some cute everyday dishes or unique pieces, they're popular for décor hunters.
Power tools: These are expensive items, so getting quality products (that work!) at a reduced rate has a lot of appeal.
Toys: If you have toys in good working condition or new in the box, this is a big target for shoppers.
Children's clothing: Kids grow quickly. Garage sales are a great way for parents and caregivers to purchase clothing at a discount.
Purses, handbags, and other accessories: Adult clothing is tough to sell, but accessories are popular because you don't have to try them on beforehand.
If you're looking to make some extra-extra money, consider selling food and drinks. All that bargain hunting can make people feel snacky!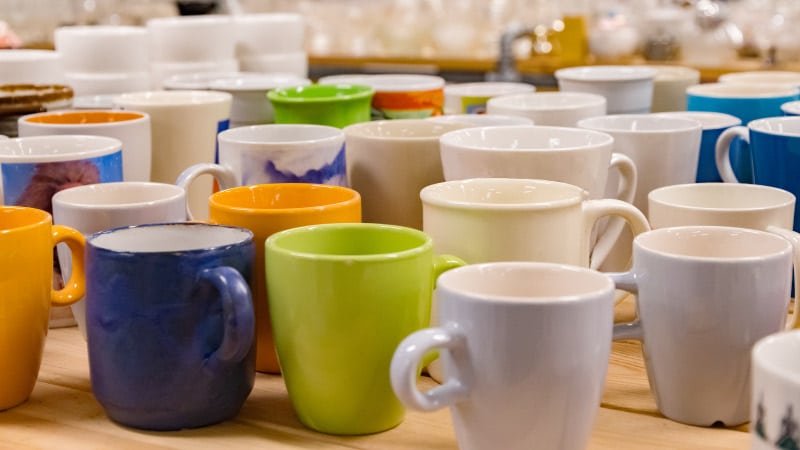 Here are some items that typically don't sell as well:
Travel souvenirs: They may mean something special to you, but they don't have the same sentimental value for most shoppers.
VHS tapes and other outdated electronics: With technology changing at a rapid pace, many electronics are quickly becoming unusable. Don't put a price on something someone can't use.
Used shoes: There's a certain ick factor to wearing someone's worn out shoes. Of course, if you have some designer pairs in decent condition, this could be an exception to the rule. Use your best judgment.
Mugs and cups: Again, it's a little icky to think about sharing a cup with someone. It's also tough to sell one-off items that don't come with a set.
Armoires and entertainment centers: People typically don't have big, bulky TVs anymore, making these pieces less sought after.
Encyclopedias and textbooks: Hello, internet. Goodbye, Britannica.
If you'd like to get rid of items that fall into one of the less desirable categories, consider having a free bin where people can grab things as they please. It'll at least cut the clutter!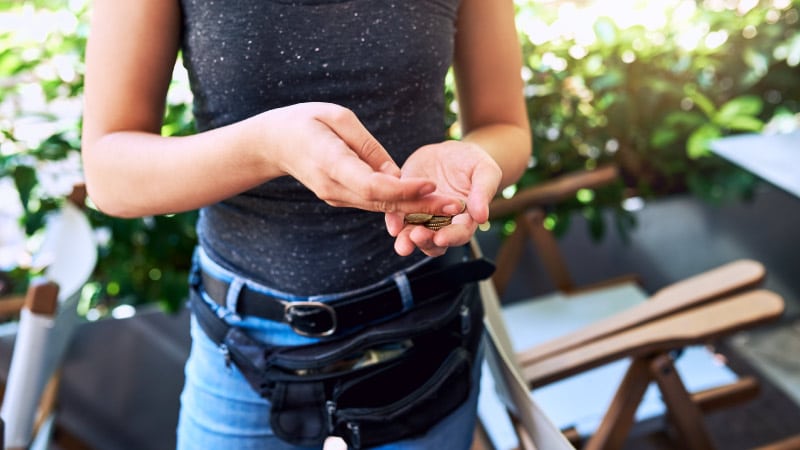 Do I need spare change on hand during my garage sale?
We live in a digital world, but cash is still a preferred payment method. While you can use a payment app like Venmo or Square, you'll still need some change on hand.
Many experienced sellers recommend having $100 in cash for your garage sale. Not only is this a good amount to get your sale started, it makes it easy to quickly calculate your profit. For example, say you're almost done with your sale and have $800 in your cash box. You can easily deduce you've garnered a $700 profit.
Wondering how many different dollar denominations you need? Here's a suggestion:
20 $1 bills
5 $5 bills
4 $10 bills
1 roll of quarters
1 roll of dimes
Pro Tip: Wear a fanny pack and use it to keep your cash. We know it's not the most fashion-forward suggestion, but it is a safe place to store loose bills and change. It also keeps you from constantly running back and forth for change.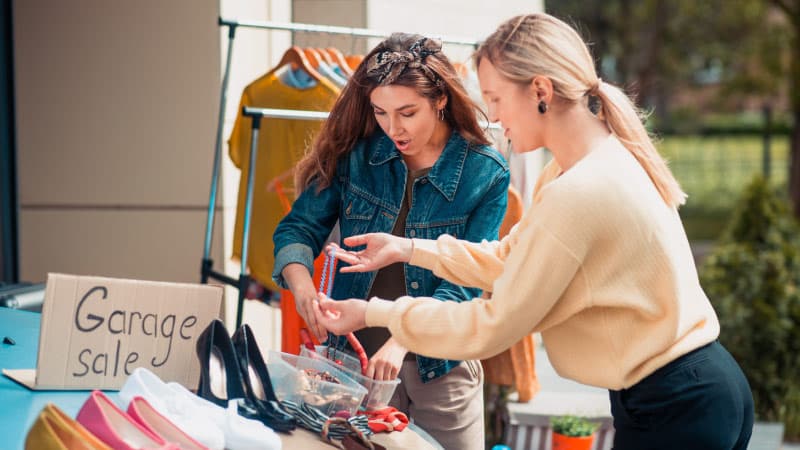 How should I arrange my garage sale items?
One of the main reasons why certain sales are more successful than others is because of how the items are organized and displayed. First things first: Get your garage organized so you can fill it with your sale items. Then, you can move on to arranging your stuff in the most effective garage sale layout.
Put things at eye-level instead of laying them on a tarp or blanket. Also, think of your garage sale like a store. Group similar items together, label everything clearly, and think of other ways to make shopping as simple as possible for your customers.
For added temptation, line your bulky furniture and other head-turner items along the driveway. A lot of potential customers will keep driving if it looks like you don't have a lot of inventory, so you want to make sure you continue to shift items into plain sight throughout the sale.
One more thing to take into consideration: In the wake of COVID-19, some shoppers won't want to be in close proximity to others. Space your things accordingly. If possible, create wide aisles and walkways. If not just to stay healthy, it'll be much more comfortable.
What do I do after my garage sale?
A garage sale is meant to help you declutter your home. With that goal in mind, try to unload as many items as you can during your sale hours, even if that means giving stuff away.
If your sale has ended and you're still left with some things you no longer want, call a donation service and ask them to cart off anything remaining. It's never a good idea to bring items back into your home. There's a reason you wanted to get rid of them in the first place, right?
Finally, if your garage sale has ended and you still have items in your home taking up precious space you don't necessarily need but you don't want to part with, consider using a PODS storage solution. Our convenient portable storage containers can be loaded up right in your driveway — at your own pace — and they can either stay at your home for as long as you need them or be securely stored at a local PODS Storage Center with easy access whenever you need it.
Want more decluttering advice? Check out these pro tips for decluttering and downsizing, and get some organizational inspiration from top influencers while you're at it!
---
LB Gabriel is a freelance writer who lives with her husband, daughter, and Golden Retriever in Memphis, TN. A frequent PODS blog contributor, she's a sucker for any tip she can find on downsizing, cutting clutter, or minimalist living. When she's not on a deadline, you can find her on a tennis court or golf course.
Get a Quote
Choose the service you need
Comments
Leave a Comment
Your email address will not be published. Required fields are marked *