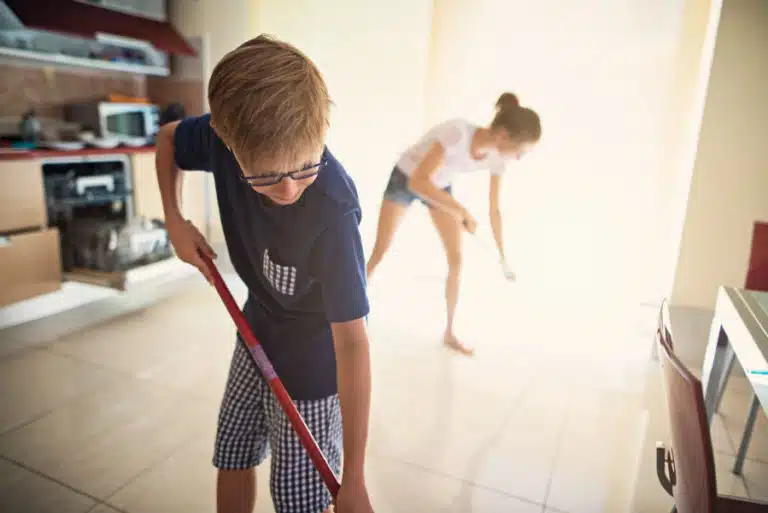 Keep your home clean and your sanity in check with this easy house cleaning schedule
Clean homes. We all like them, but sometimes keeping things tidy feels like rolling a boulder up a hill. You work and work and work, and then — bam — one week off, and your lovely living room looks like a pack of wild animals moved in and made themselves comfortable. But, like every great infomercial says: "It doesn't have to be this way!"
Cleaning every nook and cranny of your home may seem like a daunting task, especially if you have a large family or some shaggy four-legged friends. But the secret to keeping things spotless (or, at least, orderly) is to maintain a regular house cleaning schedule. Don't try to tackle every room at once. Take things bit by bit and watch your space regain its zen.
What is a good house cleaning schedule?
It's not only physically tough to clean your entire house in a day, it's also time consuming. Instead of blocking out six hours, separate the job into parts. Some tasks should be done every day, while others only need attention once a month.
What should a cleaning schedule include? A successful house cleaning schedule is one that's created around your needs — not one that's overly rigid. For example, if your Monday is filled with meetings and a much-needed evening yoga class, make this a day for shorter to-dos like wiping down appliances or sorting through your fridge and tossing out expired foods. If you have a partner, children, or roommates, figure out how to divvy up the line items so it's equitable. Now that'll help you namaste on track.
So, how often should a house get cleaned? For some parts of your home, the answer is daily, but for others it may be weekly or monthly. Here are some helpful guidelines on what should be done when, but, ultimately, your house cleaning schedule should be tailor made for your situation. Use these as suggestions to guide your personal house cleaning schedule.
What house cleaning should be done daily?
Don't be overwhelmed by a daily house cleaning schedule. All you need to do is set aside about 10 to 15 minutes a day for these simple tasks. If you have kids, make a chore chart, so everyone can keep up with their assigned duties. Taking care of these things early and often will help you stay ahead of overwhelming messes.
Pro Tip: You'll notice that most daily cleaning needs to be done in the kitchen. When you've got a lot of activity — and eating — happening in one place, it needs some extra attention. Leaving crumbs and other food residue unchecked can lead to the spread of bacteria and germs and may even attract rodents, insects, and other pests.
Wash dishes (load the dishwasher, if applicable, and empty it when the dishes are clean)
Wipe down kitchen counters and eating surfaces
Clean your coffeemaker
Vacuum or sweep up the kitchen floor (and spot check other floors)
Make your bed(s)
Wipe down bathroom counters
Pick up clothing and toys
Tidy up clutter throughout the house
What house cleaning should be done weekly?
We're inching closer to deeper cleaning with our weekly house cleaning schedule. Here's a list of some things you should stay on top of from week to week.
Strip beds and wash sheets
Establish a weekly laundry day (or add washing a load to your daily schedule)
Clean kitchen appliances with a disinfectant
Mop the kitchen floor and any other hard floor surfaces throughout
Vacuum throughout
Scrub toilets, tubs, and showers
Clean mirrors
Dust furniture
Check your fridge and pantry for expired foods
If you have an off week or two and can't follow your house cleaning schedule, don't worry about it. The important thing is to keep going, even if you fall behind. If you want to play catch-up, you can keep things running smoothly by using our fast-track cleaning checklist.
What house cleaning should be done monthly?
Once a month, it's time to get your hands dirty. Perhaps literally. These are some bigger jobs, so set aside the time you need to tackle these household chores. Keep in mind that some cleaning tasks change based on the season, like gutter cleaning or chimney sweeping. The PODS blog has more specific detail on autumnal recommendations and sunny summer makeovers.
Wash your bedding: pillows, mattress covers, and duvets
Dust baseboards, ceiling fans, blinds, and shelves
Clean out your closets and dresser drawers
Vacuum underneath furniture
Wash the windows
Clean the oven
Wash area rugs
Sort through junk drawers and discard anything that's no longer needed
Tidy bookshelves
Organize your kitchen pantry, fridge, cabinets, and drawers
Once you get to these weekly and monthly cleaning tasks, it may be difficult to remember what you've done, what's still on the list, and what's being handled by someone else in your family. Keep things straight (pun intended) with a house cleaning schedule app.
Spotless is a task manager that lets you set up your to-do list by room and then check off a box for each completed item.
Sweepy lets you gamify the housekeeping experience by tracking cleanliness, distributing workload, and fighting for the top spot of the house cleaning leaderboard.
Tody lets you control your cleaning schedule by offering flexible task options and customized cleaning plans.
How can I help my house stay cleaner longer?
If you're wondering how to keep your home clean for the long haul, we suggest fostering a "cleaning mindset" in your home. These may seem like very simple acts, but they'll make tidying up a part of your everyday routine.
Keep a toilet cleaning wand in each bathroom for daily scrubbing.
Ask family members and friends to remove shoes while inside your home.
Cover couches in blankets if you have shedding pets.
Put hampers in your main bedrooms to prevent clothing being thrown on the floor or furniture.
After your shower, wipe down surfaces immediately. There are even some no-wipe sprays on the market that make the process quick and effortless.
If your house is still messy despite your best efforts, the problem might not be your house cleaning schedule but your house clutter. If you're doing a lot of dusting, straightening, or paper pile sorting, it might be time to purge your home. The PODS blog has some great recommendations for making fast work of the job.
A great way to work through the mess is to have a PODS portable storage container delivered right to your driveway. Use it as a sorting station while you go through those old Halloween costumes, books, shoes, yard tools, etc. If you find there are things you're not using anymore, but you just can't part with, load 'em up and we'll keep your container in one of our secure Storage Centers for as long as you need. You might be surprised how much easier cleaning your house will become!
---
LB Gabriel is a freelance writer who lives with her husband, daughter, and Golden Retriever in Memphis, TN. A frequent PODS blog contributor, she's a sucker for any tip she can find on downsizing, cutting clutter, or minimalist living. When she's not on a deadline, you can find her on a tennis court or golf course.
Get a Quote
Choose the service you need
Comments
Leave a Comment
Your email address will not be published. Required fields are marked *